webBikeWorld Live Report From The 2007 Powersports Dealer Expo
Live Report Home  |  Page 2  |  Page 3  |  Page 4  |  Page 5
Wednesday, Feb. 21, 2007
Still some interesting motorcycle products to report from the Dealer Expo.  I have more photos but that's it for now, I may post a new item here and there in the coming weeks.
Thanks for visiting our 2007 Powersports Dealer Expo live report — we hope you enjoyed it!
On This Page:
Tite Bike Superbike Stand (Below)
Piaggio MP3 Scooter
Kymco Venox 250
RevoPower Powered Engine Wheel Thingy
Individual Pages:
Victory Vision Photos
Tite Bike Superbike Stand
Check out this interesting motorcycle stand by Tite Bike.  The bike can be flipped and rotated to just about any position and raised, lowered or lifted front or rear to 90 degrees.  It's claimed to hold any size Sportbike with individual mounting kits for Suzuki, Kawasaki, Honda, Yamaha, Triumph and even BMW and Aprilia.  The mounts attach to the side stand, through the center of the bike and on the swingarm spools.
The list price is $2,299.00 and although it's aimed mostly at dealers, it looks like it would make a neat stand to have in the shop.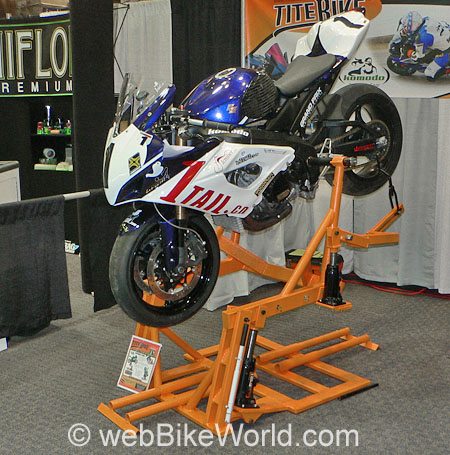 Piaggio MP3 Scooter
You may have seen photos of the Piaggio MP3 three-wheeled scooter.  It was on display in the Piaggio (Vespa, Moto Guzzi and Aprilia) booth and it was attracting all of the attention.  It's apparently on its way to the U.S. market.  Cool!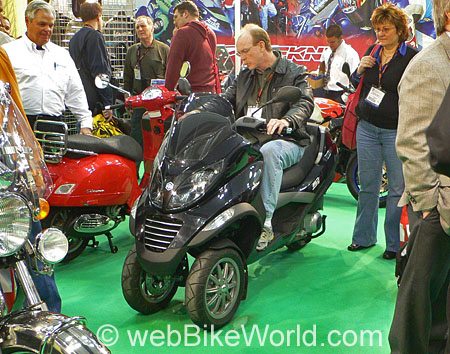 Kymco Venox 250
While we're on the topic of scooters, there are literally hundreds of scooter manufacturers displaying their wares at the show.  Most of them are el Cheapo Junque and won't last longer than it takes to get them home.  Why any dealer worth a nickel would try and sell any of them to an unsuspecting customer is beyond me.
Kymco is definitely an exception.  They make what I think are probably the highest quality scooters in Asia.  All of their products look rock solid, although I can't really speak with any authority on the subject, having never owned one.
But I can say that the Kymco Venox (pronounced "Vee-nocks") looks great — and I'm not a cruiser rider, but hey — it's a motorcycle, isn't it?  There's no such thing as a bad motorcycle.
The Venox has been around for several years and I've seen them here and there but this year's version really struck me as something nice.  A Kymco staffer who wishes to remain anonymous told me "It's a fantastic bike — if only we could get people to see one."  Meaning, of course, that nobody knows Kymco, much less Venox.
The bike is a cross between a scooter and a motorcycle, but Kymco lists it as their only motorcycle.  Others call it a scooter; according to some, as long as the vehicle has a CVT transmission, it's a scooter.  Who knows — or cares.  This thing rocks!
The chrome and finish looked about as good as I've seen on any motorcycle anywhere.  Check out the engine — it's a DOHC 8-valve 248cc, water-cooled V-Twin!  The bike has a 5-speed tranny and claimed dry weight of 418 lbs.  It has 28HP and 18 lbs. ft. of torque at 8,000RPM.
The front tire is a 120/80-17 and the rear is a 150/80-15.  It has a low 29″ seat height and a wheelbase of 63″.  Fuel capacity is 3.7 gals. with a claimed 61MPG.  It comes with a two year warranty and the list price is only $4,299.00.
I'm going to tray and wangle a test ride on one this spring, so stay tuned.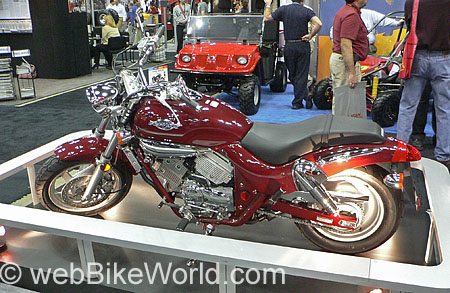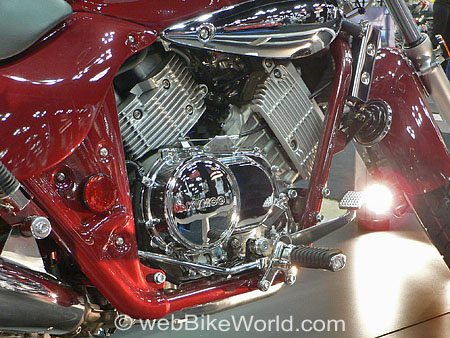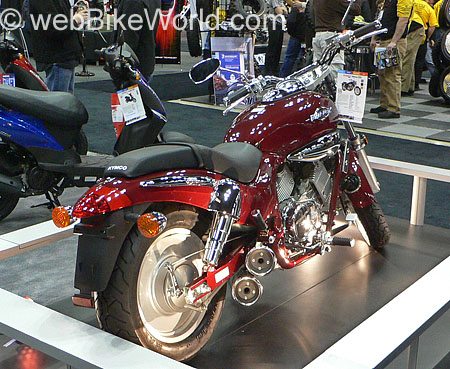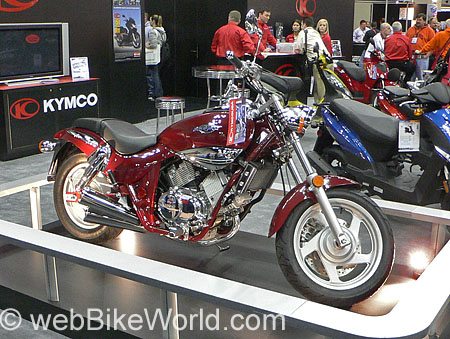 RevoPower Motorized Wheel
Check this out — I can't even describe it!  It's a powered wheel that can be retrofitted to many bicycles or purchased as an entire bike.  The 25cc, 1.0HP two-stroke engine fits inside the wheel hub and weighs about 15 lbs.  It drives the front wheel with a tiny chain.
It goes up to 17MPH and the wheel fits most bikes with 26″ wheels.  It's claimed to run at only 65dB.  The bike is supplied with a normal wheel in case the engine has to go in for repair.  The engine/wheel can be easily shipped back to the manufacturer in the thin box that it comes in.
The RevoPower wheel and bike is in the final stages of development and will be released this summer.  The fuel is kept in the bottle on the down bar that looks like a thermos.  Individual packets of two-stroke oil will be sold; they are poured into the bottle at each fill-up.
[UPDATE:  July 1, 2009 – apparently the company is no longer in business}
No question that this will be the iPod of 2007!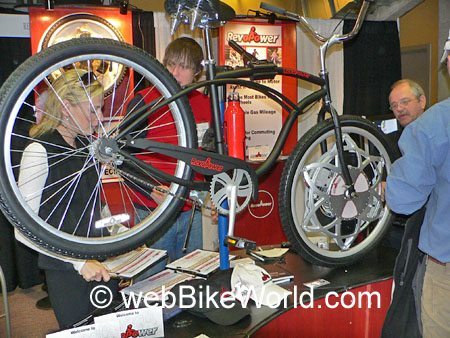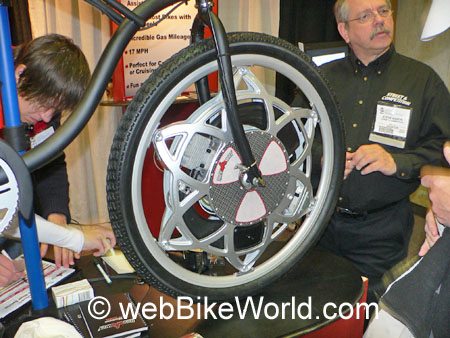 Wait until next year!
Note:  For informational use only.  All material and photographs are Copyright © webWorld International, LLC – 2000-2011.  All rights reserved.  See the webBikeWorld® Site Info page.  NOTE:  Product specifications, features and details may change or differ from our descriptions.  Always check before purchasing.  Read the Terms and Conditions!