webBikeWorld Live Report From The 2007 Powersports Dealer Expo
---
Live Report Home  |  Page 2  |  Page 3  |  Page 4  |  Page 5
Tuesday, Feb. 20, 2007
I'm back from the show, but there are still a few more stories to tell.  First of all, I have to apologize for the poor quality photos.  The lighting is not conducive to hand-held photography at the Expo, even with the f2.8 Leica lens on my digital and image stabilized zoom.  I may have to haul out the big guns next year and bring the Nikon D200 and the S800 flash, but it's such a pain to carry all that hardware while trudging down the aisles…
Anyway, some more good stuff to show you:
On This Page:
1. Tour Master and Cortech Men's and Women's Apparel for 2007 (Below)
Individual Pages:
REV'IT! Infinity One-Piece Textile Suit
Tour Master and Cortech Apparel
I finally learned the difference between these two brand names.  Tour Master (didn't it used to be "Tour Master"?) clothing is designed for — you guessed it — motorcycle touring, while the Cortech brand is aimed at the Sportbike crowd.  Sounds logical in theory, but I'm not sure about practice.
For example, the Pivot 2 jacket below sure looks to me like it would be popular with Sportbike owners, but it's branded as a Tour Master product.  Maybe they should dump one or the other of the names and focus their marketing attention on a single brand?  Marketing strategies of motorcycle firms continue to puzzle me…
Nevertheless, We've been fans of Tour Master apparel since way back in the beginning days of webBikeWorld, over 7 years ago.  Their products represent a real value; maybe not the highest-tech gear on the market, but usually an excellent value for honest, straightforward clothing that works.
The Tour Master overpants are still one of my all-time favorite riding pants and I often wear them when we're evaluating a product and I need something quick and easy to throw over a pair of jeans.  They've provided years of abuse with no problems in all that time.
And, we named the Tour Master Advanced jacket as one of our Best Motorcycle Products for 2005, because of its features and price.  So we're always on the lookout for new Tour Master gear, and their lineup for 2007 is huge, with multiple offerings in every category from mesh to textile to leather and even denim.
Here's my favorite, the Pivot 2 jacket.  It looks great; it's an upgrade to the original Pivot jacket.  Tour Master's marketing blurb says that it's made from 600-denier Carbolex with a 600-denier ballistic polyester shell.  It has a (claimed) waterproof and breathable "Rainguard" liner and claimed waterproof zippered shoulder vents.
The rear vent should provide decent ventilation.  The three-position shoulder vent (can be seen in the photo below) allows various levels of air to flow through. It also has "Phoslite" reflective piping and includes CE-approved armor in the elbows and shoulders with an articulated triple-density back protector.
It also has a removable insulating liner and a zipper attachment for Tour Master pants.  The suggested retail price is $149.99 and it comes in Black, Silver and Yellow Sizes in sizes XS to XXXL.  Size 4XL is available in Black only and they have an expanded size selection with men's Tall sizes in M through XXXL in Black only.  I think I'll see if we can pair one of these up with some of their Venture Air pants for a review.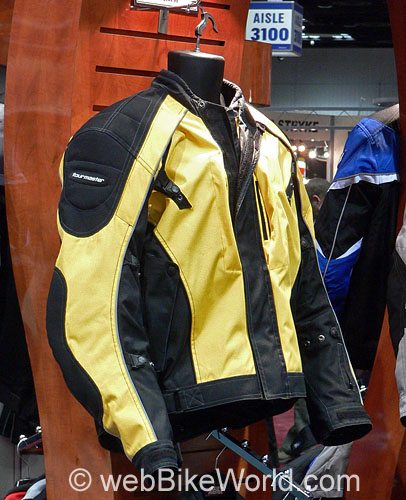 The Tour Master Flex jacket (below) converts from a textile to mesh with the big removable front panels, similar to the Teknic Sprint jacket we reviewed last year.
It also has removable CE-approved armor in the elbows and shoulders with the same articulated "Triple Density" back protector.  The Flex has a removable "Aqua-Therm" waterproof liner and a second insulating removable liner.  Includes a jacket-to-pant zipper attachment.  Available in Black, Red and Silver in Men's sizes XS to 4XL and women's sizes XS to XL.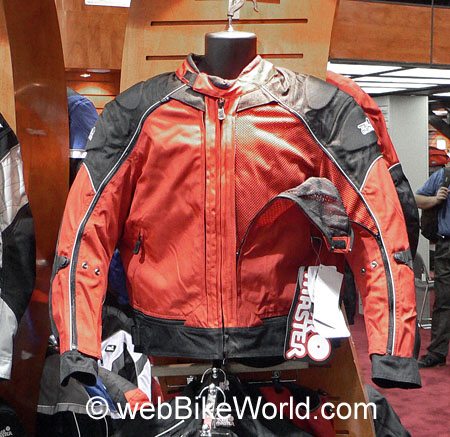 The Tour Master lineup includes some very nice-looking women's motorcycle clothing, and this  Indigo Ladies' Denim Jacket looks good enough to wear off the bike too.  It's designed, patterned and styled specifically for women of 13.5-ounce denim.
It has pre-curved and rotated sleeves, a Mandarin collar lined with soft microfiber and zippered sleeve and rear exit vents, rare on denim jackets.  The front of the jacket also includes a wind flap.
And, it also includes removable, CE-approved armor in the elbows and shoulders and it also has an articulated triple-density back protector.  Quite something for a denim jacket!
The Indigo Ladies' Denim Jacket includes a removable quilted liner, featuring iridescent taffeta, a zippered chest map pocket, hand-warmer pockets, internal mobile-phone pocket and dual-zippered fanny pack.  And believe it or not, it even has a jacket-to-pants zipper attachment!  Sizes are Ladies XS to XL plus short, petite and long.  A steal at only $109.99 list!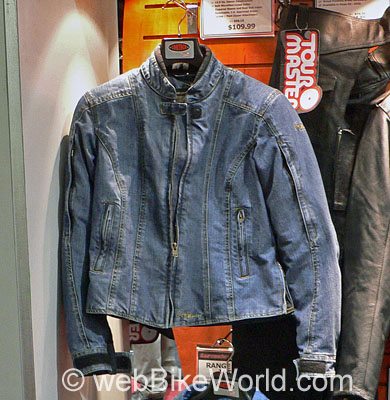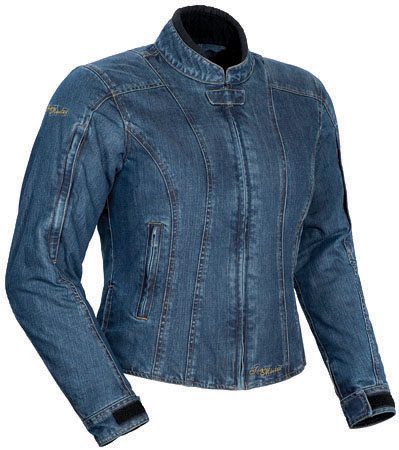 Check this out (below): The Cortech LNX Women's Leather Jacket, constructed with a combination of perforated and non perforated leather (1.2 to 1.3mm).  Includes removable CE-approved shoulder and elbow armor and back protector.  Full circumference and 8″ jacket/pant attachment zippers.
Removable insulated liner, features 100gm Poly fill insulation in the body and 50 gm in the removable liner sleeves.  Zippered hand pockets feature a mesh liner and double as vents.
Large rear exhaust vent with two way zipper.  Two vertical hip zippers for personalized fit.  Accordion style expansion panels at the shoulder and waist for increased flexibility and fit.  Rotated sleeves for comfort and performance in the riding position.  Also includes reflective 3M Scotchlite piping in back.  Available in this beautiful Leopard/White, Blue/White, Pink/White in Ladies sizes: XS – Plus L.  We'll definitely get one of these for a review!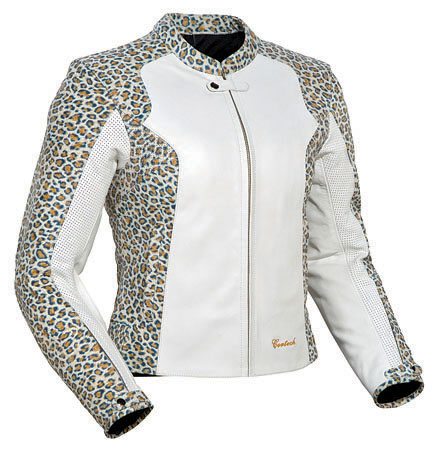 And finally (at least all I had time for) is the Cortech LRX Ladies Sport jacket (below).  Made from 400 Denier Nylon with 1680 Denier Ballistic Polyester.  Includes a "Rainguard" waterproof/breathable liner, a Mandarin style collar with microfiber trim and zippered shoulder, sleeve and rear exit vents for flow-through ventilation.
Removable, CE-approved armor in the elbows and shoulders with an articulated Triple Density back protector.  Also has a removable liner.  Includes a jacket/pant zipper attachment with the pant side included. Available in Black, White, Light Blue, Pink and Silver in women's sizes XS – XL and short and long.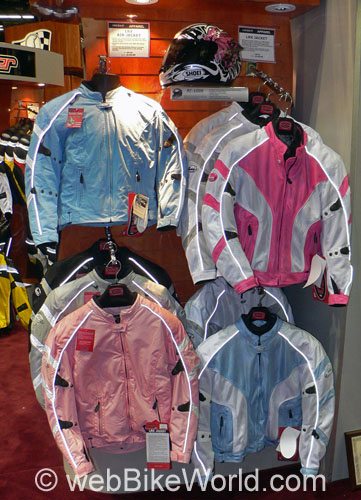 X-Ramp Motorcycle Ramp and Stairs
Here's an interesting product: The X-Ramp is a fold-up motorcycle ramp, available in custom-made lengths to fit any type of pickup, raised bed, van, truck or motorcycle trailer.  The version shown here is a short style (so they could fit it in their booth) for an ATV.
The company makes X-Ramps to length by adding two of the sections at at time; two are necessary for each length increment because the X-Ramp can also be used as a set of stairs, which is handy for climbing in and out of a pickup bed or delivery truck.
The X-Ramp has a mounting device that is attached to the inside of the pickup truck's tailgate.  This is claimed to be safer than other types of ramps because of the secure mounting.
The entire ramp folds/rolls up and two pins are pulled to release it from the mounts, so the only thing left on the back of the pickup truck tailgate (or other mounting surface) is the mounting base.  The X-Ramp shown below on the pickup weighs about 40 lbs.
From "D.R.":  "Some interesting specs…a bit heavier than the single track ramp I'm using but I like the idea that I could increase the LENGTH…
Just got off the phone w/ the guy: X-Ramp Weight Limit: 1200lbs. Overall Width: 49 in.  Ramp Width: 46 in. Ramp Weight: 70 lbs.  Ramp Length Std: 65 in. with 16″ extensions available.
Sized for a FULL size Ford F350 (48×65 inches), the retail price is $549 and each 16″ extension is $150.  They come in varying widths of 32, 36, 48 & 54 inches.  A 32×64″ is $459 (the "small" ramp).  The folded ramp is 9 inches DEEP & it can be locked in place w/ the tail gate down (like a bed extender).  On the LONGER ramps they have fold down LEGS to keep the ramp from swaying or twisting."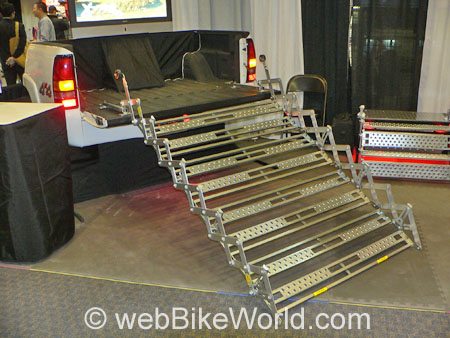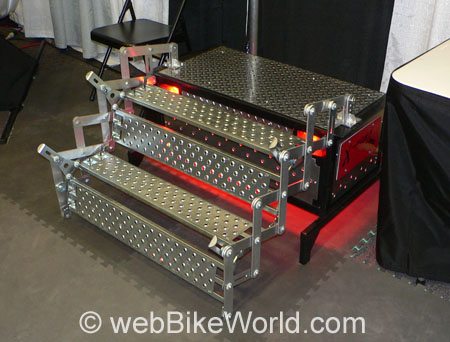 More coming soon…!
Note:  For informational use only.  All material and photographs are Copyright © webWorld International, LLC – 2000-2011.  All rights reserved.  See the webBikeWorld® Site Info page.  NOTE:  Product specifications, features and details may change or differ from our descriptions.  Always check before purchasing.  Read the Terms and Conditions!