webBikeWorld Live Report From The 2007 Powersports Dealer Expo
Sunday, Feb. 18, 2007 – Indianapolis, Indiana:  Continuing our live coverage of the 2007 Powersports Dealer Expo, held each year during President's Day weekend in Indianapolis, Indiana.
My overall impression is that the show has more international vendors this year, with large and sophisticated displays of their products.  Previous shows tended to be focused solely on motorcycle products and accessories made in or distributed by U.S. firms.
Since my job is to ferret out the unique, the interesting and the off-beat to help achieve the webBikeWorld mission, I'm always on the lookout for the little booths with the never-before-seen products on display.  This year, there are many manufacturers who are trying to break into the U.S. market with some interesting products.
On This Page:
Teknic Freestyle Jacket and Updated Speedstar Suit (Below)
Super Sleek Trike: The Stallion
W2 Motorcycle Boots
Muc-Off to the U.S.A.?
Pivot Pegz for Dirt Bikes
Teknic for 2007: Freestyle Jacket and Speedstar Suit
Teknic has been turning out some innovative gear lately (see our review of the Teknic Sprint jacket and pants, named one of webBikeWorld's Best Motorcycle Products of 2006).
Each year they have a different type of booth at the Indy show.  It's one square display block long and wide and there's only one entry and one exit.  It's rather imposing and there are never as many people in there as there are at the more open displays.  Why they keep doing this is a mystery.  I think visitors get the feeling that they're going to be trapped by some sales sharks.  It's just not very user friendly.
Nevertheless, I bucked up and climbed on board to see what's new.  The Freestyle jacket (photo below) looks very nice, it's designed to pair with riding jeans or stunt pants.  It has 15-degree forward rotated arms and a removable waterproof and breathable liner and a zip out vest liner.
It also features Teknic's new Airblade shoulder venting system; look at the shoulders in the photo below and you can see tiny scoops that direct air on to the rider's back.  Teknic's Speedstar leather suits and some other products also feature this design.
The Freestyle jacket is made from DuPont's 600D Soft Touch Cordura and it feels comfy.  It also features underarm zipper vents, chest vents and a rear exhaust vent.
Armor is CE-approved in the shoulders and elbows.  The Teknic technician (!) told me that the Airblade shoulder system has replaceable blades, but I'm not sure what that really means.  The jacket also has memory foam chest padding, a built-in kidney belt and some spine padding.  Suggested retail price will be set at $199.99 and it's available in several color combinations.
We'll get one for a review; it looks like it might make a nice warm weather jacket!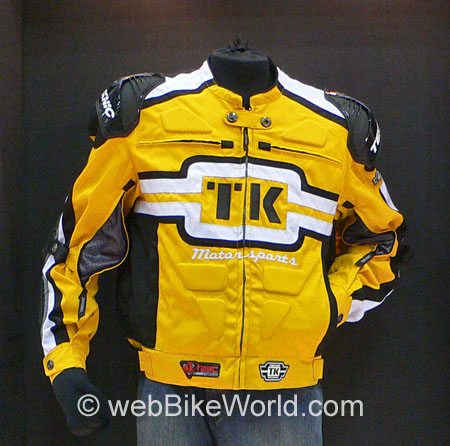 The Teknic Speedstar suit would make a good match with the Speedstar gloves we reviewed recently (or is it the other way around?).
It features a very cool "sublimated" design that looks like a circuit board (of all things), which is created by somehow injecting the color into the leather.  The suit is loaded with features — too many to list here — including an attached Airlux breathable and moisture wicking liner AND a separate one-piece "Union Suit" Airlux liner that comes with the suit.
Teknic now uses GP TEK CE-approved elbow, hip and knee armor and the Speedstar suit also comes with a very nice CE-approved (not sure which level) spine/back protector.
It also has the Airblade shoulder vent system and Teknic's "TASC" stitching on the critical wear points.  The technician showed me a cutaway of the stitching, which features layers of leather and a complex stitching system to minimize the stitches on top but increase them underneath to hold the seams together.  He said the suit has a reduced number of seams and it does look like it.
Unfortunately, the suit will only be available in standard sizes, no shorts or longs.  This may make it difficult to fit anyone with other than "standard" dimensions.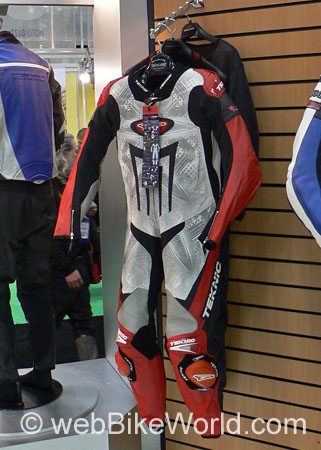 Thoroughbred Motorsports "Stallion"
There are always some motorcycle or powersports related vehicles sprinkled here and there throughout the show.  The Stallion is built by Thoroughbred Motorsports, a manufacturer of trikes.  It has been available for several years and the latest evolution is, well, pretty radical.  It's about as far away from being a motorcycle without being an automobile as you can get.
It's a three-wheeler with a Ford 2.3 liter four cylinder engine rated at 155 HP.  It has a five speed automatic transmission, a 9.5 gallon fuel tank and it has a claimed 35 to 45 MPG.  It weighs 1,700 lbs. and has a length of 125 inches, width of 62 inches and it's 58 inches high.
It appears to be very well made and it has an 8.5 cubic foot trunk.  Other features include adjustable foot pedals, leather seats, a Sony AM/FM CD and MP3 player, Ford gauges, air lift suspension, Progressive shocks and even cruise control.  And wait — there's more:  How about air conditioning and heat for driver and passenger, a trailer hitch, cup holders, front and rear disk brakes and a 3 year, 36,000 mile warranty?  Only $29,995.00.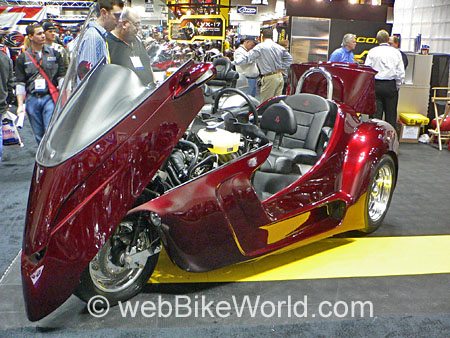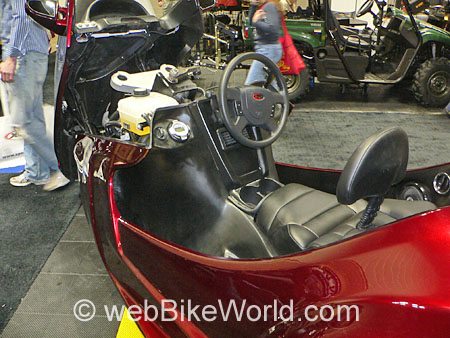 W2 Motorcycle Boots
The motorcycle product distribution system is a complex and, some say, monopolistic system that can make or break a product before it ever reaches the shelves of the local retailers.  It's very hard for a new company, especially one from outside the U.S., to conquer this system without the backing of one of the big distributors or manufacturers.  Direct sales via a website is sometimes the best way to circumvent the beast.
Hidden in a booth not much wider than the shelf in the photo below was a representative from Wind Trading S.R.L., doing business as W2 Boots, located in Ravenna, Italy.  They had some nice-looking motorcycle boots on display, "still made in Italy", as he told me.  They're looking for a U.S. distributor.  Here's a link to their Adobe Acrobat (.pdf) product catalog.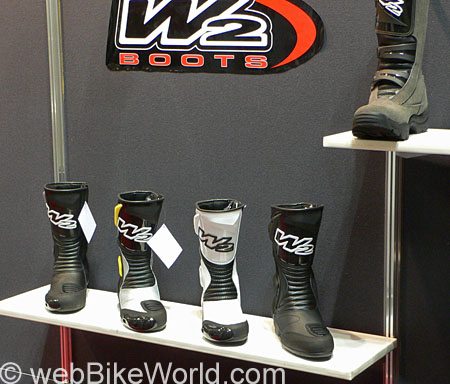 The "4-Dirt Adventure" boot caught my eye.  It looks very comfortable and it has a unique strap system that has the potential to overcome the calf fitment problem that seems to be common in this type of boot, mostly due to the height of the Adventure Touring style.
It isn't apparent in the photo below, but the straps continue behind the front flap and can be ratcheted in and out to widen the top of the boot to fit riders with differently sized calves.  The boots have a nice, thick, sticky rubber sole.
The W2 uses 3mm thick suede leather and it is claimed to be fully waterproof, using a Drytex membrane lining.  It has injection molded plastic protectors, replaceable buckles and free-floating straps.
The boots also feature a steel shank and they're available in U.S. sizes from 6 to 13 (Euro 39 to 47).
We're going to try and buy a pair for a review.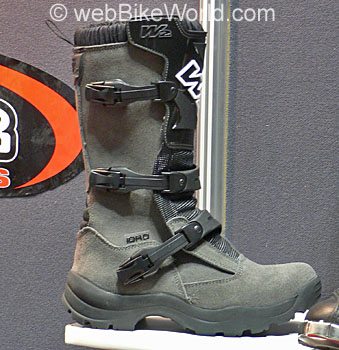 Muc-Off Products
Muc-Off may not (yet) be a household name in the U.S.A., but it's the Number 1 motorcycle cleaner in the U.K., where bikes get very dirty very quickly, due to the weather and the hard-riding owners.  And here's an irony: I'm told that UK motorcycle owners think the brand is from the U.S.!
Muc-Off offers a wide variety of products besides their namesake cleaner, including cleaning kits, brushes, chain lube, polish and more.  The cleaner is fully bio-degradable.  It's a "spray on, wash off" type product for use on anything from painted surfaces to saddles, wheels, spokes, chains, windscreens and more.
They're looking for U.S. distributors and I hope they can land a deal soon.  I've seen Muc-Off advertised for years and it would be nice to have it available here in the U.S.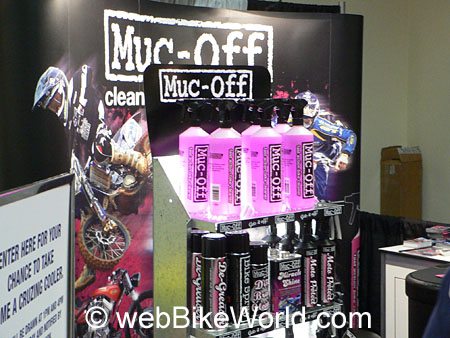 Pivot Pegz
Here's another interesting product for dirt riders.  It's been around for a couple of years but this is the latest upgrade, the Mark 2.  Pivot Pegz are designed to replace the standard foot pegs on a dirt bike.  They can rotate about 20 degrees fore and aft; that is, they pivot back and forth, which keeps the rider's feet tracking with the motorcycle.  The Mark 2 design is wider and lighter than the original version and it has an "enhanced" grip pattern.  They carry a lifetime warranty.
They look and feel very substantial and the casting and machining work is of very high quality.  They're made from investment cast stainless steel and the parts are rebuildable.  The base bolts on to the dirt bike in place of the original peg holder, and the foot peg pivots on a bushing enclosed with O-rings.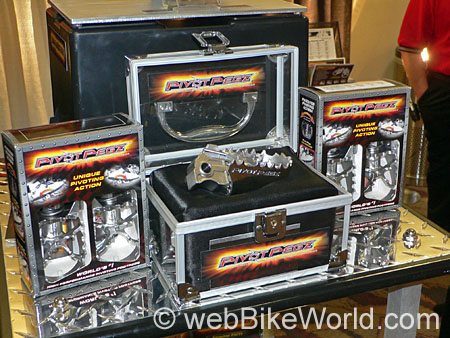 More on the way…!
Note:  For informational use only.  All material and photographs are Copyright © webWorld International, LLC – 2000-2011.  All rights reserved.  See the webBikeWorld® Site Info page.  NOTE:  Product specifications, features and details may change or differ from our descriptions.  Always check before purchasing.  Read the Terms and Conditions!