Page 2: More live reporting from the 2006 Powersports Dealer Expo in Indianapolis, Indiana.
Home | Page 2 | Page 3 | Page 4  | Page 5 | 2005 Dealer Expo
All text and photos © webWorld International, LLC 2001-2007. All rights reserved.

2006 is shaping up to be the "Year of the Motorcycle Helmet".  Here's our review of the HJC Carbon, using the AC-12 mold.
Brembo had a press conference to introduce a new performance division.  It didn't start on time and I didn't have time to spare.  I snapped a couple of photos: the one on the left is a new Brembo caliper for custom bikes, but the photo on the left is of more interest to webBikeWorld visitors; a carbon rotor and monobloc brake caliper from a MotoGP bike!  You don't see these down at your local dealer…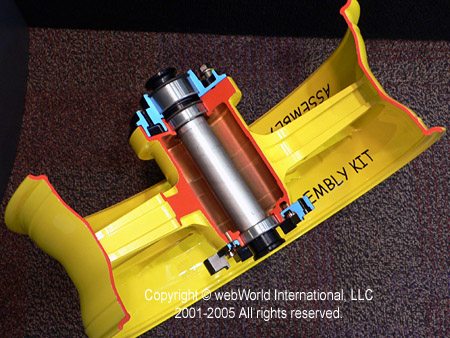 You see all sorts of things at this show, from ATVs to scooters to snow bikes.  Here's a cutaway of a motorcycle wheel for those of you — like me — who have never seen one.  Courtesy of Brembo.
Here's an interesting item called the CargoBuckle.  It uses a 5,000 lb. breaking strength seatbelt-type strap.  It can be bolted to the motorcycle trailer bed.  Press a button to release the strap; press another to take up the slack.  The bitter handle on top is used as a ratchet to tighten the strap.  To unload the bike, press a button and the strap releases.
NEW! See the webBikeWorld review of the Cargo Buckle tie down system!
It's available as a standalone unit or as a bolt-on, and it can also be mounted on a track like the ones used in enclosed trailers.  It's also available with several different types of hooks.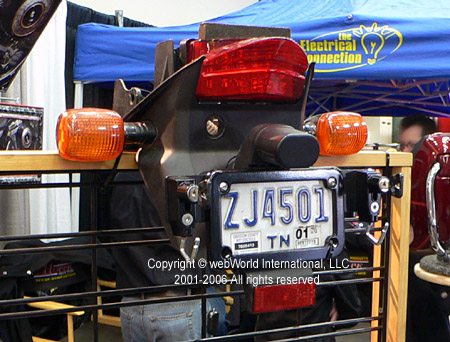 The Helmet Guardian is a device that can be bolted to the license plate holder on most bikes.  Motorcycle helmets, jackets or other accessories can be locked to the device when the bike is parked.  It uses tamper-proof bolts that can be unscrewed with a special adapter that is supplied with the kit.  It comes with two keys and it's available in black or chrome.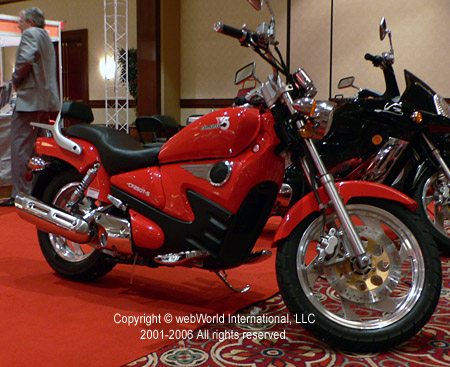 Three years ago, the Chinese had a small section carved out of the vast Indiana Convention Center and RCA Dome.  Last year, they had their own pavilion.  This year, the Chinese presence is huge.  There are literally dozens of Chinese scooter manufacturers displaying their wares, and their products have noticeably higher quality each year.  Something has to give at some point; it just doesn't seem possible that so many scooter manufacturers can survive in the U.S. market, especially with their strange (to us anyway) sounding names.
But there's no doubt that the Chinese will become a major force in motorcycling.  After all, many of our accessories are being made there, including helmets, gloves, jackets and pants.  And they're moving into the motorcycle market.  I saw some very interesting designs, including this 250cc model and a couple of very nice looking 250cc bikes that were sort of a cross between adventure-tourer, motocross and supermoto.  They looked like they would be lots of fun to own and to ride.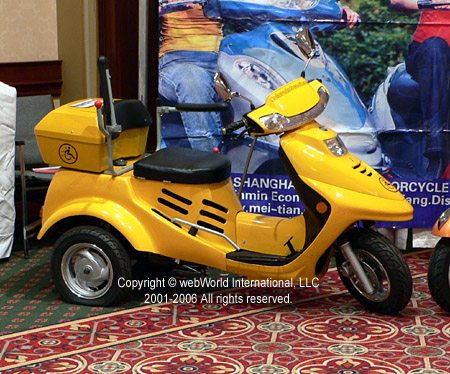 Here's an interesting Chinese made scooter mobility vehicle, claimed to have a maximum speed of 40mph.  Paint on some flames and give it to Grandma!