Commuting is easier and safer in Perth than any other Australian city, while Sydney is the worst, according to a German traffic study.
While lane filtering now allows riders to dodge the worst of the daily commute, riders still face commuting costs of fuel and parking, traffic crashes and road rage.
German automotive website, Kfzteile24, studied 10 wide-reaching commuting factors and covers commuters on all types of transport, including motorcycles.
Perth rated the best place in Australia for commuting at 19th, followed by Brisbane at 45th, Melbourne 55th, Adelaide surprisingly at 57th and Sydney worst 61st.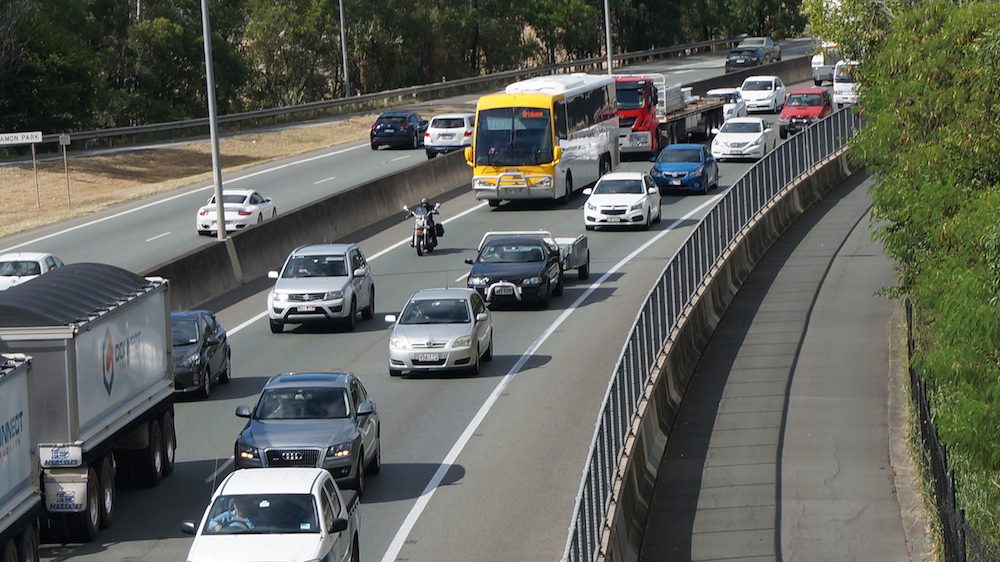 Congestion ratings
Based on the TomTom Traffic Index, congestion is worst in Kolkota, India, with a score of 69% and best was Bern in Switzerland and the Dutch city of Rotterdam at 19%.
By comparison Perth and Adelaide are 27%, Brisbane 28%, Melbourne 33% and Sydney39%.
Consequently, road rage in Sydney was the 21st worst with the worst being in St Petersburg, Russia.
The study listed the cost of fuel as 90c US (about $A1.12) across all Australian capitals.
The highest fuel costs were in Hong Kong at $US1.94 (about $A2.43) and the lowest were in Lagos in Nigeria at 46c (about 59c), even lower than oil-rich Dubai at 48c.
Safest commuting
Safest place for commuting is in Switzerland with three Swiss cities scoring a perfect score of 10, while the worst was Bangkok with 1.
Australia is comparatively safe with a score of 5.81 across all cities.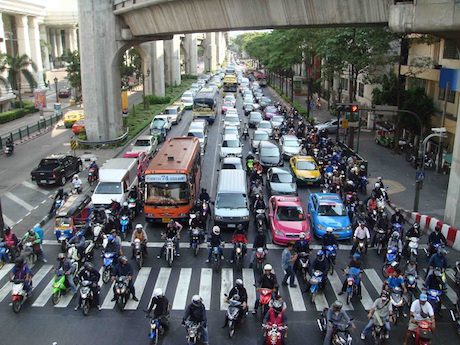 Road quality
Best roads are generally in Europe, but the perfect score of 10 was shared by Singapore, Helsinki, Marseille, Bordeaux, Paris, Manchester and Nice.
While good roads generally mean fewer commuting crash injures, there are some glaring anomalies such as Manchester which scored badly on crashes.
Once again, the commuting study gave the same score of 7.26 to all listed Australian cities.
The results below show scores for each commuting category with a final rank at the end. Low numbers are bad and high numbers are good.
(If you can't read the table properly, try a desktop computer or turning your phone or tablet sideways.)
#
City  
Country  
Traffic

jams

Fuel

($US)

Diesel

($US)

Public

Trans

Parking

cost

Speed

to

airport

Air

quality

Crash

injuries

Road

quality

Road

rage

Rank
1
Dusseldorf
Germany
20%
1.52
1.31
8.88
1.74
21.20
5.55
7.03
9.23
8.96
1
2
Dubai
UAE
26%
0.48
0.51
3.81
4.54
31.70
8.00
9.13
8.24
8.65
2
3
Zurich
Switzerland
31%
1.42
1.49
9.59
3.65
25.50
7.00
8.78
9.80
9.86
3
4
Tokyo
Japan
26%
1.14
0.94
10.00
4.18
30.50
4.27
6.94
8.83
8.45
4
5
Basel
Switzerland
27%
1.42
1.49
9.01
2.55
17.50
7.64
10.00
9.80
9.91
5
6
Singapore
Singapore
38%
1.44
0.99
8.56
1.39
32.40
3.45
8.69
10.00
8.25
6
7
Dortmund
Germany
23%
1.49
1.26
7.39
1.74
19.90
5.18
7.03
9.23
9.01
7
8
Vienna
Austria
31%
1.26
1.16
9.75
3.94
28.00
5.09
5.81
9.60
9.87
8
9
Munich
Germany
30%
1.50
1.28
9.26
2.09
27.40
6.73
7.03
9.23
7.28
9
10
Calgary
Canada
20%
0.93
0.77
8.27
10.96
26.80
10.00
5.19
8.83
7.19
10
11
Bern
Switzerland
19%
1.42
1.49
8.65
2.78
12.40
6.45
10.00
9.80
9.78
11
12
Stuttgart
Germany
28%
1.50
1.27
8.06
2.09
24.90
5.73
7.03
9.23
8.18
12
13
Montreal
Canada
29%
0.93
0.77
9.01
7.04
23.00
8.82
5.19
8.83
8.81
13
14
Toronto
Canada
30%
0.93
0.77
8.69
7.83
25.60
9.18
5.19
8.83
8.38
14
15
Helsinki
Finland
31%
1.55
1.34
8.85
4.18
20.00
7.64
6.42
10.00
10.00
15
16
Seattle
USA
34%
0.70
0.67
8.27
10.61
36.10
9.82
3.10
8.43
9.37
16
17
Frankfurt
Germany
28%
1.51
1.27
7.64
3.13
20.50
4.73
7.03
9.23
8.78
17
18
Amsterdam
Netherlands
22%
1.67
1.30
6.36
5.45
18.80
6.09
8.51
9.03
9.51
18
19
Perth
Australia
27%
0.90
0.94
5.21
2.78
21.20
8.27
5.81
7.26
8.29
19
20
Essen
Germany
28%
1.48
1.26
5.46
2.61
20.00
5.91
7.03
9.23
8.83
20
21
Madrid
SPAIN
25%
1.29
1.17
3.97
2.90
24.30
7.91
8.17
8.83
6.15
21
22
Ottawa
Canada
28%
0.93
0.77
7.52
6.66
18.10
9.91
5.19
8.83
8.45
22
23
San Antonio
USA
20%
0.70
0.67
4.96
10.12
24.90
8.64
3.10
8.43
8.22
23
24
Geneva
Switzerland
29%
1.42
1.49
8.87
3.57
11.20
7.27
10.00
9.80
9.73
24
25
Hamburg
Germany
33%
1.49
1.25
8.42
1.74
12.50
6.82
7.03
9.23
9.26
25
26
Stockholm
Sweden
28%
1.57
1.53
5.88
9.05
36.20
5.00
9.65
8.24
9.33
26
27
Marseille
France
29%
1.46
1.31
4.06
2.67
29.90
4.09
6.42
10.00
8.45
27
28
Prague
Czech Rep
23%
1.20
1.16
7.35
4.41
16.80
4.55
8.43
8.43
7.17
28
29
Graz
Austria
29%
1.26
1.16
6.71
3.02
16.20
5.36
5.81
9.60
9.86
29
30
Rotterdam
Netherlands
19%
1.67
1.30
8.76
4.64
13.10
6.00
8.51
9.03
6.54
30
31
Berlin
Germany
29%
1.49
1.26
9.84
1.97
13.10
5.82
7.03
9.23
6.11
31
32
Barcelona
SPAIN
31%
1.29
1.17
6.71
3.94
20.00
5.64
8.17
8.83
7.19
32
33
Cologne
Germany
34%
1.51
1.27
6.94
2.09
20.60
5.45
7.03
9.23
7.03
33
34
Birmingham
UK
40%
1.51
1.52
8.43
4.54
27.30
9.55
9.13
8.24
6.44
34
35
Bremen
Germany
32%
1.51
1.27
8.22
2.67
11.20
7.09
7.03
9.23
8.81
35
36
Seoul
Korea
30%
1.27
1.09
9.33
5.36
29.30
2.82
4.15
8.63
6.85
36
37
Oslo
Norway
30%
1.83
1.70
8.09
6.15
44.10
6.36
8.08
4.33
9.48
37
38
Glasgow
UK
30%
1.51
1.52
5.70
2.67
16.80
9.36
9.13
8.24
4.73
38
39
Bordeaux
France
40%
1.46
1.31
6.94
2.78
13.80
6.45
6.42
10.00
10.00
39
40
Auckland
New Zealand
38%
1.41
0.88
8.51
12.13
23.70
9.27
5.19
6.87
8.92
40
41
Austin
USA
25%
0.70
0.67
5.21
6.07
16.20
8.18
3.10
8.43
7.35
41
42
Toulouse
France
29%
1.46
1.31
4.64
3.13
13.20
7.36
7.03
9.23
7.91
42
43
Philadelphia
USA
23%
0.70
0.67
5.30
17.19
18.70
7.73
3.10
8.43
6.00
43
44
Edinburgh
UK
29%
1.51
1.52
8.09
5.94
13.70
6.18
9.13
8.24
6.17
44
45
Brisbane
Australia
28%
0.90
0.94
4.22
14.72
17.40
8.73
5.81
7.26
8.42
45
46
London
UK
38%
1.51
1.52
9.91
10.44
16.20
8.09
9.13
8.24
6.85
46
47
Wellington
New Zealand
34%
1.41
0.88
7.77
3.82
10.70
9.64
5.19
6.87
8.94
47
48
Vancouver
Canada
39%
0.93
0.77
8.18
5.87
15.00
9.73
5.19
8.83
5.59
48
49
Liverpool
UK
40%
1.51
1.52
8.60
6.51
15.60
6.55
9.13
8.24
8.42
49
50
Boston
USA
28%
0.70
0.67
6.94
16.44
16.80
7.36
3.10
8.43
5.81
50
51
Paris
France
27%
1.46
1.31
9.50
4.99
15.00
4.45
6.42
10.00
2.31
51
52
Chicago
USA
26%
0.70
0.67
9.26
15.16
13.80
6.64
3.10
8.43
4.22
52
53
Tallinn
Estonia
26%
1.25
1.23
5.37
4.18
8.80
9.45
6.85
9.23
4.58
53
54
Budapest
Hungary
22%
1.20
1.19
2.49
1.86
16.80
4.00
4.58
5.10
7.59
54
55
Melbourne
Australia
33%
0.90
0.94
2.98
15.50
17.50
7.82
5.81
7.26
8.78
55
56
San Diego
USA
27%
0.70
0.67
3.56
10.12
11.20
9.00
3.10
8.43
8.13
56
57
Adelaide
Australia
27%
0.90
0.94
1.90
7.08
11.90
8.36
5.81
7.26
9.33
57
58
Lisbon
Portugal
36%
1.57
1.32
7.19
2.09
8.10
9.09
4.50
9.80
4.73
58
59
Manchester
UK
29%
1.51
1.52
9.10
5.89
14.30
1.36
3.01
10.00
7.21
59
60
Tel Aviv
Israel
39%
1.69
1.55
5.63
1.72
21.90
2.64
8.34
6.47
3.68
60
61
Sydney
Australia
39%
0.90
0.94
9.68
26.34
15.60
8.45
5.81
7.26
4.04
61
62
Cape Town
South Africa
35%
0.96
0.96
7.19
1.02
17.50
2.18
1.09
6.87
3.70
62
63
Copenhagen
Denmark
32%
1.61
1.35
5.79
4.41
16.20
4.82
4.67
5.50
9.35
63
64
Kuala Lumpur
Malaysia
43%
0.49
0.47
2.82
1.06
30.50
2.73
1.35
7.84
4.22
64
65
Miami
USA
30%
0.70
0.67
2.85
6.07
19.40
7.55
3.10
8.43
2.76
65
66
Nice
France
38%
1.46
1.31
4.64
4.99
12.40
4.18
6.42
10.00
7.91
66
67
Johannesburg
South Africa
47%
0.96
0.96
7.77
1.93
26.80
1.73
1.09
6.87
4.74
67
68
Riga
Latvia
23%
1.14
1.01
2.57
2.90
18.10
3.55
4.06
3.54
5.28
68
69
Dublin
Ireland
43%
1.44
1.28
4.47
3.19
9.40
8.91
7.99
7.84
6.65
69
70
New York
USA
35%
0.70
0.67
9.42
27.61
11.20
8.55
3.10
8.43
2.58
70
71
Antwerp
Belgium
30%
1.47
1.35
3.48
2.84
10.00
4.64
4.76
8.04
7.48
71
72
Brussells
Belgium
38%
1.47
1.35
2.82
3.36
14.40
5.27
4.76
8.04
7.71
72
73
Athens
Greece
36%
1.64
1.36
6.04
6.61
35.50
3.18
1.96
9.60
3.14
73
74
Santiago
Chile
43%
1.13
0.73
2.08
2.74
22.40
2.00
2.83
8.24
4.55
74
75
Milan
Italy
27%
1.63
1.47
1.99
6.03
34.90
3.27
4.93
5.70
4.19
75
76
Los Angeles
USA
45%
0.70
0.67
4.22
10.12
20.50
7.27
3.10
8.43
3.68
76
77
Beijing
China
46%
0.95
0.84
1.83
1.50
22.40
1.64
1.96
5.90
6.26
77
78
Shanghai
China
48%
0.95
0.84
2.24
1.64
34.90
1.82
2.31
2.37
7.17
78
79
Rome
Italy
35%
1.63
1.47
3.30
4.87
22.40
4.36
4.93
5.70
3.52
79
80
Buenos Airies
Argentina
42%
1.30
1.14
4.96
2.01
25.60
4.91
2.75
3.16
1.92
80
81
Sofia
Bulgaria
29%
1.11
1.08
2.66
1.18
13.20
2.91
4.41
2.17
3.02
81
82
Hong Kong
China
41%
1.94
1.52
3.30
3.18
39.20
2.45
1.96
5.90
5.09
82
83
Warsaw
Poland
37%
1.15
1.11
3.81
1.16
10.60
3.64
3.97
2.37
4.01
83
84
Moscow
Russia
41%
0.70
0.65
4.96
3.34
18.10
3.73
1.79
1.77
2.12
84
85
Bangkok
Thailand
61%
0.98
0.73
2.91
1.35
21.20
3.00
1.00
7.07
3.54
85
86
St Petersburg
Russia
44%
0.70
0.65
6.04
3.34
17.40
3.73
1.79
1.77
1.00
86
87
Jakarta
Indonesia
58%
0.63
0.68
1.09
0.38
17.50
2.09
2.66
3.93
3.68
87
88
Bucharest
Romania
50%
1.11
1.10
2.31
0.57
16.20
3.91
4.32
1.00
3.99
88
89
Sao Paulo
Brazil
30%
1.18
0.97
3.20
6.21
15.00
3.36
1.44
2.57
4.06
89
90
Rio de Janeiro
Brazil
37%
1.18
0.97
3.56
4.13
12.50
2.55
1.44
2.57
4.51
90
91
Istanbul
Turkey
49%
1.47
1.29
1.56
1.69
11.80
2.27
4.23
6.87
1.49
91
92
Mexico City
Mexico
66%
0.92
0.87
5.46
6.97
17.50
3.09
2.92
6.09
4.62
92
93
Bogota
Colombia
48%
0.75
0.69
1.56
5.22
12.50
2.36
4.93
4.53
1.22
93
94
Ho Chi Minh
Vietnam
64%
0.79
0.61
1.16
1.10
14.90
1.91
1.26
2.57
5.77
94
95
Bangalore
India
64%
1.12
0.93
1.32
0.86
18.70
1.45
2.40
4.13
1.94
95
96
Mumbai
India
67%
1.12
0.93
6.04
0.95
8.10
1.55
2.40
4.13
3.20
96
97
Ulaanbaatar
Mongolia
65%
0.63
0.68
1.00
2.00
21.80
1.18
1.61
1.20
4.19
97
98
Lagos
Nigeria
60%
0.46
0.65
1.25
0.32
10.70
1.00
1.70
2.76
3.50
98
99
Karachi
Pakistan
59%
0.66
0.74
1.38
0.56
11.20
1.09
2.22
3.54
1.81
99
100
Kolkota
India
69%
1.12
0.93
1.41
0.31
11.20
1.27
2.40
4.13
4.24
100