Tommy Jack Motorcycle Lift

Tommy Jack Motorcycle Lift

wBW Reviews Home | Owner Comments (Below)

by Bill C. for webBikeWorld

When I rule the planet, I will decree that all motorcycles will have center stands installed at the factory.

I never thought much about this until I purchased my first modern sport bike and discovered that it only had a side stand.

I simply assumed that every motorcycle had a center stand, which makes motorcycle ownership at least 5 times easier.

I guess the manufacturers don't think that it's important to do stuff like lubricate a chain, change a rear tire, change the oil and other minor tasks.

Sport bike owners claim that a center stand will decrease lean clearance, but come on -- when's the last time you were leaned over far enough on the street to scrape something? (Cruiser owners - don't answer this!)

At the very least, there should be some consideration for performing simple chain maintenance, like lubrication and adjustment. That's where the Tommy Jack comes in.

The Tommy Jack is a pretty simple device -- basically a lever to jack up one side of the motorcycle so that the rear wheel can turn freely. This allows the owner to do a chain lube or chain adjustment.

I'm not sure how owners of motorcycles without a center stand or any other type of stand perform this basic yet essential task every 200 miles or so. Do they really roll the bike back and forth while they spray the lube on the chain? Hard to believe...

There are other types of wheel rollers that can be used to do this and we've reviewed a couple of them, like the Rollastand. But they're not all that easy to use -- they require muscling the wheel around while the weight of the bike is on the device's rollers.

They also tend to allow the bike to move around as the wheel is being rotated. These devices aren't cheap, either, so their popularity has been limited.

A rear wheel swingarm stand (aka "paddock stand"), like the Steel Horse product is a must for a motorcycle sans center stand, and that's the solution we recommend. But for basic, quick maintenance, the Tommy Jack does the trick. It's also light enough at 1 lb. 15 oz. (883 grams) to throw in a saddlebag for a motorcycle tour.

Did you ever notice that the motorcycle touring articles never really talk about how they lubed their chain every couple-hundred miles? Well, here's how they do it.

The Tommy Jack is designed to fit under the right side of the motorcycle swingarm. Locate it vertically under the swingarm, push down on the lever, slide in the safety pin and you're ready to go. The bike then rests on the front wheel, the side stand and the Tommy Jack.

When I first read the instructions I was skeptical about how safe this would be, but it actually works pretty well. We've tried it on several bikes and it's easy to use and results in a relatively stable configuration for performing a chain lube. It has two big rubber bumpers on the bottom of the arms, and they grip pretty well on just about any hard surface.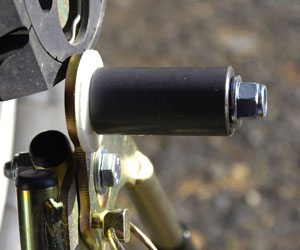 It's important to note that the Tommy Jack has a limited lifting range. We measured its range from about 11.5" to 14" (29 to 35.5 cm), so if the lower edge of your bike's swingarm is lower than 11.5" or higher than about 12.5" or so, the Tommy Jack may not lift the rear wheel high enough to freely rotate.
For example, it will not work on our 1998 Triumph Tiger, because of the height of the swingarm.
The Tommy Jack must be assembled before it can be used for the first time. The assembly instructions that came with the Tommy Jack don't include photos, and the photographs on the Bike Lift website aren't very descriptive either.
It took some figuring to assemble the rotating collar to the Tommy Jack, and since "a picture is worth a thousand words", we've included one here that I think will show how the collar should be assembled.
The bottom line is that this is a useful device and relatively inexpensive at $59.95. The Tommy Jack's folded dimensions are 15" by 2-3/4" (38 cm by 6 cm), so it should fit into most saddlebags. It's indispensable on a road trip and can be set up in seconds on any flat and hard surface to do a chain lube.
It's a minimalist approach, and it certainly doesn't replace a center stand or swingarm stand, but it's 100% better than nothing.
Note: For informational use only. All material and photographs are Copyright © webWorld International, LLC since 2000. All rights reserved. See the webBikeWorld© Site Info page. Product specifications, features and details may change or differ from our descriptions. Always check before purchasing. Read the Terms and Conditions!
Please send comments to
Comments are ordered from most recent to oldest.
Not all comments will be published (
details
). Comments may be edited for clarity prior to publication.
---