Adventure rider Karolis Mieliauskas has completed what is most likely the world's longest test ride on the new KTM 790 Adventure by riding 20,000km across Russia, the USA and UK.
It's not the Lithuanian adventurers first epic ride:
Around the World
His latest Around The World in 40 Days ride was completed two minutes ahead of schedule.
He left his hometown of Druskininkai on 17 August and returned on 26 September.
"Around The World in 40 Days was basically an experiment," Karolis says.
"I wanted to push my mental and physical boundaries beyond what they already know.
"On previous long-distance adventures I would cover 1000s of kilometres per day over a short period of time.
"This level of focus would push me beyond my perceptions of what is mentally and physically possible.
"I wanted to see if this state of separating the mind from the body, or motorcycle meditation, to question what is true would be possible to sustain over longer distances.
"This was an extensive test in overcoming what we are conditioned to believe is possible and what is not."
KTM 790 Adventure 'perfect'
It was also an extensive test of the KTM 790 Adventure, donated by KTM Nordic.
"For this kind of trip which involved massive distances and long-distance air freight, the 790 Adventure was absolutely perfect," he says.
"You never know what kinds of roads you will meet on a round the world trip, even if you stick to designated routes and don't go off road.
"In Siberia, for example, there was a lot of unexpected road surfaces and weight is very important here because it affects the bike's handling.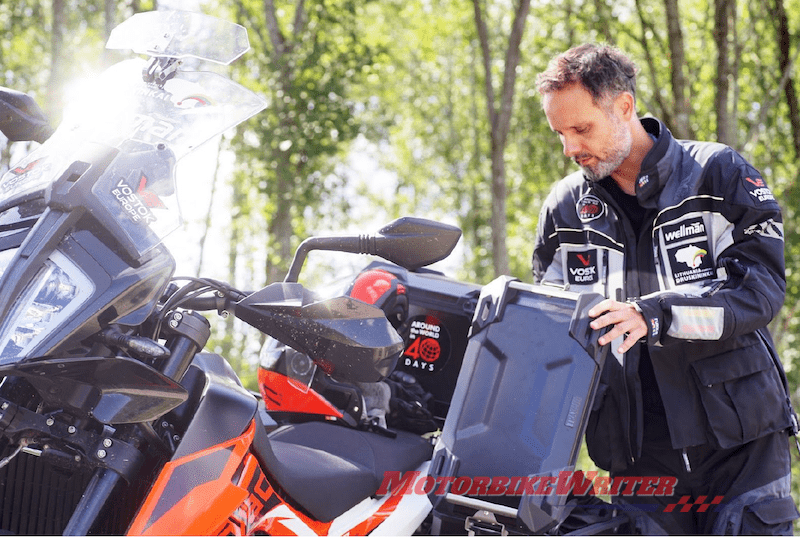 "Low weight (213kg) was also important when it came to air freight. Transporting a bike with an aircraft can be very pricey, especially if you exceed certain size and weight limits."
He says the small size was also an advantage.
"To pack him in an aircraft's cargo hold, all I had to do was remove the front screen (129cm) and he was ready to go!," Karolis says.
"This is very innovative in the market as comparable bikes are much taller and could prove logistically difficult to transport."
He says the bike's low centre of gravity means it handles very responsively, even with a full tank of fuel with about 400km of range.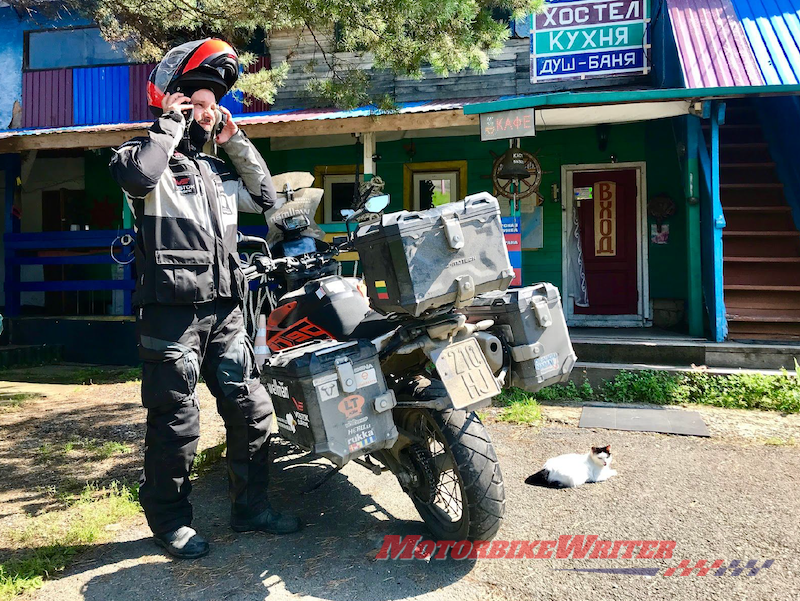 "The bike is very quick and razor sharp, but its braking speeds are something insane that I have not experienced before," he says.
"In terms of rider confidence, the KTM's traction control and ABS systems give you a huge amount of faith as a rider.
"I didn't really have to reduce my speed too much in heavy rain, because it was a simple case of switching between rain mode, off-road mode, or whatever setting you need based on the conditions."
He also praised the bright LED lighting.
However, he says the windshield is too small for his 182cm height.
"For anyone around my height or taller, I'd recommend opting for a bigger one.
"During the Siberian leg, heated handle bars would have also been nice, but I believe they can be specified as an option."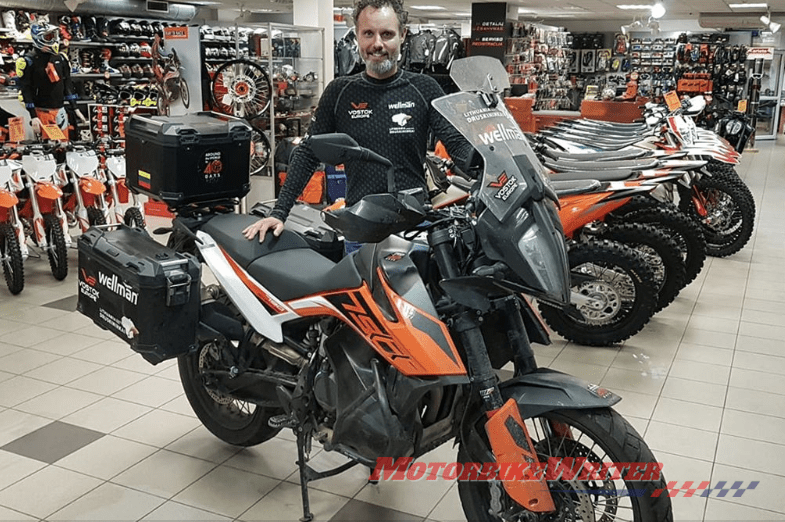 You can see Karolis's bike at the KTM dealership in Vilnius, the capital of Lithuania.
"There is not another one of these in the world that has this many kilometres on its dashboard," he says.
Motorcycle diplomacy
Karolis also intended his ride to be a vehicle for "motorcycle diplomacy" by meeting with Lithuanian expats in Siberia, Los Angeles, Chicago, New York and London and asking them to participate in the upcoming World Lithuanian Sports Games.
Chicago is home to the world's largest Lithuanian expat community.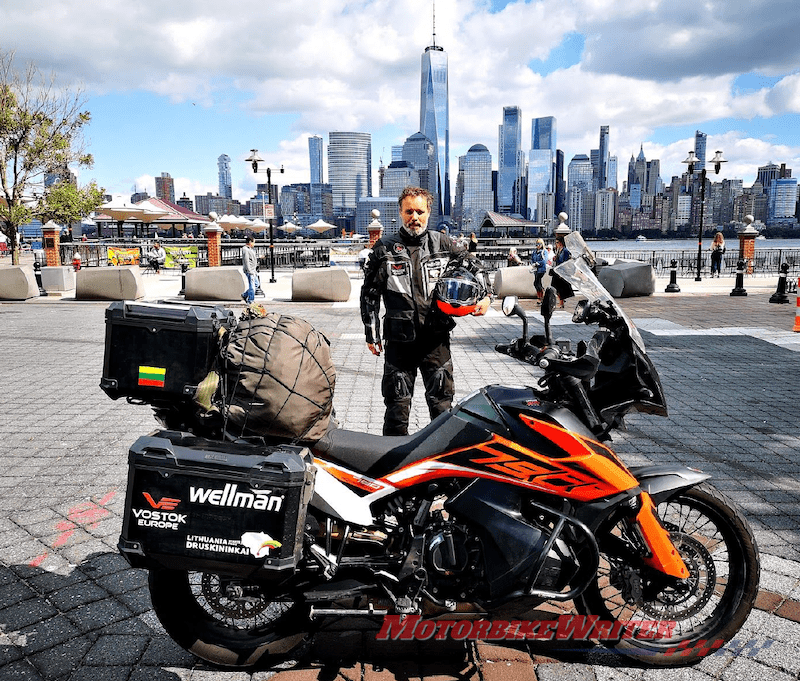 In New York, he witnessed the climate change action protests as well as the demonstrations against British Prime Minister Boris Johnson's prorogation of parliament in London.
"In a time where friends and families are becoming divided by politics and losing touch of what brings them together, using 'motorcycle diplomacy' to visit different Lithuanian communities across the world could be a positive message to show that whilst people may be divided by distance or beliefs, they are still united by a common link " he says.
"It's easier to hit your keyboard and say something mean than go out there and meet people and listen to what they have to say rather than basing our perceptions on what we are told to believe."