Double Dakar Rally champion Toby Price may have missed out on the prestigious Don Award, but you can still help him become GQ Sportsperson of the Year.
Toby is one of the dozen finalists in the GQ magazine's awards. Click here to register and cast your vote for Toby.
Let's make sure the double Dakar winner, Australian off-road champ, world enduro champ, four-time Finke winner and five-time Hattah Desert Race victor is successful.
In March, Toby was awarded the inaugural Ronald J Walker Award for Excellence by the Australian Motor Sport Hall of Fame. 
However, he's up against a tough field for the GQ award: footballers Dustin Martin and James Tedesco; basketball Ben Simmons; cricketers Pat Cummins, Steve Smith and Ellyse Perry; soccer player Samantha Kerr; Opals and AFLW player Erin Phillips, snowboarder Scotty James; and tennis players Ash Barty and Dylan Alcott.
Ash Barty won The Don for which Toby was also considered, although he didn't make their final short list.
That included: tennis grand slam champion Dylan Alcott OAM, 2018 NRL premiership hero Cooper Cronk, three-time Tour de France stage winner Caleb Ewan, 2018 world surfing champion Stephanie Gilmore, seven-time Bathurst winner Craig Lowndes OAM, Ashes winners Ellyse Perry and Tim Paine, and swimming world champion Ariarne Titmus.
In January, we put forward Toby's name to the Australia Sport Hall of Fame Selection Committee and Board for consideration for The Don award named after Don Bradman.
Also, we also launched a petition calling for a national sporting honour for Toby. It attracted more than 15,000 signatures.
The petition is still live and relevant for consideration for next year's Don Award.
And if Toby wins his third Dakar Rally in January 2020 when it moves from South America to Saudi Arabia the judges surely can't ignore it.
GQ award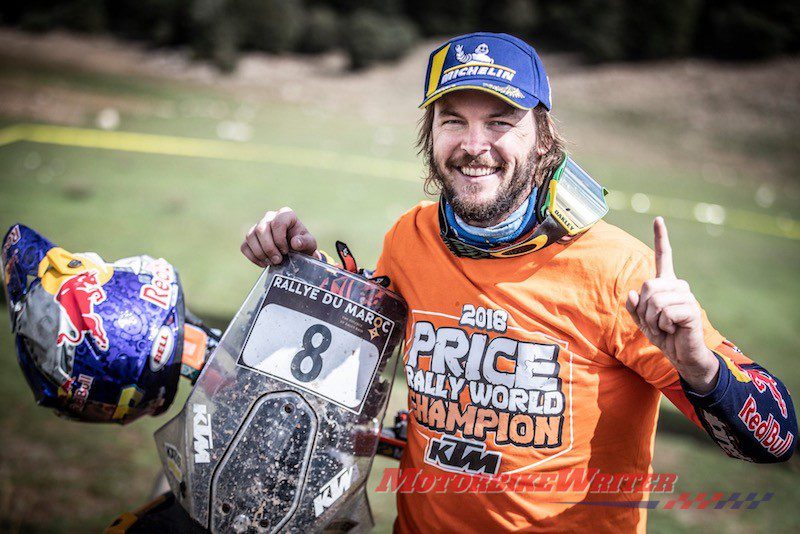 The GQ award will be based on popularity, so it will be tough for a motorcycle racer to win against such popular sports as cricket, football and tennis.
But it's not impossible. In 1987, Australia's first 500cc world champion, Wayne Gardner, was awarded ABC Sportsman of the Year, Member of the Order of Australia (OAM) and Sport Australia Sportsman of the Year.
However, we would like to see Toby win the more prestigious Don Award which is awarded by a panel of experts, not a popular magazine vote.
The honour goes to the sportsperson who "inspires the nation" like Don Bradman. Can't think of a more inspiring winner, having ridden through major injuries.
The Don Award began in 1998 when five-time world GP champion Mick Doohan was a finalist. The Don was shared that year by cricket captain Mark Taylor and athlete Heather Turland.
It will be difficult for Toby to win The Don as no motorsport identity has ever won.
Two-time MotoGP champion Casey Stoner is a three-time nominee and two-time finalist, but never a recipient of The Don. Last year F1 driver Daniel Ricciardo was a finalist on his second nomination, joined by Indy driver Will Power.
We reckon it's time for a motorcycle racer to win The Don. Hopefully, that will be next year!
Our petition also calls on state (Queensland and NSW) and federal sports ministers to consider Toby for a state or national sportsperson of the year honour.
Each time you sign, an email goes to the ministers' offices, so they would be well aware of Toby's community support.
We approached Queensland and NSW sports ministers because Toby was born in NSW and now lives on the Gold Coast.
Your signatures on the petition will help sway the ministers, so keep sharing the petition with your friends.
Why Toby deserves an award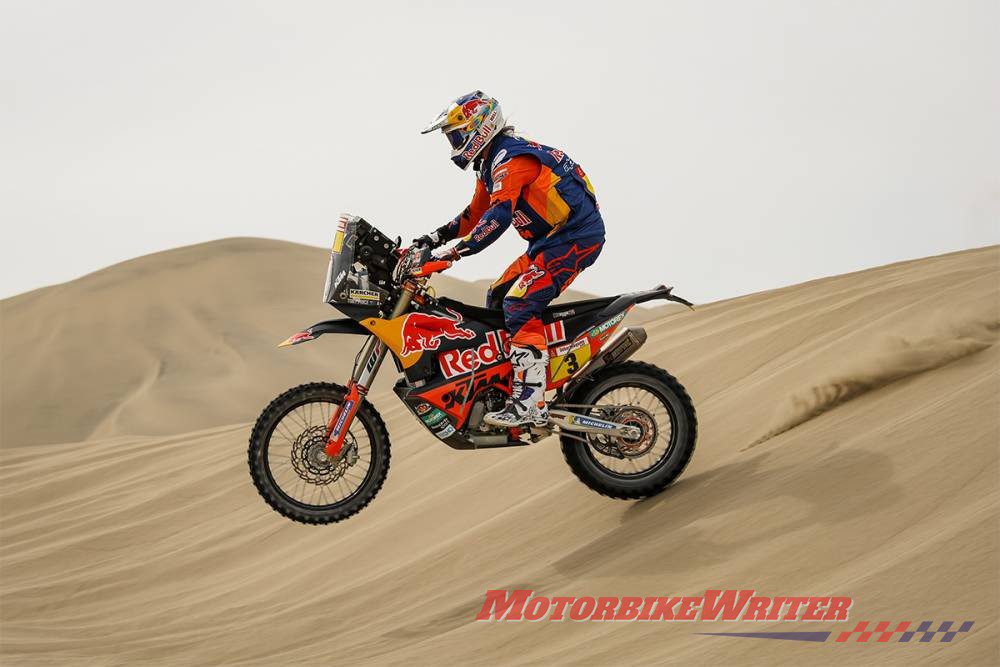 Australia has a long history of Dakar entries, most notably rookie and privateer Andy Haydon who placed third in 1998, Simon Pavey who competed 10 times and the late Andy Caldecott who competed from 2004 to 2006 when he tragically died during the race.
The Dakar is a gruelling rally that has claimed the lives of 24 competitors since it started in 1978. It is referred to as the toughest motorsport event in the world.
Toby started racing the lethal Dakar in 2015, finishing an astounding third on debut.
The following year he rode for the KTM Factory team and became the first Australian to win the rally.
He broke his leg in 2017 and last year finished third despite not racing for a year due to injury.
Just a month before this year's Dakar, Toby broke his wrist in training. His second victory while nursing a "burning wrist" is all the more brave and worthy of an honour.
In fact, has been in for more surgery after the screw in his wrist wore away at the bone like a 'windscreen wiper' during the race.
Last year Toby also became the first Australian to win the FIM World Cross Country Championship and scored a record sixth win in Australia's toughest motorcycle rally, the Finke Desert Race.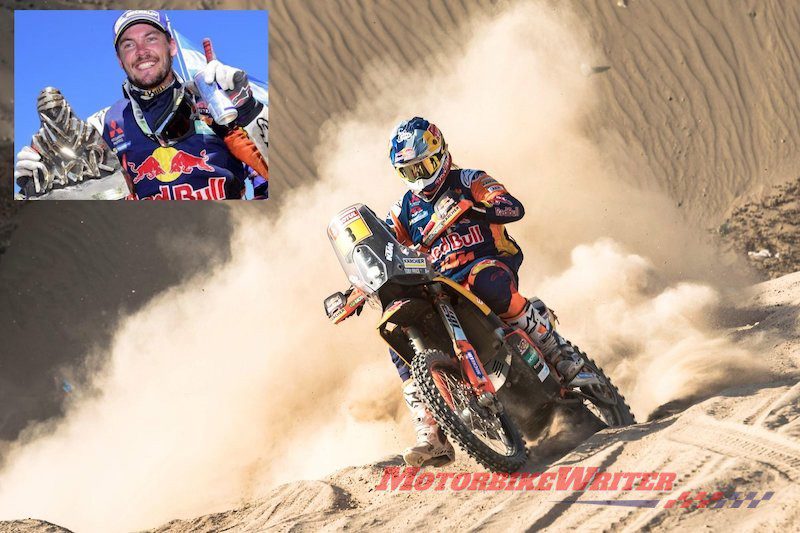 In fact, he won that race on debut, a feat he also achieved in the Hattah Dessert Race.
Toby has also won two Australian Junior Motocross Championships and the Australian Off-Road Racing Championship.
Dakar's most prolific winner, Stéphane Peterhansel, scored his sixth win the year he turned 33. Marc Coma won his fifth Dakar Rally at the age of 39. So Toby, aged 31, still has several years of racing ahead of him and is hopeful of more Dakar wins.