Hollywood actor Tom Hardy trades his personal Triumph Thruxton R is back on a Ducati for the second instalment of the Venom Marcel Comics movie.
In the first Spiderman spinoff movie in 2018, the actor and motorcycle fan rode a Scrambler Full Throttle.
For Venom 2, Eddie Brock, the motorcycle-loving, symbiote-inhabiting anti-hero is on a Ducati Panigale.
Even though he rides, he does very little riding in his movies, including Mad Max in Mad Max: Fury Road.
Check out the Venom 2 trailer here:
Tom is also wearing a British Goldtop '72 Easy Rider leather jacket in the new film.
The original Easy Rider jacket was released in 1972, heavily inspired by the 1969 film of the same name.
Now the company's modern re-release comes with a more modern fit, a dropped back, and removable armour as standard, in addition to being CE AAA Certified as are all of their motorcycle jackets.
The jacket is made of 1.4mm thickness black aniline cowhide leather and features an industrial grade hand-polished centre zip with AERO pull, blue quilted lining, 3 zipped external pockets, 2 interior chest pockets, adjustable cuffs with traditional ball zips, stainless steel adjustable waist buckles and collar snap, tan suede leather trim inside collar and black suede leather trim inside cuffs and zip guard.
The traditional British motorcycle clothing brand was revived in 2012.
Goldtop was established in 1951 by Godfreys of Hull who started by producing horse riding clothing for the British Household Cavalry as well as jackets, boots and gloves for the motorcycle police.
Their gear became popular among motorcycle riders, but like too many British manufacturers in the 1970s and '80s, the brand went bankrupt and closed in the mid 1980s.
However, London rider Kasey Cullen, whose background is in the vintage gloves and clothing industry, bought the rights to the logo in 2012 and began re-introducing some of the old products.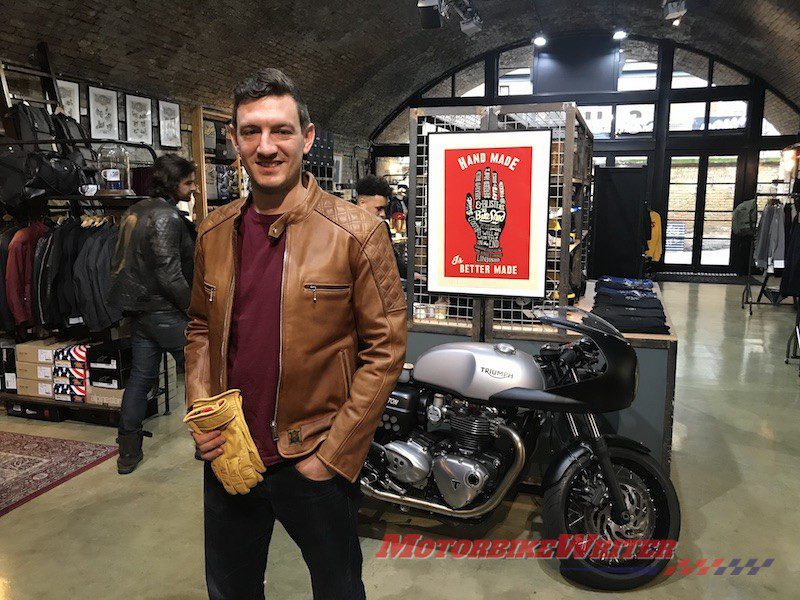 To copy the original designs, Kasey and his son, Joe, studied historic photos and bought old gear from eBay.
However, they are now re-manufactured using modern manufacturing techniques and only the highest quality materials and fittings they can source.