Tokyo Motor Show 2013 Report
Tokyo is the most interesting motor show for two-wheelers, because there's always a generous showing of bikes from the Big Four.
This year's Tokyo Motor Show was a lot livelier than 2011's iteration (the show runs once every two years); this was clear to see by the larger number of exhibits and new models.
Tokyo is an interesting anomaly as automobile shows go, since it has a large amount of motorcycles on display as well, which is just as well since four-wheelers can get boring rather quickly.
Naturally the big four Japanese makers were present in full force, with the only non-Japanese bike makers on the ground being BMW and KTM.
Both showed off bikes previously debuted at EICMA, including the BMW Nine-T, KTM Super Duke R and KTM RC125.
One of the interesting trends is the ever-expanding availability of new "entry-level" machines; the proliferation of bike types, both in terms of body style and small engine capacities (below 750cc) could be seen amongst all the manufacturers present.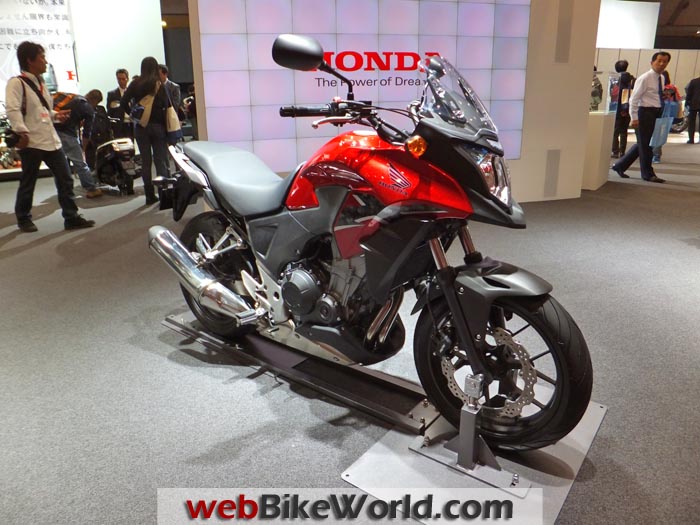 Honda 400X
One of the fascinating things about Tokyo is checking out the Japanese Domestic Market models, the most popular of which are models that are 400cc or less due to licensing restrictions. The 400X was announced earlier this year, along with the CBR400R and CBF400, although it uses an inline-four cylinder engine with 46 bhp, rather than the parallel-twin 400cc engine of the other two models.
It's basically a shrunken multi-purpose bike in the style of the Crosstourer (report) and NC700X (report), but weighs only 192 kg and Honda claims 39.7 km/L, which is nearly a 680 kilometer range from its 17-liter tank.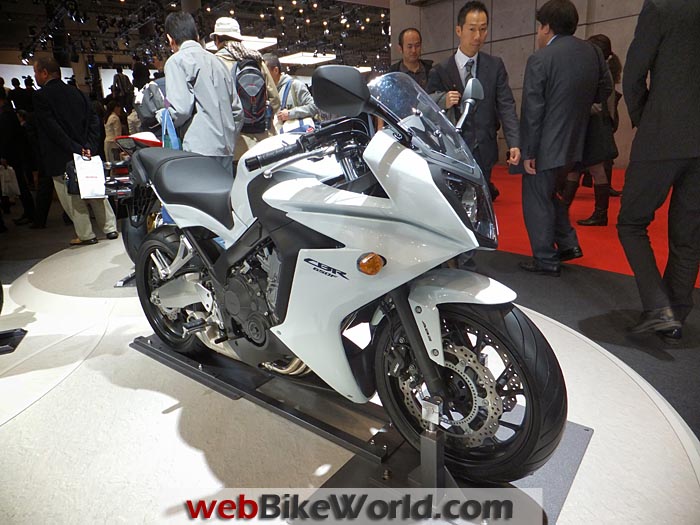 Honda CB650 F and CBR 650F
Announced at EICMA, the CB 650 series hails Honda's return to the middleweight category. Both are new, with a newly-developed 650cc inline-four cylinder engine, and the R version featuring a full fairing. Both models make 90 bhp and are tuned for street life, although the R version has slightly stiffer springs and a more sporty riding position.
Honda is clearly aiming at successful middleweights like the Kawasaki Ninja 650 (aka ER-6F) and ER-6N.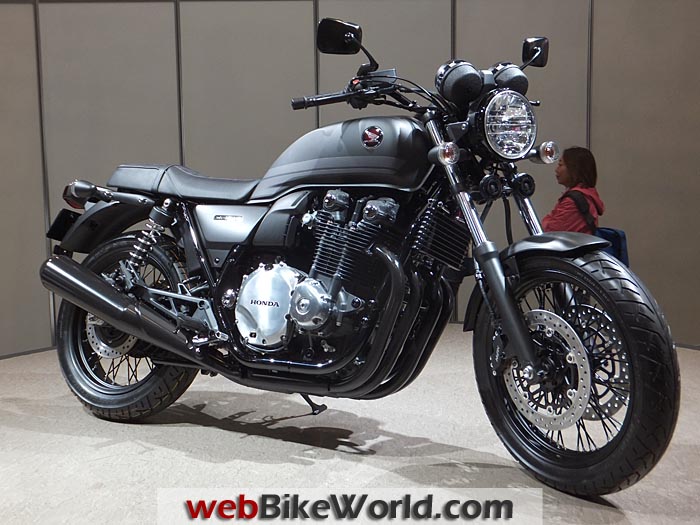 Honda CB1100 EX
The CB1100 EX is a variant of the classic UJM CB1100 and is looks stunning as shown here in as a "Customised Concept" with an all-black colour scheme. It gets a different seat and spoked wheels, along with what Honda says is an enhanced engine.
The regular CB1100 also get these improvements, including a six-speed gearbox and gear position indicator.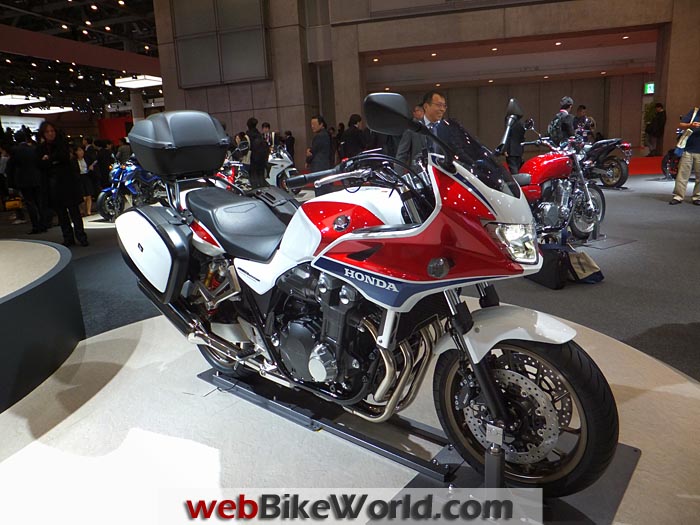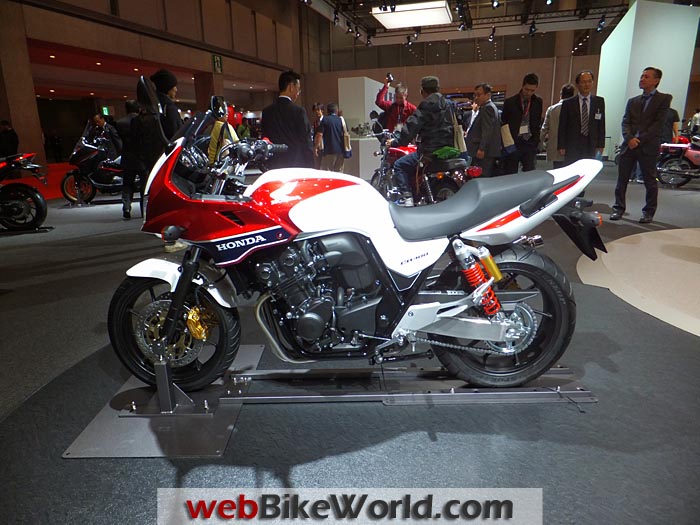 Honda CB1300S Super Bol d'Or and CB400S Super Bol d'Or
The torque-monster CB1300 S gets a mild update. Bol d'Or is the French endurance race known for its rowdy atmosphere as much as the close racing. Ironically the powerful, half-faired CB 1300 S has been given the name too (there's a CB 1300 naked version), and it's been updated with an LED headlight and six-speed gearbox. It's so far been a European-only model, along with the even rarer CB 400 S version.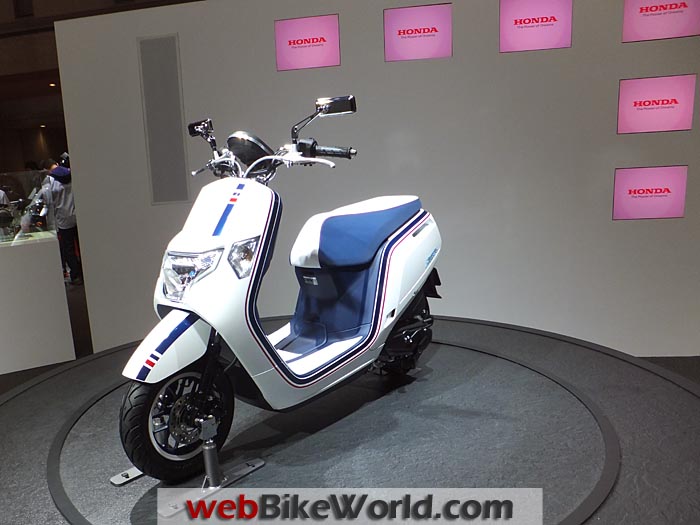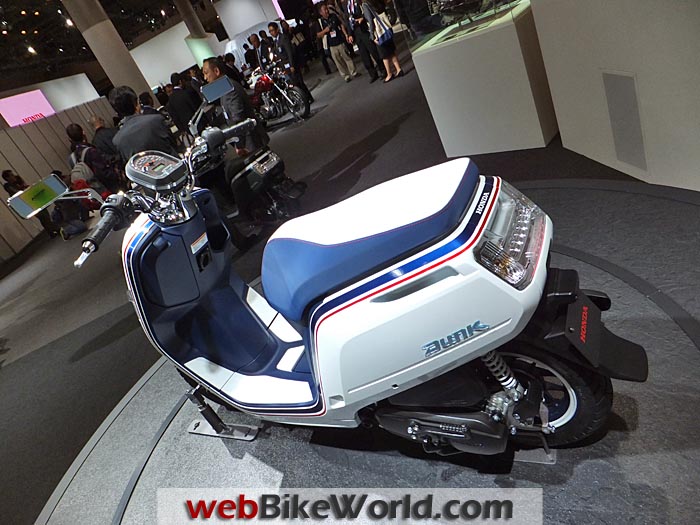 Honda Dunk
A 50cc moped, the Dunk is an new offering squarely aimed at converting youngsters to the brand. This isn't the first Dunk Honda has made; it earlier made a kei car called the, erm, "Life Dunk".
Potential jibes aside, it's a compact little machine, but has a newly-developed water-cooled engine which should help reliability. It's also got an appealingly clean design — almost Apple-like in its simplicity, plus you can charge your phone in the front glovebox, and there's underseat storage space enough for a full-face helmet. That's more than you can say for most mopeds.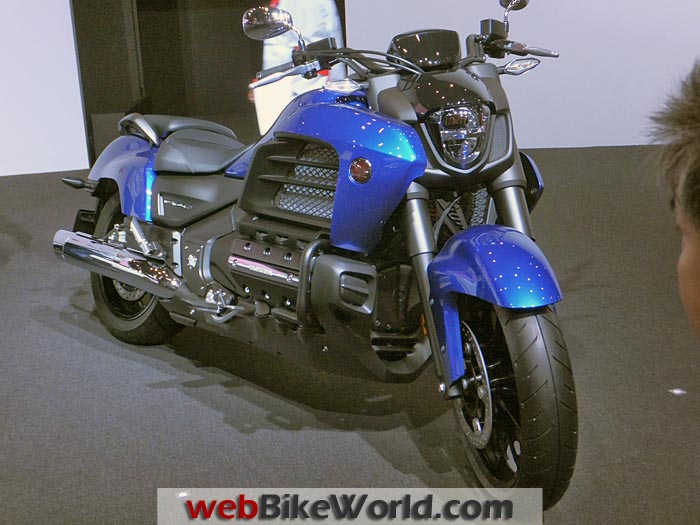 Honda Goldwing F6C
The F6C is basically a naked version of the F6B bagger, which is a cut-down version of the massive Goldwing touring machine. It'll be called the Valkyrie stateside, and packs 113 bhp plus 123 ft/lbs of torque from its flat-six engine. At 340 kg, it's a large, imposing muscle cruiser, and will compete with machines like the Ducati Diavel (report) and Triumph Rocket III (turbo report).
All the lights are LEDs, Honda boasts, and the engine/exhaust sound has been tuned to be a "low satisfying roar."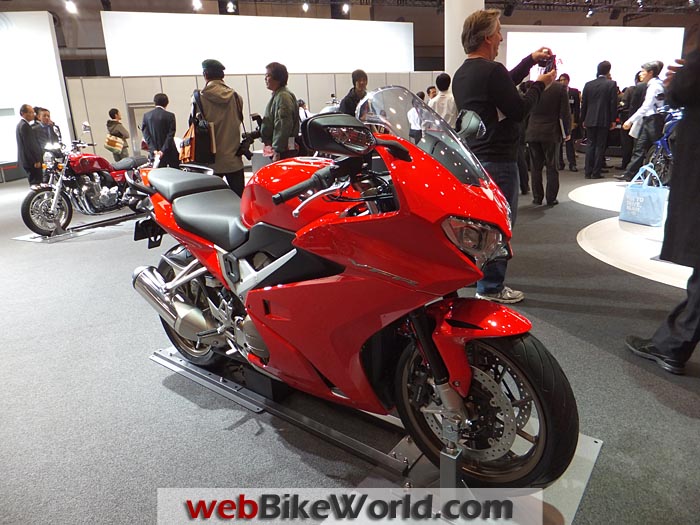 Honda VFR 800F
Honda has finally gotten round to updating its much-loved VFR800F (aka Interceptor) sports-tourer. While the engine and frame remain the same, almost everything else is different, including the sub-frames, swingarm, suspension and bodywork. It finally gets radial brakes, plus a comprehensive computerised instrument cluster, and adjustable seat and handlebars and an LED light. Traction control is also standard.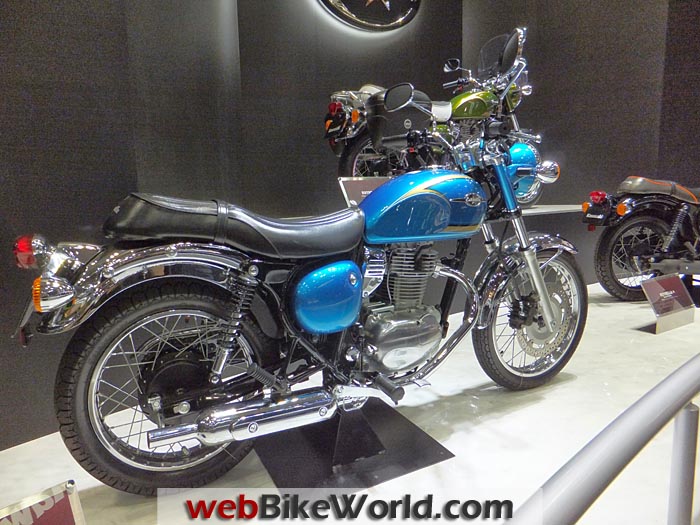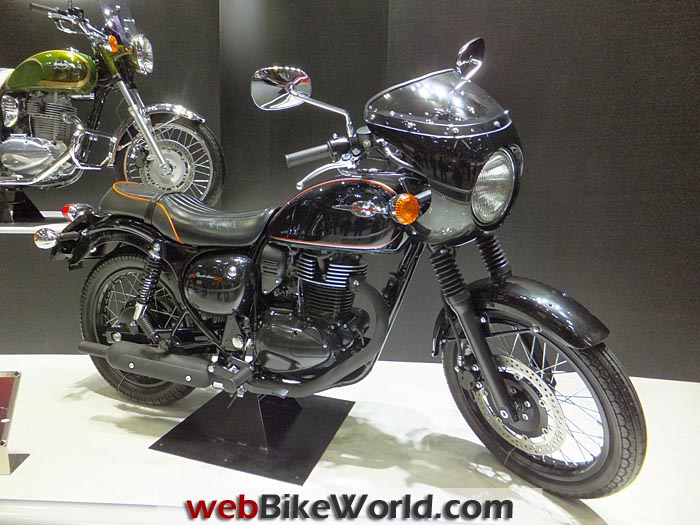 Kawasaki Estrella
The Estrella is an all-new version of a Kawasaki model with a distinct retro flavour, like the W series of bikes, but comes with a newbie-friendly (and likely mechanically-simple) single-cylinder, four-stroke, two-valve 250cc engine.
The Estrella name isn't new, having being sold (rarely) outside Japan since 1991, but with a five-speed gearbox and just 160 kg kerb weight, it's an interesting example of a blank-canvas model like the Yamaha SR series. The Special Edition, with a bikini fairing, blacked-out parts and a cafe-style seat, is a starting point for customisation.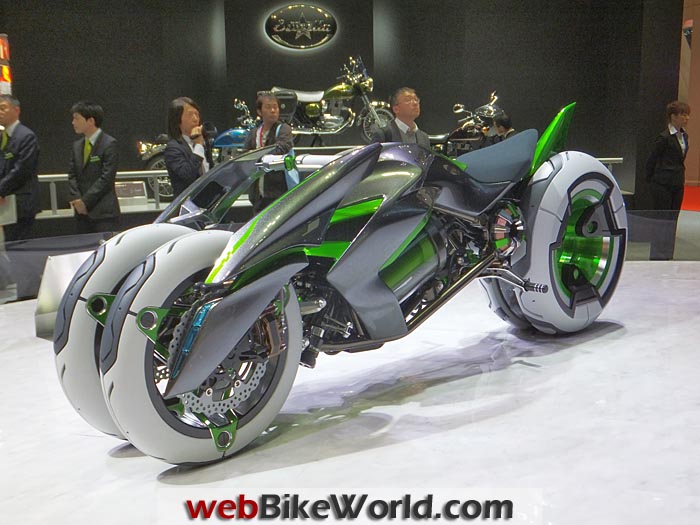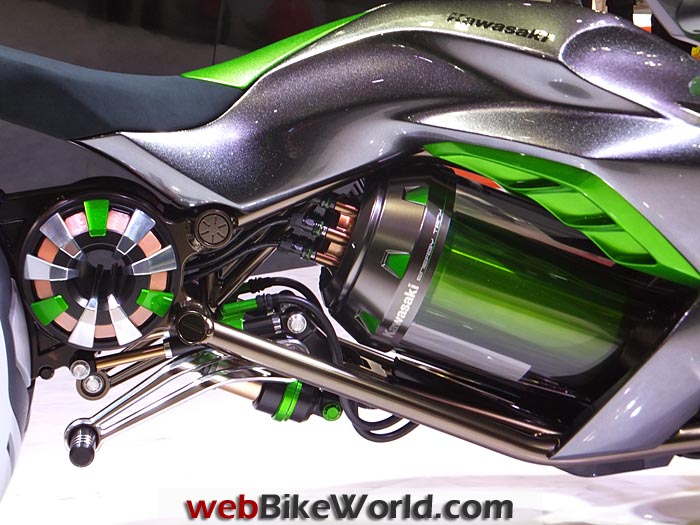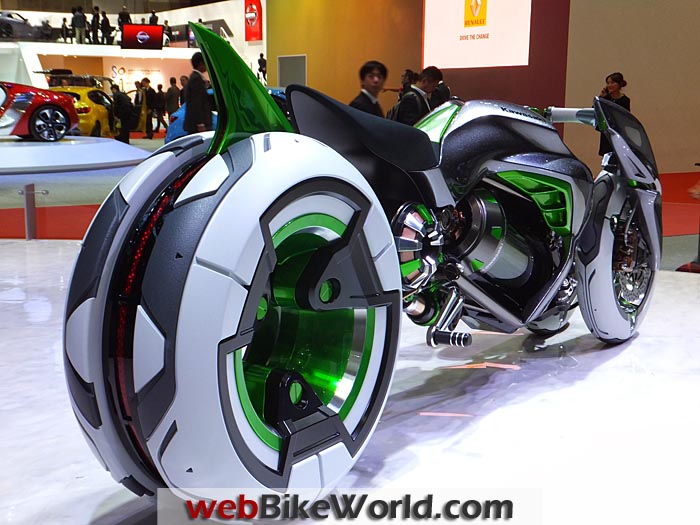 Kawasaki J Concept
Three-wheels seemed the craze at Tokyo and Kawasaki's show bike was the most outrageous of all. Kawasaki calls it "a new personal mobility" concept but also aimed at "fun sport" riding. It switches seating position depending on the situation, from upright to a near-sportsbike lean. There are no tech specs as yet, but it's designed to be powered by Kawasaki's new high-capacity NiMh battery tech.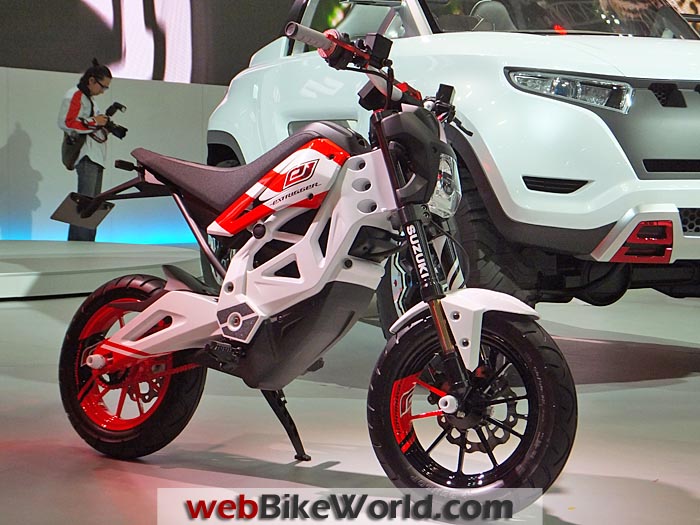 Suzuki Extrigger
The Extrigger is a mini-sized (think Honda Grom/Monkey) electric street bike designed for freestyle riding, according to Suzuki. It uses the same electric motor from the e-Let's (don't ask) scooter, although that bike is limited to 30 km/h, and the Extrigger boasts the same 30 km range.
Suzuki GSR 250S
Closely related to the Suzuki Inazuma (review) model at webBikeWorld (known as the GW250 in the States), the GSR 250S features a half-fairing along with the same 24 bhp 250cc single-cylinder engine as the Inazuma. The tall windscreen looks like it'll offer noticeable weather protection. It's just another example of the maturing small-engine motorcycle market; it looks and feels like a "full-sized" model.
Suzuki Hayabusa
The interesting thing about Japanese bikes is that they're not the same — even if they're the same model. For instance, the famous 'Busa has always suffered a power cut at home, compared to export models. The revised JDM model here comes with selectable riding modes, Brembo front brakes and an electronic toll pass, presumably to help you blast through the national highways as fast as possible.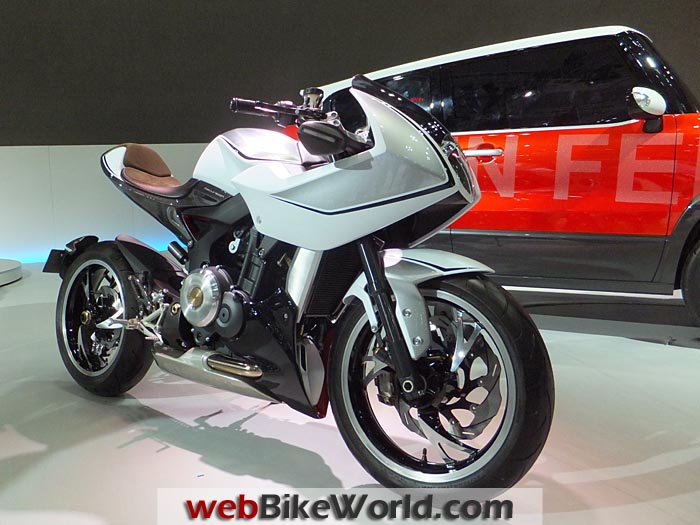 Suzuki Recursion Concept
Japanese cars and bikes are going the forced-induction route, but Suzuki probably takes the award for the best 'turbo wrapper' with the Recursion concept. Powered by a 588cc parallel-twin with a turbocharger, it makes 100bhp which seems plenty for a 180kg lightweight sports bike concept such as this. Suzuki tried turbocharging with its XN85 model back in the 'turbo days' of the early 1980s.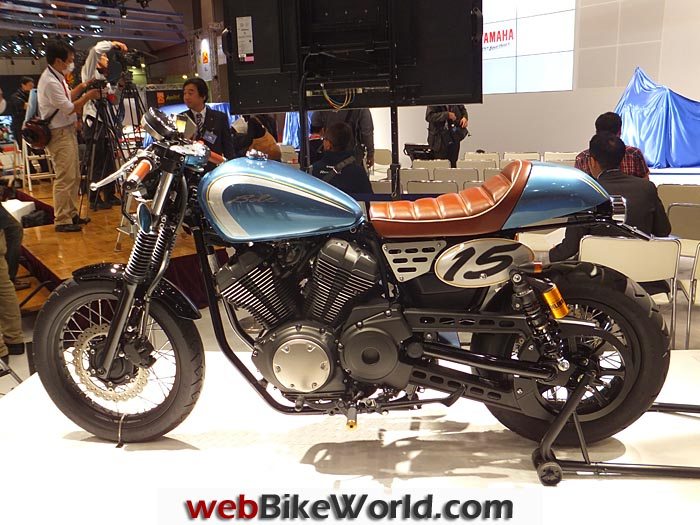 Yamaha Bolt Café
Like the Honda CB1100 and Kawasaki Estrella, bike makers are realizing what Harley-Davidson has known all these years: customisation sells. The Bolt Café is a show concept of the recently-released 950cc V-twin cruiser and boy is it tasty.
Highlights include the sky blue colour scheme, cafe-racer style flat bench and short tail, Öhlins twin rear shocks, powder-coated parts, under-slung mirrors, fork gaiters and a racing number.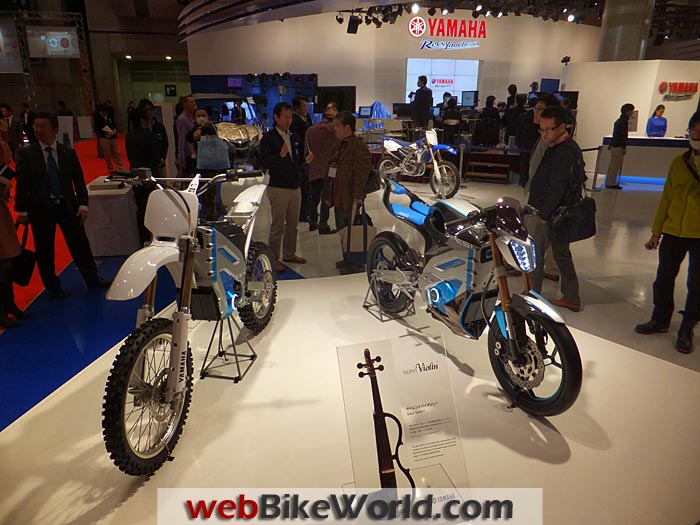 Yamaha PES1 and PED1
Yamaha made a big conceptual push for e-bikes, with a handful of show machines. The PES1 and PED1 (Passion Electric Street / Dirt) are a modular system using the same brushless DC motor and lithium ion battery pack, and weigh less than 100kg. Like the Suzuki Extrigger, both have smart displays and a replaceable battery pack.
Yamaha also showed off the EVINO, an electric version of the popular Vino scooter, and a kids' dual-sport bike, the EKIDS.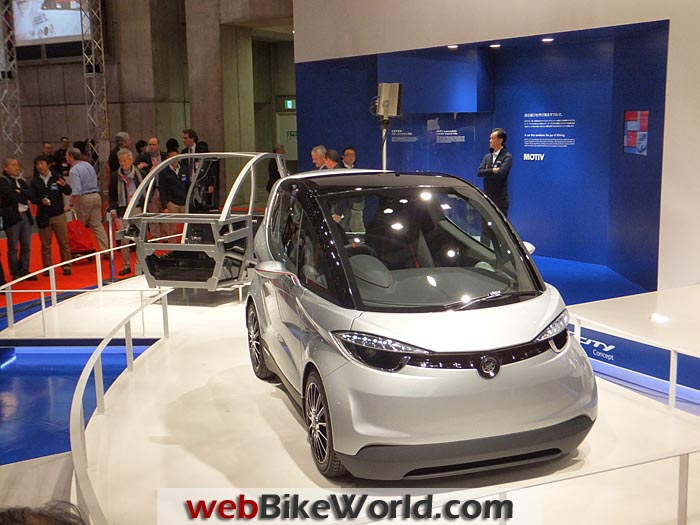 Yamaha Motiv
Yamaha raised some eyebrows by showing off an electric city car, of all things. It's not the company's first attempt at a car but has echoes of history: the OX99-11 was a high-performance sports car produced in conjunction with Yamaha's F1 project in the 1990s.
The Motiv is a little different – it uses a production concept cooked up by car design genius Gordon Murray (who designed the McLaren F1). Yamaha says the car is currently undergoing R&D for possible future production.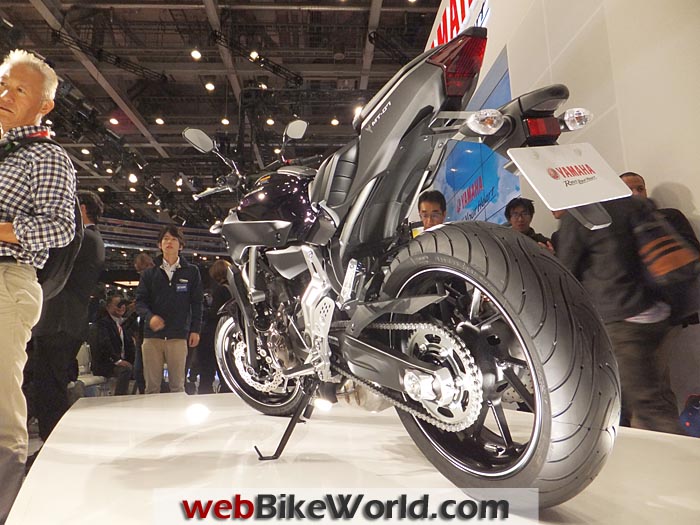 Yamaha MT-07
This should be another crowd pleaser: a smaller version of the MT-09, the MT-07, but even lighter, cheaper to run and with a newly-developed 700cc parallel-twin engine. Yamaha says the bike has been tuned for accessibility but also for fun sport riding too.
The full tech spec for Europe has been revealed here.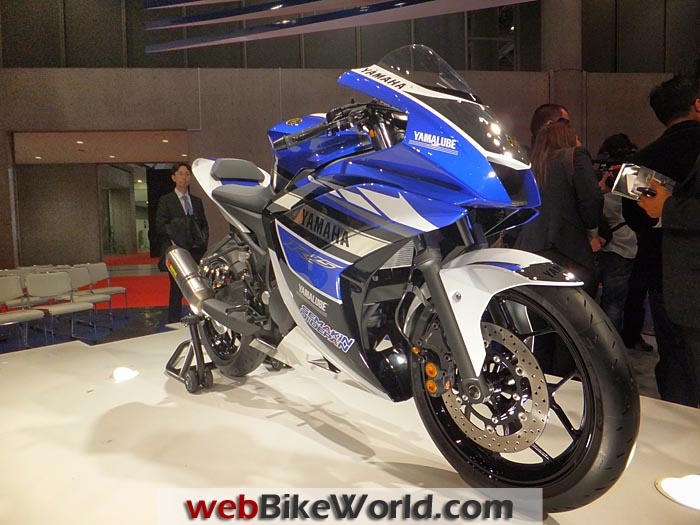 Yamaha R25
Yet another exciting small-capacity bike, albeit a concept: the R25 is described as having a newly-developed 250cc liquid-cooled twin-cylinder engine. Yamaha isn't giving much details, but we're willing to bet it'll eventually evolved into a production follow up to the very-popular YZF-R125 entry-level sports bike.
More: wBW Motorcycle Product Reviews  |  Motorcycle Reviews
Publication Date: November 2013
Note:
 For informational use only. All material and photographs are Copyright © webWorld International, LLC since 2000. All rights reserved. See the webBikeWorld® 
Site Info page
. Product specifications, features and details may change or differ from our descriptions. Always check before purchasing. Read the
Terms and Conditions
!
Owner Comments and Feedback