Original Brand vs. Knockoffs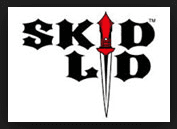 Some retailers are unaware the "Skid Lid" is actually a brand of helmets and not a style of motorcycle helmet. You'll see the name – SKID LID – used in the description of some cheap knockoff version. Now I don't think that this is intentional, but you never know for sure. Just so that you know, you are not actually buying a skid lid helmet – unless you see this brand logo on the side of the box, or on the tag of the helmet itself.
Established in 2000, Skid Lids offers the rider helmets that are perfect for those occasions where helmets are required but not desired. Designed for the minimalist, low profile, half helmets come in three different styles that include solid colors and a wide range of graphics to choose from. They are contoured for a low-profile fit with a thermoplastic alloy injected shell and retention strap with D-rings. All of their helmets meet or exceed D.O.T. standards.
It is the classic cruiser styling at an affordable price. The models can be broken down into three broad types of helmets; Original Helmets, Traditional Helmets and Touring Helmets. You can check out the full range of the Skid Lid helmets for sale but we decided to save you some work and share the most popular Skid Lid models.
All of the Skid Lid helmets are contoured helmets with a low-profile fit. They are clean, minimalist in styling and made of a thermoplastic alloy injected shell. They come with retention straps with D-rings. They all also meets or exceeds D.O.T. standards.
Most Popular Skid Lid Motorcycle Helmets