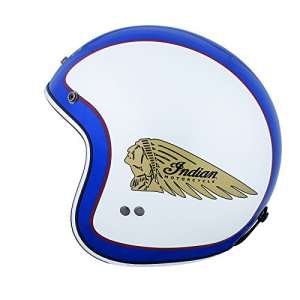 While you might normally debate that an open face helmet is not as safe as a full face helmet, you won't have such problems with this Scout offering.
It offers the right snug fit and the protection gear you need on a rough terrain or on a road that requires a lot of maneuvers.
Do You Really Need a Full Face Helmet?
Research suggests that only 9.9% of bike accidents that happen in the US impact the face portion. A whopping 34% times, bike accidents impact the chin. So should we assume that the Scout Open Face Helmet is actually very unsafe?
You definitely cannot win a battle with full face helmets as they offer full protection. However, the increased safety does come at a cost – it's more uncomfortable, stuffy and heavy.
Think about it empirically – somebody wearing a full face helmet is actually more prone to accidents – How? Simple – in the case of a full face helmet, it is very difficult to navigate a blind spot.
You will not be able to turn or twist or neck as much as you can with an open face helmet while changing lanes or crossing intersections.
Why Is the Scout Open Helmet a Good Choice Then?
Let's come back to statistics now – a lot of times fatal bike accidents that happen occur because the helmet cannot be removed from the face in the right time.
In case of your Scout Open Face Helmet, you can remove it easily. The best way to be safe on the road is not to buy a new full-face helmet but to actually drive safe.
In terms of safety, the Scout Open Face Helmet is as much as 90% safe compared to a full face helmet. It protects your upper spine and skull from any kind of injuries.
You can find the Scout Open Face Helmet by Indian Motorcycle in only one color scheme right now – White and Blue. In fact, the vintage look has to be the USP of this Scout Open face helmet.
What Would You Love About It? Top Features
With the Scout Open Face Helmet, you will feel fresh and rejuvenated however long the ride might be. The proper ventilation will absorb the sweat, dirt and dust.
Here are some of the other things that you would love.
Has the Looks You Need
Designed with the vintage look in mind, it is stylish and sleek. It has a glossy finish and the helmet looks appealing in the white-blue scheme.
So if you are planning to go retro on the roads, this is a helmet worth your dime.
You can pair it with a denim jacket and navy blue jeans. Or even better if it is leather! The finishing is very neat, and the look has been given a sharpness – that would immediately grab your attention.
Offers You the Comfort You Want
The inner lining is slim and weightless. It also comes with a detachable cheek pad. As per your comfort, you can choose to or not choose to use the sunpeak.
The inner shell being made of 100% polystyrene absorbs all the shocks before it can impact you. The material is very light and doesn't unnecessarily cram up your skull area. Also, this is a helmet made for long rides.
If you love the wind while speeding away, you will definitely love this helmet too. Full face helmets can get really uncomfortable if you are driving for long – it gets stuffy inside. Or should I say your head gets oven-cooked.
Safety Packaged with ABS Shells
Safe driving needs to be accompanied with some smart style – The Scout Open Face Helmet by Indian definitely would give you that.
The outer shell of the helmet is made of 100% acrylonitrile butadiene styrene (ABS) and offers the required sturdiness to protect you from any blow on your head. This material guarantees uncompromising safety and has been tested scientifically.
Convenience Reimagined
Let's now talk about the convenient features this helmet has to offer. It has a detachable sunpeak to start with. It also has Bluetooth compatibility and a rear goggle fastener.
Equipped with metal chrome piping and rear plastic size adjuster, it dons an appealing pearlised graphic to go with.
Durability with EPS Lining
Don't expect it to break into two during a crash.
While the Scout Open Face Helmet is made to be durable, at the same time it is also made for one time crash impact, just like other helmets.
However, what makes this helmet durable is the material of the outer shell and the finish. The inner lining foam, made of 100% EPS, gives longevity to the helmet.
Pros
ABS shell protection
Detachable sunpeak to offer you a more comfortable ride
Lightweight with a simplistic retro look
Great for riding on rough terrain
Cons
It's not full face protection
Could take a little while to get used to it
Bottom Line
It's a sturdy choice here, but you do need to ensure that you take care of the helmet well. Here are a few tips.
Clean the helmet regularly, without using petrol or benzene or other solvents.
For the liner, you can use mild soap and water or bicarbonate of soda solution.
After the cleaning, allow the interior to rinse properly. It needs to be rinsed using a damp cloth.
Dry the helmet at room temperature.
If the inner lining is exposed to high heat, it might incur irreparable damage.
This DOT certified helmet is the helmet to be bought for the look it guarantees. Drive safe and be assured of a comfortable ride.