Victorian Police have warned riders heading to the Phillip Island MotoGP this weekend of increased patrols in and around the track.
The annual Operation MotoSafe will also concentrate on eastern Victorian roads leading to the venue. 
Eastern Region Road Policing Inspector Stephen Cooper said that this year has been a "particularly challenging year" on Victorian roads, with a "lot of the trauma taking place in country Victoria". 
"At the beginning of the year we saw a lot of fatalities and serious injuries involving motorcyclists," Insp Cooper says. 
"With the warmer weather encouraging riders to get back on their motorcycles, we want everyone to know that police will be out enforcing against those who engage in risky behaviour."
During the operation, police patrols will target drivers impaired by alcohol and drugs, as well as fatigue.
Track patrols
Between 25 and 27 October, police will patrol in and around the race track and on all roads leading to Phillip Island.
 "With increased motorcycle traffic in the area, we need both motorcyclists and other road users to be alert and aware of their surroundings," Insp Cooper says. 
"The Grand Prix weekend is one motorcycle enthusiasts enjoy and look forward to every year.
"The last thing we would want is for it to end in tragedy."
Operation MotoSafe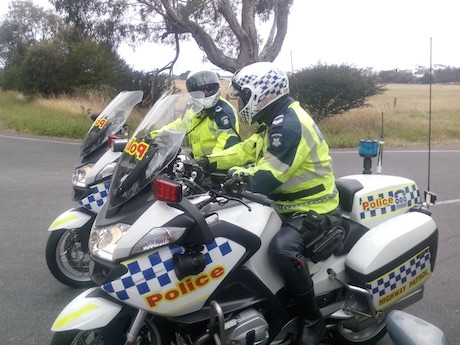 In previous years Operation MotoSafe has consisted of road blocks, random breath testing and number plate identification to check for illegal motorcycles.
Victorian Police have previously been accused of being heavy handed and discriminatory with riders before and after the MotoGP event.
Some have even sworn not to attend future events as a result.
Operation MotoSafe will have maximum visible police patrols for motorcycles in Monash, Boroondara, Whitehorse, Manningham, Maroondah, Yarra Ranges, Knox, Shepparton, Mitchell, Benalla, Wangaratta, Wodonga, Baw Baw, Bass Coast, Latrobe, East Gippsland and Wellington Police Service Areas (PSAs).