Congratulations to France for winning the World Cup, but we would be a whole lot more excited if soccer were played on motorcycles like the European sport of Motoball.
It has similar rules to soccer, except all the players, except the goalie, are on lowered two-stroke 250cc dirt bikes.
The action is fast, loud, smells of two-stroke oil and the riders don't seem to have hissy fits anytime someone gets within a centimetre of them.
The players/riders don't just fall down and roll around on the ground in a pantomime until the referee gives them a penalty, either.
It takes a lot of skill to "carry" and kick the ball while manoeuvring the bike and warding off defenders. Like soccer, players cannot use their hands or arms.
Riders seem to use a lot of rear brake and throttle to turn the bike in high circles.
It's more Motodona than Maradona, but just as pretty to watch.
Motoball history and rules
Motoball has began in the mid-1930s and was included in the inaugural Goodwill Games in 1986.
The FIM European Pro Motoball Championship is held every year with teams from France, Germany, Italy, Spain, Switzerland, Belarus, Austria, Denmark, Netherlands and Ukraine.
There are also club championships in most countries.
Motoball is played on dirt and tarmac, which we imagine could be a pretty brutal affair.
The rules say riders must wear knee-length boots, leather trousers and gloves and an FMN-approved helmet.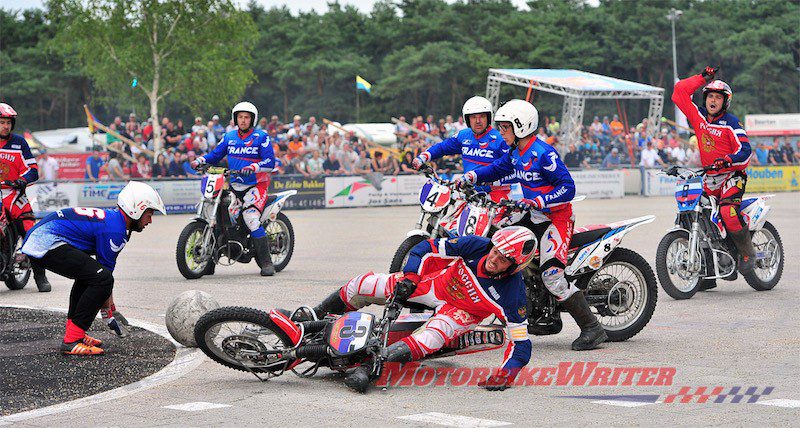 Defenders can only attack a ball-carrying rider from the side of the bike where they are "carrying" the ball.
There are 10 players in a team plus two mechanics and a manager, but only five players (four riders and a goalie) can be on the field at any one time and only 10 motorcycles can be used during a match.
Bikes must weigh 70-120kg, have two two chain guards, speedway or trials tyres and have rubber protection on the ends of the footpegs and handlebars.
Matches have 20-minute quarters.
Fields are 75-110m long by 45-85m wide and there is a 5.75m semi-circular no-go area for bikes around the goal mouth which is 7.32m wide by 2.44m high.
The rubber ball is covered in leather, is almost twice the size of a basketball and weighs about 1kg.
How about starting Motoball in Australia? Would you be interested? Leave your comments below.