If you're thinking of buying a helmet, you would be taking a look at different things, including comfort, protection, ventilation, and visibility.
While you would find these features in a good many helmets, how about finding it in a low cost one? Are you looking for good low-profile helmets in the market to provide you with good protection and comfort? Of course!
Here, we are going to provide a review of one such low-profile helmet that is cost friendly, the LS2 SC3 Crazy.
LS2 Helmets
LS2 designed helmets may contain anything or not, but always have one feature in them – functionality. LS2 is a brand built by motorcycling crazy engineers and covers a massive band of the motorcycling community from street and track helmets especially made for competitions to classic cruiser lids. You name it, LS2 has a helmet for it. LS2 uses a brilliant blend of materials and technologies.
This company, based in Barcelona, Spain, produces affordable and first-class helmets built utilizing the state-of-the-art production techniques and a uniquely detailed assembly. LS2 has received rave reviews and praise for exceeding the expectations and maximizing comfort; be it the level of a MotoGP event or an average traveler. LS2's protection and styling is a cherry on top of their quality products.
Features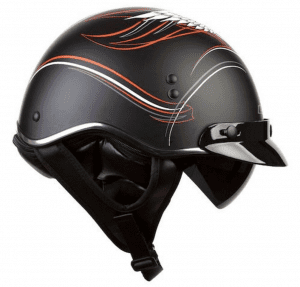 Here is a look at what you would love:
High Performance Fiberglass Composite (HPFC) shell that is available in 2 different sizes
Security plate reinforced strap with quick release function
Removable and replaceable Full Eclipse Sun Shield which is built-in and can be dropped down
Removable 3-snap peak accommodates accessories while also providing your eyes with protection from the sun
Comes with a zip-off neck skirt, keeping you warm during chilly days
Multi-density EPS
Long oval headroom shape
Usage
This DOT approved helmet from LS2 offers some great features, which doesn't come at a steep cost. And there is room for lot of improvements, too. It comes with a low profile fiberglass shell and is added with a drop-down sun visor with a small peak which will help to block the direct sunrays when you're out into the scorching sun.
A removable neck curtain is provided for keeping you warm during winter time or in chilly areas when you can easily remove when the summer returns. SC3 is a multi-purpose low-profile helmet you can take anywhere with you. The looks and design can do better of course, but is not that bad at such a cost.
Protection and Visibility
The shell of the SC3 helmet is composed of HPFC (High Performance Fiberglass Composite) and has a security plate reinforced strap with quick release function. It certainly needs some improvement in the protection department to keep your cheeks and chin safe from heavy or direct impacts; otherwise, it provides you with sufficient protection that a low-profile helmet can provide.
You will have full visibility as it is not a covered helmet and comes with a drop-down visor. To keep your eyes protected from direct sunlight, SC3 has a peak at the front that helps you focus on the road without worrying about sunlight in your eyes. The visor is not scratch or dust-resistant though, so you will require washing it regularly to have clear vision on the road.
Air Circulation and Ventilation
As SC3 comes with a drop-down visor and is mostly open at the front, you don't need to worry about ventilation. Air circulation is efficient and you won't be feeling any suffocation while putting it on your head.
Noise, Weight, and Comfort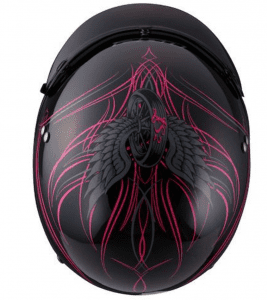 LS2 SC3 cannot help you with noise reduction or cancellation, as it is an open helmet. So, you would be a fool if you are expecting this from the helmet. The helmet is just not made for that.
It is sufficiently lightweight and won't feel like a burden on your head, at least because of its weight. It is easy to carry around with you or hang anywhere when you require it.
Comfort is a department where this model needs some improvement. Though it has a sufficient level of weather-comfort in it, it may feel a bit hard on your face. It is not the most comfortable low-profile helmet in its class and its makers must have figured it out by now. I will expect some improvement in this in the succeeding model of SC3.
Other Factors
LS2 SC3 is available in a wide range of sizes; so, there is one for every type of head. It is decent looking for its class and its design is good too, though not the best again. The makers of SC3 could have spent some more thought on its style and swag, but I will give it a thumbs up because of the price range it is coming in. It is easily removable and the winter protection may be its best feature, along with sunlight protection.
Conclusion
LS2 SC3 is a decent buy in its price range and you can buy it if you are not one who gives much thought to the type of helmet you are wearing. LS2 of course can do way better than this, and I am sure they will in the future.
For now, I will classify LS2 SC3 with Crazy Graphic as an average product that is good for everyday office riders and soft motorcycle users.