GearRatchet Vortex Socket Set Review
Excellent addition to any tank bag!
My continuing search for the perfect motorcycle tool set continues.
In this case, "perfect" means excellent quality, easily carried and fairly complete.
During the search, I came across this very interesting ratchet set while cruising the aisles of the local Ace Hardware store.
It's made by GearWrench, who has designed some pretty interesting stuff over the years (see our GearWrench reviews in the right-hand column).
The Ace Hardware branded GearRatchet set (Ace part number 2183309) shown here can also be found at Sears.
It's sold in various forms with a GearWrench label and my guess is that several other retailers probably co-brand it also.
GearWrench Tools
Long-time webBikeWorld visitors may recall that one of the very first GearWrench sets ever made (review) was reviewed on webBikeWorld some years ago.
At the time, no one knew much about the company, the tools, where they were made or where they could be purchased.
By the way, Ace Hardware was one of the first — if not the first — retailer to co-brand GearWrench products.
A small number of webBikeWorlders reported spotty quality problems back then, but that was mostly due to two issues. First, there may have been a few teething problems with getting a brand new type of tool to market.
But as it turns out, some owners were overloading the amount of torque on the ratcheting box end of the wrench.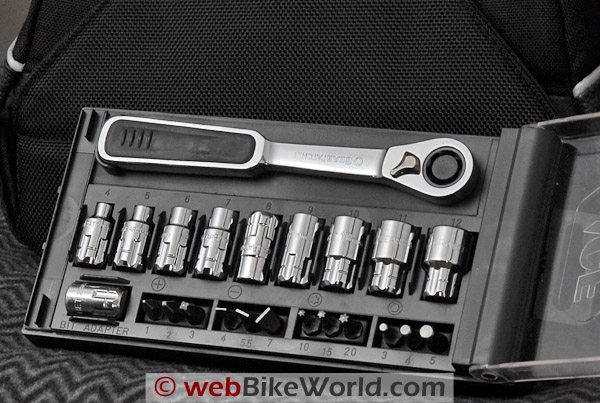 The GearWrench Design
It was obvious to me when I first saw them that the GearWrench design was not one that would take to putting a pipe cheater bar on the opposite end to apply huge amounts of torque.
If you have rusted or seized bolt, use a penetrating oil, heat, a robust standard box wrench (preferably 6 point) or your other favorite method, but don't expect the ratcheting box end of a small wrench to do the trick.
In case you're unfamiliar with this design, the GearWrench was/is a revolutionary ratcheting box wrench that ratchets with only a 5-degree turn.
They're very nice tools with a super-shiny chrome plating and I have many different types and use them all the time.
Take it from the shop guy — it's taken me decades to learn how to respect tools.
And respect means knowing a tools limitations. I haven't experienced any issues with tools of the GearWrench variety as long as the ratcheting side of the tool was used with care within its design parameters.
The GearWrench product line — and the company — has expanded tremendously over the years; they now offer a huge selection of GearWrench style tools, including the new tool shown here, the GearRatchet with their special "Vortex Pass-Thru" sockets.
Besides the 23-piece set shown here, GearWrench makes a 25- and 27-piece set, available in metric or SAE sizing, along with a curious 7-piece "Magnetic Oil Drain Plug" socket set.
I've seen other sets also, including a 21-piece set, and there may be more.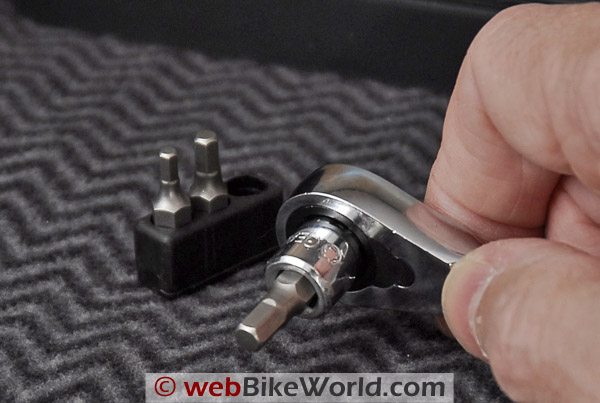 The GearWrench GearRatchet Vortex Socket Set
The basic set consists of a 1/4″ drive patented ratcheting wrench and a selection of individual sockets, bits and/or extensions. GearRatchet tools and sets are also available in 3/8″ and 1/2″ drive and with 6 or 12 point sockets.
The variety of sets and choices is a bit confusing, partly because GearWrench does co-brand many of their products.
It's my understanding that the GearRatchet has proven to be very popular with customers, and with good reason. The GearRatchet really is a unique tool and I think it's the best and most useful design breakthrough since the original square drive ratchet was first created.
In fact, I'm going to try to find a 3/8″ drive GearRatchet set with 6 point sockets for the garage, because I'm sold on the concept.
Sears lists a 3/8″ and 1/2″ drive set, although I didn't consider these for this review because they don't meet one of my criteria for carrying on a motorcycle — small.
As far as I can tell, this particular Ace Hardware version of the GearRatchet is the only one with this selection of tools that is currently available in 1/4″ drive.
By the way, the 1/4″ drive configuration should be a hint as to the amount of torque and pressure the set is designed to withstand…
The patent covers the "Vortex" hollow head on the ratchet and the method for inserting the sockets.
The sockets have a unique toothed or "geared" end; in other words, the socket is geared on half of the outside. These gears allow the socket to be slipped in to the ratchet handle, which is also geared to match the teeth on the socket. Brilliant!
GearWrench claims this system provides 40% more strength than the traditional 1/4″ square drive.
It also allows the tool to be much flatter, because it doesn't have the square drive sticking out and the socket doesn't have that thick metal end that has to slip over the square drive.
They also say that the Vortex thin-wall socket design has the same outright torque strength of a square drive (i.e., standard) socket; that the overall height is reduced by up to 50% and the width reduced by as much as 20%.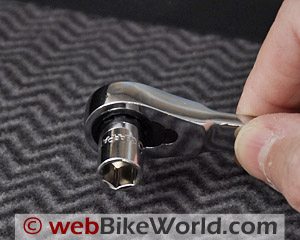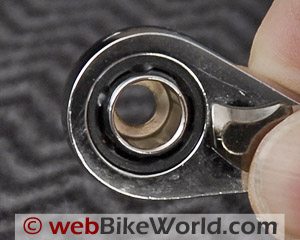 In fact, the geared drive on the GearRatchet is hollow, even after the socket is snapped into the drive (see right photo directly above).
This allows a threaded rod or bolt to pass through the socket and ratchet handle itself, which is pretty amazing, although somewhat limited in usefulness because the pass-through on these 1/4″ drive sockets is admittedly small.
This design has interesting implications for motorcyclists, because it makes the entire set flat, sleek and narrow, yet provides excellent stability and grip in use.
This is no "use it once, throw it away" system.
It could easily be used as someone's everyday 1/4″ drive socket set. By the way, the handle also uses the GearWrench 5-degree ratcheting system, which is very useful when working in the tight confines of a motorcycle.
The 23-piece set here also has a special "Vortex" type geared socket that acts as a holder for standard 1/4″ drive bits. So any bit you buy in the store will fit.
This kit comes with 4 different types of bits, and each set of three bits is held in a little separate friction holder (see photo above). The items include:
Sockets: 4, 5, 6, 7, 8, 9, 10, 11 and 12 mm (also available in SAE);
Slotted, or screwdriver bits in 4, 5.5 and 7 mm;
Philips bits; #1, #2 and #3;
Hex (or "Allen") bits in 3, 4 and 5 mm;
Torx bits in T10, T15 and T20.
Larger kits are available, or you can purchase excellent bit selections either through GearWrench or from fantastic tool sources like Wiha (see our Wiha bit driver set review).
This allows the motorcycle owner to design their own kit, although there's limited room inside the plastic carrying case for more tools.
The dimensions of this case are 92 mm by 190 mm by 32 mm thick (3-5/8″ by 7-7/16″ by 1-1/4″).

Pros and Cons
And about that case… This is the only unfortunate part of the package for motorcycle riders.
The case is made from a hard but thick plastic, and I'm hoping that it will not be more prone to cracking or breaking than, say, one of those blown and molded polystyrene (or whatever they're made from) tool cases.
In fact, the GearWrench branded GearRatchet sets do seem to come in a more robust case, so maybe Ace Hardware was trying to save some money with this set, which, by the way, wasn't specifically designed for motorcyclists.
Thus, you may want to find the GearWrench or Sears set, although those sets are slightly larger in size, both because of the more robust carrying case but also because they include a socket extension.
And one more thing about the case: although each socket fits in a recessed cavity, there's no friction fit, so if you happen to bump the case or turn it over, most or all of the sockets will spill out.
Don't ask me how I discovered this…
It would have been nicer if the tray was molded with a friction fit for each socket, but again, this kit wasn't designed specifically for motorcycling.
Also, the GearWrench 23-piece set I found did not include the bit drivers, and I think those are important for motorcycle use.
The 21-piece set shown here, including the bit drivers, includes a very good selection of tools you might need on the road.
It could use an extension, and you may also want to include a miniature screwdriver set like the set we reviewed a few weeks ago, and maybe a pair of pliers and a Vice Grip.
And, of course, duct tape.
This 21-piece set was priced at only $25.99, a real bargain in my opinion for something this useful and with this quality. The tools are guaranteed for life by Ace Hardware.
Conclusion
This particular 21-piece GearWrench GearRatchet kit with the "Vortex" sockets gets my vote as a fantastic addition to a tank bag.
It fits under the tail section of many bikes, like some of the old BMW Airheads and early K-series bikes with the very useful tail storage, accessible when the seat is lifted.
Winner: wBW 2008 Motorcycle Tool of the Year Award!
w

BW

 Review: GearRatchet Vortex Socket System Tool Kit
Available From: GearWrench
List Price (2008): $25.99
Colors: Chrome plated steel.
Made In: China.
Review Date: July 2008
Note:
 For informational use only. All material and photographs are Copyright © webWorld International, LLC since 2000. All rights reserved. See the webBikeWorld® 
Site Info page
. Product specifications, features and details may change or differ from our descriptions. Always check before purchasing. Read the
Terms and Conditions
!
Owner Comments and Feedback
---
From "V.K." (April 2009):  "Ace hardware has a different website where (the Vortex tool kit) is available. Interesting because it's not listed on acehardware.com as you pointed out. Thanks for the useful review – I'm picking one of these up!"
Other WebBikeWorld
Tools

Posts