Four allegedly stolen motorcycles have been recovered and 118 people charged on 342 offences following a four-day police operation in Logan, south of Brisbane.
This follows similar police operations in Victorian and NSW last month where police seized 11 stolen motorbikes under investigations into motor vehicle theft and rebirthing.
In Queensland, Operation Romeo-Velodrome ran over two weekends (May 10-11 and May 15-16) and involved officers from Logan District Criminal Investigation Branch (CIB), Logan Tactical Crime Squad, General Duties police, Dog Squad, State Crime Command, Road Policing Unit, Forensic Services Branch, PolAir and Gold Coast Rapid Action Patrols (RAP).
The aim of the operation was to target drug-related crime specifically linked to methamphetamines.
During the operation police seized large quantities of methamphetamine, cocaine, MDMA, morphine, prescription drugs, cannabis, six firearms including shotguns and a handgun, in excess of 100 rounds of 9mm ammunition and $10,000 in cash.
Police also recovered four allegedly stolen motorcycles, two cars, a trailer, four camper trailers, a caravan, ride on lawnmower, air conditioning units, iPads, tablets, mobile phones and jewellery.
If you believe any of this property is yours, contact Policelink or phone 131 444.
Stolen AJS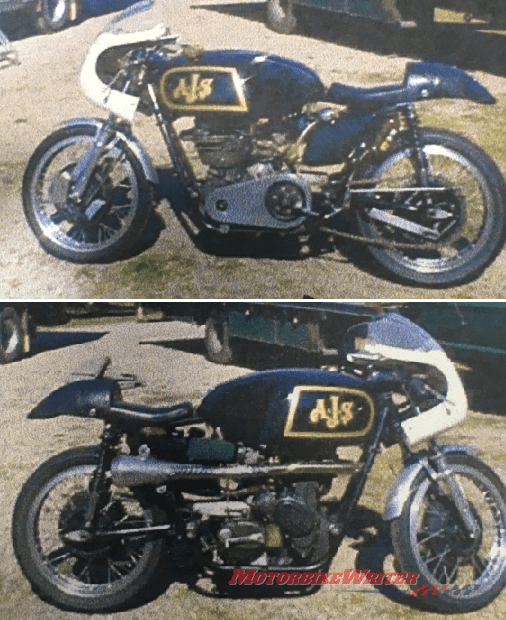 Have you seen this valuable and unique-looking black 1959 AJS 7R 350 motorcycle with a white fairing?
It was stolen from a house on Wangandary Rd, Wangaratta, some time between April 13 and May 10.
Wangaratta Crime Investigation Unit detectives are appealing for help to locate the distinctive motorbike.
Post-war AJS 7R 350cc single-cylinder motorcycles are valuable, fetching as much as $46,000-$54,000.
Police released the above images of the motorcycle in the hope someone may recognise it and be able to provide information on its whereabouts.
Anyone who has information or who may have seen the motorbike is urged to contact Wangaratta CIU on 5723 0888 or Crime Stoppers on 1800 333 000, or submit a confidential report online at www.crimestoppersvic.com.au
Stolen motorcycles rampant
Motorcycle theft is running rampant throughout Australia, according to the National Motor Vehicle Theft Reduction Council.
Thefts increased by 597 (7.3%) last year to a total of 8746 with a recovery rate of just 47%.
Last month, Victorian and NSW police seized 11 stolen motorbikes under investigations into motor vehicle theft and rebirthing.
Council spokeswoman Caitlin Hrambanis says the biggest rises in stolen motorcycles was in NSW and Queensland.
"In most cases vehicle theft is almost always opportunistic, with the vehicle being stolen for short-term use and later recovered (78% in Queensland)," Caitlin says.
The Council is shortly expected to release a review of the amended NSW Crimes Act which introduced a new offence of knowingly facilitating a rebirthing activity carried out on an organised basis.
It was designed to deter thieves by applying tougher penalties to any and all members in a theft network involved in stealing your motorcycle or car with tougher penalties.
While it seemed a good idea at the time, the figures seem to show it is not working.
We will have a report on the review in coming weeks.
Theft by state
State or Territory
2017
2018
% change
Thefts
Thefts
ACT
126
107
-15.1% 
NSW
1679
1968
17.2% 
NT
126
82
-34.9% 
QLD
1510
1696
12.3% 
SA
521
555
6.5% 
TAS
122
141
15.6% 
VIC
2013
2092
3.9% 
WA
2052
2105
2.6% 
AUS
8149
100.0
8746
100.0
7.3%