Yamaha Motorcycles
THE JAPANESE INVASION
Yamaha Motorcycles were part of the onslaught of low-priced, high-quality Japanese motorcycles that overwhelmed and overcame the British motorcycle industry in the 1960s. Honda Motorcycles was the first in the US market in the very late 1950s, and they were soon followed by Kawasaki, Suzuki and Yamaha Motorcycles. Yamaha quickly built a reputation for making solid, reliable 2-stroke machines with brisk performance, even if they had somewhat stodgy looks.
MOVING UPMARKET
While Honda built only 4-stroke designs throughout the 60s, Kawasaki, Suzuki and Yamaha stuck almost exclusively to 2-strokes. This served them well & allowed them to fill a market segment that was not being satisfied by the classic British motorcycle brands (ie: Triumph, BSA, Norton, et al) or Harley-Davidson. Even the mighty Honda, with it's all-4-stroke lineup, was relegated to a lower rung of the motorcycle hierarchy, unable to break into the lucrative 'big-bike market' with their lowly 305s and 450s. However, this situation had proven enormously profitable for them all, not just in money, but in things like reputation, market penetration, and what we would call today "brand equity". But they wanted more. The Japanese Big-4 wanted to move upmarket.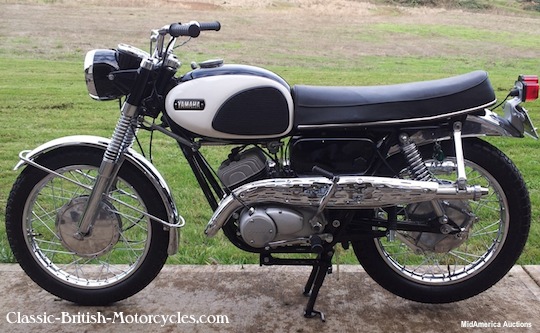 The clunky looks of this 1966 Yamaha TD3-C was typical for Japanese motorcycles of the day. The TD3-C is a 250cc two-stroke twin. This one was sold at MidAmerica's 2013 Las Vegas auction for $4,500.
---
GAME CHANGER
Of course, Honda fired the first salvo with the game-changing 750 Four, and took the market in a whole new direction, leaving the British motorcycle industry in the dust. Yamaha however, took a very different approach to their first 4-stroke bike. They took the classic, and very familiar British template of 2 inline vertical cylinders displacing 650 cc (a'la Triumph Bonneville, BSA A65, etc.) and totally modernized it. Something that the British should have done long ago, it had a single overhead camshaft, horizontally-split lower-end cases, and a level of quality that the Brits could only dream about. It was both an acknowledgement of the inherent goodness of Edward Turner's classic parallel twin design, and a slap in the face. Yamaha had just out-Britished the British!
YAMAHA MOTORCYCLE HISTORY
Yamaha Motorcycles was started in 1953 by Genichi Kawakami, himself the president of Nippon Gakki, which made musical instruments & electronics. Making lightweight, high-strength musical instruments had taught them much about metallurgy, and caused them to invest in heavy metal working equipment. It was Kawakami's desire to put some of this idle equipment to work that led to the final decision to start producing a line of motorcycles. Their first attempt was the YA-1, a 125cc two-stroke air-cooled single. Kawakami and company traveled to the US to explore the market, and Germany to learn about manufacturing motorcycles, and the resulting prototype passed the 10,000 km endurance test with flying colors. The Yamaha Motor Company was formed on July 1, 1955, and production of the YA-1 commenced out of the Hamakita Factory at a rate of about 200 units per month. That same year, YA-1s won the 125cc class at both the Mt. Fuji Ascent Race and the Asama Highlands Race, both in Japan, then won the Asama Highlands Race again the following year. It was only onward & upward from there.
EXPANDING THEIR PRODUCT LINE
In 1956, Yamaha added the 175cc YC1, and in 1957 the 250cc YD1. In 1958, Yamaha became the first Japanese motorcycle company to venture into international racing, and they took 6th place in the Catalina Grand Prix on Catalina Island off the coast of Los Angeles, California, which gained them recognition in the burgeoning US market. They started building a US dealer network and began selling Yamaha Motorcycles in the US.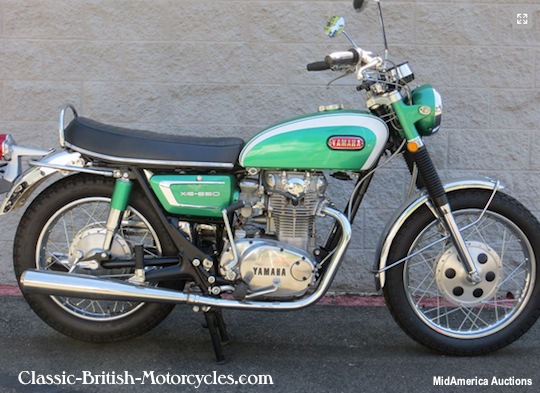 Yamaha reinvents the classic British motorcycle with their XS-1 650cc OHC vertical twin. They got it right the first time. This 1970 sold for $12,500 at MidAmerica's Pebble Beach auction in 2013.
---
TECHNICAL INNOVATION
In 1963, Yamaha introduced its clever Autolube System, solving the age-old problem of two-stroke lubrication. Until them, you had to mix the correct amount of oil into your gasoline. It was inconvenient & messy. Autolube did it all for you by automatically metering the right amount of oil into the fuel as it entered the engine. All you had to do was make sure the oil tank stayed full. It changed everything for two-stroke motorcycles.
YAMAHA BUILDS CAR ENGINES
Innovations like this, and an overall high standard gained Yamaha Motorcycles the much-deserved reputation for leading edge technology and premium quality. This benefited the company in many ways. Among them was their collaboration in 1966 with Toyota to build the Toyota 2000GT, which is very sought after by collectors today. Interestingly, this high performance automotive connection continued over the years, to include Yamaha's manufacture of the engines for Ford's legendary Taurus SHO high performance sedan.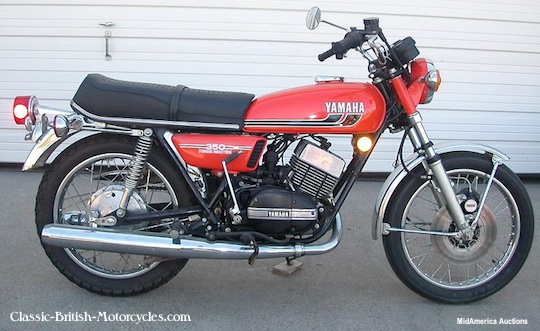 The Giant Killer, Yamaha's ass-kicking RD-350 two-stroke twin used to run circles around 750s on the racetrack. They were wicked on the street too.
---
THE MOVE TO 4-STROKES
Throughout the 1960s, Yamaha continued to perfect its two-stroke designs, more or less culminating in the 350cc RD-1 two-stroke twin. This amazing motorcycle proved itself again and again on the racetrack, often winning against bikes with twice its displacement. By the late 60s, the bikes were even looking a lot better. But the days of the two-stroke street bike were drawing to a close as the entire industry moved over to four-strokes, mostly for emissions reasons. Yamaha built its groundbreaking 650cc parallel twin, a design that enjoyed a long shelf life, as they moved wholeheartedly into the four stroke market, and never looked back.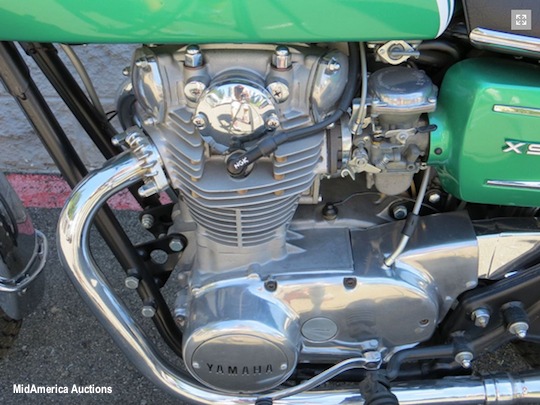 Typical of the level of quality and reliability of most Yamaha products, this Yamaha 650 have all the things the British 650 just couldn't seem deliver: No oil leaks, no electrical problems, no vibration, no reliability issues, and an electric starter! Wake up, Britain. Oops…too late!
---
THE DIRT BIKE BOOM
Yamaha also made quite a name for themselves (not to mention a tidy profit) peddling dirt bikes, motocrossers and enduros. There was a time around 1970 or so where it seemed that everyone owned a Yamaha 250 DT-1. This dirt bike boom was missed almost entirely by the Brits. However Yamaha and the others capitalized on it, and Yamaha, always a leader in innovation, ultimately changed the whole game with their revolutionary Mono Shock rear suspension system. Nearly every dirt bike since has used a similar design.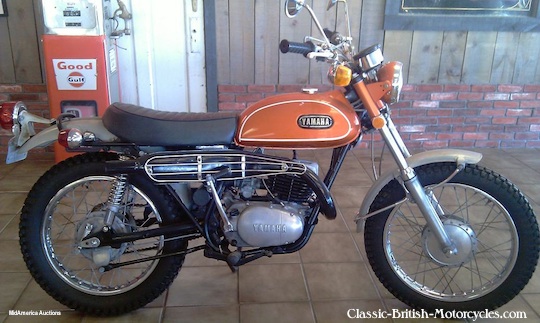 A common sight during America's Dirt Bike Boom of the early 1970s, this Yamaha DT-1 250 was simple, cheap, reliable, and fast.
---
BRITISH IMPLOSION
All the while, the British motorcycle industry was not only being sorely outclassed and outproduced by the Japanese Big-4, they were in a free fall of its own making, and they never recovered. Yamaha was just one of the recipients. They produced their 20 millionth motorcycle in 1982, just as the last of the once-might British motorcycle makers, Triumph, was coming unraveled.
Today Yamaha continues to manufacture a large line of modern motorcycles, ATVs, quads, marine engines, car engines, and of course the musical instruments that gave them their start.