Aston Martin will spread its wings on a motorcycle for the first time when Brough Superior reveal a new motorcycle at the EICMA motorcycle show in Milan, next week.
So far all we have is the above basic artist doodle from the English auto makers.
However, we can see that it is substantially different from their Super Sport 100 model which brought the company back to life in 2016. In fact, it looks much more like a "supersport" model than this does.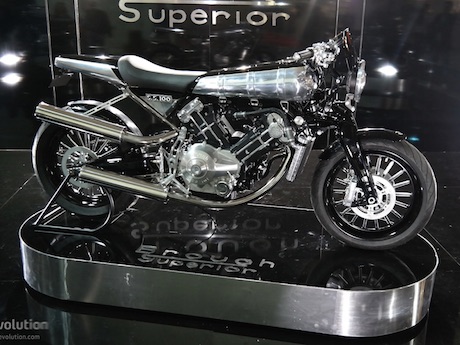 It's not unusual for motorcycle and car companies to get together to build a motorcycle.
Apart from companies such as Honda and BMW that build both, we had the short-lived collaboration between MV Agusta and Mercedes AMG that spawned the "solarbeam" in 2015.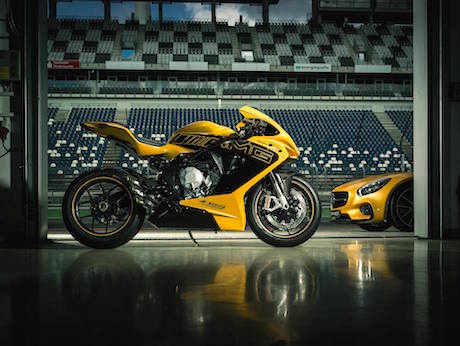 Like the "solarbeam", this collaborative bike will be a limited-edition model and should be quite expensive.
It will be unveiled on 5 November 2019.
Aston/Brought release
Here is he official joint release from Aston Martin and Brough:
Brough Superior, the eponymous performance motorcycle brand created by George Brough in 1919 and resurrected by enthusiasts long after his death is, like Aston Martin, a luxury brand with great heritage. Both Brough Superior and Aston Martin place huge importance on developing a brand that customers are proud to be part of and products that strike the perfect balance between performance and design.

Both masters of craftsmanship who use the finest materials to breathe life into their designs, as independent companies they also revel in their ability to offer bespoke design and engineering solutions so a collaboration between the two brands is virtually guaranteed to produce something very special.

The first new motorcycle is the combined vision of Aston Martin Executive Vice President and Chief Creative Officer Marek Reichman and Brough Superior CEO Thierry Henriette, who are both motorcycle enthusiasts.

Reichman said: "This is a fascinating and very popular project for myself and my team. The opportunity to collaborate with Brough Superior has given us the chance to bring our own unique views on how beauty and engineering can combine to create a highly emotive piece of vehicle design. We're excited about the end result and can't wait to see the reaction the motorcycle receives when it is revealed next year."

Henriette commented: "Aston Martin and Brough Superior are two luxury automotive manufacturers sharing the same passion for exclusive design and performance, the idea of developing a motorcycle in a frame of a close partnership came naturally."