A Super Heavy-Duty Hanger for Your Leathers
webBikeWorld searches the planet looking for unique motorcycling products. We get a charge out of finding something that's really out-of-the-ordinary and letting people know about it. Well, here it is folks — this has to be the most unique and out-of-the-ordinary product ever! I never imagined that a simple hanger could be so high-tech! And you know what? If you own a motorcycle riding jacket or pants, or a set of leathers (or even if you don't), you need this product!
I was intrigued recently by a small ad that I found in Road Racing World magazine that had some photos of Black+Gray's selection of products. And an eclectic selection it is — everything from ergonomic race timing boards to traditional and digital pit boards to unique plastic wheel chocks for transporting motorcycles.
And don't forget the Hi-Per hanger, all designed, developed and manufactured by Black+Gray in Garrison, New York. It seems that when you find a group of focused and well-thought-out designs like these, there's usually a dedicated motorcyclist behind them. And that's certainly the case here.
Where to Buy  Black+Gray Hi-Per Hanger Clothing
Check Reviews & Prices on Amazon
Check Reviews & Prices On RevZilla
---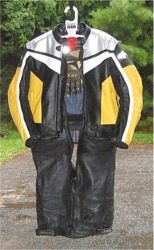 André Grasso is an Industrial Product Designer with an "all consuming interest" in motorcycle racing.
André is also the Principal in Index Industrial Design and Development, an industrial design consulting organization for various products and industries.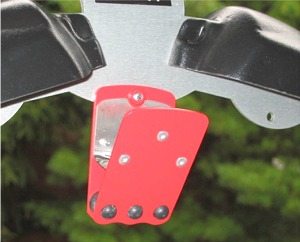 When André finds a problem, he designs and develops a solution, unlike the rest of us who just sit there and whine "Why doesn't somebody invent (you name it)".
If you've ever hung a set of leathers — or even a leather jacket — on a cheap wooden or plastic hanger, you quickly realize that there's got to be a better way.
No hanger I've ever found either has the shoulder width to correctly fit a jacket with modern armor in the shoulders, much less hold the weight of a complete set of leathers and gloves.
In fact, until the Hi-Per hanger, I hadn't even tried to hang up my leather pants; they're just too heavy and thick for normal hangers.
---
Where to Buy  Black+Gray Hi-Per Hanger Clothing
Check Reviews & Prices on Amazon
Check Reviews & Prices On RevZilla
---
Product Details
André must have spent a huge amount of time and money to design the Hi-Per hanger. As an ex-Journeyman Machinist who's also had some experience with various parametric CAD design software applications, I can tell you that the Hi-Per hanger isn't something you cook up on a cocktail napkin. Between the overall product design, making the molds for manufacturing the plastic shoulder arms, cutting the 0.125″ thick aluminum plate (with a water jet cutter?), and assembling the clips…
Well, let's just say that there can't be another hanger anywhere in the world that has this much thought put into it! The Hi-Per hanger's extra wide (3″) shoulders are designed to support street or track leathers no matter what type of padding might be underneath.
They're also adjustable — they can be moved out so that the hanger is either 17.8″, 19.2″ or 20.8″ wide. André claims that the hanger will hold 150 lbs. of gear, and I have no doubt that he's tested this. The aluminum hanger itself is brushed and powder coated with a clear coat, so it should never face any oxidation. The Hi-Per hanger's "Power Clips" are made of 0.0625″ aluminum also, and they can be moved to fit in any of the four holes on the bottom of the hanger.
There is a very powerful spring inside each clip with three rubber tips. The combination of the powerful spring and the rubber tips will hold just about any item of clothing you can think of without damage. There's also an optional Power Clip you can purchase to hang on the center hole which will hold a pair of gloves.
---
Where to Buy  Black+Gray Hi-Per Hanger Clothing
Check Reviews & Prices on Amazon
Check Reviews & Prices On RevZilla
---
Sizes and Options
The Hi-Per hanger is available in several configurations. Those include the HP-1, for pants only or the HP-1G for pants and gloves. The HP-2 is for a jacket only and the HP-2G for jacket and gloves. The HP-3 is for a jacket and pants and the ultimate, the HP-4 seen here, can hang a jacket, gloves and pants simultaneously.
The nice feature about the system is that you can buy any model and add to it later by purchasing extra Power Clips.
By the way, one more benefit of using the Hi-Per hanger system is that the wide shoulders of the hanger allow a lot of air to flow under the garments. This can prevent odors and mold from growing in damp, sweaty items.
Conclusion
So let's see — you spent $15k on that new Ducati, another thousand bucks on a jacket, pants and gloves… So what's another few bucks to have the best? And just think of how envious your pals will be when they see your leathers hanging on the Hi-Per hanger at track day!
w

BW

 Review: Black+Gray Hi-Per Hanger
Manufacturer: BLACK+GRAY
List Price (2006?): $26.95 and up
Colors: Black
Made In: U.S.A.
Review Date: February 2011
---
Where to Buy  Black+Gray Hi-Per Hanger Clothing
Check Reviews & Prices on Amazon
Check Reviews & Prices On RevZilla
---
Other WebBikeWorld Clothing Posts