When it comes to finding and an excellent motorcycle helmet that has the looks to attract attention from almost anyone that sees it, coupled with the highest level of quality that comes with being manufactured by a company that has decades of experience, the Bell Star Carbon Custom Motorcycle Helmet is one of the best options that anyone could ever hope to buy.
Bell Star Carbon Motorcycle Helmet Review
This helmet can best be described as an aerodynamically sleek design and that looks exactly like it was destined to slice through the air with ease. It is a full face helmet that utilizes silver reflective material in conjunction with stunning black carbon fiber in order to create a design that looks as fast as virtually any motorcycle. In addition, the fact that the helmet is manufactured by Bell means that it is able to stand up to the test of time. This is not just any carbon-fiber motorcycle helmet.
Instead, it looks like a professional racing helmet, yet it has an added degree of aerodynamic design to the top of the helmet that allows the air to pass smoothly across it without creating hardly any drag. This gives the helmet a rather futuristic appearance and it makes it stand out as the true work of art that it is.
Bell Carbon Motorcycle Helmet Design
In addition to its stunning appearance, this particular helmet has a number of extra features that also make it stand out. It is an exceptionally lightweight design that is very comfortable to wear, even on very long rides. In fact, it is designed expressly to cradle the head and neck area, effectively allowing it to become something that supports the head and neck as opposed to creating an obstacle that must be held up throughout the entire motorcycle ride.
In addition, it has a specialized ventilation system that helps the rider stay cool, even on the hottest of days. It also incorporates a specially designed shield that stays free of fog, allowing the rider to clearly see everything that is ahead. The helmet is undoubtedly one of the most comfortable pieces of equipment that has been designed in years by a company that cares, as it is designed in such a way that it becomes part of the rider instead of a mere piece of equipment.
It also comes with a five year warranty so in the rare occasion that a problem does exist with the helmet, it can be repaired or replaced without any hassle and to no additional cost to the rider.
Bell Carbon Fiber Helmet Options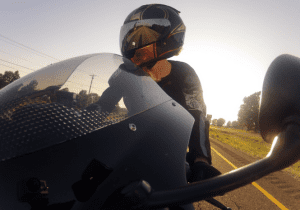 Who would want to purchase and then wear this helmet? The answer to that question is easy. Anyone that enjoys riding motorcycles and has more than a passing interest in doing so would undoubtedly be interested in purchasing this helmet because of its outstanding quality and its superior comfort. Furthermore, any individual that wants to ride in style would be proud to own a helmet like this. Most people who ride motorcycles choose a bike that is able to complement their personality and become an extension of who they truly are. This helmet can be utilized in exactly the same fashion. It is among the best helmets available and its unique appearance is something that will immediately attract the attention of passersby, both bike enthusiasts and members of the general population alike.
In addition, anyone that values quality and wants a safe helmet that is comfortable would be proud to own this helmet. In short, for anyone that will not compromise on quality and wants a helmet that can offer the best of everything there is to be offered, this is the helmet of choice.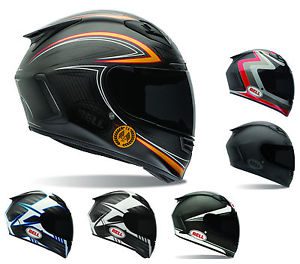 When all things are considered, this is not a motorcycle helmet for people that only consider riding a bike as a hobby. It is for the serious bike enthusiast, whether their interest lies in racing or in riding on the highway. Either way, this is a helmet that should only be worn by people that are dedicated to honing their craft and as such, it has made its mark as something that is available for serious motorcycle riders who know what they are doing and know what types of equipment they want.
Like most full faced helmets, this one is capable of adding bluetooth communications options and multiple types of helmet accessories. 
The high level of quality is what truly makes this badass helmet unique. It's something that simply cannot be equaled because it is a cut above anything else that has ever been manufactured. At this point I suppose there is only one quest left to ask – Where do I buy a Star Carbon Fiber Helmet at the best price?
–> Check out all the different styles of Bell Motorcycle Helmets here.
If you were to buy a new star helmet, this is what it would look like when coming to your door.
A video look at the star carbon-fiber helmet