I have never seen so many kangaroos on and around the road as I have in the Canberra region and this is now reflected in a study of insurance claims on roadkill crashes by AAMI.
It found that the nation's capital was the top hotspot for animal collisions.
Hitting animals is not just an inconvenience for riders, but can also be fatal.
In another study we published in 2016, a Suncorp study found kangaroos and wallabies the biggest enemy of riders accounting for 70% of all crashes with animals.
Dogs are next with 7.7% of all motorcycle-versus-animal strikes, but it would have been worse years ago before fencing laws.
AAMI's study of more than 21,000 AAMI animal collision claims between 1 February 2019 and 31 January 2020 found that almost one third of Australia's animal-related accidents took place on NSW roads.
Top animal collision hotspots per state
| | |
| --- | --- |
| Location | #1 State hotspots |
| National | Canberra |
| New South Wales | Dubbo |
| Victoria | Heathcote |
| Queensland | Roma |
| Western Australia | Baldivis |
| South Australia | Port Augusta |
| Tasmania | Kingston |
| Australian Capital Territory | Canberra |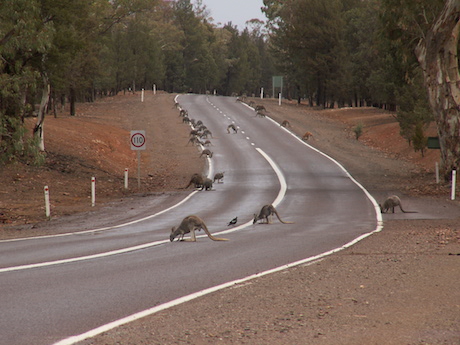 While Canberra's reign as Australia's animal collision hotspot continues for a fourth consecutive year, new entrants to this year's list include Dubbo in New South Wales, Heathcote in Victoria, Roma in Queensland and Kingston in Tasmania.
Kristie Newton from WIRES (NSW Wildlife Information, Rescue and Education Service) said the summer bushfires have wiped out an estimated one billion native animals, and the devastating loss of so much bushland has left many displaced and vulnerable.
"As native animals come closer to the road to feed, drivers should be extra vigilant especially near water sources like creeks or gullies where thick fog can occur and reduce drivers' visibility."
Top five animal collision hotspots in each state
New South Wales
1.   Dubbo
2.   Goulburn
3.   Mudgee
4.   Cooma
5.   Inverell
Victoria
1.   Heathcote
2.   Gisborne
3.   Wallan
4.   Sunbury
5.   Woodend
Queensland
1.   Roma
2.   Goondiwindi
3.   Moranbah
4.   Middlemount
5.   St George
Western Australia
1.   Baldivis
2.   Nannup
3.   Busselton
4.   Karratha
5.   Margaret River
South Australia
1.   Port Augusta
2.   Mount Gambier
3.   Coober Pedy
4.   Morgan
5.   Whyalla
Tasmania
1.   Kingston
2.   Launceston
3.   Cambridge
4.   Hobart
5.   George Town
Australian Capital Territory
1.   Canberra
2.   Kambah
3.   Belconnen
4.   Hume
5.   Symonston
Click here for our tips on how to avoid becoming roadkill.