Apollo Scooters has launched their Summer 2023 campaign with some exciting news.
Running from May 18, 2023 to September 6, 2023, Apollo is embracing the freedom that scooter riders experience by hosting a massive giveaway with their #ApolloFreedomChallenge as well as a variety of events to bring the scootin' community together.
Summer Campaign Giveaway
First item on the list is the Summer Giveaway where Apollo will choose 15 lucky winners to receive an Apollo Air 2021. Feeling the pinch of gasoline prices these days? So are we.
The Apollo Air is part of their casual riding collection. This PEV will take you up to 21mph (34km) and up to 31 miles (50km) of range. It features a dual spring front suspension for riding comfort combined with portability. Perfect for those on the go.
Want to win one? Check out Apollo's website for details.
*Giveaway is only open to residents of the USA (lower 48) and Canada.
The Apollo Pro 2023 Is Coming!
Apollo invests significantly into their R&D. As a result, their collection is uniquely different from all of the other brands on the market. In addition to Apollo's best-selling Phantom scooter, they've got something even more exciting on the horizon.
Enter the Apollo Pro.
Touted as a hyper e-scooter, this beast is launching its preorders on Indiegogo on July 12, 2023. Details are a bit skint at the moment but there are a couple of features that we're particuarly keen on:
Max Speed: up to 44mph (71km/h)
Max Range: up to 63mi (100km)
Dual motor
Last but not least, the first-ever smartphone-as-display with wireless charging. The Apollo Pro also has a built in QuadLock mount which is well-reviewed by our wBW team.
If you want to learn more, here's the announcement video:
Apollo Explore 2024 unveiled on May 24th.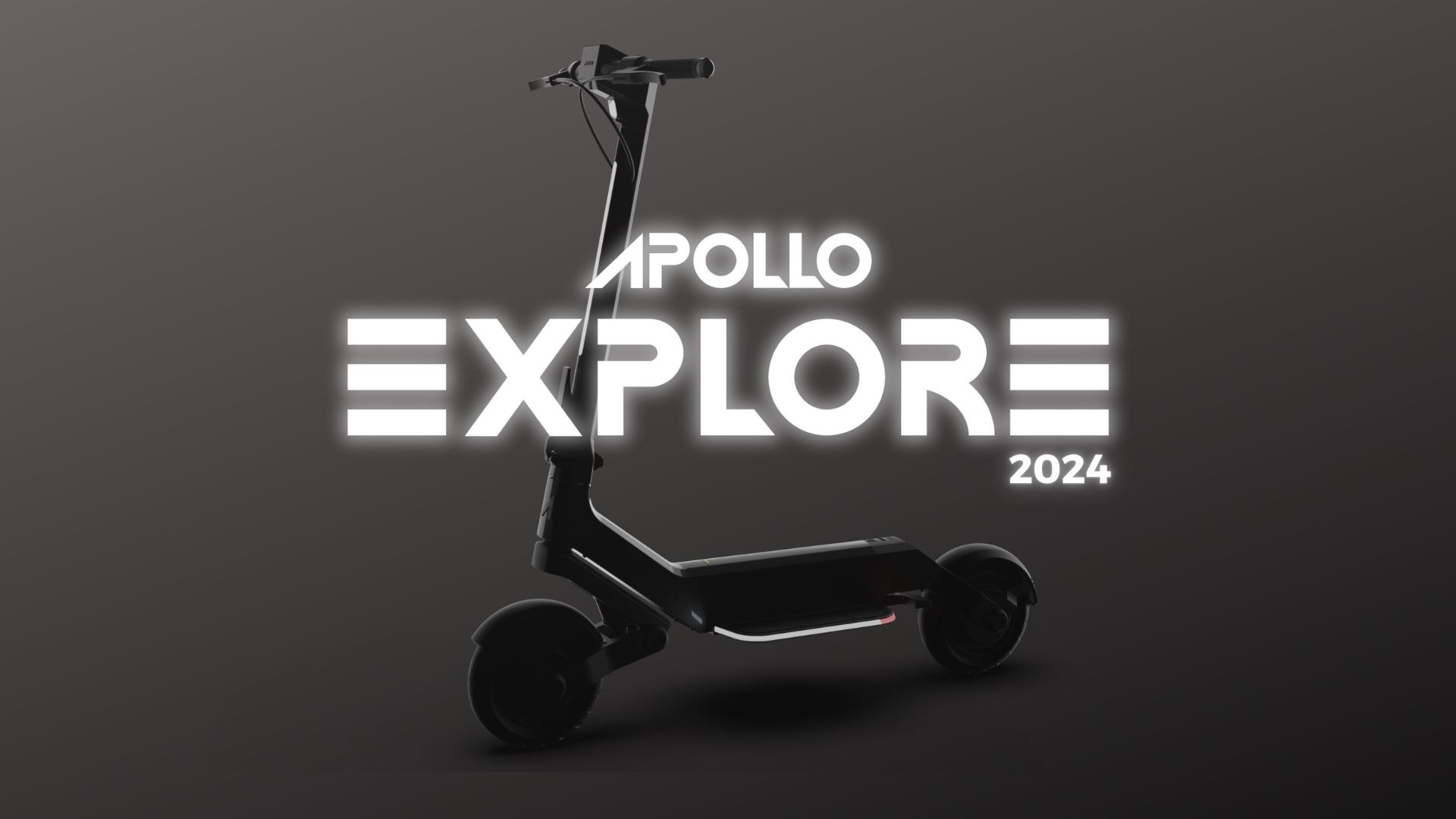 Apollo also recently unveiled their 2024 Explore model which is set to be delivered in Q2 of next year. Designer as a commuter scooter, it's been in development for the past 2 years and builds off of the success of the previous version. Check out this short video on the design process:
Per Apollo's website, these are some features that riders can expect:
DualDeck Platform: A foldable foot platform that offers exceptional ride stability and a sleek profile when folded. This platform not only enhances rider comfort and portability but also prioritizes safety by lowering the center of gravity. With a broader base of support, riders can enjoy improved stability and control, ensuring a smoother and more secure ride.
Quick-Swappable Battery & Dual Motor Performance: The Explore 2024 incorporates a quick-swappable battery system, allowing users to effortlessly remove and replace the battery with a simple push of a button. Additionally, the battery can be charged separately by plugging it directly into a wall socket. On the performance front, the Explore is equipped with dual 500W motors, ensuring enough power for all hills and the ultimate riding experience. These innovative features and power opens up a multitude of possibilities for riders, including extended commutes, convenient charging at the office, and safe battery storage during winter months.
Built-in GPS: Continuing with Apollo's commitment to connectivity, the Explore 2024 is equipped with a built-in GPS unit (IoT). This advanced technology enables a range of features, including remote diagnostics, anti-theft protection services, and ride recording, all accessible through the user-friendly Apollo App.
Maintenance-less with its Smart Regenerative Braking System & Self Healing Tires: The Explore 2024 boasts Apollo's renowned high-performance regenerative braking system, activated via a dedicated regen brake throttle. This intelligent regen braking delivers an exceptionally smooth braking experience while simultaneously recharging the battery and avoiding the painful customer experience of changing brake pads every 500 miles Coming equipped with 10-inch, self-healing tires, Apollo has yet again delivered with their focus on comfort with pneumatic tires, but removed the customer pain point of flat tires with their advanced self-healing tire technology. With reduced brake and tire maintenance, riders can now enjoy enhanced reliability, prolonged battery life and enjoy the ride.
App Compatibility: The Apollo Explore 2024 seamlessly integrates with the Apollo App, providing users with a range of convenient features. Through the app, riders can access remote diagnostics, track their rides, set their maximum speed, plan their trips, and much more. Apollo continues to innovate and expand the functionality of the Apollo App, with additional updates to be announced in the near future.
Quadlock phone mount: Similar to the Apollo Pro 2023, we've partnered with Quadlock to provide the first electric scooter-specific Quadlock mount on the Explore 2024. Quadlock is one of the world's premier smartphone mounting companies
DOT matrix display: Aside from the ability to use their smartphone as a main display via the Quadlock connector, the Explore 2024 will also come with a built-in DOT Matrix display that is very visible, even in direct sunlight. This is the same technology used on premium e-bikes and traffic lights.
Want To Learn More?
There's a reason why this Montreal-based company is a leader in the electric scooter industry. Tons of ongoing innovation. Loads of cool tech. Aesthetically designed.
If you want to learn more about Apollo, be sure to check out their website for the latest news.