2017 American International Motorcycle Expo
I'm sitting at the Columbus airport ready to take to the skies as I make my way back home. The past few days have been a blur: I've connected with vendors and manufacturers that hail from all over the world, seen some awesome new gear, and hopped on a 2018 Z650 to test the bike and check out Columbus.
As we begin to plan out our review schedule for the rest of 2017 and early 2018, I made it my mission to fill our pipeline with products that readers have been asking about (like Sena's upcoming Momentum INC) and products that riders everywhere will appreciate.
Here are some of the highlights from this year's show:
New Bikes from Kawasaki, Yamaha, and Suzuki That I'm Excited About
Kawasaki Introduces the 2018 KLX250
Fans of the KLX-series of motorcycles will be stoked to hear that Kawasaki is bringing back the street-legal KLX250. The KLX250 is legendary and popular with fans of dual-purpose bikes everywhere- I'm excited to see it back for 2018.
It's a good looking bike, especially in the matrix camo shown here, and should prove itself to be the performer that the KLX-series is known for.
Pricing starts at $5,399 for lime green, or $5,599 for the matrix camo gray and should be available for orders late October.
Yamaha Introduces the XSR700 to the Sport Heritage Lineup
Featuring a liquid-cooled 689cc inline twin-cylinder engine, classic good looks, and ABS, the XSR700 seems to have a bit of something for everyone. Its 410lb (wet) weight and 58mpg should appeal to just about everybody, as will its torquey CP2 motor (that produces a 50 ft-lbs) that's tuned for low/mid-range performance and excellent throttle response.
The XSR700 is introduced under Yamaha's "Faster Sons" philosophy. Up close, it's easy to see that Yamaha has paid attention to the details. The nuances of the bike, from the stitching on the seat to its built-to-be-customized persona, are really excellent. Yamaha spent a good amount of time walking through how this bike was meant for owners to be able to easily customize it. It's a real beaut and I'm looking forward to seeing what the aftermarket creates for it.
The new XSR700 has an MSRP of $8,499.
Suzuki Introduces the 2018 GSX250R Katana
Aimed at new motorcycle riders, or anyone who is looking for a peppy and lightweight bike to toss around, the new GSX250R Katana is hitting the streets for 2018. With gas mileage in the upper-70mpg range, a 248cc parallel-twin engine pushing out 30+ hp, and a range north of 250 miles, Suzuki's new GSX250R Katana should prove to be both practical and a lot of fun.
This fully-faired sportbike looks the part, and while it may be the "baby" of the lineup, there are no shortcuts made with respect to features or build quality.
The new 250R has an MSRP of just $4,499, making it an affordable option for riders everywhere.
Two Stand-Out Helmets from Sena and Shoei
Sena Momentum / Momentum INC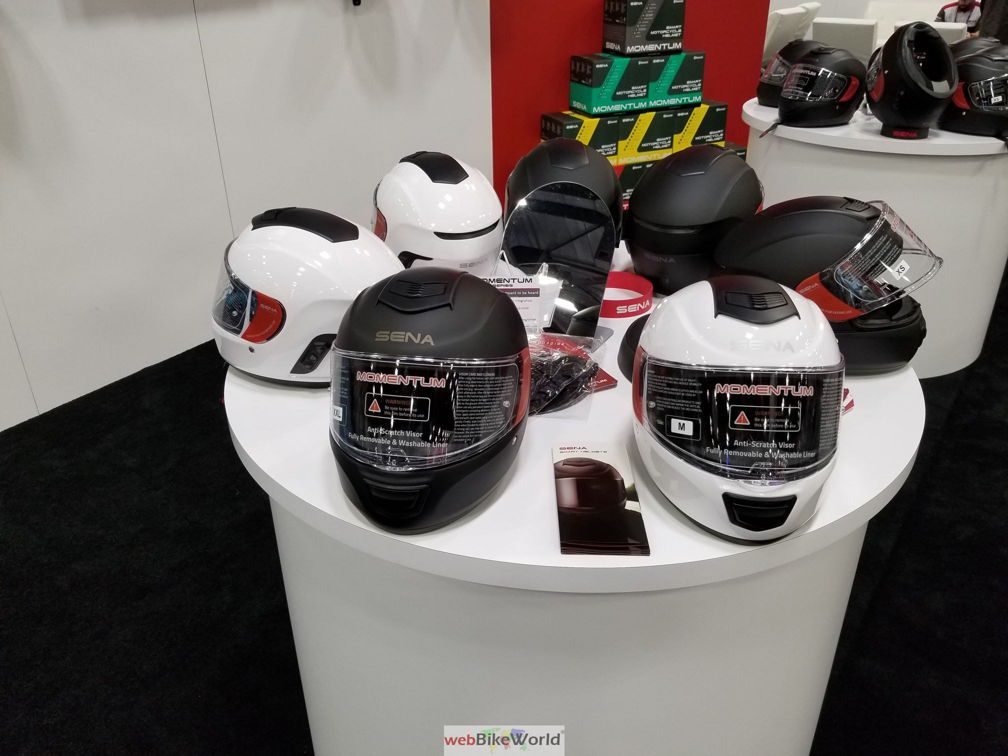 I got some face time with with a Momentum and am pretty impressed by its build, weight, and feature set. We're looking forward to getting one in our hands for some rigorous testing.
I also sat down with Sena and chatted about the the Momentum INC, which has been long awaited and talked about after its announcement last year. Featuring integrated noise control, which uses external microphones to measure noise and internal electronics to counteract what you don't want to hear, the Momentum INC should prove to be popular with riders looking for integrated bluetooth/intercom connectivity and a more focused riding experience.
Sena is aiming for a December/January launch of the INC.
New from Shoei: the VFX Evo
Featuring a host of new rider safety technologies, Sheoi is definitely excited about the new VFX Evo. The Evo features Shoei's motion energy distribution system (M.E.D.S), which Shoei claims reduces rotational forces upon impact by 15%. Rotational mitigation is becoming an important feature on any high-end helmet.
Compared to the VFX-W, the Evo has a larger front air intake, dual air exhausts on the rear, and a larger V-470 visor. Notably, the visor utilizes polycarbonate screws that are designed to sheer off in the event of an impact.
Other features include a strengthened chin bar, which is also enlarged (to improve airflow), and Shoei's emergency quick release system (EQRS), which allows medical personnel to quickly and easily remove the VRX-Evo in the event of an emergency.
Pricing starts at $539 (for solid color/metallic), $719 for graphics, and $739 for race-inspired replicas.
Gear… Gear Everywhere!
While a lot of publications hit AIMExpo looking to check out the new bikes, I came to find new gear to introduce to WBW readers. I checked out the "I can't believe nobody has done this yet" HelmetHalo, new lighting kits from Lexin, intercom systems from Cardo/Sena, detailing products from BikeBrite, gear made for rider safety/comfort, and new international brands looking to make a splash in the North American market.
We connected with lots of brands and will be sharing a new crop of hands-on reviews for gear across the spectrum. There's a lot of great stuff coming our way, and we can't wait to share them with you. Stay tuned.