2008 Powersports Dealer Expo – Motorcycle Accessories – Page 2
Summing up the 2008 show, I'm convinced there are a couple of interesting trends, as I mentioned earlier.  First, motorcycle clothing manufacturers are finally getting serious about women riders, with good-looking but functional and safe clothing.  Rev'it (more later) and Teknic are offering high-quality motorcycle riding gear for women that looks to have all of the safety features a thoughtful rider would expect.
The same is true to a lesser degree (although I'm sure they'd argue with me on this point) for Icon and Scorpion, who still tend towards "pink, flash and bling" in my opinion, but at least the clothing does seem to offer decent protection.
The other big, big trend — confirmed after talking to several helmet manufacturers — is color, graphics and style in motorcycle helmets.  I'm going to make a gallery page full of photos of some of the helmets I found, and I can only hope the photos do the helmets justice, because there are some eye-popping designs ready for 2008.  Some of them border on modern art and I could honestly see someone buying up a bunch of helmets and starting a collection and hanging them on the wall just to admire them all!
By the way, I think we owe a lot to the street/stunt community for reminding us that color and outrageous fashion and in-your-face graphics and cross-bones and flaming skulls can be cool.  When even staid companies like Arai are getting into it, you know something's cooking.
This carries over into clothing also.  Although there isn't really all that much to report in the way of clothing technology this year (with one exception that I'll tell you about tomorrow!), the same street/stunt style is revolutionizing motorcycle clothing.  Why do I say this?  Believe it or not, I didn't see a single plain black jacket for sale the entire weekend!  Black is out!  Hurray!
Something else that struck me and that could only happen at a show like this is the vast difference there really is between very high quality motorcycle gear and the cheap stuff.  Sure, cheap will get you down the road, but when you see the cheap stuff side-by-side with products that have a huge amount of engineering and design and thought and quality and precise manufacturing tolerances, it's very evident what the money is buying. This goes for both clothing and helmets.
I should — and do — know this, but I think what happens is we buy the gear one at a time for our reviews and only at an event like the Dealer Expo do I get to go back and forth, touching and feeling and seeing everything in a one-on-one comparison, and this makes the differences really stand out.
Final Report – Thursday, February 21, 2008 – Well, that's about it; I hope you enjoyed my report and I can't wait until next year!
Christini All-Wheel Drive Motorcycle
February 22, 2008 –  One more thing…I stopped by the Christini booth and took a quick video and a couple of photos of the Christini AWD motorcycle system.  It's a mechanical system that uses a complex series of rods and gears to drive the front wheels at 0.8% of the rear.
I'm not sure if it can be produced at a lower cost than the Yamaha 2WD system that uses hydraulics, but it is based on the Christini AWD system for mountain bikes.  Interesting…  Available from Christini All-Wheel Drive Motorcycles.
wBW Video: Christini All-Wheel Drive Motorcycle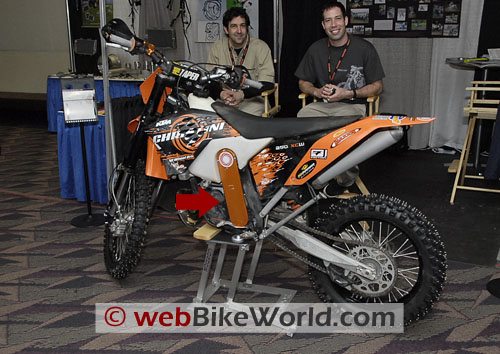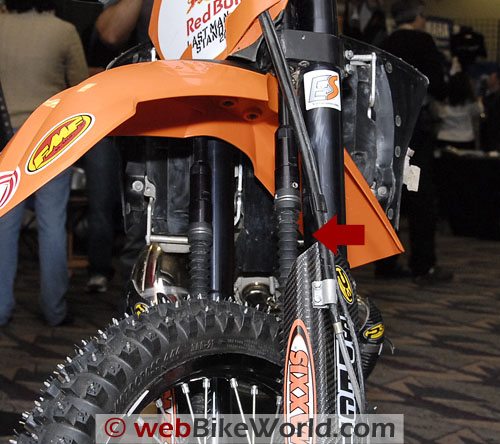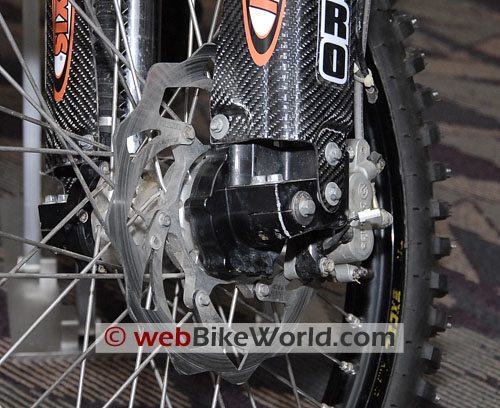 2008 Motorcycle Helmet Photo Gallery
February 20, 2008 –  2008 is the "Year of Motorcycle Graphics" — there were so many very cool colors, patterns and graphics on display at the Dealer Expo and I took a zillion photos as I walked around.  I didn't quite catch the names of all the helmet models here, and some of them are leftover '07 designs, but nevertheless, there are a lot of very nice graphics on display.  Zox even had some 2009 models on display for comments from the visitors!
To share all this goodness, here's something new: the webBikeWorld 2008 Motorcycle Helmet Photo Gallery!  Once the gallery loads, click on any photo to view it.  Or click on the forwards and backwards buttons in the upper right to navigate through the photos, or click the slide show button and let 'er rip; in the slide show, each photo will display for about 3 seconds and you can still go back and forth as you wish.
Click on the grid button on the upper left to get back to the photo index, or click on the "webBikeWorld Home" link at the center top to return to webBikeWorld.
I originally set the photos at 800×60 pixels, but that was too big for most 1024×768 screens when you count the borders around the browser window.  The photos should be small enough to display in a browser with a monitor at 800×600 resolution.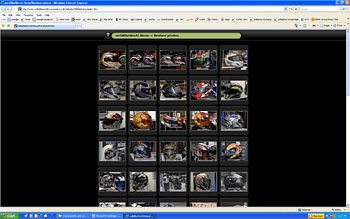 RKA IN-Side Tank Bag
February 18, 2008 –  There were too many details to remember about this one and I didn't quite catch it all.  Apparently this is RKA's Super DeLuxe Gadget Freak-o-Rama tank bag, with internal bulkheads and wire routing for more electronics than I've ever owned in my entire life.The idea is that you can connect the bag to the bike's electrics and plug in your GPS, MP3, radar detector, intercom, DirecTV, DVD player (with 42″ HD monitor) and probably a  back massager and bidet in the front, and all you have coming out the back is a single wire.  Unfortunately, there doesn't seem to be much room left in there for…the stuff you usually put in a tank bag.
I'm confused, I guess, and also by the price, which ranges from $245.00 for an empty bag to — get this — $2,450.00 for a complete bag, outfitted with a Garmin Zumo, Starcom intercom system and, I hope, a driver.
Whatever happened to the days when all you needed was a Triumph Trophy, farm gloves, Pop's leather flight jacket from WWII and a pair of Ray Ban's?  Available from RKA Luggage.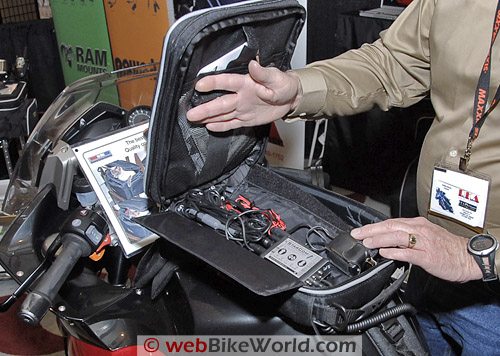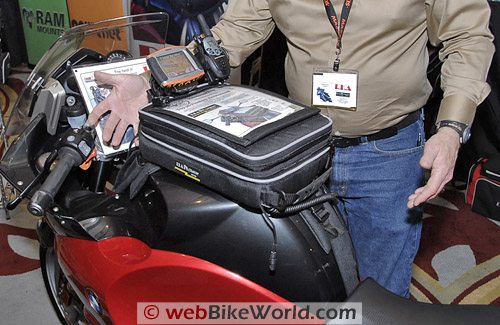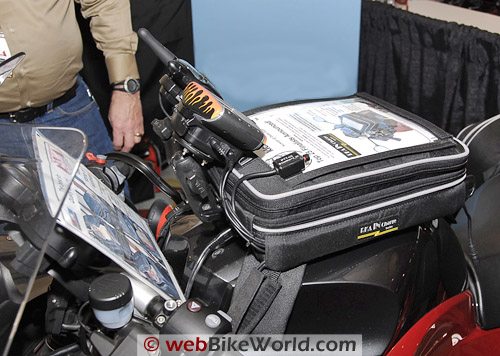 Leatt Neck Brace
February 18, 2008 –  Ever see a Leatt neck brace up close and personal?  Neither have I…until now.  This was on "Harold" here at the Acerbis booth.  The Leatt brace is sort of the HANS device for motorcyclists, although the Leatt brace is also used in autosports.  It's made from injection molded glass reinforced nylon and/or carbon fiber and it's supposed to prevent hyperflexion (extreme forward head movement), hyperextension (extreme rearward head movement) and lateral, axial (compression of the spine) and other head movements.A few years ago people scoffed at the idea, and now you can get one for about 400 bucks.  They have a few different models available; even one for street riding.   Available from Leatt Brace.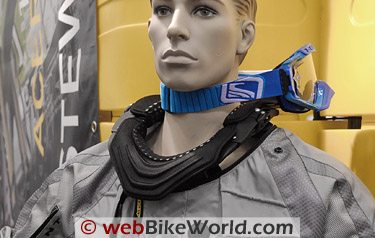 Alpina Wheels
February 18, 2008 –  These are replacement wheels that use tubeless tires for motorcycles.  Why Ducati and others don't use these as original equipment is beyond me; I'm sure owners would pay a bit more for them, or at least as an option.They hold the air because each spoke has an O-ring on the outside, where it bolts into the center of the rim (second photo below).  The company is into customizing — owners can pick their own hub color, spoke color and rim color, even this two-toned half-und-half pattern below.
The rep wouldn't tell me how much they cost; he apparently didn't have a cot in the booth to have me lay down first.  I'm now afraid to ask, I'll bet they're probably like 20% of the original cost of the GT1000?
But they sure look sweet…  Available from Alpina Raggi S.p.A.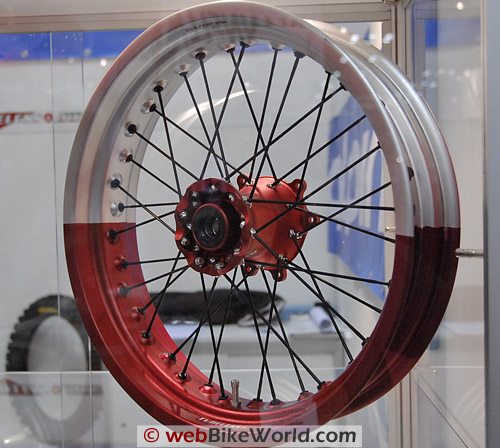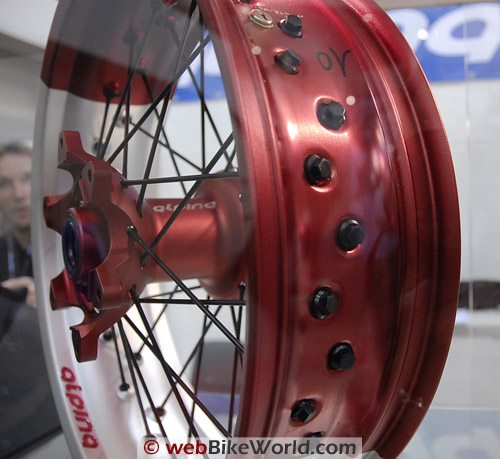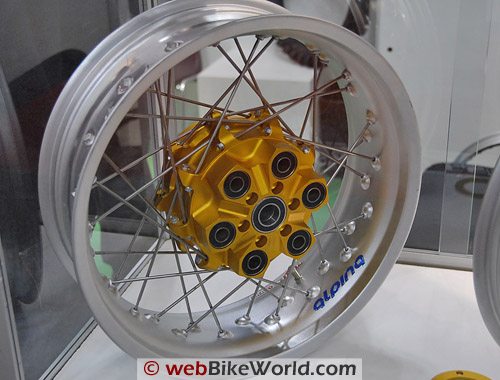 Scoot Coupe
February 18, 2008 –  There didn't seem to be as many scooters at the show this year, and my feeling is that no one ever showed up for the scooter revolution that was predicted.  But there are still a few interesting tidbits out there, like this Scoot Coupe, for example.  It uses a 150cc engine for a claimed top speed of 66 MPH.  It's pretty cool looking and I bet a lot of fun — it's completely road legal.
It has a gel coat fiberglass body (made in Florida where they have a huge experience base in using this stuff for building boats) and it comes in green, yellow, blue or red.  It has 13″ alloy wheels and scooter tires; three-wheel disk brakes; turn signals; headlights; tail and brake lights and holds 1.3 gallons of fuel.  It also has seat belts for the rider and passenger.  This list price is $6,499.00 for the 150cc.  Available from Scoot Coupe.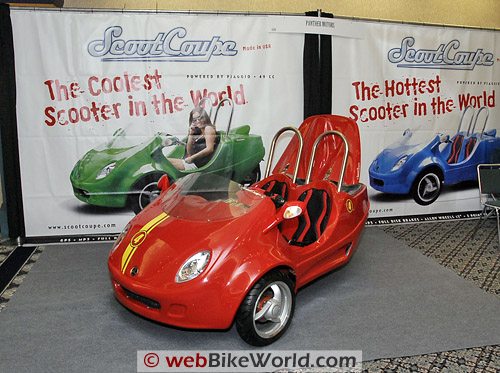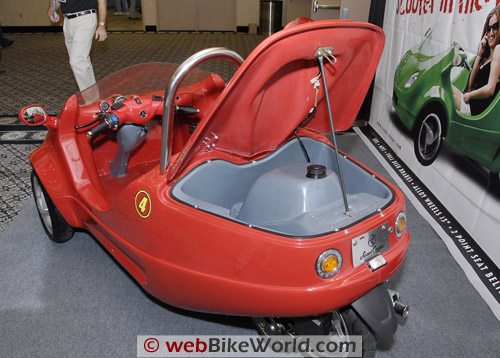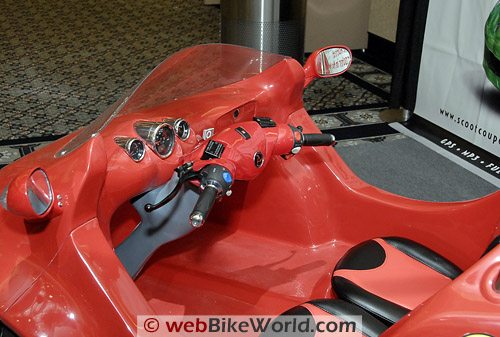 Hepco & Becker Bags and Engine Guard
February 18, 2008 –  I don't think these are brand new, but the Hepco & Becker Lock-It bag mounts (frame) and the Junior "Flash" 30 liter (also available as 40 liter) bags looked good on the Versys at the Eurotech Motorsports booth.The bags are made from a hollow feeling and sounding ABS-type moulded plastic (H.B.C.'s got me spelling like a Canadian now…) and I sort of wish they were stuffed with EPS or something to make them not feel so…cheap.  But I guess they'll do the job and at least they won't rust.
If you don't like plastic, check out the aluminum panniers on the BMW R 1200 GS in the fourth photo below, they looked rugged enough for a 'round the worlder.  I think these may be a new product, does anyone know?  The sales rep was kind of busy so I didn't get all the info on these.
The rep says the Junior bags are available for the Multistrada also… The Lock-It frame is $265.12 (where do they come up with these amounts?) and the 30 liter Junior Flash bags are $507.85.  They had a plainer-looking 30 liter bag also on display for $419.00 even, but they looked…plain.
Normally I don't like the looks of engine guards, but the Hepco & Becker engine guard for the Versys (third photo below) blends right in and it looks good.  Not sure why you need an engine guard for an engine that sits behind the frame, but here it is anyway…  It's part number 501.220 00 01, available in black powder coated only (according to the rep, even though it shows as silver or argent on the H&B website) and lists for the strange price of $182.64.  Available from Hepco & Becker and imported and distributed in the U.S.A. byEurotech Motorsports.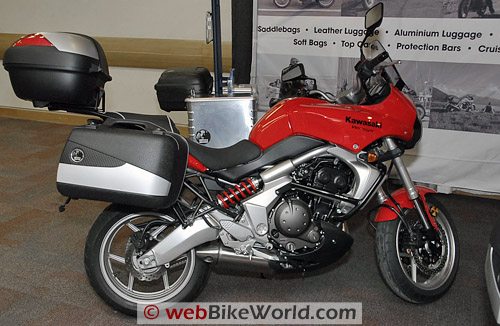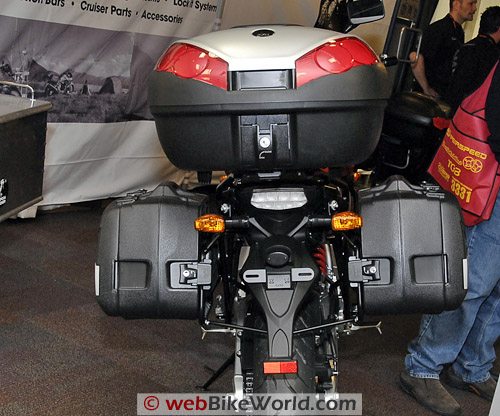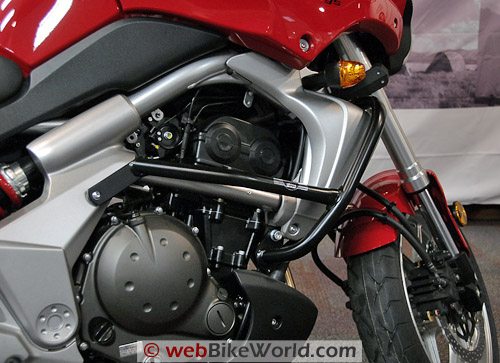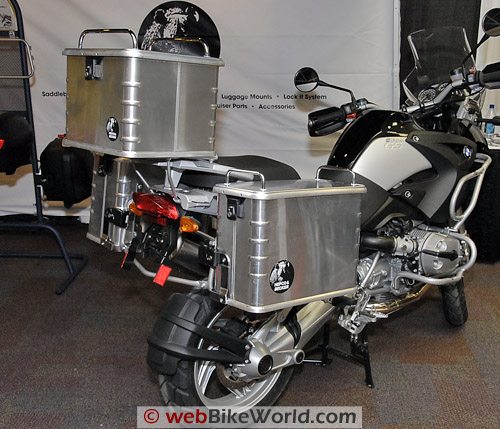 Hardknock Old School Bobber
February 18, 2008 –  IF I was into cruisers and IF I had kids (or maybe even if I didn't), I'd want to get them one of these bobber mini-bikes.  How cool are these?!
The Kikker 5150 "Hardknock Frisco Bobber" (first photo) has an old-style springer front suspension, forward controls, a jockey shift, electric start, solo seat, hydraulic disk brake, chrome plated TIG welded 4130 chrome-moly frame, and your choice of a 49cc or 110cc four-stroke engine with a four speed tranny.
It has a 15″ rear wheel and 18″ front and it's supposed to be all metal.  You probably can't see it in the photo, but there are some nice bits on here that look old or retro or restored but aren't — they're new.
The second photo below is a customized version.  Prices start at $1,499.00.  Cool pit bike, eh?  Available fromKikker 5150.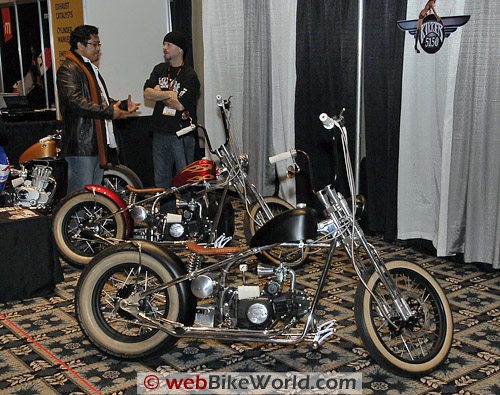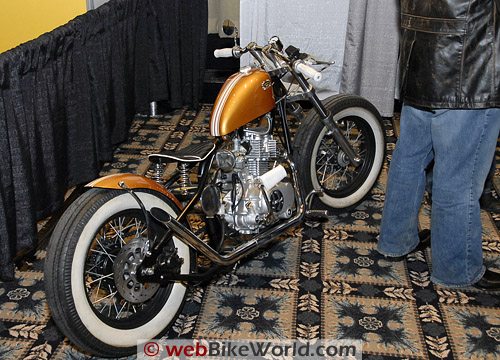 The Club Tire Claw
February 18, 2008 –  Remember "The Club" steering wheel lock?  They're still around and they're making The Club Tire Claw, a basic motorcycle wheel lock.  It clamps around the tire and although it probably won't stop a determined thief, it should give them a second thought and maybe they'll move on to the next guy.  It would probably be useful also for scooters and maybe a bicycle.  It's small enough to fit in a tank bag or saddle bag and it feels like it's made from some type of pressed steel.  Seems expensive at $79.95 list.  Available fromWinner International.I posted a short video also showing how it works: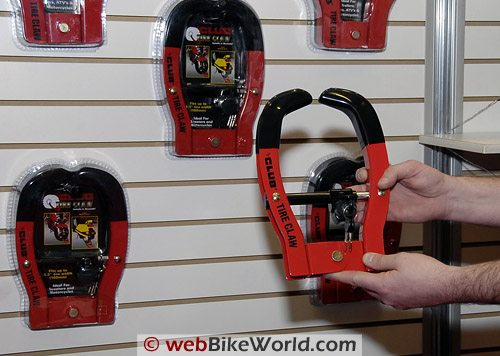 wBW Video: The Club Tire Claw
Toy Carrier 

Covered Motorcycle Trailer

February 17, 2008 –  The Toy Carrier covered motorcycle trailer looks simple but sturdy to me.  It has an "indestructible polymer shell" that looks like thick roto-molded plastic and guess what?  It will never rust, that's for sure, which is a plus right there.It looks like it would pull very easily behind a small SUV and it could also be used to store a motorcycle — or to sleep in!  It has a built-in front wheel chock and it's available in single or double widths and it will fit the largest bikes, like a Gold Wing, BMW K1200LT, etc.

It has a built-in 5 foot long ramp, left and right foot ramps, nice-looking aluminum rims with 13″ radial tires (cool!), sealed lighting (LED I think), an aluminum diamond plate floor and an aluminum frame, so no rust again!

The double even has electric brakes.  They have lots of options and things like internal vents.  It's nearly completely smooth underneath; the plastic body is molded to fit over the frame so it's smooth and lowers wind resistance.

Looks nice and the Sportbike single version lists for only $2,895.90, if I'm reading it right, which sounds like an absolute steal to me…  We're going to see if we can either borrow one and/or visit the factory (one in Canada and one in Indiana) for more info.  Available from Toy Carrier.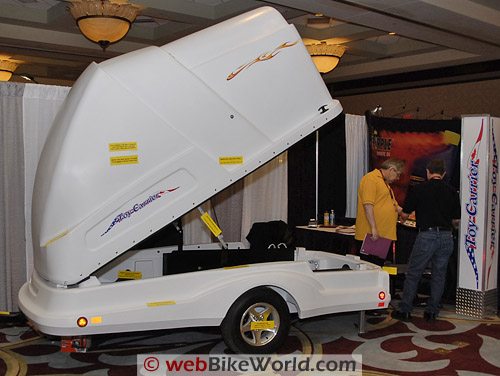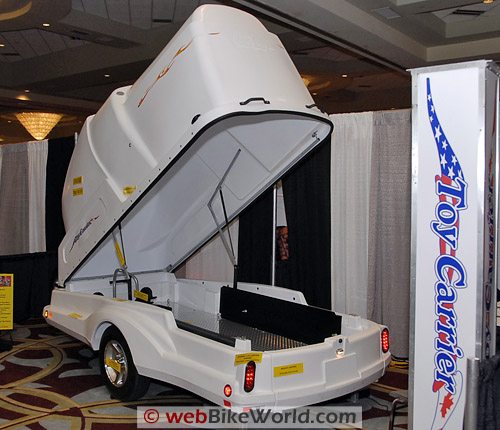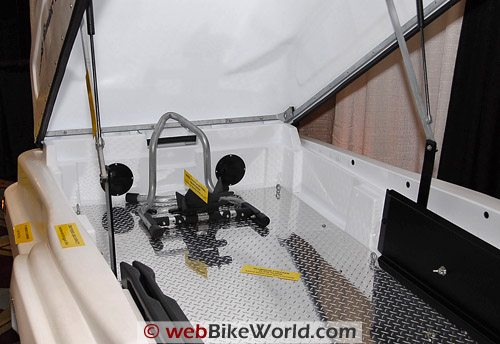 Motorcycle Air Shocks Suspension
February 17, 2008 –  Let's face it: webBikeWorld isn't about cruisers, but that doesn't mean that we're not nuts about anything on two wheels (wait — that's not a double negative, is it not? ;-)Anyway, I was walking along one of the back alleys and saw these bikes popping up and down.  I'm a sucker for low riders and bubble cars ('49 Merc please…) and somehow this reminded me of that.  This is from AirFX Air Suspensions in Indianapolis, Indiana.
Here's a quickie video:

wBW Video:  Motorcycle Air Suspension
Tourmaster and Cortech Jackets
February 17, 2008 –  I've been confused about the Tourmaster vs. Cortech brands ever since Tourmaster created the new brand a few years ago.  But Tourmaster had its usual vast array of clothing and women's motorcycle clothing on display.  The booth was so busy that I couldn't find a Tourmaster rep to guide me through the new 2008 products, but here are some photos.The Cortech "Drax" jacket is, I assume, a women's design?  It says it's waterproof and made from "Carbolex" textile in 600 denier.  It has a removable liner and CE-approved armor in the shoulders and elbows.  The retail price is only $115.99 USD.  Check out the second photo below; the Drax jacket has a cool-looking embroidered dragon on the back.
BUY IT!  Get your Motorcycle Gear at RevZilla and help support webBikeWorld!


The Cortech "Trinity Series 2" 3/4-length jacket for women comes in this unusual brown or "earth" toned color and it looked good.  It also has CE-approved armor and is claimed waterproof.  It lists for $159.99 USD.

And here's the men's "Transition Series 2" jacket. It's also 3/4-length, with a removable liner and a claimed waterproof outer shell.  It comes in this unusual sort of off-white color that I think could be a hit with the Adventure-Touring crowd.  It has a list price of $169.99:

BUY IT!  Get your Motorcycle Gear at RevZilla and help support webBikeWorld!
Note:
  For informational use only.  All material and photographs are Copyright © webWorld International, LLC – 2000-2011.  All rights reserved.  See the webBikeWorld® 
Site Info page
.  NOTE:  Product specifications, features and details may change or differ from our descriptions.  Always check before purchasing.  Read the 
Terms and Conditions
!
Other WebBikeWorld News
 

Posts