Arai XD4
Arai XD4 Helmet Preview
by Rick K. for webBikeWorld.com
2012 Dealer Expo Live Report
---
UPDATE: Arai XD4 Review!
Background
February 20, 2012 - Arai formally introduced the XD4 helmet at the 2012 Dealer Expo in Indianapolis, Indiana.
I stopped by the Arai booth to ask about their internal shape "evolution" for the Signet-Q (review) we reviewed recently on webBikeWorld.com.
More on that subject later, but in the meantime, I took a few photos of the new XD4 dual-sport helmet.
We actually have one just starting the review process; it arrived just last week. The Arai XD3 (review) and the original Arai XD (review) were also covered in previous webBikeWorld reviews.
The initial manufacturing run was in the solid colors and ours is a nice metallic silver. Silver is a basic all-around good helmet color -- not too dark, not too light, neutral enough to allow decent photographs and, hopefully at least, provides a bit better visibility on the road than some of the dark or matte colors.
So I was interested in seeing the XD4 in all its glory. Besides the solids, it comes in an "Explore" graphic that is a bit conservative and probably correct for the typical GS-riding demographic for this helmet.
I wasn't too fond of the fluorescent yellow XD4 because of the black "peak" and other vent bits and seeing it "in the flesh" didn't change my mind any. The black bits look, well, a bit out of place to me and cheapen the appearance slightly. But on the other hand, it's a perfect match for the Richa Spirit jacket (review) in high-viz yellow and black!
Is too much fluorescent or high-viz yellow too much? I think so actually...which is why I went for the silver. The XD4 in the Explore graphics looks nice in orange though, I have to admit.
The helmet has a complex internal padding structure that I'll describe in more detail in the review. The padding can also be modified to create a bespoke fit and the Arai representative took out a cheek pad to show me the details, as you can see in the photo below.
This is the type of hidden detail that you're paying for when you buy a high-priced, high-end product like an Arai XD4. It's a subtle feature, hidden and perhaps not even used by many of the owners. And how many dealers know about it and demonstrate it to you? But it's exactly the type of attention to detail that separates the good stuff from the generic no-name brands and it adds cost to the product.
Arai offered me an invitation to visit their offices in Pennsylvania and I'll definitely take them up on that. We'll talk more about fit, helmet construction, I'll get a 3D map of my head shape (which they confirmed was round just by looking at it!) and maybe we'll even do another video of removing and replacing the famous Arai face shield! So stay tuned...in the meantime, here are some photos of the new Arai XD4.
UPDATE: Arai XD4 Review!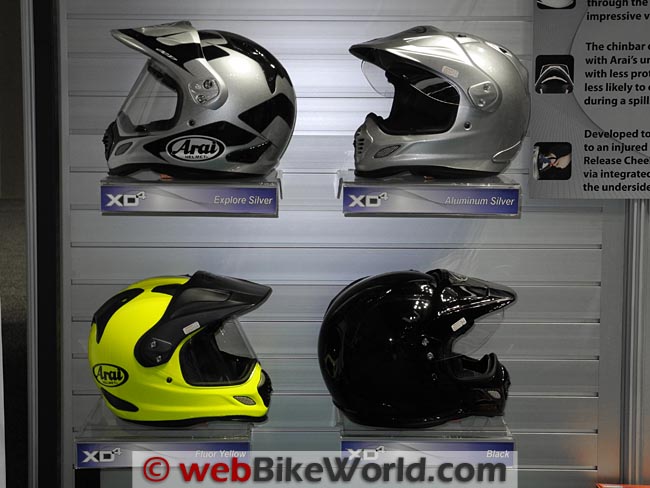 Arai XD4 helmet colors.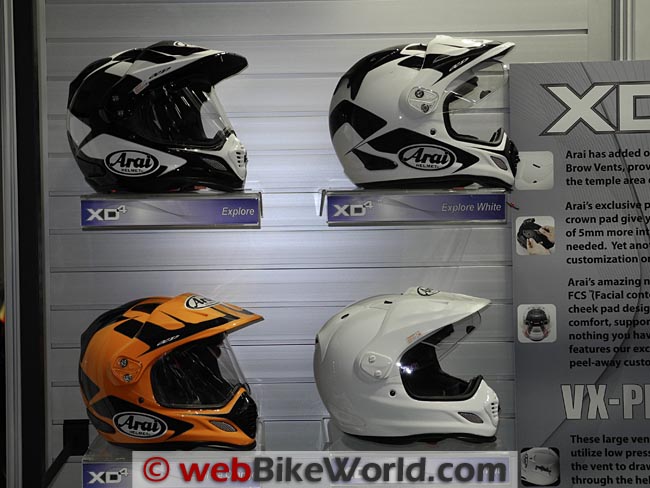 Arai XD4 in the "Explore" colors and white.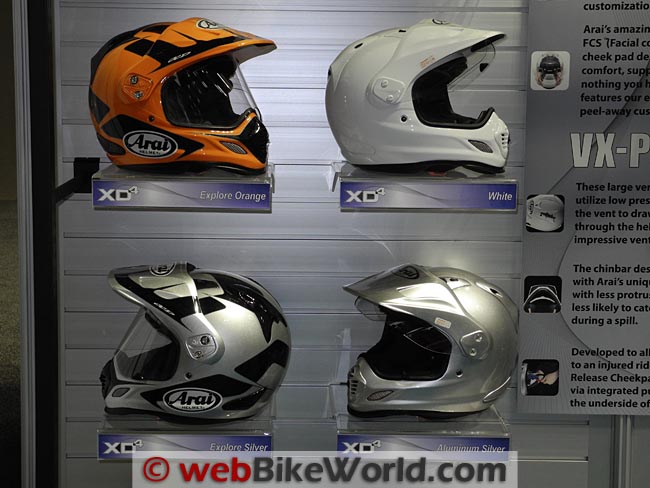 More Arai XD4 colors.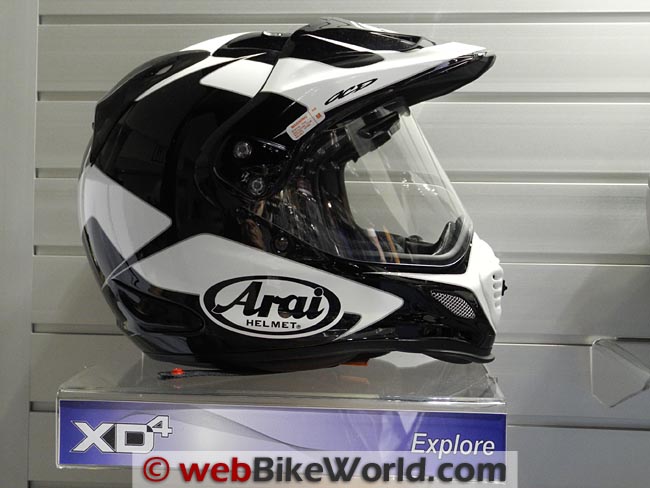 Arai XD4 Explore black and white.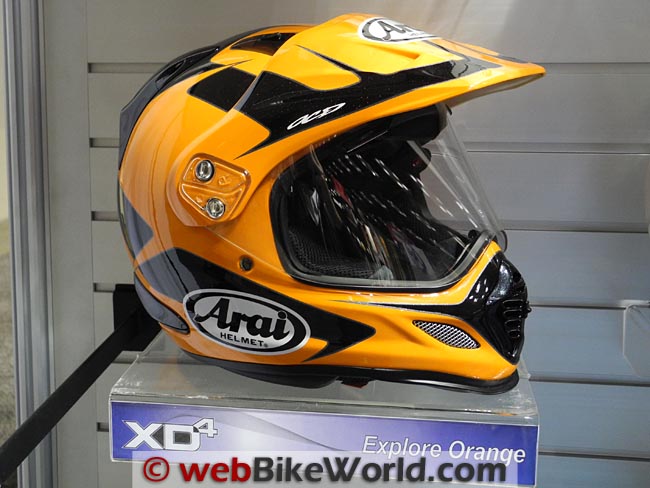 Arai XD4 Explore orange.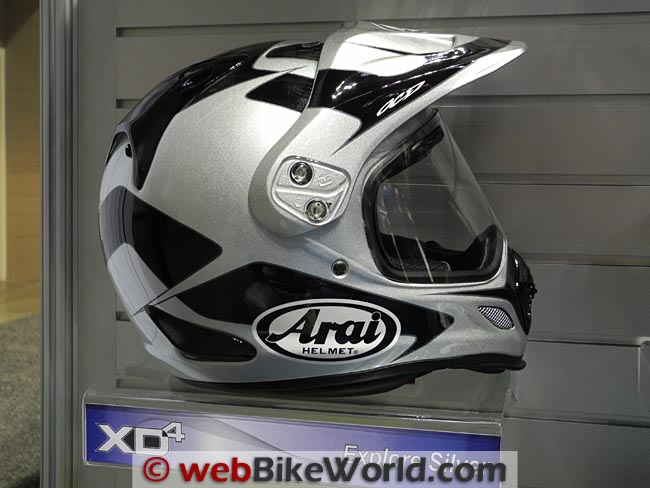 Arai XD4 Explore Silver.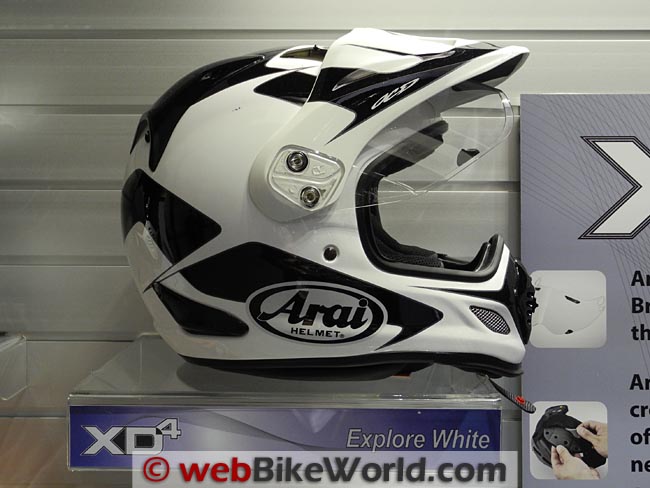 Arai XD4 Explore white.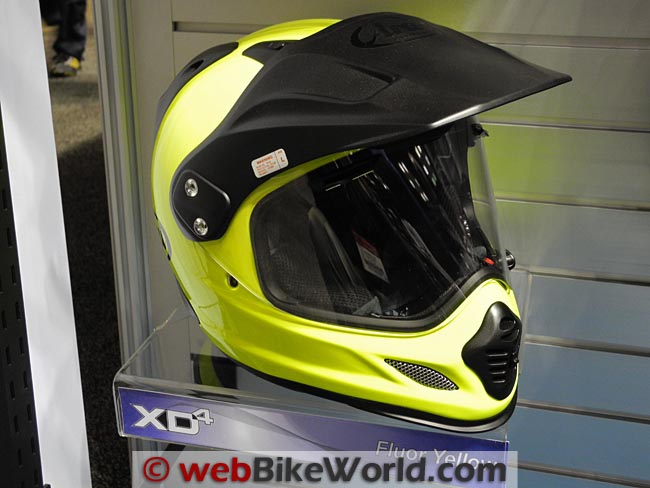 Arai XD4 in Fluorescent Yellow.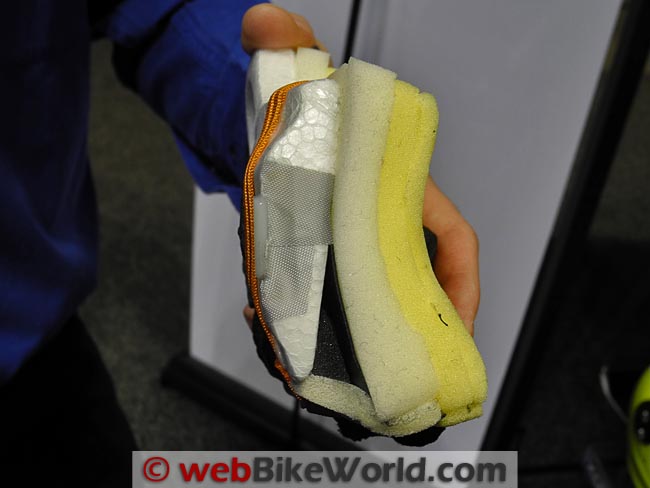 Complex and multiple layer cheek pads are adjustable in the XD4.
More: 2012 Dealer Expo Live Reports
Publication Date: February 20, 2012
Note:
For informational use only. All material and photographs are Copyright © webWorld International, LLC since 2000. All rights reserved. See the webBikeWorld®
Site Info page
. Product specifications, features and details may change or differ from our descriptions. Always check before purchasing. Read the
Terms and Conditions
!
Please send comments to
Comments are ordered from most recent to oldest.
Not all comments will be published (
details
). Comments may be edited for clarity prior to publication.
---