Updated February, 2018
The V-Twin/Cruiser Jacket is a classic look that never goes out of style and is never going to disappear as long as there are motorcycle riders out there who want comfort and great looks.
This style is all about comfort with a relaxed cut and simple design. Riders who are looking for that single leather jacket to provide safety from abrasion and road rash when riding but one that will also look great to wear anytime will select the V-Twin/Cruiser jacket.
There are also versions of the V-Twin/Cruiser jacket which are geared more for riding than everyday wear as they are made of textile fabric and mesh which offer great protection but are much lighter weight than the classic leather versions. Either way, you will love the comfort of the cut and the functionality of these jackets. And the affordable price range also makes this style of jacket very popular with all riders. If you're looking for more of cafe racer jacket, we've got a guide for that here.
Be sure to check back regularly with us here at wBW to read about our latest hands-on reviews of V-Twin/Cruiser Jackets and other great products for riders. 
Recommendations
Our Top Picks
Best Overall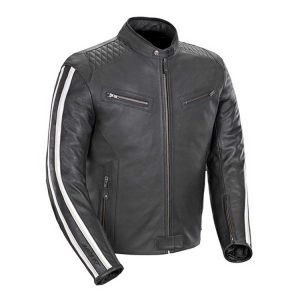 Best Value
Fully Loaded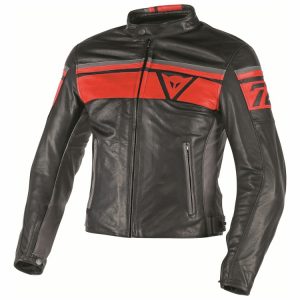 Other great options: Scorpion Ascendant, Joe Rocket Velocity, Speed and Strength Band of Brothers
V-Twin/Cruiser Jackets Buyers Guide
Comfort, cost, and fashion all play a role in the popularity of the V-Twin/Cruiser style bike jacket. Most riders are very honest about owning up to the first two requirements. Everyone wants to have a certain level of comfort as soon as they slide an arm into a new jacket. And this relaxed cut and softer leather make a maiden ride in a new jacket as comfortable as the 100th ride.
Cost is also an issue for many riders. Every rider knows that there is a certain amount of risk assumed when you are on a bike. It might not be fair, but some drivers are just not paying enough attention to see you on a bike. It is a sad fact but in-car entertainment, cell phones, and road rage all can have a negative impact on riders. So we wear leather and we remain vigilant. But not every rider can afford to drop a grand on a jacket, those riders are happy to buy a quality cruiser style coat for protection at an affordable cost.
And as for the third criteria, if we are all being totally honest, we admit that we do want to look great when we are riding. That's the reason we buy the flashy paint schemes and why we keep our bikes spotless. So getting a jacket that keeps you safe, doesn't cost a fortune and keeps you looking as good as your bike is a perfect buy. Hopefully, our evaluations of some popular models will provide you with the information you need to make a solid decision on your purchase of a V-Twin/Cruiser jacket.
---
The Winners
In Detail
Best Overall


Joe Rocket Vintage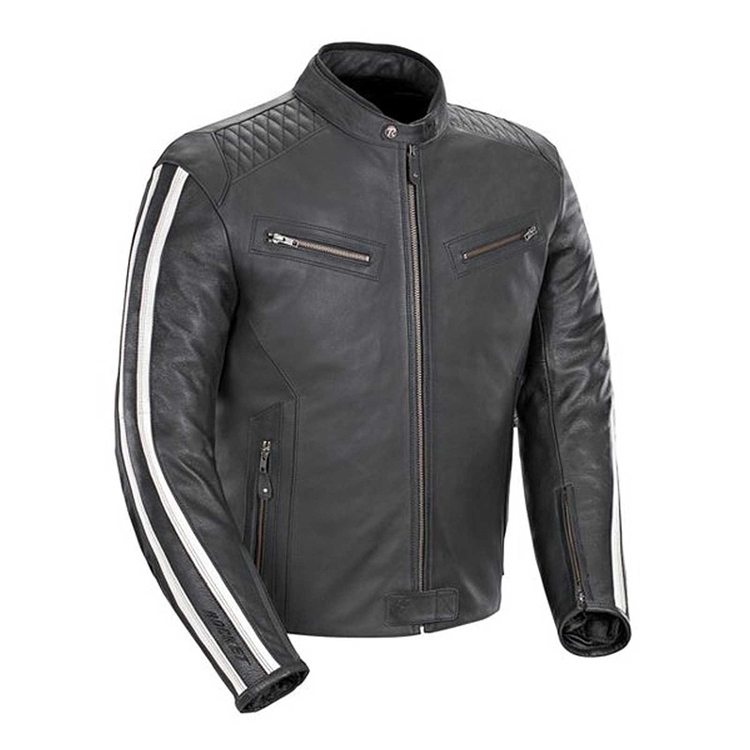 The Joe Rocket Vintage offers simple lines and that classic comfort and looks that all riders love.
With over 1 mm of drum dried cowhide protection, this jacket will literally save your skin if you are sliding across the asphalt. In addition, there are pockets in the elbows, shoulders and on the back for optional armor if you are looking for added protection from impact.
The full sleeve quilted liner makes this a great choice for cooler weather and the neoprene collar and zipper cuffs will keep the cold air out. The 4 exterior zipper pockets and 3 inside pockets provide plenty of places to carry personal items and offer easy access as well.
The Joe Rocket Vintage is a high-quality leather option that looks great on or off your bike. And at just about $300, the cost is similar to any regular coat but this one offers many more features. That is what makes the Joe Rocket Vintage our selection for Best Overall V-Twin/Cruiser jacket.
Buy Joe Rocket Vintage
---
Best Value


Alpinestars Luc Air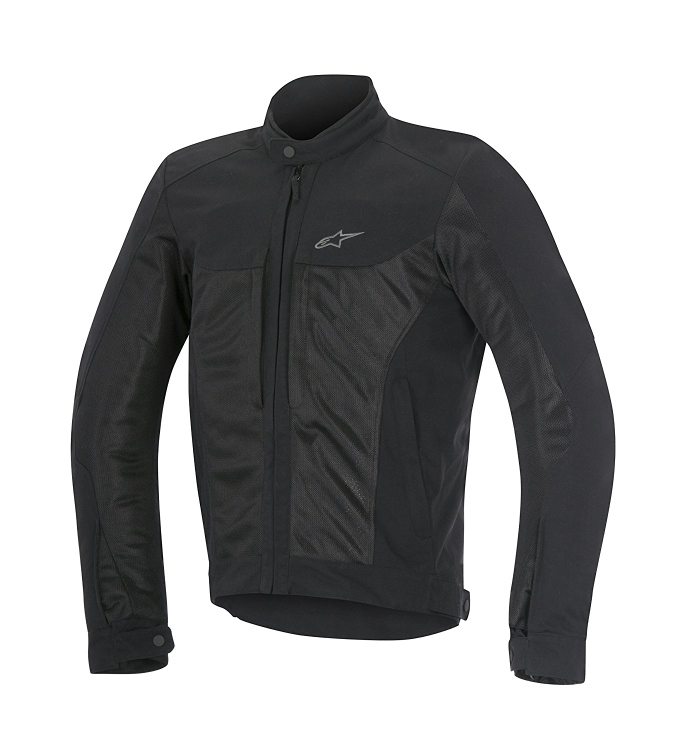 If you are looking for a classic style V-Twin/Cruiser jacket but are not a fan of leather, then the Alpinestars Luc Air is a great choice. The Luc Air offers all of the benefits of the classic biker jacket and then adds a few new features to meet the greater demands of today's riders.
The first benefit is that the jacket is made of 480 denier poly-textile so it is lighter and cooler than the old school leather. There are also highly abrasion resistant mesh inserts positioned for optimal airflow and rider comfort. The water-resistant PU coating makes this jacket even more versatile than its leather counterpart.
For added protection, there are CE elbow and shoulder protectors and PE foam chest and back protectors. Riders have the option to upgrade the chest and back pads to CE if they feel the need for even greater impact protection.
The waist and wrists offer snap closures for a secure and comfortable fit and the back of the jacket is slightly elongated to provide additional protection in the lumbar region.
For under $200, the Luc Air offers a new twist on a very classic style. Riders get both great abrasion protection and airflow from the mesh and textile materials. Optional armor upgrades also allow riders to achieve the same levels of impact protection which are normally only found in jackets costing twice as much as the Luc Air.
All of these features and the amazingly low price tag make the Luc Air our choice for the Best Value V-Twin/Cruiser jacket.
Buy Alpinestars Luc Air
---
Fully Loaded


Dainese Blackjack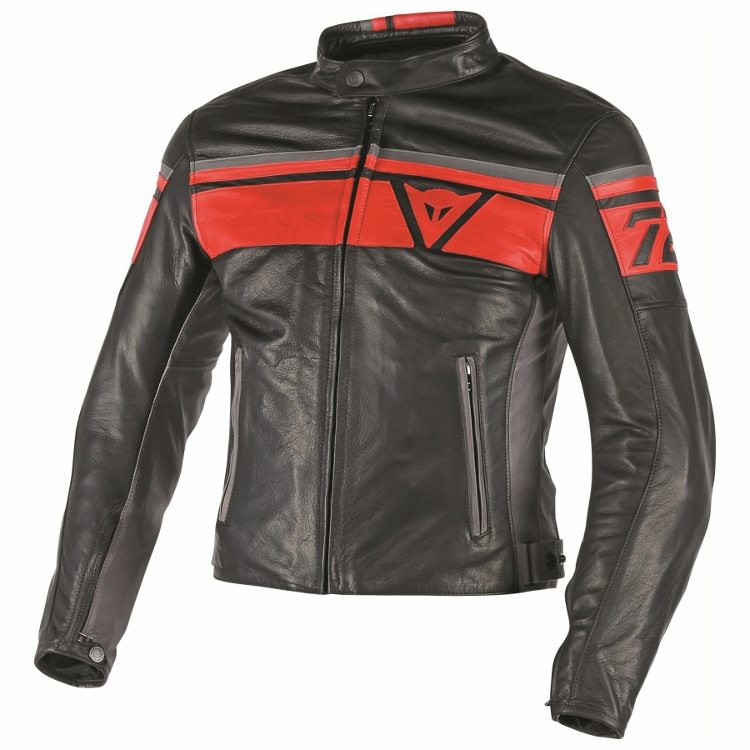 For riders who are looking for a touch of retro and all the safety features of current V-Twin/Cruiser jackets, the Dainese Blackjack will meet and exceed all of your needs.
This classic style is cut from 100% waxy aniline-dyed cowhide to provide superb abrasion protection and comfort. The TechFrame liner makes this jacket the perfect choice for year-round use. Add a set of Dainese trousers and the jacket-trouser fastening system turns this jacket into a full riding suit for cold weather cruising.
Safety is always important and the composite protectors certified to EN 1621.1 standards in the shoulders and elbows provide great impact protection as well as additional coverage in the event of a slide on asphalt. The pocket in the back is sized to fit the G1 or G2 back protector and can be purchased separately to meet the riders specific needs and comfort level.
Overall, the safety features of this jacket comply with the CE – Cat. II – 89/686/EEC directive.
Other features of the Blackjack include 2 outer pockets with zipper closures, both snap and zipper closures at the wrist, snap hip adjusters and an internal pocket.
In addition, the Blackjack is available in both men's and women's sizes so all riders can enjoy great comfort, fit and style. All of these safety features tucked into a sleek retro look jacket makes the Blackjack a one of a kind option.
Top grade leather and protection do however come at a cost which is why the Blackjack is our selection for Best Fully Loaded V-Twin/Cruiser jacket.
Buy Dainese Blackjack
---
Other Great V-Twin/Cruiser Jackets
In Detail
Scorpion Ascendant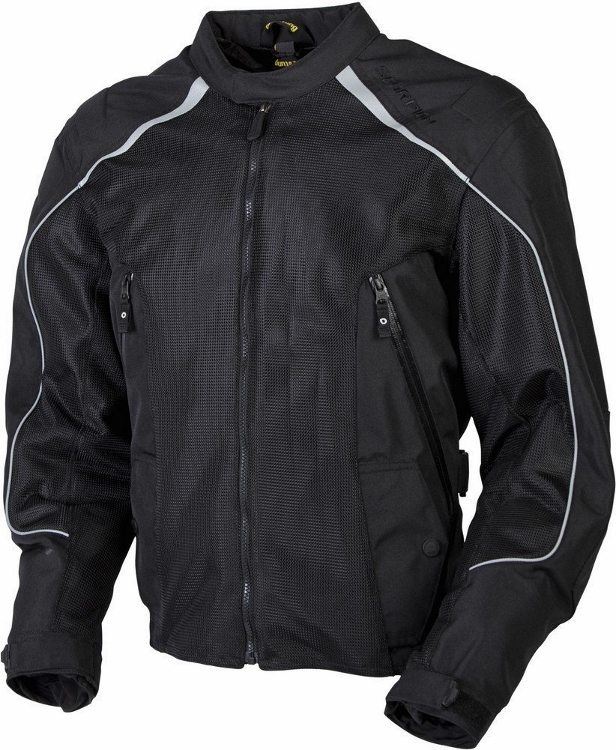 The Scorpion Ascendant jacket is designed to meet year-round needs in a comfortable jacket.
The best part about this jacket is that it also provides riders with a great deal of protection at a very reasonable price. The outer shell is made of a durable 600D poly with 840D poly added to the abrasion zones at the elbows. Add in the waterproof liner with the fleece interior and this jacket can transition from summer to winter and meet all of your needs for close to $100.
In addition to meeting all of the demands placed on a rider by the weather, the Ascendant jacket also meets all of a riders safety needs.
Removable Sas-Tec CE armor protects the elbows and shoulders while a PE foam pad protects the back and spine. This pad can also be removed and replaced with a Sas-Tec CE back armor pad if the rider desires.
In warmer weather, the large mesh panels in the arms and torso promote great airflow to keep the rider cool and comfortable.
Matching vents in the liner allow for controlled airflow even when the liner is in use.
This jacket also offers 2 exterior zipper pockets and two interior pockets for added storage.
At around a hundred bucks, the Ascendant is a great choice for any V-Twin/Cruiser rider who wants great safety and versatility in an affordable jacket.
Buy Scorpion Ascendant
---
Joe Rocket Velocity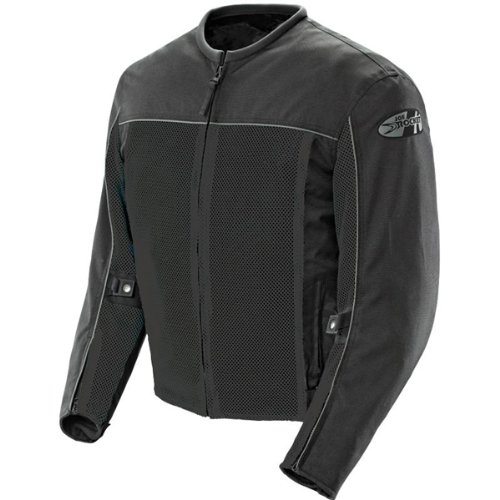 Any rider who is looking for a classic jacket design but also wants some of the creature comforts of modern technology should check out the Joe Rocket Velocity.
This jacket is the perfect combination of the old style V-Twin/Cruiser jacket look but in the latest material for added comfort and safety.
The Free Air mesh allows for great airflow but still adds all of the abrasion protection that riders are used to from the older leather jackets.
The quick release system on the waterproof liner makes it easy to install and remove so you are prepared for any kind of weather.
The contoured armor at the shoulders and elbows and the dual density spine pad offer additional impact protection and added material between your skin and the asphalt in the event of a slide.
The 6 point SureFit system provides a custom fit throughout the jacket.
The extended back also provides additional protection for the lower back area.
Two outside zipper pockets and 1 inside pocket give riders space for personal items and easy access.
V-Twin and cruiser riders who are looking for a simple classic jacket will be more than satisfied with all that the Joe Rocket Velocity has to offer. And for just over $100, riders will not find a better solution in hot weather.
Buy Joe Rocket Velocity
---
Speed and Strength Band of Brothers
V-Twin/Cruiser riders who want an authentic vintage look but also modern levels of protection have only one choice: the Band of Brothers.
This unique jacket offers a blend of cowhide leather and denim that looks like it just came out of a duffle bag found in someone's attic. This could be a vintage jacket except for all of the current day safety features that it offers.
The amazing part about this jacket is that you would never believe that there is any armor in it when you first look at it.
The cut is comfortable and relaxed so the armor is almost invisible.
The shoulders and elbows offer Vault CE armor which is removable.
The back Vault CE armor spine protector is also removable.
The leather on the upper arms is perforated for added comfort and the waist offers an adjustable strap.
Very seldom is there a motorcycle jacket available that doesn't really look like is housing a bunch of safety armor. But this jacket manages to do just that.
For the rider who is looking for that retro style cruising jacket, and would also like to conceal some armor, the Band of Brothers is the perfect jacket.
Buy Speed and Strength
---