Tourmaster Transition Series 3 Jacket
Tourmaster Transition Series 3 Jacket Review
by Bill C. and "Burn" for webBikeWorld.com
More: wBW Reviews Home | Motorcycle Clothing Reviews | Owner Comments (Below)
---
Summary
The Tourmaster Transition Series 3 jacket formula has been proven with continuous upgrades over a decade or more.
It's a do-it-all, quality garment that's loaded with features and the price is very reasonable.
If your budget demands buying one jacket that will meet multiple requirements, this is it.
The bottom line is this: It's hard to justify spending more money on a 3/4-length motorcycle jacket when you can get this much goodness for less than 200 bucks.
Background
It's no secret that the webBikeWorld evaluators are big fans of Tourmaster clothing; we have reviewed many different Tourmaster garments over the years, so be sure to take a look.
We've said it many times: the brand represents some of the best value you'll find anywhere. Tourmaster clothing is honest, straightforward and unpretentious. Which, by the way, does not mean "boring"!
The new Transition Series 3 jacket is an update to the original(s), with the careful continuous improvement approach that is also a Tourmaster hallmark.
The Series 3 is very similar to the Tourmaster Transition Series 2 (review) jacket; in fact, it's difficult to tell what has been changed or improved (especially since we haven't had a Series 2 around here since 2009).
But one thing's for sure: this long-running jacket has to be one of the best values in all of motorcycling. It comes in red, blue, black, high-vis yellow or silver and it's available in a huge size range, from XS all the way up to 4XL with Tall sizes in M to 3XL. The list price is still only $209.99 and you can get one for $188.99 at the MotorcycleGear.com webBikeWorld affiliate.
That is, as we like to say, a certified steal. Let's take a look...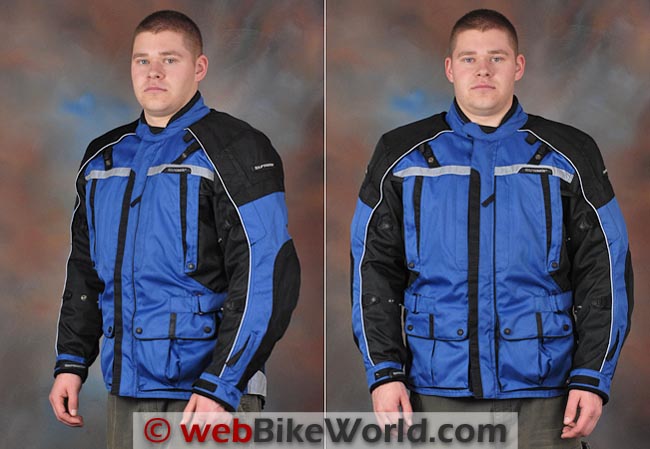 Tourmaster Transition Series 3 Jacket Shell
The mellow earthy-brown color of our Transition Series 2 jacket wasn't carried over to the Series 3, unfortunately. But the popular red, silver and black are still available, along with a new high-visibility yellow and our choice, this "steel blue" version.
The blue is a nice neutral shade that's not too dark, not too light and not likely to absorb too much solar radiation. And we read recently that blue is one of the most visible colors in a wider variety of lighting conditions...
Whatever your color choice, Tourmaster has been making a jacket similar to the Transition Series 3 jacket since about as long as webBikeWorld has been online (12+ years) and they have the formula down pat. Honestly, you don't have to think twice about buying one of these if you're looking for a 3/4-length jacket. It's good, it works and you can beat the heck out of it without worry.
It's not only a great choice for the budget-conscious (which is just about everyone nowadays); it's a great choice period. The darn thing even looks good -- not too "boy racer". It has a minimum of logos and graphics and, by the way, it's absolutely covered with Phoslite reflective material that pops like Disneyland at night in the headlights.
The shell is made from the same 600 denier "Carbolex" material used by Tourmaster for a decade (literally). It has a different "hand" or feel than many other jackets because it's softer. The fabric feels immediately broken-in, without that hard canvas-like feel of other jackets.
The added abrasion points at the elbows and shoulders are a higher-density 1680 denier ballistic polyester with a larger black outline of a type of reflective material that you can see in the photos below but which typically doesn't show up in flash photography for some reason.
The overall build quality is excellent, with nicely done stitching and construction techniques honed from that decade-plus experience base. Just as a not-too-good example, the quality of the Tourmaster Transition Series 3 jacket is leagues better than the horrible Akito Desert jacket and pants (review). We'd take the Transition Series 3 any time, any day over the Akito product, no matter how much money might be saved (not much, as it turns out).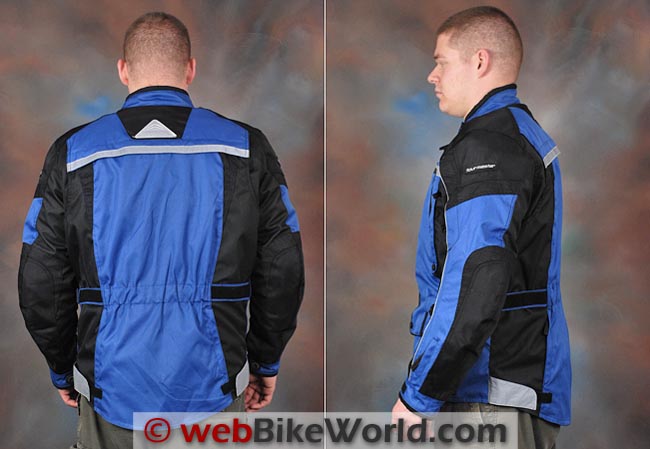 Windproof and Waterproof Liner Pros and Cons
The only real compromise with the Transition Series 3 jacket is the wind- and water-proof liner, which is permanently attached to the inside of the jacket shell.
It's the Tourmaster-branded "Rainguard barrier" that is breathable and waterproof. Gore-Tex it's not -- but you're not paying Gore-Tex prices here either. The Series 3 liner "floats" on the inside of the jacket shell.
There is no direct air venting through the liner from the outside through most of the jacket, although the large shoulder/arm and chest vents can be secured in the open position. The shoulder vents do have an opening that passes air directly through the liner (corrected from original posting).
For the main body of the jacket, the air passes over the liner and, in theory, draws away any moisture that passes through the barrier. In reality, so far we haven't noticed any heat or sweat buildup inside, but the temperatures this early Spring have been ideal for riding at around 70 degrees F, so it's not possible to tell how the Tourmaster system will react in hotter conditions.
We had only one rain day during our evaluation period and the liner proved to be water-resistant, although the outer shell material will get soaked but the rider remains dry on the inside. There are a couple of metal eyelet holes along the lower hem of the jacket to allow any water that leaks past the outer shell to drain out the bottom.
As we have discussed several times before, if you want water resistance at the outermost boundary layer, you're going to have to spend hundreds more to get one of the ultimate Gore-Tex Pro Shell jackets, like the Rev'it Everest GTX (review). But we're talking complete apples and oranges here, as the price difference between that jacket and the Transition Series 3 is astronomical.
Insulating Liner
The Transition Series 3 also has a removable quilted liner. Tourmaster says it's 100 grams of "poly fill" insulation. It's about average for this type of jacket and it definitely keeps out the morning chill. Like the Transition Series 2 jacket, this one is probably more of a 3.5 season protector.
When the weather turns really cold (which did not happen this winter), you'll probably need a wind-proof or heated vest underneath, but that's to be expected. The liner does add about one size to the jacket, so be sure to read the sizing information section below.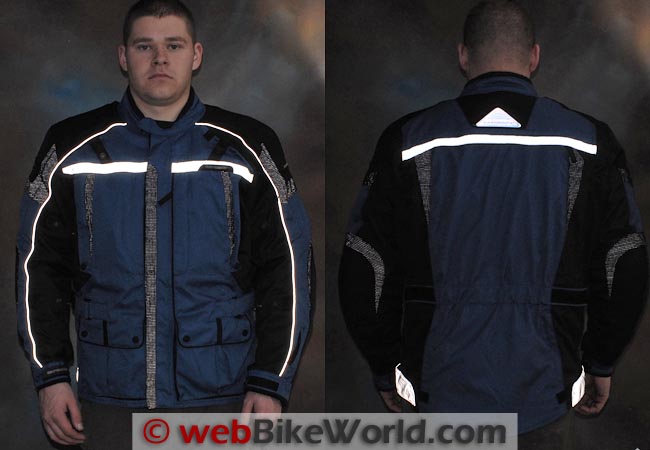 More Transition Series 3 Details
Some of the other details of the Tourmaster Transition Series 3 jacket, starting at the top and working down, include a stand-up collar type of average comfort. It's lined and has a padded black hem along the top. The collar has limited adjustment, unfortunately, with a small length (40 mm) of hook-and-loop for adjustment.
Tourmaster lists a "collar anchor" as a feature; what this amounts to is a tiny piece of hook-and-loop on the upper left-hand chest of the shell. When the collar is open, it can be folded over and touched to the hook-and-loop to keep it open and sort-of secured to the shell. It works but it's not the most elegant solution...but keeping with the low price tag.
The soft lining and padded hem used in the collar is repeated at the cuffs, which is a nice (and unexpected) touch. The cuffs have a rubber keeper with hook-and-loop on the back and there's a dart in the sleeve, so the cuffs can actually be secured nice and tight for wearing under the glove gauntlets.
This seems like a no-brainer but we've found more than one expensive jacket recently that doesn't have anywhere near the adjustability of the Transition Series 3.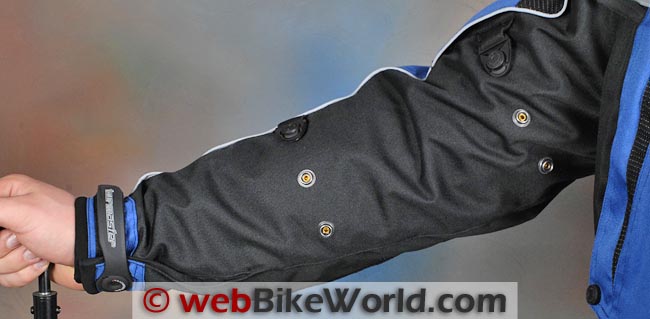 Zippers and Adjusters
The main zipper in the front of the Transition Series 3 jacket is a two-way affair; it's big and it has very nice, large, no-stick and dirt-repelling teeth.
It has an extra-ordinarily smooth feel and it's branded "ESO" on the back. It's kind of ironic that the zipper works so smoothly on such an inexpensive jacket, again beating some of the brands costing hundreds more. Since the main zipper is in constant use by the owner, it's one of those points that subtly transmits a feeling of quality (or not) to the wearer, so it pays to get this small detail right.
The rest of the zippers are unbranded, with water-resistant types used on the inside vent/pocket openings (we'll describe the pockets in a separate section). Some of the zippers have a fabric pull attached.
The jacket has big, wide adjusters on either side at the waist, which allow the wearer to custom-fit pretty much any amount of taper.
Snaps at the forearm and upper arm adjust the sleeve diameter to two positions. The upper snap also serves to hold the sleeve vent open when the vent zipper is open and this is a clever two-for-one feature.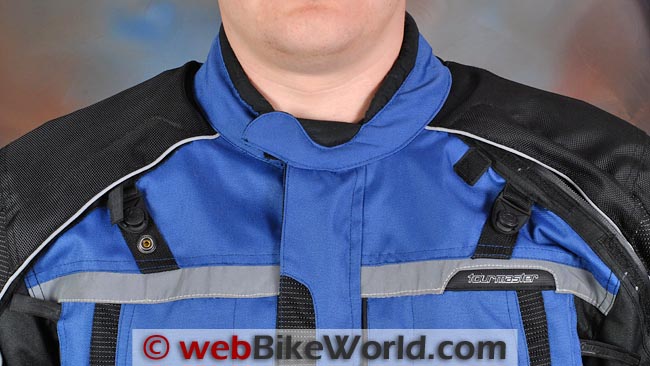 Armor and Padding
The Transition Series 3 features claimed CE-approved padding in the elbows and shoulders. The padding sections offer about the coverage you'd expect in a "touring" style jacket, biased towards comfort. Combined with the large sections of additional abrasion material on the elbows and shoulders, the protection level is about average.
Tourmaster says the jacket has an "articulated triple-density back protector". Although it's better than some of the wimpy foam pads we've seen in jackets costing a lot more money, it's not really the equivalent of a dedicated back protector, but again, decent value for the money.
Jacket Sizing
The Transition Series 3 jacket shown here is labeled as a "LG/44" and we think it fits exactly to size. The Tourmaster size chart lists it as fitting a 46" chest, but our feeling is that a 44/45 is more like it, at least with the insulating liner installed.
The fit is more of an "American" size range rather than the slimmer "European" style fit, although those distinctions are nearly gone lately, what with the, um, expanding waistlines of worldwide riders.
The difference is that a size large in a European jacket, like perhaps the Rev'it Dragon (review), which is roughly comparable to the Transition Series 3 in terms of features, is closer to a 43 than a 44/45.
The bottom line here is that 42" or 43" chests may be better off with the medium size. Don't forget, the jacket will gain up to one size when the insulating liner is removed. As an example, you can see the fit of the jacket on the model in our photos. He has posed for several other webBikeWorld jacket reviews and he usually takes a size large.
Ventilation
The Transition Series 3 has a rather unique ventilation system, referred to as the "Pipeline" system by Tourmaster.
This consists of vents that open along the lower edge of the black shoulder protector material, just under the Phoslite reflective piping that can be seen in the photos. A zipper underneath is opened and the vent opening, which attaches to the body of the jacket with hook-and-loop, can be folded over on itself and secured in the open position with some more hook-and-loop strips inside the vent.
The vent opening has a perforated lining. The upper shoulder vent has an opening to flow air through the wind- and water-resistant liner. The other vents do not not flow directly on to the rider, due to the one-piece permanently attached wind- and water-resistant lining.
A snap tab is attached to the bottom part of the vent opening and the snap can be secured to pull the vent open. So the vent, when opened, acts as a sort of air scoop.
The ventilation system also includes a vertical vent along the outside of each upper chest pocket. The zippers are opened and these also can be secured in the open position by folding the material back on itself and securing it with small hook-and-loop tabs underneath, inside the vent opening.
Those front pockets also serve double-duty as vents; the zipper along the inside, just outboard of the main jacket zipper, can be opened and the fabric here also folds over on itself and can be secured in the open position.
The vents don't really open up large enough to act as scoops, but the system does seem to flow a lot of air over the outside of the lining. If it wasn't for the wind- and water-resistant liner, probably a lot more air would flow directly on to the rider. But it would be very difficult to design a system that was both wind- and water-resistant and able to flow air through the liner itself. The upper vents that do open through the liner are a good compromise.
The jacket includes a large horizontal zipper across the back of the jacket. Strangely enough, this one does not include the extra hook-and-loop strips on the inside, so it can't be folded over on to itself to keep it open. But air does seem to flow into the jacket, over the wind- and water-resistant liner and out the back of the jacket. It helps transfer body heat and moisture out through the membrane and away from the rider.
►
Tourmaster Transition Series 3 Jacket Slide Show
◄
Pockets and Storage
In addition to the large combination vent/pockets noted above, the Transition Series 3 jacket has a pair of large cargo pockets at the lower front. These include a vinyl type of lining, so they're waterproof, and they're easy to access.
They each have a pair of what look like snap covers, but they're just for show; the pocket flap secures with hook-and-loop only.
At the rear, the jacket has a large lower cargo pocket that opens via a vertical zipper on either side. This is useful for storing the insulating liner, bottle(s) of water or a vinyl rain jacket or gloves.
Inside the jacket is a very handy vertical zippered pocket on the left placket, useful for storing a wallet. The insulating liner includes a large patch pocket on the right and two smaller patch pockets on the left, useful for stowing a cell phone or wallet.
These are repeated on the inside of the jacket shell, so all told, the Transition Series 3 jacket has plenty of storage. Note that the softness of the jacket shell material makes storing gear in the pockets easier than average because the material conforms to various irregular shapes.
Miscellaneous Features
The Transition Series 3 jacket also includes a short attachment zipper for attachment to Tourmaster pants. The second half of the zipper can be sewn on to other pants if desired.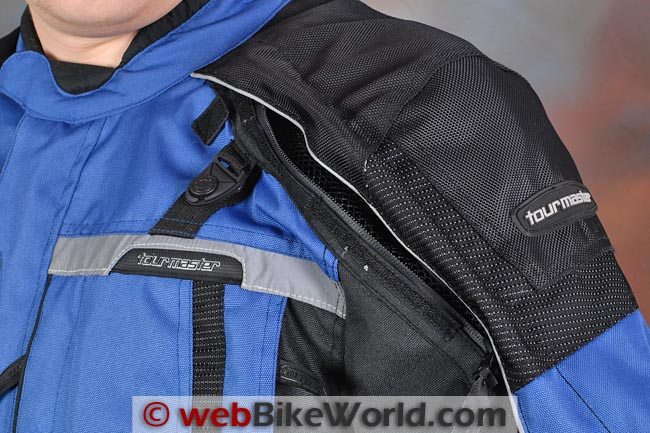 Buy Posi-Lock Connectors!
So popular, they're now on their own
Posi-Lock Sale Page
Many new and different designs available!
The

w

BW

Opinionator: Tourmaster Transition Series 3 Jacket
Picks...
...and Pans.

Excellent construction and detailing.

Soft and comfortable feel.

Roomy fit.

Wind- and water-resistant liner.

Excellent value.

Expanded size and color range.

Limited air flow directly through the wind- and water-resistant liner.

Armor and padding is average size.

Neck could use a wider range of adjustment.
Conclusion
Tourmaster has been pumping out versions of this jacket for over a decade. The brand stands for honest, quality clothing at very reasonable prices.
The Transition Series 3 represents one of the best values you're likely to find in motorcycle clothing of any type. Not only that, it looks good, it's well made and it has all the features you'd expect in a 3/4-length jacket.
This is the "80% jacket". You could spend three or four (or more) times as much for a jacket to get that last 20% of value. But the question is, why? Unless you really need those other high-tech features, you're likely to find that the Transition Series 3 jacket is perfectly suited to the vast majority of your riding needs.
w

BW

Product Review: Tourmaster Transition Series 3 Jacket

Manufacturer: Tourmaster
List Price: $209.99
Street Price: $188.99 here.
Colors: High-visibility Yellow, Black, Steel Blue, Red, Silver.
Made In: Bangladesh.
Sizes: XS to 4XL Plus Tall sizes.
Star Rating (1-5):
Review Date: March 2012
Note: For informational use only. All material and photographs are Copyright © webWorld International, LLC - 2000-2012. All rights reserved. See the webBikeWorld© Site Info page. Product specifications, features and details may change or differ from our descriptions. Always check before purchasing. Read the Terms and Conditions!
Please send comments to
Comments are ordered from most recent to oldest.
Not all comments will be published (
details
). Comments may be edited for clarity prior to publication.
---
From "D.H." (August 2012): "Iím in the market for a new jacket to replace the Transition series II Iíve been wearing for several years now on a variety of bikes but mostly on a Triumph Speed Triple. I looked at the Series III, but it seems to suffer from the same problems the Series II did.
Iím about 5' 10", 170 lbs. -- slim build, and this jacket is made for more "generous" sized guys. Although it seems like it has good ventilation when you look at the huge vents that run from the shoulders down to almost the elbows, I simply canít use them more than maybe 3-4". Open them any more than that, and the thing balloons up so bad it half chokes me and tries to drag me off the bike!
I can only assume that if I were more "full figured" perhaps it wouldnít balloon up so much, or maybe if I rode a bike with a large fairing, but sadly those vents are nearly useless for me/my riding.
I also find that the shoulder vents are awkward to open/close and the way that the zipper covers are supposed to Velcro back on themselves doesnít work well. Itís just too fussy.
Overall, I'd give this jacket a C rating. Iíve worn it from 40 to 100 degrees. Yes, it's not really enough at the lower end of that range and too much at the upper end, but it will get you by if you can tolerate some discomfort. For the money, I think itís a decent jacket for most people.
But sadly, it simply wonít work for me and if you're not a big guy I'd steer clear of it. I'll be shopping for something higher-end from one of the European brands this time looking for a better fit and good arm ventilation."
---
From "P.N." (May 2012): "The best I can say for Tourmaster is that their quality of workmanship and materials is inconsistent, to say the least. While I know some people who are pleased with their Tourmaster gear, I have had two pairs of their pants and a Transition jacket (original series), and the best I can say for them is that they initially looked sharp and had some clever storage options, but in short order under very light use, they did not hold up at all.
Judging from how quickly holes formed in the vaunted "Carbolex" shells of the Transition jacket and Venture riding pants within 6 months, you'd probably get better abrasion protection out of terry cloth in a slide on asphalt. The Transition jacket's "pipeline ventilation system" is more of the same marketing tripe as their Carbolex fabric: it is completely ineffective for ventilation but admits plenty of water in a modest rain.
Moreover, despite the lack of effective ventilation, the jacket was useless below outside air temps of 45F for more than a 20 minute ride due to poor arrangement of insulation allowing numerous cold spots. I wanted to like that jacket, i really did, but my conclusion is that Tourmaster's products represent very poor value at any price.
If you had better experience, I congratulate you, but I replaced by my Transition jacket with a Teknic Freeway jacket, which is far and away a superior piece of gear and is easily worth the extra $100-175 above the Transition's selling price.
Water resistance is superior, ventilation is superior under all conditions, insulation is superior (45-minute sprint at 70 mph on the highway in 16F weather with no other wind protection made a believer out of me), the pocket arrangement is even more extensive and useful, and after three years of frequent use, it can still pass for new except for the broken zipper pull on the unnecessary zip-off collar.
The only point on which Tourmaster can compete with Teknic is customer service, an area in which both frankly suck."
---
From "G.A." (May 2012): "I currently own a silver Transition 2 and was pleased to see that they added a black patch below the back of the neck. Mine is just the silver material and even after a few rides, the black from the helmet padding in the back would rub off onto the jacket. It looks filthy and is hard to clean off.
I should note that I ride a VFR800 so Iím hunched over more which requires me to wrench my neck up more than on cruisers etc. Nice improvement."
---
From "G.W." (April 2012): "I owned a Transition 2 and have to say I will not be buying another one. As a cheap jacket for occasional use it offers great value and I would recommend it for this, but if you ride often or want a true all-season jacket it is too big of a compromise.
I'm not saying we all need expensive gear like Klim or BMW to ride either. What I am saying you get what you pay for to an extent and there are trade-offs.
In particular the hot weather venting and cold weather insulation is not up to the standard of the slightly more expensive jacket I replaced it with (Olympia AST). Although I have never crashed the abrasion protection and armor in the Transition also seems very minimal in comparison.
IMO the best value (performance/dollars) in gear of this type seems to be in the middle of the market, not the low end."
---
From "B.H." (March 2012): "I have a real problem with reviews of stuff like this. They make us want to buy the newest jacket. Unfortunately my current Tourmaster 3/4 jacket, which I've owned for almost eight years, still gets daily use for 3 seasons out of the year (in the hottest part of the summer I wear a mesh jacket).
This old one just refuses to wear out, and I'm too much of a cheapskate to buy the new one until it does! Curse Tourmaster for making such a great product, ...and then making it newer! Seriously, I love this jacket."
---
From "J.W." (March 2012): "A number of years ago I had a Tourmaster Cortech Lite 3/4-length jacket. I wore it on a dual sport ride into the mountains. It began to rain, the temperature dropped to just above freezing and the jacket soaked through almost immediately. I emailed their customer service department twice and received no response. That is all I need to know about Tourmaster and their products."
---
From "M.C." (March 2012): "Very good report on the Tourmaster jacket. This is the sort of product people in the real world are interested in. Does most everything well and is affordable. Thanks for taking the time to review this one."