Fox Creek Leather "V 1.8" Jacket

wBW Reviews Home

Next time Uncle Ralph claims that "they don't make 'em like that any more", break out your Fox Creek Leather V 1.8 jacket.

We were impressed with the Fox Creek Leather Men's Vented Racing Jacket and Lori (our Women's Motorcycle Clothing page editor) absolutely loves her Women's 3/4 Length Jacket, which still gets raves from strangers well over a year later.

There's something about the quality of the leather and the stitching that makes a Fox Creek Leather product stand out from the crowd -- especially now that just about every leather garment around seems to be made in some far-off land.

Fox Creek Leather still makes all their jackets, pants, vests and other products right here in the U.S.A. Yes, they cost a bit more, but you'll get a jacket that will last for your lifetime and probably your kid's too.

It's a shame that there are so few genuine leather clothing manufacturers left in the U.S.A. Leather goes together with motorcycles about as well as any pairing ever created. Leather jackets were just about born on a motorcycle, and it's nice to see Fox Creek Leather carrying on the tradition.

The problem is that their leather jackets are almost too good to wear! I dread the thought of falling off my motorcycle, but I swear if I do I'll take this jacket off and carefully pack it away before I hit the ground!

As nice as it looks, the Fox Creek Leather V 1.8 is made to do the job. I'm guessing that the "1.8" represents the thickness of the leather in millimeters, because that's just about what it measures on mine. 1.8 millimeters of leather is about as thick as it gets -- even motorcycle racing leathers aren't as robust -- so the V 1.8 should have enough of the "right stuff" to get the job done.

Leather this thick is usually as stiff as a 2x4 and takes about 93 years to break in, but the cool thing is that the V 1.8 feels as soft as silk. I don't know what Fox Creek Leather does to get their finish, or "hand"*, but all three of the jackets we've tried have a consistently smooth, buttery feel with excellent graining.

The stitching on the V 1.8 is also a work of art. The jacket is very subtle in its styling, and the little details are what make it work. Anyone with a passing knowledge of leather will recognize the quality of workmanship and the details in the V 1.8's stitching. It's one of the things that makes an intuitive but unconscious difference to admirers who see you wearing the jacket.

The V 1.8 is somewhat of an anomaly in the Fox Creek Leather lineup. It's cut for sportbike owners, short in front to prevent bunching and longer in the back to provide coverage when leaned forward. The arms are cut with a slight forward rotation, and the jacket "fits like a glove" with a slight forward lean.

However, I have a confession to make. I've been wearing the V 1.8 as a street jacket. The design is subtle enough to easily pass as a cool-looking, vaguely motorcycl-ish jacket that draws plenty of looks. It's a touch on the heavy site for street wear -- that 1.8 mil leather gives the size 46 jacket a weight of 6 lbs. -- but it works great in cool spring weather.

Leather is a natural product, so it can be slightly variable in color, texture and feel, but the Fox Creek Leather staff will find you the perfect fit. I normally take a men's U.S. size 44, but after giving them my true measurements, they pulled this one off the rack and it fits like it's custom made. The V 1.8 is available in an astonishing range of sizes, from 38 all the way up to 60 Long. (Note to self: if you run into a guy wearing a size 60 Long, remember to be polite).

All Fox Creek Leather products are guaranteed for life, which is about 99 years more than any of the other leather manufacturers' guarantee their goods.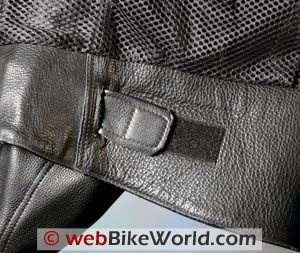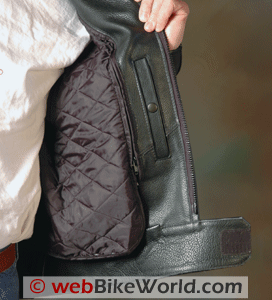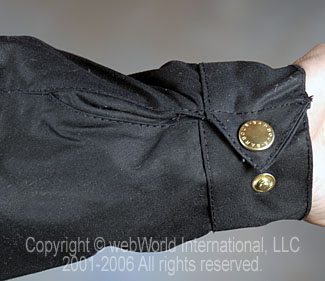 The V 1.8 has the special Fox Creek Leather hidden waist adjuster. A leather belt is guided into the jacket and the waist can be adjusted internally, so there are no leather buckles or ugly Velcro swatches to spoil the clean exterior. The photo on the left illustrates the inside of the jacket with its hidden Velcro adjustment tab.
The adjusters will give about 5" of give and take on either side, so the V 1.8 should fit just about every body. Or everybody's body.
The jacket has two outer slash pockets, each with a heavy gunmetal-colored YKK zipper. The zipper slides are hidden under the leather hemming.
Normally, we'd criticize a jacket for having zipper pulls that are difficult to grab with gloved hands, but in this case, it's perfect because the zippers and zipper pulls are hidden, adding a sleekness to the design, kind of like a Boyd Coddington hot rod.
The pockets, believe it or not, are actually lined with leather. When's the last time you found that?
The sleeves on the V 1.8 each have a 6" long (15 cm) zipper vent opening under the tricep, again partially hidden. I didn't even realize the vents were there until I read about them in the product literature.
The V 1.8 can get hot, like any non-perforated leather jacket, but that's the price you pay for "the look"!
Inside the left breast flap is a storage pocket about 7" deep (18 cm) and 5" wide (13 cm). It closes with a metal snap and this pocket is lined with a nylon taffeta. It's useful for stowing a wallet or cell phone.
The V 1.8 has a sewn-in mesh liner throughout the inside and taffeta lining in each of the arms. This serves to keep the leather from direct contact with the owner's skin in case he's going for the bare-chested (or sleeveless T-shirt) thing.
A detachable zip-in thin quilted liner is also standard issue. It actually works pretty well in providing some insulation in colder weather, but it's now warm enough around here to pack it away until next winter.
The only real issue I have with the V 1.8 is the design of the zippered sleeve cuff (see above photo). The cuff has a sewn-in leather dart that bunches up into a perfect "U" shape when the zipper is closed. I leave the zippers open for street wear, so it's not a problem until the bottom of the sleeves are zipped up for riding. I think that probably a thinner leather in this area would reduce the bunching and make it a bit more comfortable.
Oh, and the neck only has one metal snap for tightening, so if the owner's neck is over about 17.5" in circumference, it might be a tight fit. But who's going to button up the neck on the street?
Conclusion
The Fox Creek Leather V 1.8 is a great-looking, high-quality all-around jacket that just begs to be seen on a Power Cruiser like a Yamaha Warrior or Harley V-Rod. But you could also walk into the most chichi club in Manhattan wearing this thing and you'll be guaranteed some admiring looks.
Add in the lifetime guarantee and you have a unique heirloom-quality jacket that will keep you protected and looking good for a long time to come.
*Hand: Defined as "the feel of cloth or leather or tactile reaction to its textural qualities of smoothness, flexibility, softness" in the Merriam-Webster Unabridged Online Dictionary.
Product Review: Fox Creek Leather V 1.8 Jacket

Available From: Fox Creek Leather
Suggested Retail Price: $379.00 (Free S/H)

Colors: Black
Made in: U.S.A.
Product Comments: Good-looking jacket. ~1.8 mm thick leather. High-quality stitching. Subtle but elegant styling. Zip-in quilted liner. Permanent mesh liner and taffeta-lined sleeves. Leather lined outer pockets. Sizes: 38 to 60 Long.
More: wBW Motorcycle Leather Clothing Page | 430x600 Pixel Jacket Photograph

Note: For informational use only. All material and photographs are Copyright © webWorld International, LLC - 2000-2011. All rights reserved. See the webBikeWorld® Site Info page. NOTE: Product specifications, features and details may change or differ from our descriptions. Always check before purchasing. Read the Terms and Conditions!
Please send comments to
Comments are ordered from most recent to oldest.
Not all comments will be published (
details
). Comments may be edited for clarity prior to publication.
---
From "G.K." (2/09): "FYI, Fox Creek Leather has discontinued the v1.8 jacket. Apparently they can't get the 1.8mm leather anymore. I literally just bought the last one they had off closeout."