Shoei TZ-R Helmet Review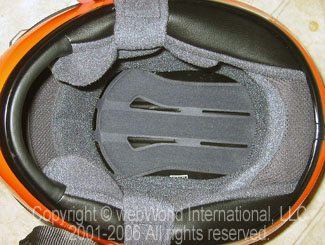 Shoei TZ-R Helmet Review
by Bill C. for webBikeWorld.com
More:
▪ wBW Reviews Home
▪ Owner Comments (Below)
▪ wBW Motorcycle Helmet Reviews
Background
Self-doubt. It's a terrible thing.
I can feel it around here lately because we're beginning to wonder just what really does make one helmet better than another.
For example, just when we thought we had the helmet noise issue all figured out, the Suomy Vandal (review) blew our theories went right down the tubes.
The Vandal we reviewed recently has a new-look, no-nonsense approach to ventilation with its zero-profile venting.
We were convinced that this would result in light weight and low noise.
Well, there's no problem with the weight, but the Vandal turned out to be one of the noisiest helmets we've ever tried.
So along comes the Shoei TZ-R. Granted, it's sleeker than many of its competitors and even a few of its Shoei stable mates, but it still has that prominent vent up top -- just the type that we thought would be a real noisemaker.
And guess what? The TZ-R has turned out to be hands-down one of the quietest helmets I've ever tried. So go figure...
I guess it's back to the drawing board with the theories. But we're getting ahead of ourselves, so let's take a closer look at this interesting helmet.
The Shoei TZ-R
The TZ-R has been around for a while; it kind of snuck into the Shoei lineup -- I don't know -- maybe 2 years ago? Believe it or not, the TZ-R is Shoei's "low end" helmet, if there is such a thing with Shoei helmets (There isn't! - Editor).
What I mean is that Shoei makes excellent -- make that outstanding -- products, with some of the highest, if not the highest, levels of quality in the industry. So just because the TZ-R is the least expensive full-face Shoei helmet only means that it's that much more of a bargain. There are no corners cut on this baby.
Some owners swear by Arai, but after going through a few of them in our evaluations, I remain puzzled, because every one we own has one or two quality problems that were apparent right out of the box. And don't talk to me about the Arai visor removal system...
In any case, there's no need to feel like you're missing any goodies by choosing a TZ-R. It looks and feels as good as any of the other Shoei helmets we've tried, and we currently own at least one of each in their 2006 lineup. And fans of the old "Safety Yellow" (or was it orange?) color will be pleased as punch that one of the most visible helmet colors in all motorcycledom is back.
All you need to do is catch a glimpse of a motorcyclist on the road wearing this "Pure Orange" color and you'll get first-hand knowledge of the definition of visibility. Nothing beats a nice, bright, solid color displayed at the highest point on the motorcycle in traffic. And by the way, it's chic too, because orange is the new black, don'tcha know. I learned it on Project Runway.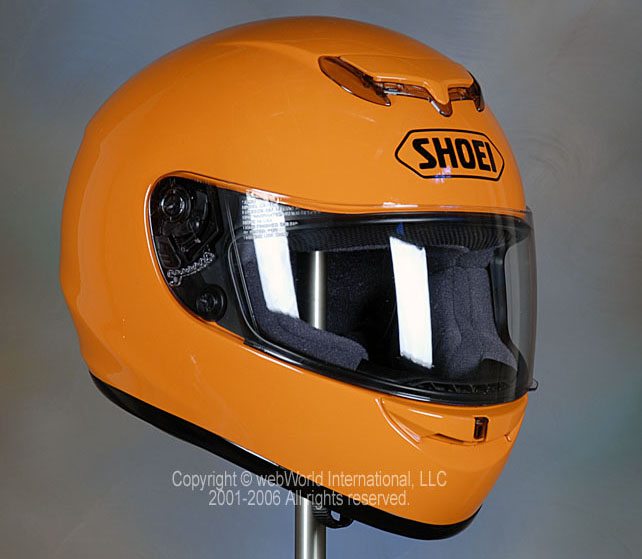 Shoei TZ-R Helmet Weight
The TZ-R is just about exactly mid-way between the lightest and heaviest helmets we've reviewed. Our size XL weighs in at 1606 grams (3 lbs., 8-5/8 oz.), a few grams less than the Shoei RF-1000 (review). The weight is balanced well, which breaks yet another assumption: light weight is better.
How's that? The last two helmets we reviewed, the aforementioned Suomy Vandal (review) and the HJC AC-12 Carbon (review), are both super-lightweights.
But you know what? Light weight isn't everything. Fit, comfort (and you can't have one without the other) and balance are paramount. And if a helmet is as noisy as the Vandal, it doesn't matter how light it is.
See the wBW Motorcycle Helmet Weights page for our helmet weight comparison table and chart to get a better idea at how the Shoei TZ-R compares with the 51 other helmets in our database of reviews.
Internal Shape
The TZ-R has what I'd classify as a round internal shape. It's not quite as round as the Shoei RF-1000 but not quite as "long oval" shaped as the Shoei X-11. Since the TZ-R is Shoei's "meat and potatoes" helmet, available in tons of colors to fit the masses, it's shape has probably been carefully designed to cover the maximum number of head shapes variations.
Ours feels like it runs about 1/2 size small and I'll assume that carries true for the entire size range. It's also slightly tight at the cheekbones and a bit tighter at the cheek and chin area, but only a touch when compared to the RF-1000. Shoei lists replaceable cheek pads (and liner) in their catalog, but I'm not sure if the pads come in different sizes, which could help to tailor the fit.
Overall, the TZ-R feels nice and comfy to me and just slightly tight on the sides, which I don't care for, but I think the tightness will loosen up after a slightly longer than normal break-in.
By the way, matching your head shape to the way the helmet fits is crucial for both comfort and safety; see the wBW Motorcycle Helmet FAQ page for more information on finding the right fit.
Helmet Fit and Comfort
The TZ-R's very nice liner uses a comfortable fabric, and you'd never know this is the bottom of the Shoei line. Again, it's all relative, because the solid color TZ-R shown here lists at $321.99, which is in the upper half of the cost range for motorcycle helmets, so it's not cheap. You're paying for quality and you get it.
The bottom line is that the TZ-R is comfortable but there's nothing that really knocks me out, either in its design or its features. It's very nice but just about like the perfect generic all-around helmet, if that makes any sense. It works and other than its color, it's unobtrusive, and that's a good thing. If I was using a scale, with 1 representing the least comfortable, 3 neutral and 5 the most, I'd give it a 4.
Paint, Graphics and Overall Quality
I've probably said it all already and there's not much more to add. I'm sure there are some who will disagree, but Shoei quality is, in my opinion, consistently the best, which is quite a feat when you're turning out umpti-bazillion helmets every year.
The paint (granted, there are no graphics to compare) is perfect, deep, smooth and without a hint of orange peel (ironic, considering the color, no??). The vents work, the liner doesn't have a stitch out of place, etc. A very nice piece of work. It even had that custom surf shop fiberglass smell when it was new!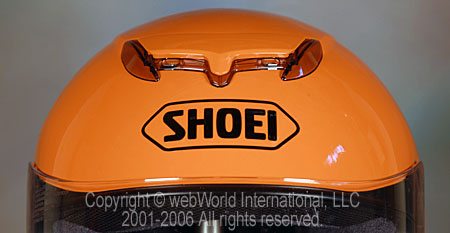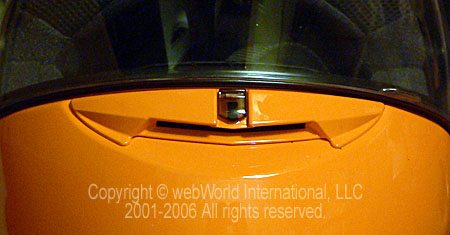 BUY YOUR

▪

Motorcycle Helmets Arai

▪

HJC

▪

Icon

▪

Joe Rocket

▪

Scorpion

▪

Shoei

▪

More!


With This Link and Help Support

web

BikeWorld

!
Ventilation
The top vents on the TZ-R are simple and functional. A wide sliding cover goes back and forth to close the two round vent holes. The cover is easy to find when wearing gloves and it works easily, push back to open and pull forward to close.
The chin vent is a slight departure from the norm. It opens down towards the lower front direction, so that the air is almost forced to flow up into the front of the helmet, where it is directed on to the back of the visor. It's been too warm (hot) here lately to evaluate the helmet's anti-fog abilities, but I'm guessing that the reverse design will work nicely to blow away the fog.
I wish there were vent holes cut directly in the chin bar to blow air on to my face, because I like lots of air. But the vents do a decent job. The top vents blow air directly, and I mean directly, on to the rider's brow. You can look inside the helmet and see daylight just as clear as...day. There's nothing to inhibit the air flow.
There are some channels molded into the foam liner that also direct air over the top of the head. But the TZ-R has no rear exhaust vents whatsoever. I'm not sure they're missed, because the helmet seems to have enough venting for me, although I wouldn't say it's as good as the best by any means.
Noise Levels
The absence of rear exhaust vents on the TZ-R help, I think, to reduce the noise levels. The helmet is very quiet -- one of the quietest helmets we've tried.
In addition to the lack of exhaust vents, which give the rear half of the helmet a very smooth surface for the air to run off, I think this is also partly due to the closer fit of the liner next to the ears. Thick fiberglass probably deadens the noise also, especially compared to the thin carbon fiber of the HJC AC-12 Carbon.
A helmet this quiet is a real pleasure. A helmet that fits well and is quiet can greatly reduce stress levels and make for a much, much more pleasant ride.
Remember also that we always wear correctly fitted ear plugs when riding. See the wBW Earplugs and Hearing Protection page for more information on choosing and wearing ear plugs and for a list of ear plug reviews.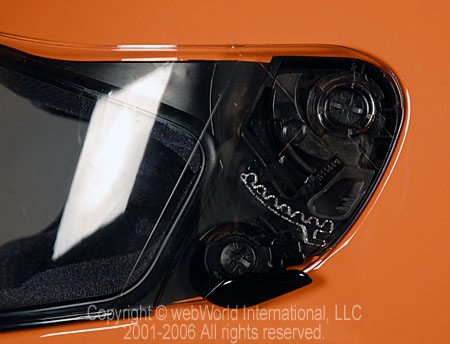 Face Shield
Shoei has pretty much standardized on the "wrap-around" clear face shield with the easy-to-use quick-release system that's been copied by many. Also, the clicker on the left-hand side that pops the visor open just enough to let in some extra ventilation is one of my fave features.
Pop the clicker the other way and it locks the face shield in place, preventing it from flying off at speed. In addition to the slight clicker opening, the face shield has 7 other opening positions, which I think is fantastic. I really like the flexibility of being able to open the face shield to a variety of positions when necessary.
Chin Strap and Miscellaneous
The helmet has the classic "D" ring adjustment system and the chin strap is nicely padded. The typical Shoei clip holds the loose end of the strap on to the cross-bar of the D-ring.
The chin strap does feel very slightly out of normal position to me, and I can feel it on my admittedly large Adam's apple, but not enough to be a bother.
The Shoei TZ-R meets DOT and Snell M2005 standards. And the solid construction is backed by Shoei's five-year warranty.
Conclusion
I love the orange color and the face shield. I wish the fit was slightly rounder, but that's definitely subjective. But all told, the Shoei TZ-R has just become my favorite helmet, as if you didn't already know!
Second Opinion From Rick
I wanted to see what all the fuss was about, so I rode with the TZ-R a few times and I have a slightly different opinion. While I agree with Bill's comments regarding Shoei quality, I find the TZ-R to feel heavy, like it has a lot of mass when I swing my head back and forth.
The size XL feels about 1/2 size too big for me, which may also be responsible for the rare "fish bowl" feeling I get when wearing the helmet.
The shell just feels big and the thick padding makes the eye port stand away from my face farther than normal, adding to the effect. The ventilation in the TZ-R also feels weak to me, although it's hard to tell in the very hot weather we've been experiencing. So my bottom line is that it's a very nice helmet and the orange color really stands out, but it's not my favorite.
w

BW

Review: Shoei TZ-R Helmet
Manufacturer: Shoei Helmets
List Price (2006): $321.99
Colors: Zillions. Get the orange and ride safe!
Made In: Japan
Review Date: July 2006

Note that our helmet evaluations are a combined effort of several riders over time on different types of motorcycles with and without windscreens.

Evaluators wear correctly fitted, high quality ear plugs (even when evaluating motorcycle intercom systems).

Always protect your hearing when riding a motorcycle. See the wBW Earplug Reviews for more information on choosing and wearing earplugs.

Note also that perceived noise levels will vary, depending on the individual.

Noise can be caused by many factors, including helmet fit, the type of motorcycle and windscreen, wind speed and direction and even the rider's clothing.

For more information on helmet noise, visit the wBW Motorcycle Helmet Noise page.
Note:
For informational use only. All material and photographs are Copyright © webWorld International, LLC since 2000. All rights reserved. See the webBikeWorld®
Site Info page
. Product specifications, features and details may change or differ from our descriptions. Always check before purchasing. Read the
Terms and Conditions
!
Please send comments to
---
From "R.K." (4/09): "I just wanted to post a comment for those looking to buy this helmet.
If buying this helmet online, stay away from shoeihelmets.com. This is not the official Shoei site, and they have terrible customer service. I had cancelled my order with them, and was still charged and shipped the helmet. They refused to pay for the return, and denied all responsibility for having not processed the cancellation.
The helmet itself is great, just make sure you get it from a decent company. The TZ-R breathes well, is quieter than other helmets I've tried (HJC f15, Scorpion EXO400), and is really comfortable when fitted well. I have not had the ventilation problems that others have had. Maybe it has to do with the way I sit on my bike (I ride a cafe racer modded CB350) but I haven't had it fog up yet.
The review is very accurate, and I would have no problem recommending the helmet to friends."
---
From "GJP": "I've owned this helmet for a year and I'm already shopping for a replacement. I love the fit, I love how quiet the TZ-R is, but this helmet is a terrarium! If there is a whiff of humidity in the air, the shield fogs instantly. Shoei placed the vents too far back on the top of the head for use on a cruiser and to get any ventilation.
I either have to tilt my head down at an unnatural angle or prop open the shield. Maybe the ventilation would be fine in the riding position of a sport bike, but this helmet is just useless on a cruiser. What a disappointment!"
---
From "B.C.": "I found your website a few days ago and I have been reading the reviews just about every day. Your sight is great and I really appreciate your reviews.
I'll like to add a bit to the Shoei TZ-R review. I've been riding with one for about 9 months now and I have to generally agree with your review. The quality is top notch, fit and finish is the best.
In the hot and humid south the ventilation could be better. When the weather cools of here the helmet is perfect, but we have long and hot summers here an on those 90+/90+ (over 90 degrees and over 09 percent
humidity) you can't have too much air flow. I have also noticed that riding my relatively upright ZRX-1200 that the airflow is reduced when the helmet is not angled down in front. Tipping my head forward greatly increases the air flow.
I found the fit around my head to be good in the Large helmet but the cheek pads were much too tight to be comfortable. I ordered a set of cheek pads in XL directly from Shoei and that made the helmet much more comfortable. It also makes the helmet easier to get on and off but I don't think it will reduce the protection at all.
Again, thanks for all you do with your reviews!"
---
From "F.B.": "Hi there, you have a really good site running there! Iím from Argentina, and after reading almost all of your helmets reviews I bought a Shoei TZ-R and wanted to share my opinion.
Since this would be my second full face helmet Iíll compare it with my first one, an Axo Carbon . The quality of the helmet is as good as you described, and on size Medium doesnít feel heavy to me. The fit of the helmet is pretty tight, specially on the cheek pads, that feels like squeezing my cheeks, this make the task of putting on/off the helmet on something not to do much often, letís say if riding on town and making regular stops.
I noticed some wind noise at the ear level and found out that factory fitted screen was not in right position, so a small regulation (easy to do) solved the problem. The other noise I found was coming from top vents, even with them closed, like a whistle. And finally what I didnít like either was the lack of padding over the area where the ears rest.
All small details that I managed to solve easily. The Axo even itís some years old, I would say itís quieter than this one, probably just because of the bigger ďnecklaceĒ at the bottom part of it, in fact Iíve placed my hand covering the rear part of my neck (wearing the TZ-R), as simulating a bigger necklace and turbulence noise reduced drastically."
---
From "J.W.": "First of all thank you for your website. It was through the reading of your reviews that I decided to purchase a TZ-R. Although I have been purchasing the high end models in the past, I decided to give it a try. And I am so glad I did. It has been cold here in Utah, and I have yet to go on a long ride (100 miles or more), but I have been wearing this helmet around town and I can't be more pleased.
Your review was spot on. It is made more for an oval head, which luckily, fits me perfect. Also, this is probably the quietest and best feeling helmet I have ever had. That says a lot as I have tried everything from the cheap Fulmers to the top of the line Shoei X-Eleven, as well as multiple Arai's, Suomy's and a couple other's mixed in there.
It is very well put together, and there wasn't a single blemish on the entire helmet that I can find (as has been the case with every other Shoei I have purchased). It has been great in this cooler weather and with the vents all closed it's like a vacuum tube in that it really does a great job of keeping out the wind noise. I purchased mine from Competition Accessories with the Obelisk graphics for 240 shipped. Can't beat that! A fantastic helmet at a fantastic price. I'm even thinking of ordering another one to keep in the closet when this one has seen the end of it's days! Thanks again for the great reviews! Keep it up!"