Schuberth S2
Schuberth S2 Preview
by Rick K. for webBikeWorld.com
2012 Dealer Expo Live Report
---
See Also:
▪ Schuberth S2 ECE Review
▪ Schuberth S2 DOT Review
Background
February 21, 2012 - The 2012 Dealer Expo is over but I have a few more reports to post.
Schuberth formally introduced both the Schuberth S2 and Schuberth SR1 (review) helmets at this year's event.
We reviewed the Schuberth SR1 late last year and it was named the webBikeWorld Motorcycle Helmet of the Year in our annual awards.
2011 was "The Year of the Motorcycle Helmet" but the SR1 was and is an absolute standout, so there was no question which helmet would get the choice.
That SR1 was an ECE version, and the U.S. DOT version has picked up a few grams, according to Schuberth, to meet the DOT helmet safety standards.
The SR1 is Schuberth's full race helmet, with many technologies and construction techniques taken from their experience in Formula 1 helmets. It's interesting to note that Schuberth does not sponsor any Formula 1 racers; the racers come to Schuberth and pay for their helmets, based on the quality and reputation of the brand.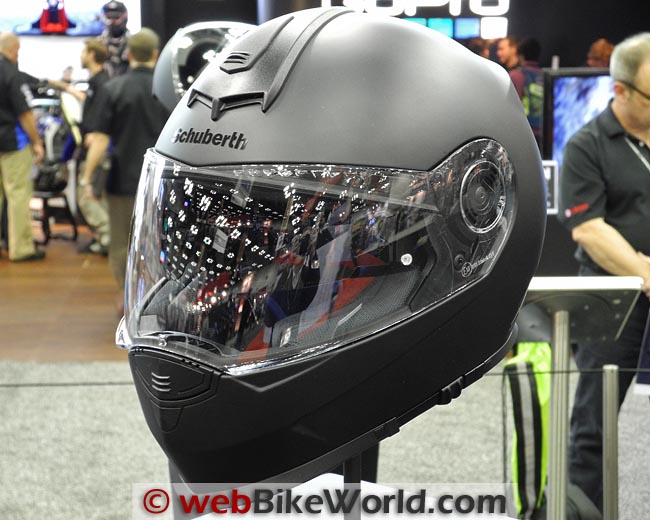 Schuberth S2 helmet.
Schuberth S2
Schuberth also introduced the Schuberth S2 to the world at the 2012 Dealer Expo. This is a first for Schuberth -- a world introduction of a brand new helmet in the U.S. I guess it demonstrates the importance of this market for sales and rider interest!
I was given an overview of a prototype S2 at last year's EICMA show but Schuberth didn't want any photos published at that time, but the helmet is now ready to go. Or nearly ready, anyway -- the first examples are rolling off the production line in Germany and should be on the dealer's shelves in 6 weeks or so.
The S2 is a descendant of the Schuberth S1 (review), which was reviewed several years ago on webBikeWorld. The S1 was a very quiet helmet and the "S" series is Schuberth's take on a sport-touring helmet.
The S2 is simply loaded with technology. Everything from the foam layers used in the cheek pads and liner to the EPS, air channels, venting system and the special spoiler around the bottom of the helmet are designed for performance, safety and to make the helmet as quiet as possible.
Also, the EPS liner has a built-in antenna, illustrated in the photo below. The antenna will connect to a special Schuberth Bluetooth SRC system, the Schuberth SRCS-2, similar to the Schuberth SRC Bluetooth intercom (review) we also reviewed previously on webBikeWorld.com for the Schuberth C3 flip-up (review).
Note, however, that the spoiler along the bottom of the S2, along with the strategically placed slider for the internal sun visor, will probably limit the choices of installing an aftermarket intercom system on this helmet.
Schuberth S2 Price, Size Range and Colors
The Schuberth S2 will have a list price of $699.00. Sizes range from XS to XXXL. Colors: Gloss Black, Matte Black, Silver, Glossy White.
Schuberth S2 Features Overview
The Schuberth S2 has many unique features, including (taken from Schuberth press release):
World's only helmet with integrated dual antenna for FM and Bluetooth reception.
"Trim spoiler" along the bottom of the helmet to reduce drag and noise.
Air Extraction System flows to base of head and back up and out, creating a siphon effect, which pulls 2.6 gallons (10 liter) of air through the helmet (time not specified).
Two shell sizes.
Internal sun visor is removable.
Uses the same face shield as the Schuberth C3.
Removable and washable Thermo Cool liner.
Improved SRCS-2 Bluetooth intercom system with improved range and speakers (optional).
Removable top vent cover for cleaning bugs/dirt from vent holes.
Reduced profile summer/winter dual chin curtain.
Exceeds DOT and ECE safety ratings.
Unique Features of Schuberth Helmets:
Patented Anti Roll Off System (AROS).
"Turbulators" on face shield break up air to reduce drag and noise.
Helmets developed and tested in Schuberth's own Acoustic Wind Tunnel.
Glass fibers are woven into S.T.R.O.N.G. fiber instead of being hand-laid or blown, which creates consistent thickness in shell so it is lighter and stronger.
Differences Between the Schuberth S1 and S2
Upgrades to the S2 from the S1 include lighter, more compact, more aerodynamic, an improved sun visor with more coverage, more reflective materials, more convenient location of sun visor lever, microlock clasp is more adjustable than S1 "seatbelt" style retention system. Removable vent cover to clean vent holes.
We'll know more when we do a full review, but in the meantime, here are some photos of the Schuberth S2 and the U.S. version of the Schuberth SR1.
More: Schuberth S2 ECE Review | Schuberth S2 DOT Review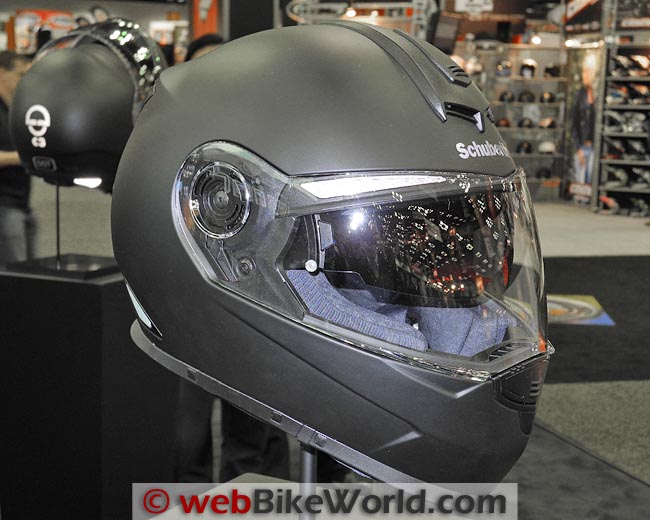 Schuberth S2. All of the Schuberth helmets on display w
ere in m
atte black.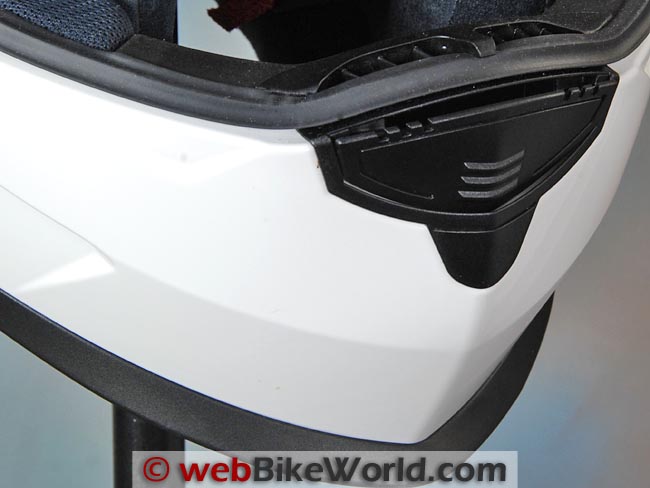 Schuberth S2 chin vent.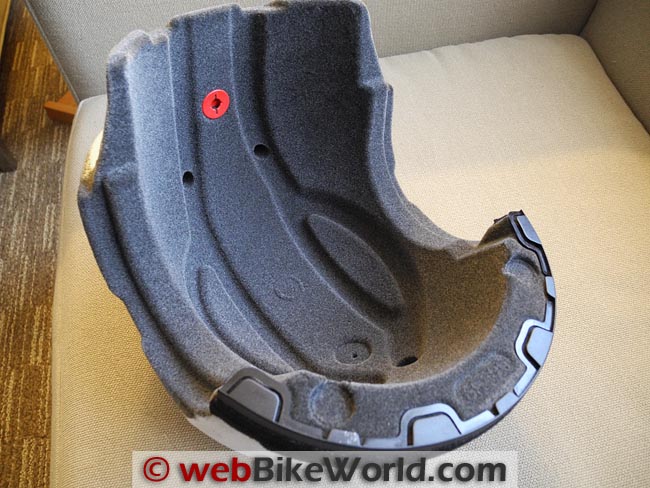 EPS liner air channels in the Schuberth S2.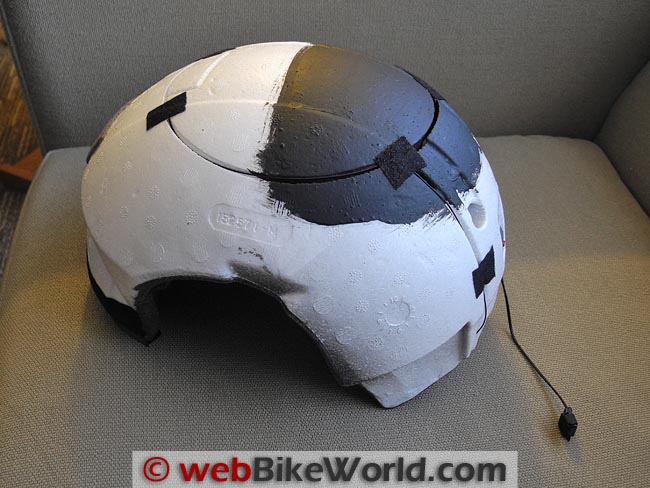 Built-in antenna in the Schuberth S2 EPS liner.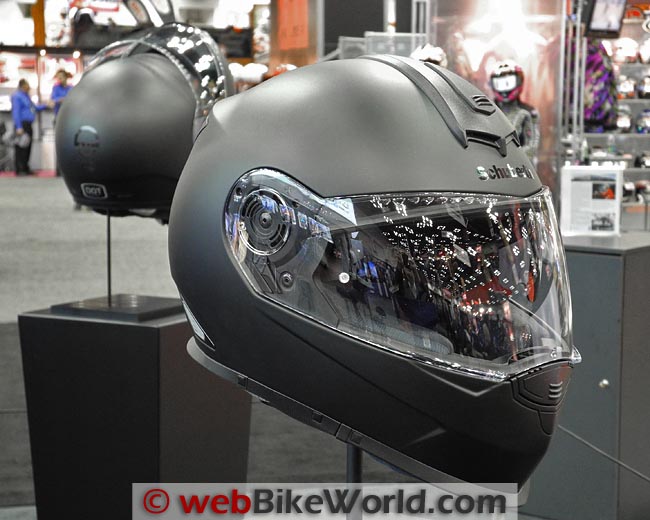 Schuberth S2.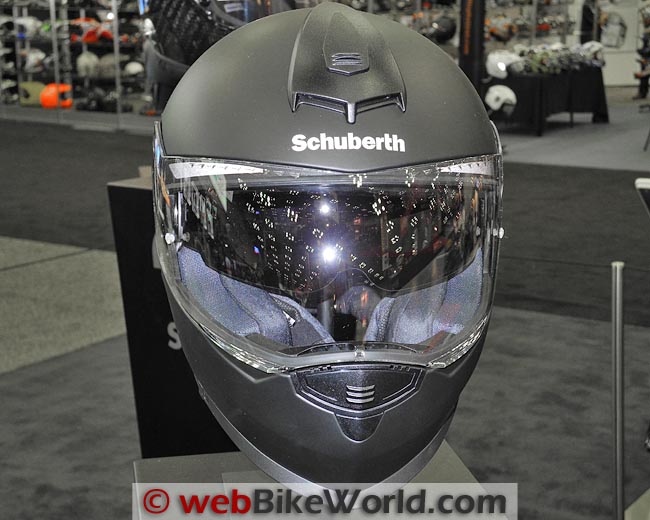 Schuberth S2 front view.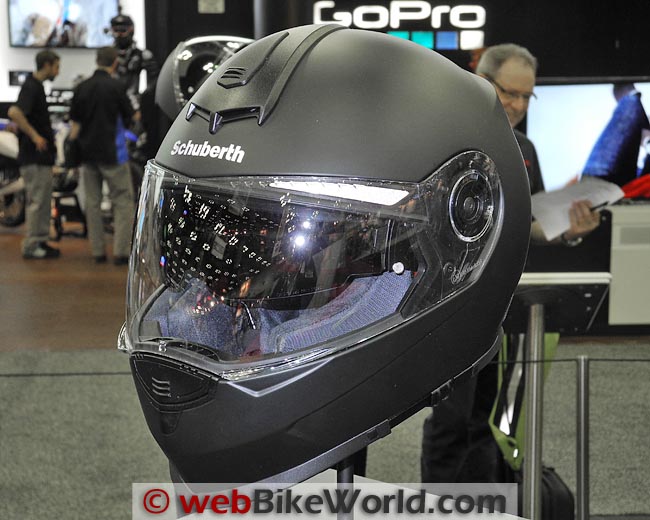 Schuberth S2, right side.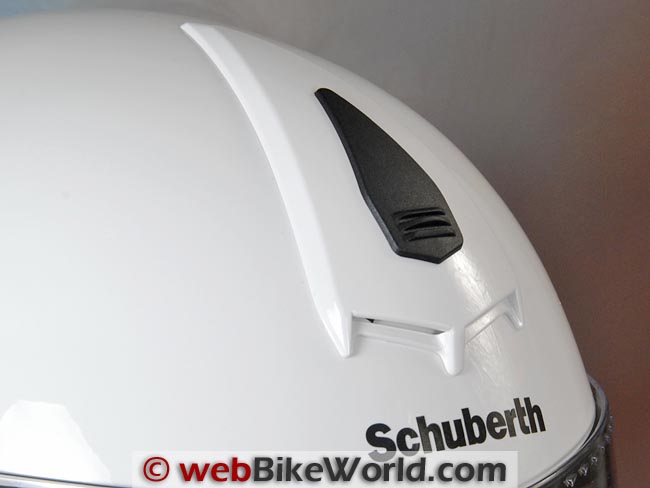 Top vent on the Schuberth S2.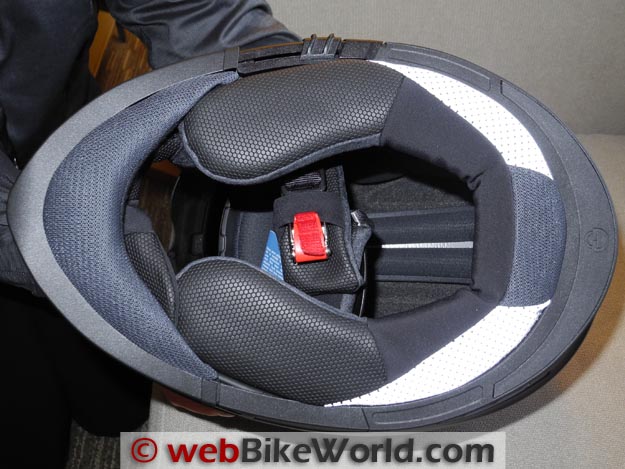 Schuberth S2 helmet liner.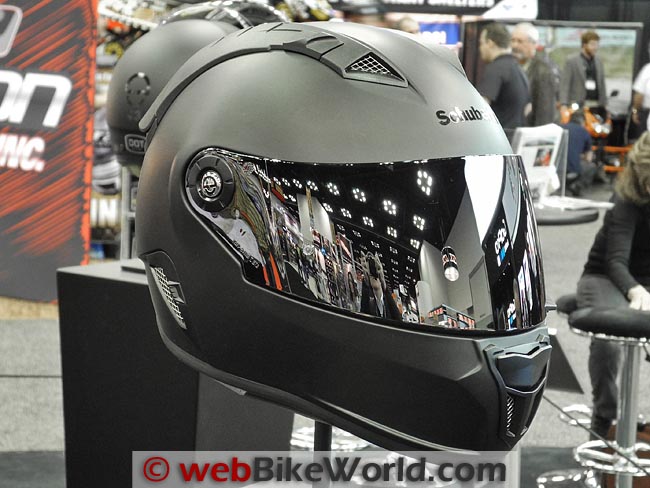 U.S. DOT version of the Schuberth SR1.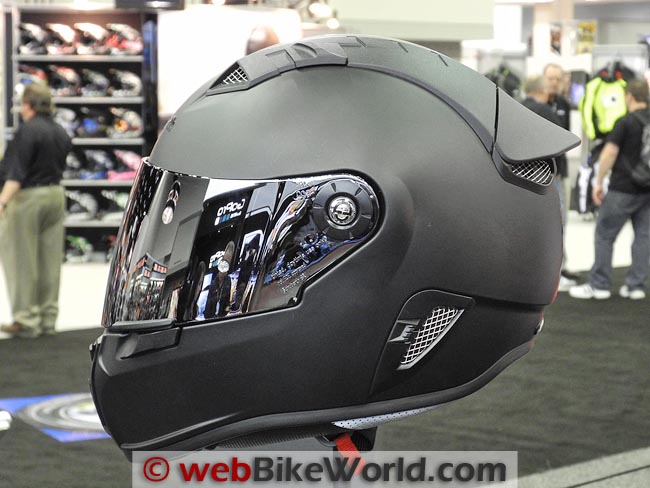 Schuberth SR1, DOT version, side view.
More: 2012 Dealer Expo Live Reports
Publication Date: February 21, 2012
Note:
For informational use only. All material and photographs are Copyright © webWorld International, LLC since 2000. All rights reserved. See the webBikeWorld®
Site Info page
. Product specifications, features and details may change or differ from our descriptions. Always check before purchasing. Read the
Terms and Conditions
!
Please send comments to
Comments are ordered from most recent to oldest.
Not all comments will be published (
details
). Comments may be edited for clarity prior to publication.
---