Mustang Seat Review
The Mustang "Wide Tripper" Seat
by Donna S. for webBikeWorld.com
More:
Summary
The Mustang Wide Tripper is a nicely constructed aftermarket seat.
It's suitable for all-day touring, cruising the strip or just looking good parked outside the local pub.
Background
Two years ago I bought my motorcycle brand new, right off the showroom floor.
But before I could ride it home, I had to make my first modification.
In order to reach the clutch and brake pedal comfortably, I needed to replace the stock seat with one that pushed me forward a few inches.
My Softail Slim was a fairly new model at the time.
But unlike other Harley-Davidson bikes that seem to interchange parts freely with a number of other models, the Slim only shares a seat pan with the deceased Blackline model.
So my choices were quite limited.
In fact, I could only find one solo push-up seat option (H-D only makes a two-up reduced reach seat for the Slim).
So I replaced the stock seat with the rather plain but serviceable "HardDrive" brand seat.
For trips back and forth to work it worked quite well but it became increasingly apparent to my backside that it wasn't going to be a long-distance perch.
The "HardDrive" name probably should have given me a clue that it wasn't meant to be a touring seat!
Fast forward to this summer and a trip across the state that had me squirming at more and more frequent intervals.
By the end of the day, I was hard-pressed to make it a half-hour before I needed a break.
So I decided to "bite the bullet" and invest in another new seat.
There were still not a lot of seat choices out there for the Slim but after talking to my local parts dealer, perusing some bike forums and getting recommendations from my cruiser friends, I decided to try a Mustang seat.
The Mustang Wide Tripper solo seat was my choice and with help from the friendly gear geeks at RevZilla (a webBikeWorld Affiliate), I had my seat within just a couple of days.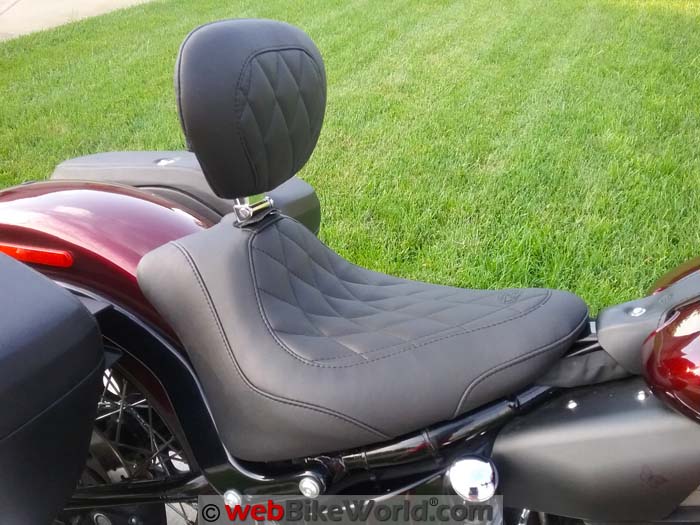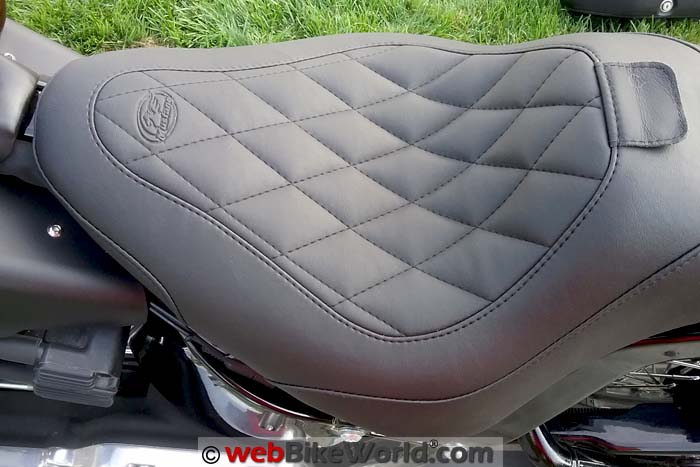 (L to R): Stock Harley seat. HardDrive seat. Mustang Wide Tripper.
Mustang Seats
Mustang seats are made right here in the U.S. of A. Seat components are manufactured in their Massachusetts facility and hand assembled.
Their website contains a lot of useful information about motorcycle seats and has a nice video illustrating their manufacturing process.
They make seats for most of the major motorcycle brands and a large variety of models…as long as it's a cruiser or touring bike, although they do make a seat for the Can Am Spyder and a couple of the new café racer type bikes.
They come highly recommended by my cruiser riding buddies and are the most common aftermarket seat among my riding friends.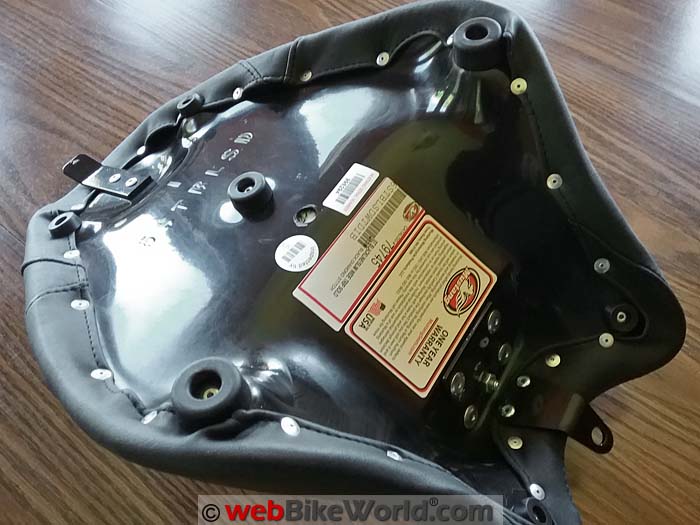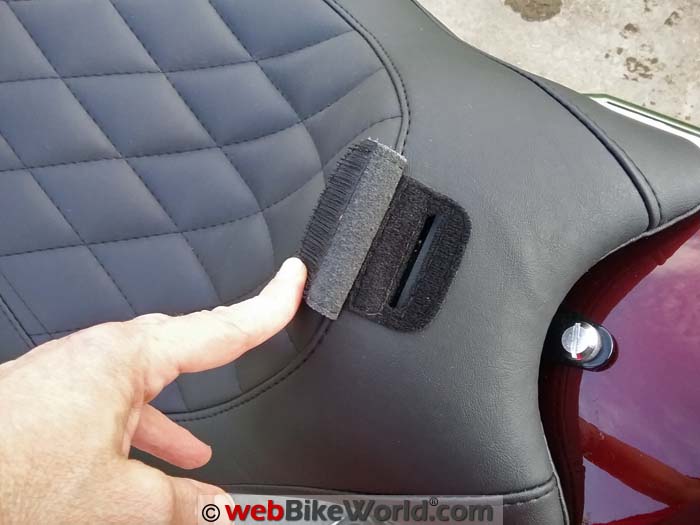 Backrest receiver on seat.
Seat Construction
The Wide Tripper seat is a nice looking, well made seat, available with either a plain (#76760) or diamond pattern (#76762) stitching and in black or "Distressed Brown" colors.
My first impression upon handling it was that this was a very heavy-duty and solid seat.
The base plate or seat pan is made from fiberglass that does not flex and it has 7 large rubber bumpers to protect the gorgeous red paint on my Slim and provide some cushioning.
The nose tab and rear fender mount tab are black, which look nice on the blacked-out Slim.
Padding is accomplished with a proprietary controlled-density polyurethane foam with a density of approximately 4 pounds per cubic foot that compresses with a firm push but rebounds immediately.
I purchased the diamond pattern version and the stitched diamonds in the middle section creates almost a pillow top effect that makes it noticeably softer in that area than the HardDrive seat it's replacing.
The cover material is a synthetic "glove" leather that's very soft and pliable.
I chose the diamond pattern to give it a little pizzazz and it really compliments the retro look of the Slim and the stitching is all very straight and even with no loose threads.
The seams are double-stitched and the cover is fastened on the bottom with rivets, which is a step up from the staples used to secure the cover on the stock seat.
Optional Backrest
I also chose to get the backrest with the seat. The backrest receptacle is built directly into the seat pan, so you can not add a backrest later.
So if you think you might ever want a backrest, you need to make that decision before you buy.
Just my two cents: go with the backrest! It's well worth the extra cost. It's a little wide, which makes it a bit out of proportion with the narrow Day Tripper seat, but it's oh so comfortable!
The backrest is made out of the same materials with the same high quality. It's fully adjustable, both up and down and forward and backwards and it folds flat so if you would rather swing a leg over to get on the bike than step through it will accommodate you.
It's easy to remove for cruising down the strip or bike night, you just pull it forward and up, and it folds flat for easy storage.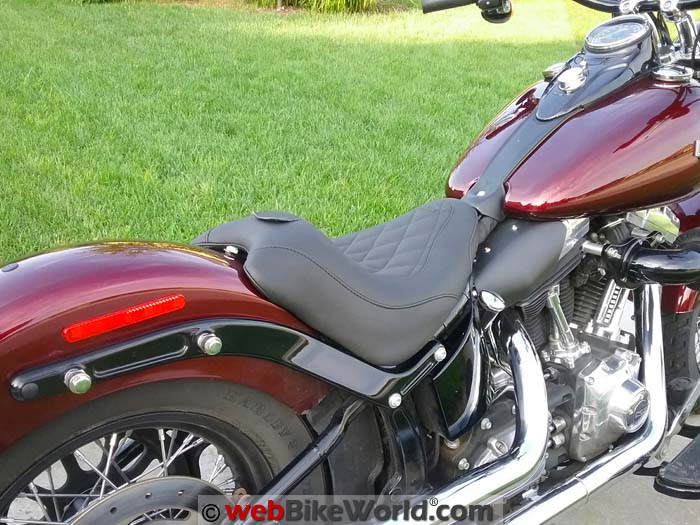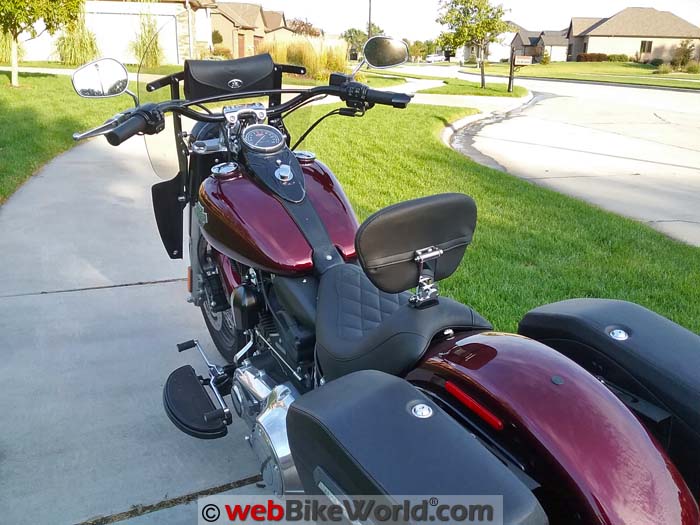 Installing the Seat
I had no problems installing my new Wide Tripper seat; it literally took 30 seconds. I just fit the front nose tab into the frame mount under the tank and tightened down the fender bolt in the rear.
I could move the nose slightly once tightened down but it never moved while riding so I did need to retighten the fender bolt after riding it the first time.
The seat looked like it was made for the bike, which I guess it was.
The rubber bumpers must compress after weight is placed on the seat, because every time I took the seat off and on I had to retighten the bolt almost two full turns after riding it. So make sure you check it each time you remove and replace it.
The Mustang seat is the same height as the stock seat, which means I can flat-foot the bike (barely) with both seats.
But the difference is in the shape of the seat: the Mustang seat has a much more pronounced back stop that cradles your bottom and makes you feel very "in" the bike. It also pushes you forward about 1.5 inches in a very similar position to the HardDrive seat.
With the adjustability in the backrest, you can position yourself even further forward if you wish.
You can also dial in the backrest position on the fly, as the set screw is easily reachable while seated (I guess that's probably not a safe thing to suggest while you're moving).
I do appreciate the versatility in the seating position that the backrest gives me because I can adjust it to push me forward for more control in city riding and let it out for a more relaxed position for touring.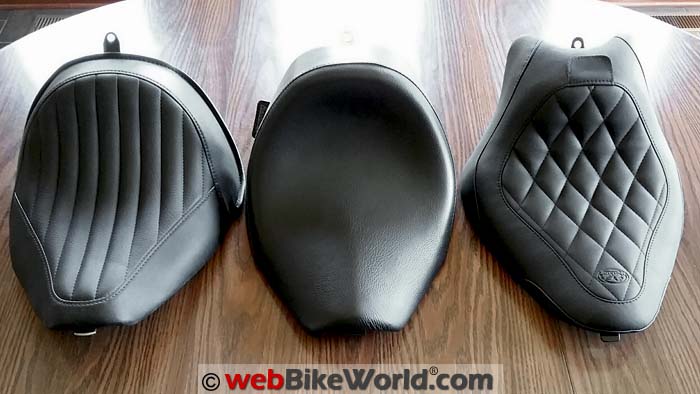 (L to R): Stock Harley seat. HardDrive seat. Mustang Wide Tripper.
Riding With the Mustang Seat
Buying gear online is always a bit of a crap shoot but in the case of a motorcycle seat, it's even more so, as seat comfort is very subjective -- some like 'em hard and some like 'em soft.
I have friends that have the Mustang Wide Vintage seat which I found very comfortable and which I nearly purchased, but at 4" wider it just didn't fit visually with the skinny rear end of the Slim.
So I was kind of rolling the dice buying the Wide Tripper sight unseen.
After I first installed it, I started off with a few short rides to make sure I was comfortable with the riding position before I attempted a longer stint in the saddle.
Right away I could feel the rubber bumpers doing their job.
I was used to getting tossed around and going airborne with every bump and divot in the road with the HardDrive seat, but with the Mustang seat I felt very secure and only parted ways with the seat when navigating a particularly vicious expansion joint.
It was an unexpected benefit that left me pleasantly surprised. But will it go the distance?
I wish I could tell you that with this seat you can magically ride all day without stopping...but you can't. But that's OK because the bike, and my bladder, won't go all day without interruption anyway.
I can tell you that I can now go two hours without stopping, which I could never do with the old seat.
In fact, except for a mild case of numb butt (which may have been as much from the tightness of my pants as the seat), the Mustang Wide Tripper feels really good.
With the backrest installed, my back feels much less fatigued and I don't have to talk myself into getting back on the bike for the end of the ride.
I could have probably gone on much longer but my husband was ready to stop. Perhaps he should think about a Mustang seat?

Mustang Wide Tripper seat colors (shown with optional backrest).
Price and Specifications
The Wide Tripper measures 12" wide (the same as the stock seat) and comes in both black and brown, and it does have a passenger seat that you can purchase separately.
It's available in the diamond pattern shown or plain if you're more of a minimalist.
The backrest measures 11" wide x 7" tall. You can get the solo seat without a backrest for $246 and with a backrest for $439 and again -- my advice is to get the backrest.
Conclusion
The Mustang Wide Tripper is a good looking, well made seat.
The diamond pattern fits well with the retro style of the Slim and overall the Wide Tripper is more comfortable than the stock and other aftermarket seats.
In fact, by the end of my first long ride with it I had forgotten all about my seat, lost in the joy of the ride. And isn't that what it's all about?
w

BW

Review: Mustang Wide Tripper Motorcycle Seat
Manufacturer: Mustang Seats
List Price (2016): $246.00 and up
Colors: Black or Brown
Made In: U.S.A.
Review Date: September 2016
Note:
For informational use only. All material and photographs are Copyright © webWorld International, LLC since 2000. All rights reserved. See the webBikeWorld®
Site Info page
. Product specifications, features and details may change or differ from our descriptions. Always check before purchasing. Read the
Terms and Conditions
!
Please send comments to
---