2013 Summer Motorcycle Gloves
2013 Summer Motorcycle Glove Review Series Preview
by Rick K. and "Burn" for webBikeWorld.com
---
More:
▪ wBW Reviews Home
▪ Owner Comments (Below)
▪ wBW Motorcycle Clothing Reviews
▪ wBW Motorcycle Glove Reviews
Background
Every once in a great while, the stars align, a full moon rises and a comet streaks across the night sky.
At midnight. On the 29th of February.
That sign from the heavens means we miraculously have enough of a related collection of gear on hand to publish a review series.
It seems to happen more often with motorcycle gloves than anything else and only Zeus knows why...
Introduction
For this series, we have eight different pairs of motorcycle gloves. Not all of them are strictly "summer" gloves, but hey -- it's close enough...and they all arrived around the same time.
The series will take some time to complete, because it's just not possible to pump out detailed reviews of eight different products all at once without having everything else grind to a halt. Our webBikeWorld reviews are hand-crafted, hand-coded and photographed with as much loving care as we can muster. Nothing automated about it.
The hands-on (a glove pun) evaluations also take gobs of good ol' fashioned time. A couple of us local yokels help out but (almost) everyone has another life which, believe it or not, takes precedence. Can you imagine?!
First up for the once-over are the Rukka Vauhti gloves. We've had these here since last Fall; they arrived with the Rukka Lobster gloves (review), the Rukka R-Star gloves (review) and the Rukka Argosaurus gloves (review), all of which were published during the winter.
The Vauhti gloves are the natural choice for the Rukka Airway jacket (review) and just in time for summer riding...if 2013 summer ever arrives. The Vauhti review should be ready tomorrow (May 15), so check back.
Racer Gloves in the U.S.A.!
A quick word about Racer Outdoor GmbH products, which have been popular with European webBikeWorld readers. The Austrian brand (unfortunately no longer made in Austria) is known for quality, attention to detail and fit. Racer motorcycle gloves are also designed by motorcycle riders and racers and that fact has always been apparent with this brand.
Long-time webBikeWorlders may recall that we reviewed a pair of Racer "High End" gloves (review) way back in 2006 and were impressed. The good news is that Racer Gloves USA is now in business and (so far) the gloves have been available. Racer gloves dominate this series, with six of the eight reviews.
In the meantime -- and just as a bit of a preview, here are some pics and basic info on the gloves that we will review in the webBikeWorld 2013 Summer Glove Review Series:
► Rukka Vauhti Gloves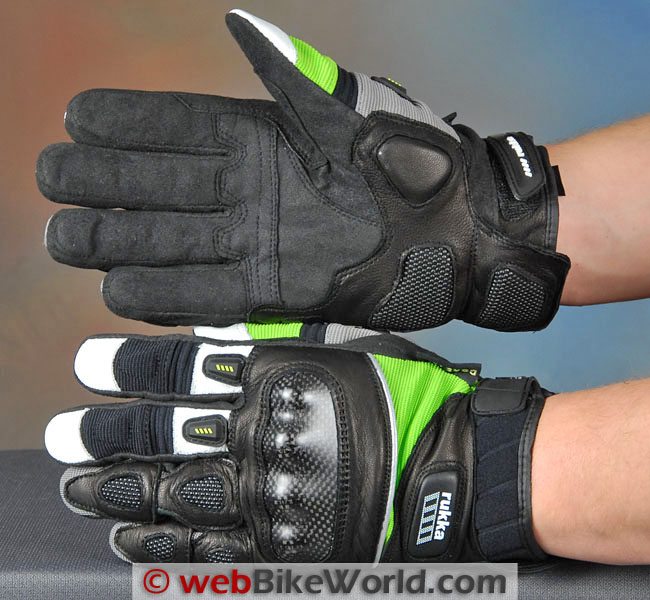 Rukka "Vauhti" gloves.
The Rukka Vauhti gloves (review) ("Vauhti" is Finnish for speed, velocity, momentum...) have to be the highest-tech "summer" motorcycle gloves we've ever seen. The Vauhti gloves will be the first review in this series and it should be ready tomorrow.
First appearances are deceiving, because these short-cuff (and expensive) gloves are not what they appear. The Vauhti gloves may look like those inexpensive fabric gloves that hightail it out of town as soon as the first raindrops hit. But they have a Gore-Tex membrane liner; the X-Trafit, in fact, for good grip feel.
Superfabric protectors cover the outside knucks and carbon fiber covers the mains. Superfabric scaphoid protectors on the ventral side are very unusual in this style of glove. Cordura and leather make up the rest but, as with the other Rukka gear we've reviewed, the Rukka Vauhti gloves are not without a quirk...or two.
Sizes: 7-13. Colors: White or Green and Black. List Price: $189.00 available here.
► Racer Guide Gloves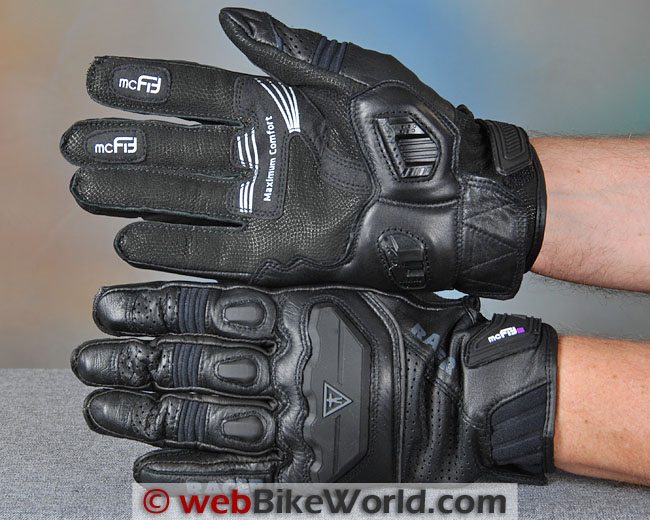 Racer "Guide" gloves.
The Racer Guide gloves (review) offer protection with some ventilation. The gloves feature Clarino and goat hide palms and the (non-waterproof) tricot liner is attached using the "mcFIT" (Maximum Comfort Fit Technology) system described in detail in our introduction to the VQuattro gloves review.
mcFIT is a unique technology that is used to attach the liner to the glove; we're not sure why it was used with the Guide gloves, because the system is usually employed to attach a waterproof/breathable membrane to the inside of the glove, to eliminate possible stitch-throughs that would compromise the waterproof integrity of the membrane.
The Racer Guide gloves also have hard Knox SPS protectors on the palm and semi-hard TPR protectors on the fingers and knuckles.
Sizes: S to XXXL. Colors: Black. List Price: $109.99
► Racer Mickey Gloves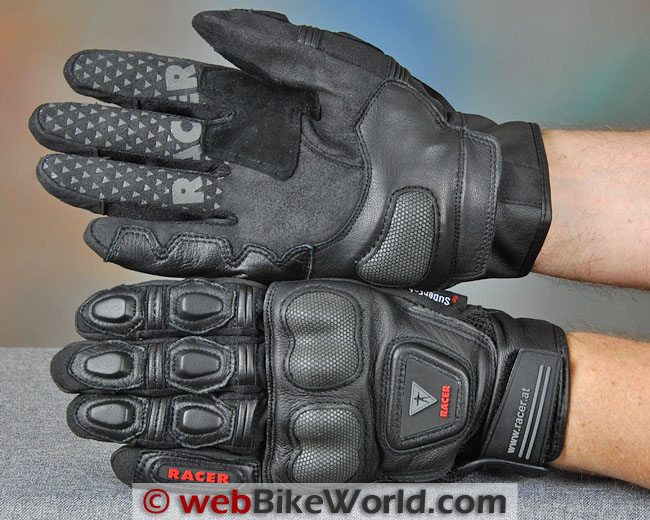 BUY YOUR




▪

MOTORCYCLE GLOVES

With This Link to Amazon.com (

w

BW

Amazon Affiliate)

And Help Support

web

BikeWorld

!
The Racer Mickey gloves (review) have short cuffs and a big bifurcated Superfabric protector over the base knuckles. A unique hook-and-loop strap on top keeps the glove secure and plenty of leather covers the rest. The palm is Clarino with silicone "grip diamonds" on the first three fingers for stiction.
These are good-looking and provide better-than-expected protection for this type of glove.
Sizes: S to XXXL. Colors: Black. List Price: $115.99
► Racer Summer Fit Gloves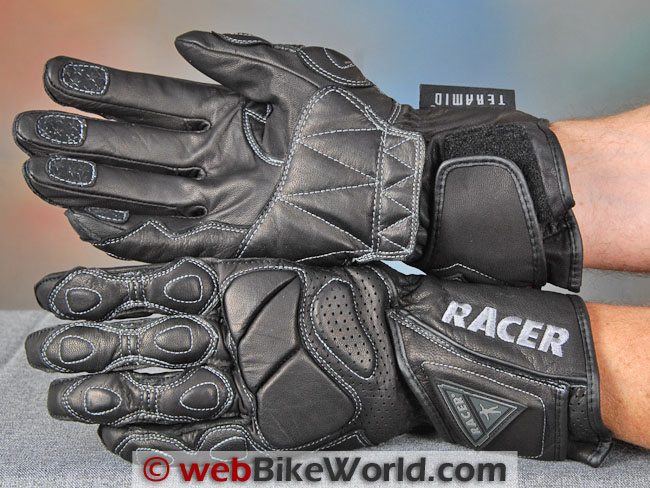 Racer "Summer Fit" gloves.
The Racer Summer Fit gloves (review) feature a relatively lightweight chassis but have some extra coverage over the wrist for the short-cuff-averse rider. Soft goat leather makes up the majority of the glove body and the secret sauce is the Schoeller Keprotec Kevlar lining in the palm.
The Racer Summer Fit gloves have soft protectors on the base and finger knuckles to keep the weight low and all of the fingers except the thumb get silicone grip pads.
Sizes: XS to XXXL. Colors: Black. List Price: $99.99.
► Racer Limes Gloves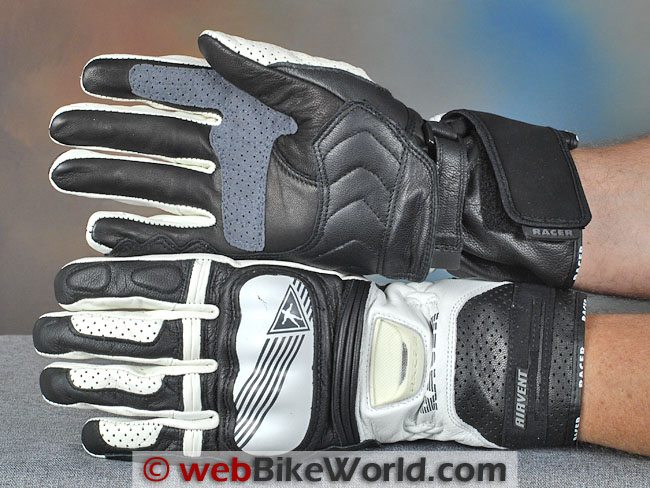 Racer "Limes" gloves.
BUY GEAR

at the

web

BikeWorld


GARAGE SALE!
Like-new clothing, helmets and accessories
used in
w
BW
reviews at super discount!
Next up in the (sort-of) protection hierarchy are the Racer Limes gloves (review) (pronounced "Lee-mus". Limit or boundary, like the Limes Germanicus).
The Racer Limes gloves have a bit more protection than the Summer Fit gloves, due to the TPU base knuckle protector and vent on the back of the wrist. These gloves also have double security with a hook-and-loop wrist strap in the traditional location underneath and a hook-and-loop gauntlet closure. Vented goat and cow hide make up the chassis.
Sizes: S to XXXL. Colors: Black or Black/White. List Price: $129.99
► Racer Stratos Gloves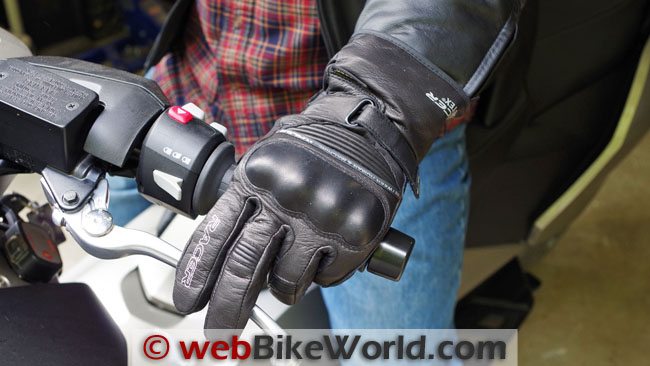 Racer "Stratos" gloves.
The Racer Stratos gloves up the ante with a Gore-Tex X-Trafit waterproof membrane, a leather--covered hard TPU base knuckle protector and a large gauntlet with hook-and-loop and a unique wrap-around hook-and-loop wrist closure.
A gel pad slider helps protect the palm and a silicone visor wipe is included on the left forefinger. The Racer Stratos gloves specialize in summer touring or street riding with protection in the rain.
Sizes: S to XXXL. Colors: Black. List Price: $189.99
► Racer R-Safe Gloves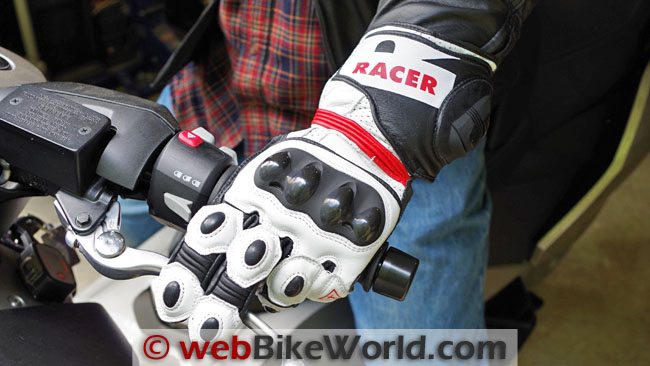 Racer "R-Safe" gloves.
The Racer R-Safe gloves (review) are the top-of-the-line, all-singing-and-dancing, full Monty race gloves from Racer for 2013. It's all here: kangaroo leather; monster-sized, super-hard Knox TPU protectors on all of the knucks; a huge scaphoid slider, about a hectare of Superfabric on the palms; connected pinky and third finger to help prevent rollover and dual wrist/gauntlet closures.
You want protection? You got it with the Racer R-Safe gloves. And best of all, they're surprisingly comfy. Across-the-board, 5-Star ratings by owners. The price may seem high but for this level of protection, it isn't.
Sizes: M to XXL. Colors: White/Black or Black. List Price: $259.99.
► REV'IT! Striker Gloves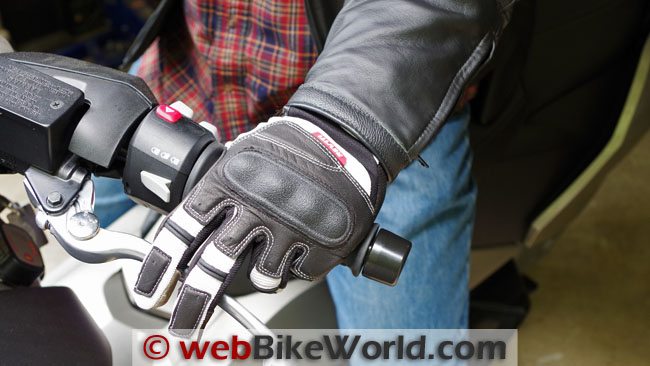 Rev'it "Striker" gloves.
The Rev'it Striker gloves (review) are new for 2013. They're kind of a cross between the Rukka Vauhti gloves and the Racer Mickey gloves described above. BONUS: Also added is a comparison with the Rev'it Sand Pro gloves!
Rev'it calls the the Striker gloves "dirt bike gloves for the street" and they feel sort of like mechanic's gloves but with lots of style. Ours are superbly crafted although the inside feels a little...different. The fit is snug but lots of Spandex elastic makes it work.
The styling and expanded size range, along with tons of air flow, leather and a rubberized TPR base knuckle protector make these a good choice for dual-sport adventures. Not-bad pricing is icing too.
Sizes: XS to 4XL. Colors: White/Black, Black, Silver/Black, SilverRed. List Price: $79.99 available here.
Summary
That's it for the intro; stay tuned as we rev up our 2013 Summer Glove Series. Should have the Rukka Vauhti review posted tomorrow (May 15).
Note:
For informational use only. All material and photographs are Copyright © webWorld International, LLC since 2000. All rights reserved. See the webBikeWorld®
Site Info page
. Product specifications, features and details may change or differ from our descriptions. Always check before purchasing. Read the
Terms and Conditions
!
Please send comments to
---