Sidi "Slash" Boots Review
Sidi "Slash" Motorcycle Boots
by Bill C. for webBikeWorld.com
---
More:
▪ wBW Reviews Home
▪ Owner Comments (Below)
▪ wBW Motorcycle Boot Reviews
wBW VQuattro Urban Boot Series Previews:
▪ VQuattro San Remo Boots Preview
▪ VQuattro Milano Paperboy Boots Preview
▪ VQuattro Milano Academy Boots Preview
Summary
The Sidi Slash street shoes or boots have mesh tops for excellent air flow.
They have typical Sidi attention to safety but the absence of adjustability at the ankle may be problematic for some.
Introduction
Sidi is probably the King (and/or Queen) of motorcycle boots. I don't suppose there is a registry that tracks stuff like this, so I'll have to guess that based on my observations, Sidi has to be the #1 most popular motorcycle boot manufacturer by far.
What's interesting about this is that Sidi boots aren't popular because they're inexpensive (i.e., "cheap"). It's obvious to me that Sidi boots are popular because of the attention to detail, high quality, consistency and dependability.
It would have been easy enough -- and this story has been told many times -- for the company to cheap out after reaching the top and try to cut those notorious corners by sailing along on their name recognition.
But they keep pumping out really good stuff, mostly without compromise, and motorcyclists around the world are appreciating the effort and voting with their wallet.
OK, so that all sounds like a Sidi commercial, right?
But even a King makes a few slip-ups now and then (and only the wise ones admit it), and at the risk of putting the conclusion before the horse, I'll say that I don't think the Sidi Slash boots are their best effort. My feeling is that they have a couple of issues, including the fit, comfort and the boot entry, as I'll describe in a bit.
Otherwise, I do have to give Sidi credit for using toe and heel cups, ankle protectors and a somewhat sticky, thick and stiff sole. And the Slash boots flow a lot of air -- if you need more ventilation than this, it's time for flip-flops.
Short Boot Buying Tips
Here's the deal: short boots are fine, but careful attention must be paid to the ankle area; that is, how the boots seal around the ankle. This is an important safety and comfort area.
I've found -- indeed, all of us here agree -- that slip-on boots like the Sidi Slash can have some compromises in the way they fit certain foot, ankle or leg shapes. This is based on our experiences with several examples of this style of boot.
Motorcycle boots especially must have some type of secure attachment system at the ankle that will the boots on your feet when push comes to shove and you find yourself floating (hopefully) down the asphalt, sans bike.
Also, since each rider's ankle and leg shape and width is different, adjustability in the ankle area is crucial for comfort.
The basic problem I've found with the Sidi Slash boots (and others with similar styling) is that the ankle is a single size, with no adjustability. This is an outcome of the slip-on design. The Slash boots have no adjustment and the Velcro strap at the top on the inside simply acts as a cover for the zipper pull.
So owners with average to skinny ankles may feel that the boots are rattling around at the top, as you can see in the photo above. The problem is exacerbated by the angle of the boot at the Achilles' tendon, which provides even more rearward travel and adds to the loose feeling.
The advantage of a looser-fitting top may be that the lower leg has more fore/aft movement which could help the rider adjust to different foot peg configurations. But this seems more theoretical than practical to me...
And for riders with thicker-than-average ankles, there may be another problem -- getting the foot inside the boot. Even with the ceiling-to-floor side zipper on the Slash boots, stuffing a foot down inside takes a bit of doing. Again, I think the design of the top of the boot is at least partly responsible.
I've found this problem with other brands of boots with similar styling. The issue is this: to keep the slip-on style of boot on the foot, the front part of the boot out to the toe has to be long and without a tongue or separate front. Thus, it takes a lot of pushing to get the foot pushed into the long front part, all the way to the toes.
Also, the proportions from the toe to the ankle have to be correct, and not everyone has the proportions envisioned by the boot designer. So if your foot is long or if it's short and it doesn't meet the proportion of the boot from the toe to the front of the shin, you're in trouble.
Short boots are a great idea and I'm a believer, but I prefer boots with adjustability and an attachment system at the ankle. Sidi makes the wonderful Sidi Doha, which we've reviewed, and the radical Streetburner, which we haven't, both of which have the type of ankle security I think is necessary.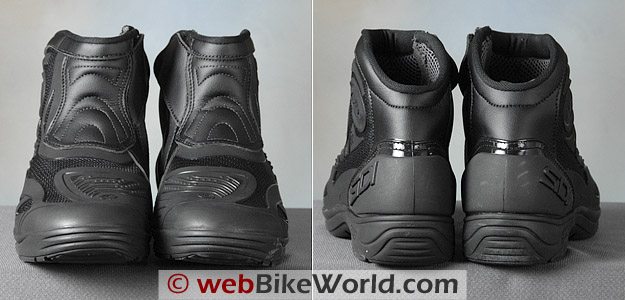 Sidi Slash Boots: Details
Leather? That's Lorica!
The Slash boots are made from Lorica, that Wunderleder modern replacement for the organic stuff peeled from the backs of those poor old cows. Vegans should have no problem with the Slash boots; I don't think there's a molecule of organic material used anywhere.
That's good news, by the way. Lorica is perfect for motorcycle boots and many are made with it. It's claimed to be stronger, lighter and more resistant to abrasion while breathing better than leather also. I own a couple of pairs of boots made from Lorica and I'd venture to say that no one would even know it's not leather unless you told them.
Lorica may not go through the same break-in process as leather, but it seems to start out a bit softer anyway, and since they can use thinner Lorica "hides" to get the same abrasion protection, it's usually more pliable right out of the box.
Lining
The Cambrelle lining in the Slash boots is that typical gray motorcycle boot stuff, with large mesh perforations as you can see in the photo above.
The Slash boots seem to run slightly narrow for their size I think, and I get the feeling this was done deliberately to add some friction to keep the boots on the rider's feet, per the non-adjustable ankle issues I described above.
So the Slash boots aren't really the most comfortable I've tried -- it would have been nice had Sidi maybe added some more padding on the inside, which might help in the friction department but would probably greatly diminish the wonderful amount of air flow in these boots. Oh well...
The combination of the loose fit up top and the minimal padding inside makes these not as comfortable for walking as some of the other short boots I've tried that have more of a hiking boot styling.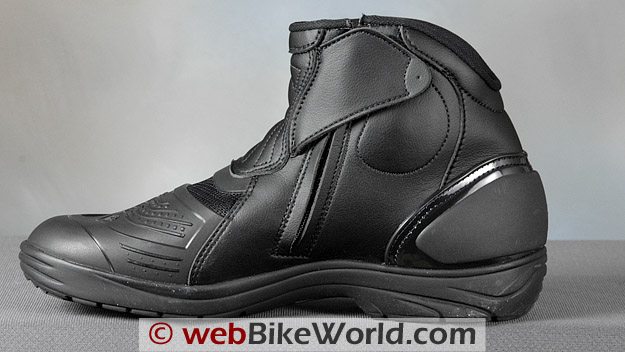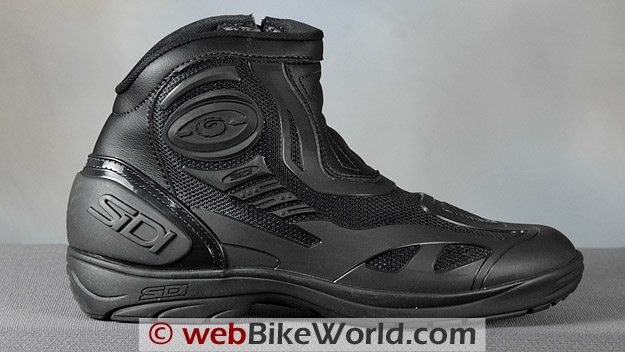 These Boots Have Sole
The sole material used in the Sidi Slash boots is similar to the type used in a high race boot rather than a hiking boot, and I actually prefer the Slash type of stiff sole for motorcycle riding.
Sidi says that the sole used in the Slash boots is a new design, and like all proper motorcycle boot sole material, it limits torque or twist -- an important safety factor. Also, the stiffness gives a good platform for my feet on the pegs in addition to the protection it provides.
The Slash boots also have a well-defined heel, which I like, because that helps me to relocate my foot on the pegs when I'm moving around. The front of the heel actually has tiny molded-in grooves on either side, which may give a bit of friction traction on the foot peg rubbers also.
Picking up one of the Slash boots by the toe and ankle cup and twisting illustrates the stiffness of the soles. Of course, these aren't as stiff as the Sidi Vortice (review) for example, but those are all-out race boots and the larger heel and toe cups, taller profile and the exoskeleton protective devices add to the rock-solid feel of the soles on that model.
For a short slip-on street boot, I'd say the Slash soles are better-than-average stiff. That's a lot of S's, I know.
The soles have decent grip also, a pet peeve of mine. "Gription" is important and necessary, especially when stopping on a hill or rise, or in the wet, or when pushing the bike backwards into a parking spot. It usually takes a few rides to wear off the outer layer on the sole to improve the grip, but not all soles are created equal -- some soles are condemned to an eternal life of slippin' and slidin'.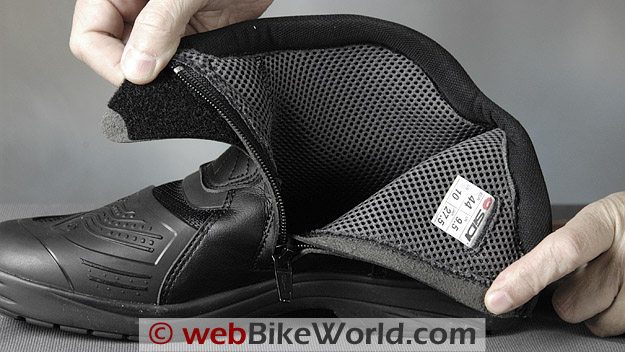 BUY YOUR




▪

SIDI BOOTS

With This Link to Amazon.com (

w

BW

Amazon Affiliate)

And Help Support

web

BikeWorld

!
Zip 'Em Up
The upside of a pair of slip-on boots like the Slash is the easy of entry and exit. There's only one door to open to get 'em on -- or take 'em off -- nd that's through the zipper, located on the inside ankle section of the boot.
The zipper is labeled on the pull as an "Opti" brand and the teeth appear to be of the self-healing type, which tend to be a little more recalcitrant than traditional zippers with blocky teeth. But the Slash zipper does the job and the triangle of Velcro at the top holds the zipper pull in place after everything is snug.
Since there's no finger pull on the back of the boots and the ankle is cut downward at an angle, putting the Slash boots on can get a little tricky. I find that sitting on a chair or a step helps; I open the zipper all the way, shove in my foot, hold the back of the ankle and stand up, forcing my foot in and up towards the toe.
As I mentioned in the "Buying Tips" section above, the long front necessary with this style boot can make for a more difficult entry than for a boot with laces and a tongue that can be pushed out of the way.
Once the Slash boots are zippered up, my ankle has too much room at the top and the boots feel loose. I now know what a clapper feels like inside a bell.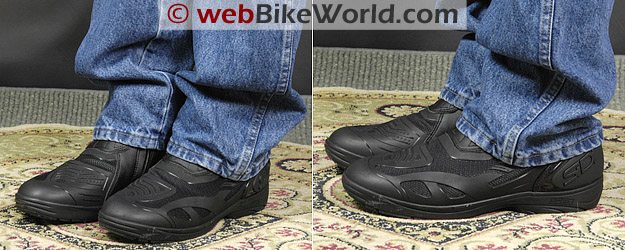 Protection
Sidi gets credit for adding the correct protective features to the Slash boots. Some of the "cheap" short boot manufacturers go for all style and no protection, as we've seen in other reviews.
The Slash boots feature a fairly robust toe and ankle cup, along with some type of DuPont polymer shift pad molded as part of the toe cup. In typical Sidi fashion, the polymer exoskeleton is also made part of the styling features, and it continues back along the top of the boot on both sides to offer more abrasion protection, some support and a touch of style.
The heel is surrounded by a full heel cup that looks like it could have come off a Sidi B2 tall street/race boot (review), so kudos there for Sidi also. Yet with all this, the Slash boots don't look like a clunky pair of bent-forward race boots, so you can still walk into your local Tesco without looking like a wanker.
And Sidi even put a heel cup between the sheets, on the inside ankle at least. The outer ankle uses an external polymer Sidi logo oval for protection.
Comfort and Cooling
Much of this I've already covered. The Slash boots are slightly off for my foot shape, size and maybe even proportions.
They feel correct in terms of length for the men's 44 sizing. But they feel narrower than I expected and the long front without a tongue doesn't have the flexibility or adjustability I need to feel really comfortable. But I'm not a big slip-on or loafer wearer anyway, so it may just be me.
I'm not fond of the way my ankle feels like it's rattling around at the top also, and I wish there was some way to snug up the top of the boot to get them tighter.
The Slash boots do have excellent air flow though; the mesh all around the top, seen poking in and out of the polymer strips and sections and protectors, really does flow the air right through. So for riders in very hot climates, the air flow and perhaps even the looseness around the ankles will be an asset rather than a liability.
Conclusion
I have mixed feelings about the Sidi Slash boots. In all frankness, I don't think this is Sidi's best effort, but their other boots are so overwhelmingly good, they can be forgiven in this case. So my advice would be to try these on first; you may not mind the slip-on design as much as I and certainly if your riding climate requires excellent air flow, you'll want to give these a try.
w

BW

Quick Look: Sidi Slash Boots

Manufacturer: Sidi Boots
U.S. Sales/Distribution: Motonation

List Price (2009): $225.00
Colors: Black
Made In: Romania
Sizes: 41-48 Euro (8-13 US)
Review Date: October 2009
Note:
For informational use only. All material and photographs are Copyright © webWorld International, LLC since 2000. All rights reserved. See the webBikeWorld®
Site Info page
. Product specifications, features and details may change or differ from our descriptions. Always check before purchasing. Read the
Terms and Conditions
!
Please send comments to
---
From "D.S." (12/09): "As a Harley-Davidson Riders Edge instructor, we always dress ATGATT when on the range with students, who tend to duplicate whatever safety gear we are wearing (a good thing!).
In south Louisiana in the summer, it is not uncommon for us to have temperatures on the range asphalt in excess of 110 degrees so proper foot gear is important to we instructors from a comfort viewpoint. I have tried a number of low boots and sneakers, and all had the situation of being uncomfortably hot when on the range.
My usual serious riding boot is the Oxtar Matrix (review), which webBikeWorld has also reviewed, that I dearly love as being comfortable, flexible, and fits snugly when the upper Velcro adjuster is properly tightened. They are good in cold and rainy weather, but in summer they tend to get too hot for use on our range.
I also happen to be an attorney in active practice and ride to the courthouses much of the time (way better parking!), and the Oxtar's are not overly obnoxious to wear under dress pants, so I usually do not have to bring my dress shoes with me.
After reading the various reviews, I ordered the Sidi Slash boots for use mainly on the riding range, and in hot weather they are much more comfortable than the Oxtar boots. The comfort level is such that I do not notice them like some other brands I have used. I can attribute this to the slightly loose fit of the uppers on the boots which makes walking a joy.
With range activity there is occasionally a necessity to run to dropped bikes, and the Sidi's are great for fast moves to assist students. These boots, as noted, are a compromise between protection and comfort. They are not for track day use, but are a good choice for casual cruising in good weather.
While they are not listed a waterproof, I have used them in very wet conditions and have not had soaked feet, which is also a good thing. They are also acceptable in the courthouse as most people never notice them, so I tend to wear these now as opposed to the Oxtar's when making court appearances.
I can highly recommend the Sidi Slash boots as well as the Oxtar Matrix boots."
---
From "J.H." (11/09): "Due to recent foot injuries that I suffered during a low side off, I decided that I needed proper motorcycle boots to protect my feet as crush injuries and broken bones arenít any fun.
As a result I initially purchased a pair of Sidi Vortice boots per the wBW review. You guys were spot on. The Vortices are great boots - just a little too much for running to the corner store to return a DVD.
For one thing, the Vortices will not fit under my jeans Ė I do wear Icon knee and shin guards when riding in jeans Ė and they take a bit of effort to put on. Although, for long weekend rides when Iím wearing riding pants, I love them and definitely recommend them for the protection that they offer.
For quick rides, I decided that Iíd try a pair of Sidi Slash boots. Iíve had them for a couple of days and have used them on a couple of rides and I think that they are very practical for this purpose. They are quick and easy to put in, they look good with business casual pants or jeans, they are pretty easy to walk around in, and they fit my feet (pretty normal size 11) like a glove. More importantly, they offer a reasonable amount of protection for my toes and ankles.
I was a bit concerned after reading the wBW review that they might be loose, but I ordered from an online vendor that offers a good return policy. At least on my feet, I have no concerns that these boots will not come off of my feet if I were to go off of my bike with them on. I have tried pulling and forcing them off of my feet and I am convinced that they will stay on. The bottom line is that they are comfortable to wear, easy to put on, look good, and are easy to walk in."