Sidi Vortice Boots
wBW First Look: Sidi Vortice Boots
by webBikeWorld.com
More: wBW Reviews Home | wBW Motorcycle Boot Reviews | Owner Comments (Below)
Summary: Looks like the new Sidi Vortice Boots will replace the Vertigo Corsas as the sport/race boot of choice!
---
Background
Many press releases arrive in the webBikeWorld inbox each week, but only those deemed newsworthy get published. Most are information and specifications regarding new motorcycles that we think are of interest to our visitors.
We received some interesting information this week regarding the new Sidi Vortice Boots. Sidi is probably the most recognized brand of motorcycle boots in the world, and the new Vortice will replace the Sidi Vertigo Corsa, a phenomenally successful racing boot that has been very popular with street riders, track day aficionados and motorcycle racers for several years.
This is newsworthy stuff! Sidi is just ramping up production and North American distribution will start this winter. We're scheduled to get a pair for a webBikeWorld review right around the holidays, but in the meantime, here's the edited Sidi press release and some photographs of the new Sidi Vortice motorcycle boots!
---
It was thought that the award winning Sidi Vertigo Corsa boot was the pinnacle of sport boot technology. Until today, that is, as Sidi is proud to introduce the next step in the evolutionary chain: The "Vortice". (Pronounced: Vor-Tee-Che).
The latest in technology combined with the great skill and workmanship of Sidi's Italian based factory technicians' blend in a whirl of fresh solutions to satisfy a rider's desire for safety and comfort.
The Vortice is an excellent synthesis of the years of experience of Sidi and its designers who conceived its features keeping in mind that the Vortice is the main and essential point of juncture between the bike and the rider.
The CE-certified Sidi Vortice boots will be available in the USA in December 2008. The Vortice is priced at $475 and is available in a non-vented version in black, white, red or blue or a fully vented version in black or white. Metric sizes from 39 to 48 (6 to 13 USA) are available.
Consider the details and you will discover there is no better sport boot available!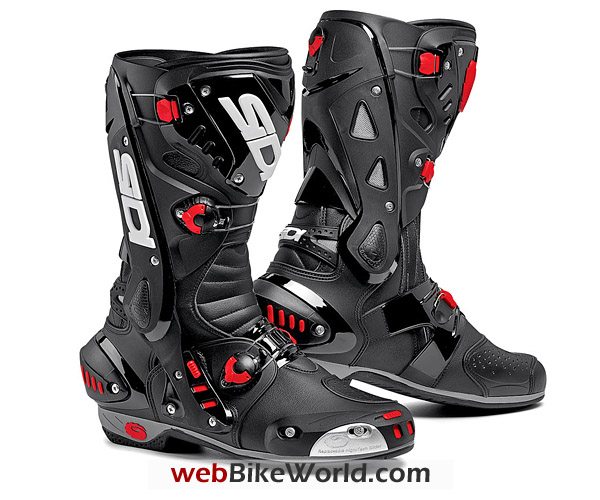 The Vortice is constructed of Lorica and is lined with Teflon vented mesh. The lining in the toe area is in Cambrelle, a soft yet strong lining.
Only Sidi goes to trouble and expense of creating a multiple liner boot system in its racing boots. Lorica is a composite micro fiber material created from strands that are so fine, each one is less than one thousandth the thickness of silk.
When injected with special resins, these fibers act like natural leather skin, but with the addition of better strength, softer texture, lighter weight and better moisture protection. Lorica is also highly resistant to abrasion – yet it still breathes – with more than three million pores per square centimeter.
Easy to maintain, Lorica doesn't stain and can't be scratched and offers reduced weight, more flexibility and more feel than leather racing boots.
The mesh lining is specially treated with Teflon to protect the vented mesh lining. This fabric protection process prevents water or sweat from being absorbed. The boot dries quickly and does not form mold.
Sidi has added a small elastic panel to aid in a smooth zipper operation as it allows a bit of movement via the elastic as the zipper passes over the rider's ankle ball.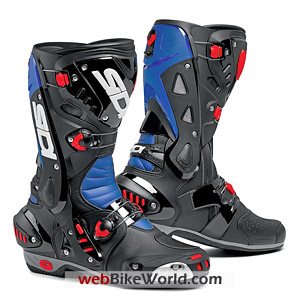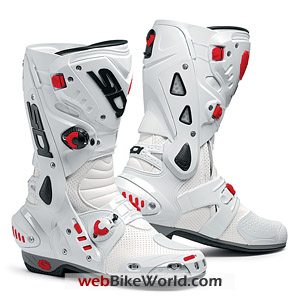 "Tecno" Boot Support System
The rear upper part of the boot is made up of the following mechanisms: the Tecno Calf Tensioner, the Tecno Shin Tensioner and Ankle Support System. This group of features ensures a precise fit and maximum protection:
- Tecno Calf Tensioner mechanism adjusts the leg circumference. Placed in the back of the boots upper, it works through a nylon wire that hooks directly to the shin plate. The Tecno Calf Tensioner is replaceable and it's available in different sizes to fit around various sizes of calf muscles.

- Tecno Shin Tensioner mechanism helps the Tecno Calf Tensioner close the leg upper on the front part of the boot. The two lateral nylon braces join the ankle joint with two screws that are protected by nylon caps. This system is reinforced with fiberglass, supports the ankle and is easy to replace. This system allows excellent flex movement front-to-back while being firm side-to-side.
- Tecno Instep Tensioner: The Vortice features an additional fastening system on the front part of the foot, on the instep. It consists of a wrap-around fascia which can be precision adjusted by the Tecno Instep Tensioner mechanism that was proved critical in rider safety by the previous model, the Sidi Vertigo Corsa.
Other Features
Air Ventilation System: A third brace is positioned on the outer-lower part of the boot and features an air intake that can be operated by an aerodynamic shaped button.

Shock Absorbing Heel Cup: A polyurethane shell holds a shock absorbing insert, visible from the outside through 4 small slits that mark out the look of the heel. The shell is mobile as it's fixed to the boot by 2 screws that allow 3 mm of impact movement.

Shin Plate: The shin plate is made in nylon and it is inserted on a polyurethane frontal support. Both parts are replaceable.

Vortice Slider: The toe slider is made in nylon reinforced with fiberglass. It is fitted with a new air intake and an innovative alloy insert. All pieces are replaceable.

Racing SRS Sole: The all new sole is constructed of a polyurethane and rubber blend. It features a removable insert in front of the arch area where much wear and tear normally occurs due to sharp metal brake pedals and shift levers, another patented-exclusive Sidi feature.

Gear Change Pad: The gear change pad is molded of DuPont Techno-polymers, which ensure that the plastics qualities will not change in high or low temperatures.

Inner Sole: The composite inner sole of the Vortice resists side-to-side compression offering greater protection compared to the leather inner soles that many of Sidi's competitors use. The insole features a removable arch support and will never lose its dynamic characteristics, even after months of intense use; it's water resistant and is designed to withstand high foot peg pressures.
And finally, all of the parts on the Sidi Vortice boot can be replaced!

For more information, contact the U.S. distributor, Motonation.


Note: For informational use only. All material and photographs are Copyright © webWorld International, LLC - 2000-2011. All rights reserved. See the webBikeWorld® Site Info page. NOTE: Product specifications, features and details may change or differ from our descriptions. Always check before purchasing. Read the Terms and Conditions!
Please send comments to
Comments are ordered from most recent to oldest.
Not all comments will be published (
details
). Comments may be edited for clarity prior to publication.
---
From "M" (10/08): "Regarding the statement on the review of Sidi Vortice Boots that says "The Tecno Calf Tensioner is replaceable and it's available in different sizes to fit around various sizes of calf muscles.", I inquired to the US distributor of Sidi boots, Motonation, for what longer sizes are available.
Their reply was "We only have one size for the Tecno II calf and Foot Bridge so what comes on the boot is all we have. I don't have a measurement of it but it is the same between the smallest size we sell to the largest, spare parts no different. "
This probably also goes for the other newer Sidi boots as well since it would make sense that it is identical parts. So to anybody with larger calves who read that statement, they are out of luck. Larger sizes would have allowed larger calves to wear it properly minus zipping them up."