Sidi Sport Rain Boots
Sidi Sport Rain Boots Review
by Rick K. for webBikeWorld.com
Photos by "Burn"

More: wBW Reviews Home | wBW Motorcycle Boot Reviews | Owner Comments (Below)
Summary: Whether you're touring, cruising, street riding or even walking, the Sidi Sport Rain boots have you covered with a unique combination of features that make them the Swiss Army knife of motorcycle boots.
---
Background
If it seems like we've been slowly working our way through the entire Sidi boot lineup, well...I guess we have! And why not? Sidi must have the largest selection of motorcycle boots available, with designs for every type of motorcycle riding you can think of and then some.
The Sidi product line is divided into categories: Off-Road, Racing, Touring and Women. Each category is then further subdivided with boots designed for activities like Adventure-Touring, street/sport riding, track days and full-on racing. And to top it all off, some of the boots are available with either water-resistant or Gore-Tex waterproof membranes.
Some of the boot designs are narrowly focused on a particular activity; for example, you probably won't find a Suzuki DR650SE owner wearing a pair of silver iridescent Bladelux short street/stunt boots while crashing around in the boonies. And it's just as unlikely to find a GSXR owner wearing a pair of Crossfire boots (review) to a track day.
But many of the Sidi boot designs are cross-functional, and the Sidi Sport Rain boots are at the top of that list.
The Sport Rain boots may not be the most well-known Sidi boot model -- but perhaps they should be. Hidden in the Touring lineup, I thought they were a brand-new design added for 2010, but to my surprise, I discovered they've been around for some time. I guess their do-it-all persona makes them blend into the background, overshadowed by their better-known relatives.
I wasn't sure I was going to like them at first, but after wearing them over the last few weeks I've come to appreciate that they are the most versatile boots I own and they have won me over.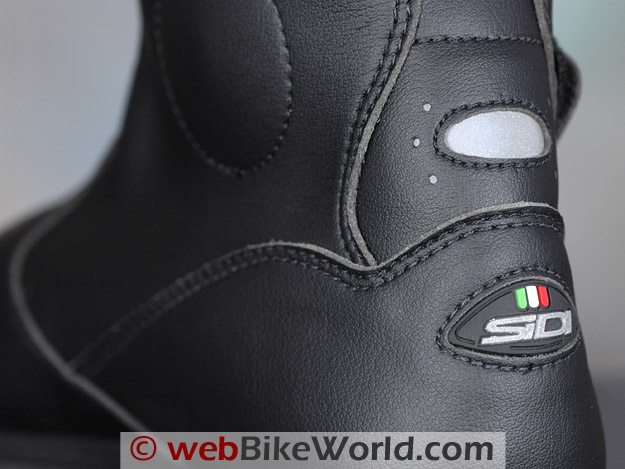 Sidi Sport Rain Boot Features
Sidi Sport Rain boots have two unique features that make them different -- their height and their lug soles.
I measured a couple of different race boots for comparison and they run about 31 cm (~12") or so tall, measured from the bottom of the heel to the top of the boot. These Sidi Sport Rain boots in size 44 measure 26 cm (~10.25"), which still provides decent shin coverage but also makes them much easier to fit under a pair of riding pants. Sidi calls these a "mid height" boot.
I didn't pay attention to the dimensions before ordering the boots, but looking at the photos, the difference is small enough that without a taller boot for reference it might pass unnoticed. When the boots first arrived, I was a bit surprised that they were shorter than I imagined them to be, but as it turns out, the height is just like Goldilocks' porridge; just right.
I discovered that the boots fit very nicely under a pair of textile pants or jeans. Unlike the very short motorcycle boots, the Sport Rain boots help to avoid the "highwater" pants look because they provide enough leg coverage to still remain underneath pant cuffs when I'm in the riding position.
That's one of the things I don't like about short boots -- it looks sort of goofy to have a couple of inches of white socks showing between the top of the boot and the bottom of the cuff. The only way to avoid it is to buy pants a couple of inches longer than necessary, but then the pants can look a few sizes too big when I'm off the bike.
The other most obvious feature of the Sport Rain boots is the lug soles. Not often found on motorcycle boots, this appears to be the same sole design used in the Sidi Adventure Touring boots like the Canyon Gore-Tex (review) and Sidi On Road boots (review).
The lug soles are similar to the famous Vibram design found on hiking boots and, in fact, this feature gives the Sport Rain boots a bit of Adventure Touring flavor, consistent with that Swiss Army Knife persona.
Yet another feature I thought perhaps was a bit odd at first for this type of boot -- that is, until I started wearing them and now I find them to be very comfortable for both riding and walking. I think part of that comfortable and familiar feeling is because I'm used to the feel of this type of sole in my street work boots. The lugs "give" slightly when walking to cushion the shock and they also provide very excellent grip both on and off the bike.
One note about the lug sole design: the Sport Rain boots that are shown on the main Sidi website do not have the lug soles. Instead, they have the more typical flat sole used in some of the other Sidi "Rain" boots like the Mega Way Rain and others.
The lug design is used for North America, so if that's where you live, you're lucky, because the lugs work very well and give these boots a more rugged appeal.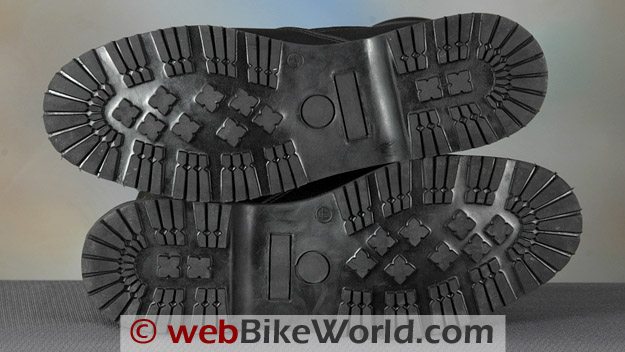 Waterproof or Water Resistant?
The Sidi Sport Rain boots are listed as "water resistant" rather than "waterproof". There appears to be some distinction in those words and how they are used by Sidi; boots that are described as using a Gore-Tex liner are apparently considered to be waterproof, while boots like the Sport Rain boots are described as being "lined with a water resistant material" which, I'm told, is actually a Tepor water-resistant membrane lining.
Thus, the Sport Rain boots are related to the Sidi Mega Way Rain boots; the Way Rain boots and the paradoxically named "Dry Road Rain Boots", in that all of these have a "water resistant material" (i.e., Teport) rather than "waterproof" (Gore-Tex) lining.
We did not subject the Sport Rain boots to the full webBikeWorld bucket test (see sidebar below), but the boots seem to have excellent water repelling and resisting capabilities in about any condition they would theoretically be subjected to, based on winter riding in the rain. I have a suspicion that Sidi is using the Tepor membrane as a Gore-Tex substitute, which probably helps to keep costs in check while providing nearly equivalent water barrier functionality.
The membrane can be seen when the zipper is opened, as it forms a barrier to prevent water from entering in this area.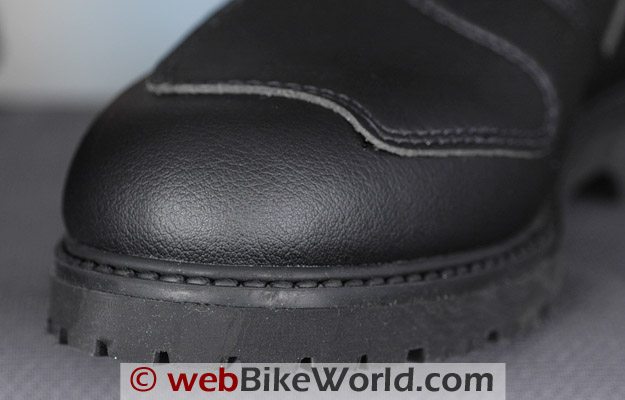 Fit and Comfort
The outline shape of the sole and the toe form used in the Sidi Rain boots is similar to that used in a work boot and appears to be common with other Sidi Adventure Touring boots. Both of these features provides a bit of extra room in the toes, which is appreciated.
The size 44 Euro boots shown here fit to size and are equivalent to a U.S. men's 10.5 and the width is proportionally correct.
The Sport Rain boots are available in extended sizes that range from 38 Euro (5.5 US) all the way up to a 50 Euro, which is equivalent to a U.S size 14.5. By the way, the Sidi Mega Way Rain boots are taller and come in extra wide versions for those with larger feet.
The Sport Rain boots have the typical Sidi lining and less padding or foam than some of the others I've tried. The thin lining is a good feature actually, because it helps the boots fit more true to size and too much foam lining can trap heat and moisture.
The water-resistant membrane must be located between the inner fabric liner, which Sidi says is treated with Teflon, and the outer Lorica material used for the boot. They're getting very, very good with Lorica; I had no idea the boots weren't leather until I read the description.
The Lorica used on the boots looks and feels like leather and Sidi says it is stronger, more pliable, easier to care for and more abrasion resistant, while also having better breathability. Sounds like a winner to me! The only downside? No leather smell!

wBW Flash Slide Show: Sidi Sport Rain Boots
Safety Features of the Sidi Sport Rain Boots
Besides the extra abrasion protection offered by the Lorica leather substitute, the Sport Rain boots have many of the same safety features found in other Sidi boots.
These include an inner heel cup and ankle protection on the inside, along with toe cups that can be felt under the Lorica. The front of the boots along the shin includes air cell padding for protection. The boots are double-stitched in all of the major areas.
Each toe has a large added shift pad that is double-stitched and the boots have small reflective areas in the rear (see the slide show). Although the Sport Rain boots apparently do not have a metal or other type of stiffener used in the sole, the thick lug sole provides a good amount of torsional strength and it's nearly impossible to twist the sole by hand.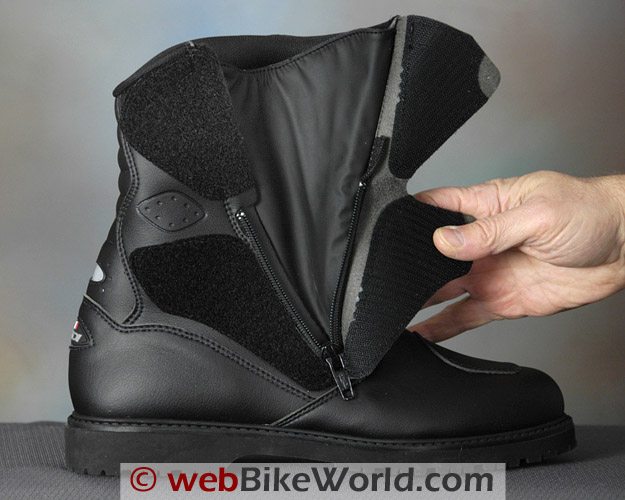 The short zipper used on the Sidi Sport Rain boots is angled rather than vertical.
Zipper and Boot Entry
The Sport Rain boots have a zipper on the outside, which is covered by two Lorica flaps in the shape of a "V" that fasten to the boot with hook-and-loop. The zipper is not vertically oriented and it does not reach all the way down to the sole like it does on some of the taller race boots we've reviewed.
This brings me to the one issue I have with the boots, and that is that they are more difficult to put on than they should be. I think there are several reasons for this, but there's an upside too.
Update on the "Bucket Test"
We finally got up enough courage to put these great-looking boots on and dip 'em in the water, where they proved to be waterproof as claimed.
The leather retained some water and it took several hours to dry them out -- which is why we didn't want to do it in the first place. But in any case, the Sport Rain boots seem to meet Sidi's claims for waterproof capability. - Bill C.
The main problem is primarily due to the length of the zipper, which is relatively short at about 80 mm. The zipper is angled towards the front of the boot and it ends about 35 mm up from the sole because of the design.
I'm not sure why Sidi didn't use a straight zipper on this boot, which usually makes it much easier to get into and out of the boot; I've found this problem on other boots with an angled zipper also.
The angled zipper and its shorter length makes it difficult to spread the boot wide enough to allow my foot to slip easily inside. It seems to take more effort than I'd like to push my foot down and forward to get it through the bend so my slides in to the back.
The upside of the tight fit is that the boots feel secure once they're on; if they made the boot wider across the arch, then it probably wouldn't fit correctly when it was secured.
The angled zipper requires more effort to close because the front of the boot has to be pulled back to narrow the opening enough for the zipper to be pulled. The short zipper also doesn't have as much fore/aft flexibility as a longer zipper might also.
The zipper is a coil type, which typically isn't as smooth as other types of zippers with nylon teeth, so it takes more effort than I'd like to pull it closed. I think if it was a tooth type or if it had a more open tooth profile that it would be easier to pull, but the best solution would have been to install a vertical zipper.
The zipper pull is small also, which complicates matters because it doesn't offer a lot of surface area to grab.
And finally, because the zipper is located on the outside of the boot, right-handers have to reach around the outside of the left boot to pull, which can be clumsy. Also, the material used for the boot lining is rather grippy, so my foot doesn't slide down into the boot as smoothly as it could, at least when wearing cotton or thick socks.
This probably sounds more troublesome than it is, because once all of this is overcome and the boots are on, the boots do feel snug and secure and there are no other issues to report.
The upside? The Sport Rain boots will most likely stay on your feet in a crash, which is crucial. The snug fit gives them the security of a pair of laced boots. So a bit of bother in putting them on is the small price you pay for security.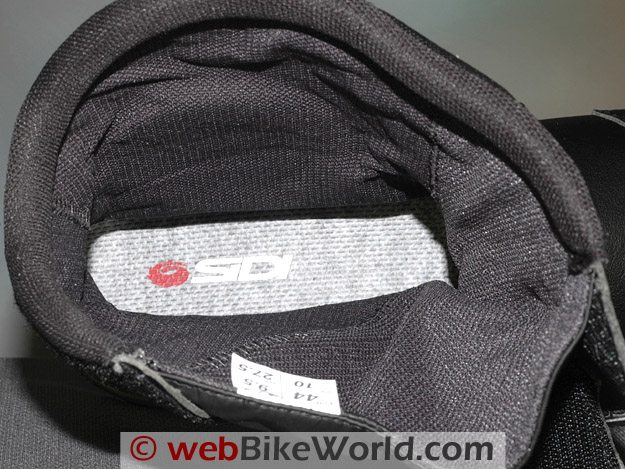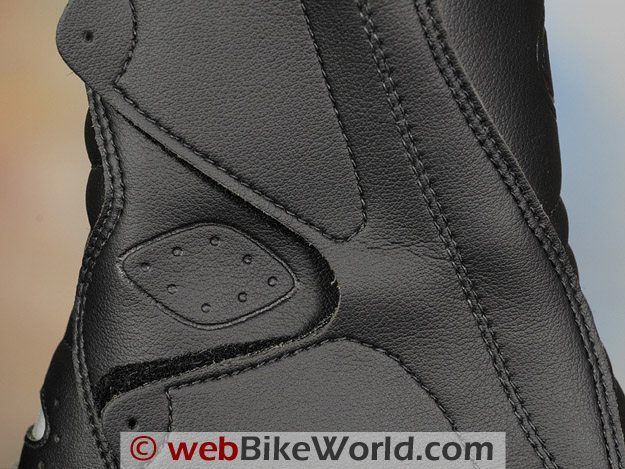 Conclusion
The discussion about the zipper and the slight difficulty in putting the boots on may or may not be an issue, depending upon the owner's foot size, shape and ankle and calf dimensions. It does not, however, override the qualities of the boots once they're on.
I don't miss the extra few centimeters of height at all, and, in fact, the snug fit towards the top of the boot allows me to wear these with jeans and other motorcycle pants that don't always work with motorcycle boots that are shorter than the Sidi Sport Rain boots.
I find myself reaching for these every time I'm going for a ride where I'm not dressed in all-out race leathers and boots. I especially appreciate the lug soles and the way they make the boots feel like a street boot, and the fit of the boots makes it easier to walk. The design of the boots also helps to make them appear like a "normal" boot, so I don't feel foolish when walking around in the store.
The bottom line is that I like the Sidi Sport Rain boots way more than I thought I would when they first arrived and I've been wearing them with every outfit other than full leathers that need to be tucked into regular tall race boots like the Sidi B2. If you're interested in a do-it-all motorcycle boot that doesn't look like a street work boot but feels like one, all while providing good protection, the Sidi Sport Rain boots are definitely worth a look.
wBW Product Review: Sidi Sport Rain Boots

Available From: Motonation (U.S. Distributor) Manufacturer: Sidi (Italy)
List Price: $200.00
Colors: Black.
Made In: Romania
Sizes: 38-50 (5.5-14.5 US)
Publication Date: April 2010 Comments: Boots provided by Motonation for this review per our review guidelines.
Note: For informational use only. All material and photographs are Copyright © webWorld International, LLC since 2000. All rights reserved. See the webBikeWorld© Site Info page. Product specifications, features and details may change or differ from our descriptions. Always check before purchasing. Read the Terms and Conditions!
Please send comments to
Comments are ordered from most recent to oldest.
Not all comments will be published (
details
). Comments may be edited for clarity prior to publication.
---
From "P.S." (4/10): "Iíve been limited in my selection of boots given I wear a size-14; however, Iíve put about 1,500 miles on my Sidi Sport boots so far and am quite pleased.
The zipper/Velcro closer is easy to get used to. But just like a zipper on a pair of pants you need to be careful that any loose fabric is kept away from the zipper or it can jam.
In the case of the boots, there is thin, folding piece of water-proof webbing that must be away from the zipper while closing. Also, like pants, you really donít want to use the zipper to ďcloseĒ the opening or you may break it. That you do with your hands and then the zipper easily closes and will hold it things shut."
---
From "B.R." (4/10): "I saw your review of the Sidi Sport Rain Boots. I've owned a pair for about a year now and have worn them in every type of weather, from triple digit temps to snow. They've held up great. Once I broke them in, they became fairly comfortable. And after 4000+ miles of riding in them, they barely show any wear. I purchased them from one of your sponsors, RevZilla, and I can highly recommend the boots and RevZilla."