Alpinestars CR-4 Gore-Tex XCR Boots
Alpinestars CR-4 Gore-Tex XCR Boots Review
by Bill C. and Rick K. for webBikeWorld.com
---
More:
▪ wBW Reviews Home
▪ Owner Comments (Below)
▪ wBW Motorcycle Boot Reviews
Summary
The Alpinestars CR-4 Gore-Tex XCR boots are brand new for Fall 2011.
First announced in the summer of 2011, the boots are just now available for sale.
Designed as a cross between a hiking boot and a motorcycle boot, with light protection, they're as comfortable as they are good-looking and the inclusion of the Gore-Tex membrane is icing on the cake.
Background
Alpinestars announced the CR-4 Gore-Tex XCR motorcycle boots sometime around late August of 2011, with advertisements in several U.S. print magazines.
Why they decided to publish ads for the boots before the product was ready for sale is anyone's guess, but the announcement must have generated a lot of interest among motorcycle riders, because it brought a wave of emails to the Editor's Inbox with requests for a webBikeWorld.com review!
It took almost four months from when those ads were published for the boots to wend their way from the factory, through the overseas pipeline, then from the distributors to the retailers' shelves. I can only guess that the holdup might have been due to the final inspection and sign-off by W.L. Gore & Associates, Inc., who have the final say to determine whether a manufacturer and the manufacturing processes are up to snuff so the "Gore-Tex" label can be displayed.
But that's neither here nor there, at this point, because the boots have finally arrived and it was worth the wait, so let's take a look!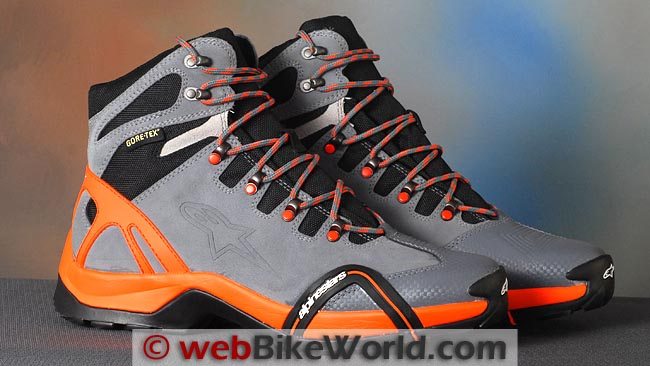 The "Short Motorcycle Boot" Phenomenon
Now before you fret over the gray and safety orange colors of the CR-4 boots shown in these photos (as I know some of you will!), rest assured that Alpinestars makes the boots in basic black or a mostly gray version with just a touch of yellow for the accents.
We immediately took a fancy to the gray and orange version because the color combo gives the boots some flash. I suppose it could also be argued that the safety orange color adds a bit of daytime visibility. In any case, I/we like this version and that's all that matters!
The CR-4 Gore-Tex XCR boots fit into what is termed the "Short Motorcycle Boots" category on the webBikeWorld Motorcycle Boot Reviews page (which features an index of every motorcycle boot review published on the site).
We've reviewed many different boots of this type over the years but, in fact, there really was no such thing as a "Short Motorcycle Boot" category around 12 years ago when webBikeWorld first came online.
Sure, there were work boots and hiking boots, but the short boot phenomenon is relatively recent, pretty much starting with the excellent Kochmann SC 1000 Scout boots (review) from Germany that were purchased by the Editor and are a current benchmark by which all other boots of this type are compared.
That the Scout SC 1000 boots are still being made by Kochmann after all these years is a testament to their inherent goodness and it confirms the validity of this design.
Many different companies now make short boots of various types -- including Kochmann -- but the Alpinestars CR-4 Gore-Tex XCR boots (that's a mouthful!) are the current cream of the crop, for a variety of reasons.
The short boot styles generally have the appearance and features of rugged hiking boots and they are usually biased towards comfort for walking, making this style much more wearable as soon as your feet touch the ground. I can and do easily walk around in stores or restaurants wearing the Alpinestars CR-4 XCR boots and no one knows the difference.
OK, so maybe the safety orange accents on the CR-4 boots are a bit over the top for a restaurant (depending, of course, on whether we're talking Gus's Hot Dogs in Watervliet, New York or Volt in Frederick, Maryland). But you get the idea.
In comparison, walking around in a pair of, say, Sidi Crossfire boots (review) is difficult enough to do in the garage and basically out of the question for window shopping along Main Street. But it's no problem at all with something like the Alpinestars CR-4 Gore-Tex XCR boots and, in fact, you might even be considered fashionable!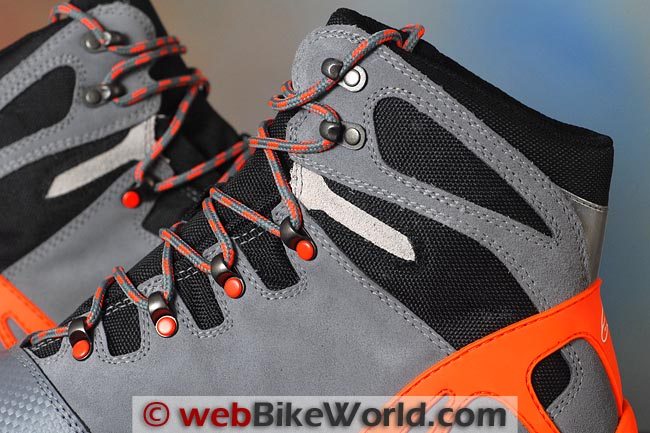 Speed lacing system of the Alpinestars CR-4 Gore-Tex XCR Boots.
BUY YOUR
Motorcycle Books, GPS, Electronics,
Training Videos, Clothing and More
At the

w

BW

Amazon.com Store!
Alpinestars CR-4 Gore-Tex XCR Boots - Details
It would be nice if this type of boot had the same protection as a full race boot, but surely they would not be as comfortable to wear. Therefore, it's important to understand that this short boot style -- including the Alpinestars CR-4 boots -- is somewhat of a compromise, at least in terms of the level of protection they provide.
A full-on race boot almost always offers more protection, due to the safety features. But I think it's generally safe to say that the greater the protection, the less comfortable the boots will be for walking or general street use.
I'll take a wild guess, just for argument's sake, and say that the Alpinestars CR-4 Gore-Tex XCR boots are designed about like an 85% hiking boot with 15% motorcycle boot protective features, where something like the Sidi ST boots (review) are just the opposite at maybe 95% protection and 5% comfort.
Again, it's all a matter of compromise -- you're simply not going to walk around Macy's in a pair of Sidi ST boots, while that would be a perfectly fine thing to do in a pair of the Alpinestars boots. So while it's great to have ultimate protection, in reality I understand the differences, when each boot type is appropriate and I'm willing to adjust my risk tolerance accordingly.
That said, the Alpinestars CR-4 boots do have some built-in protection. First of all, the "rough-out" type leather used on the outers feels pretty thick, so that counts for something. And the boots do have TPU inserts under the leather at the heels and toes.
Alpinestars says that the CR-4 boots also have a "metal shank in the heel and a TPU shank in the plantar arch area for enhanced structural rigidity", which is also a plus. And the safety orange along the sides and the retro-reflective material in the rear of each boot helps also.
While the toes do not have a metal or TPU insert, they are covered with an added layer of polyurethane-coated leather, which helps reduce shift lever wear and hopefully will provide some abrasion resistance.
The one thing they seem to be missing is a TPU type protector over the ankles. I can feel a small disc-like protector on the outside, so the boots do have some added protection in this area but Alpinestars should add a larger or tougher disk for ankle bone protection.
All told, the CR-4 boots have more protection than your average leather work boot or hiking boot and the taller height for ankle coverage (that is also cut lower in the back to prevent chafing and to allow forward/backward foot movement) is an added bonus.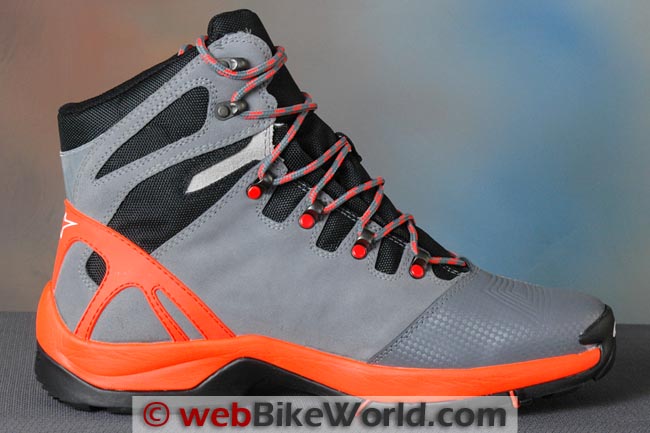 Alpinestars CR-4 Gore-Tex XCR Boots inside view.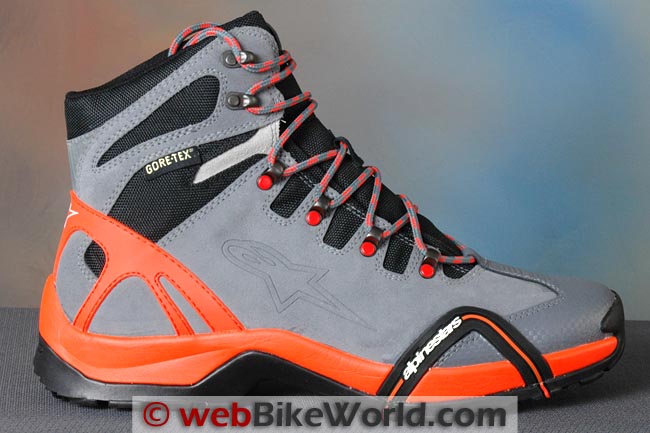 Alpinestars CR-4 Gore-Tex XCR Boots outside view.
Alpinestars CR-4 Gore-Tex Boots - Overall Quality
The toes of the CR-4 boots have a very nicely formed rubber bumper in front that is molded as part of the soles. This brings me to another aspect of these boots -- the quality, which is outstanding.
The moldings and stitching on the boots is very nicely done, with perhaps only a tiny bit of roughness along the edges of the tongue with a couple of threads hanging free that only a real nitpicker would gripe about.
All of the stitching (other than on the orange heel surround) is double row and it's perfectly aligned, with no over-runs or mistakes that I can see. I'll bet some of this attention to detail is due to the association with Gore-Tex, who have become persnickety -- and rightly so -- about the quality of the products that carry their brand.
Sizing, Fit and Comfort
One really nice feature of the Alpinestars CR-4 boots is the excellent and roomy internal shape and fit.
Alpinestars makes the CR-4 boots in an expanded size range, which is good for North American customers especially, as the typical size spread between 42, 44 and 45 European sizes almost always eliminates the half-sizes we're accustomed to. The 42, 44 and 45 Euro sizes equate to 9, 10 and 11 in U.S. sizing, so 9.5 and 10.5 (and 11.5) foot sizes can be difficult to fit in many brands.
The CR-4 boots come in 42.0, 42.5, 43.0, 43.5 and 44.0 (in addition to an expanded range from 38.0 (U.S. size 6) all the way up to 48.0 (U.S. size 14). That's fantastic news and the size 43.5 shown here fits exactly as expected -- just like a size 10.5 U.S. work or hiking boot.
There's also plenty of room in the toes (width) and across the top of the arch; in fact, when the boots first arrived, I thought they looked too big but, as it turns out, they're perfect. In fact, I wish I could find street shoes that fit as well. So kudos to Alpinestars for making this non-standard size range happen.
The sizing factor and the hiking boot lining means the CR-4 boots are among the most comfortable motorcycle boots I've ever worn. They don't have too much padding and lining, which can be a problem in some motorcycle boots of this type. Sometimes too much padding changes the fit and can isolate the all-important foot peg feel that a motorcycle rider needs to help communicate with the bike.
The soles are molded in a single piece from some type of very sticky rubber and they're thick enough to give a good "bounce" and cushion when walking. There's a nicely-formed channel in front of the heel, which helps locate the rider's foot for initial placement on the pegs.
The soles are then angled towards the underside of the toes and front of the foot, which makes it easy to then slide the feet back on to the foot pegs for proper riding placement.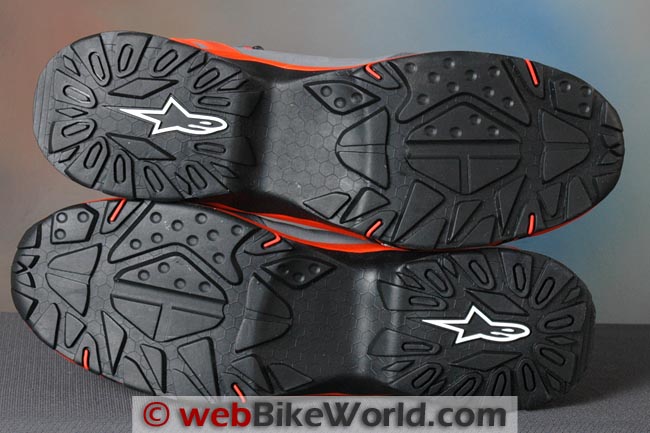 Sticky rubber soles of the Alpinestars CR-4 Gore-Tex XCR Boots.
Riding With the Alpinestars CR-4 Gore-Tex XCR Boots
The CR-4 boots have my favorite "speed" lacing system, with hooks on top (the top two rows) along the ankle for fast lacing. The single continuous lace runs through four pairs of metal loops across the top of the arch, which allow the lace to be pulled while providing even tension all the way up and across.
While we did not soak the boots in a tub of water, so far the Gore-Tex membrane has kept my feet dry in a couple of rain storms while riding and also when walking in some pretty heavy rain with puddles.
The boots do not have air vents or specific ventilation intakes, but the Gore-Tex seems to work, as my feet do not feel abnormally hot or sweaty.
The toe is about as thick as wearing a pair of hiking boots or heavy work boots and it fits under the shift lever without issues. I have also noticed that the cushioned soles help dampen some of the vibrations from the bike and they do give a lot of traction on slippery surfaces.
►
Alpinestars CR-4 Gore-Tex XCR Boots Slide Show
◄
Conclusion
While this type of motorcycle boot may not be as protective as a full race boot or even a sport-touring style tall motorcycle boot, it does provide at least some protection with its motorcycle-specific feature set. It's also a lot more comfortable for everyday use and for walking once you're off the bike.
The price of the CR-4 boots is a bit higher than some of the other short boots reviewed on webBikeWorld, but the quality is there and the genuine Gore-Tex membrane makes the difference. They could use a bit more protection, but the bias towards street usability is deliberate and it does make the boots more useful in ways that other types of motorcycle boots can't.
The Alpinestars CR-4 Gore-Tex XCR boots are very comfortable and practical. They're also good-looking and the expanded size range makes a big difference also. I think they're well worth the price, especially considering what a good pair of street work boots or hiking boots cost. I can highly recommend them as a new favorite.
More wBW Motorcycle Boot Reviews | All wBW Motorcycle Product Reviews
w

BW

Review: Alpinestars CR-4 Gore-Tex XCR Boots

Manufacturer: Alpinestars
List Price: $199.00
Colors: Black, Gray/Yellow or Gray/Orange.
Made In: Vietnam
Sizes: 38-48 (U.S. 6-14).
Review Date: November 2011
Rating:
Note:
For informational use only. All material and photographs are Copyright © webWorld International, LLC since 2000. All rights reserved. See the webBikeWorld®
Site Info page
. Product specifications, features and details may change or differ from our descriptions. Always check before purchasing. Read the
Terms and Conditions
!
Please send comments to
Comments are ordered from most recent to oldest.
Not all comments will be published (
details
). Comments may be edited for clarity prior to publication.
---