2009 Powersports Dealer Expo Report
World Exclusive! The webBikeWorld Live Report From the 2009 Powersports Dealer Expo
Indianapolis, Indiana - February 13-16, 2009
by Rick K., Editor, webBikeWorld.com
This is Page 4 of our live report.
Index

Indy Live!
Port-A-Chopper Folding Trailer
Ceramic Bearings
Speedway Shelters
Heidenau Tires
EZ-Cruz Cruise Control
Road Warrior Paint Protection
Forcefield Sub-Pro 4
Wacky Wheels
Teiz One-Piece Suit
Xena Security
HJC Helmets
Knox Armor
Expo Comments
Caberg Helmets

Page 4 (This Page): Saturday, February 14, 2009

Marushin Helmets
Tourmaster and Cortech
Lazer Helmets
Sym & Homage
Streetfighter MID
Akuma News
Wheels 4 Tots
Marketing 101
Thermafur Vest
Special Report: Fulmer Helmets!
Special Report: Suzuki TU250!

Monday, February 17, 2009 - Final Reports

Shark Helmets
Rev'it 2009 - In Process
Caberg may have second thoughts about entering the tough North American motorcycle helmet market, but not Marushin. They're going full speed ahead.
Marushin may not be a well-known brand in the U.S.A., but their helmets have been relatively popular in Europe for some time; we reviewed the cool-looking but flexy Marushin X-Moto in July of 2007.
Marushin is known for very lightweight helmets, and their RS1 Carbon full-face helmet shown below was (I believe) the first carbon fiber helmet to get five stars in the UK's SHARP rating system.
The carbon fiber motocross helmet shown below weighs an incredible 850 grams, according to their marketing rep. Of course I didn't have the webBikeWorld scale with me, but the helmet feels super-light (although I don't know what size I was holding, it looked like a small).
They were also showing a "tank" style helmet, similar to the hard-to-find and built-like-a-tank Draxtar P-104 helmet we reviewed that has become very popular with some riders.
It's nice to see a new (to the U.S.) helmet manufacturer making a go of it because more choices are better for the consumer, and we wish Marushin the best of luck!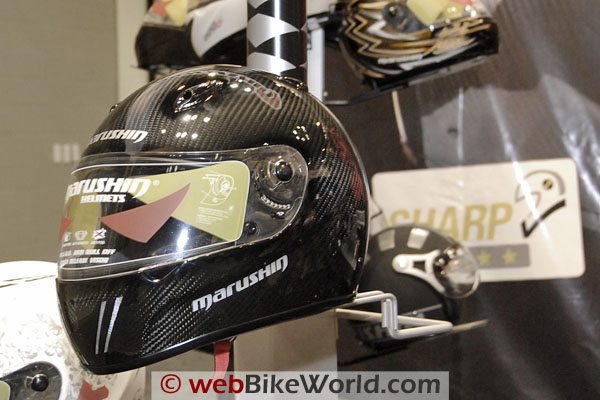 Marushin RS1 Carbon was awarded five stars in the UK's SHARP rating scheme.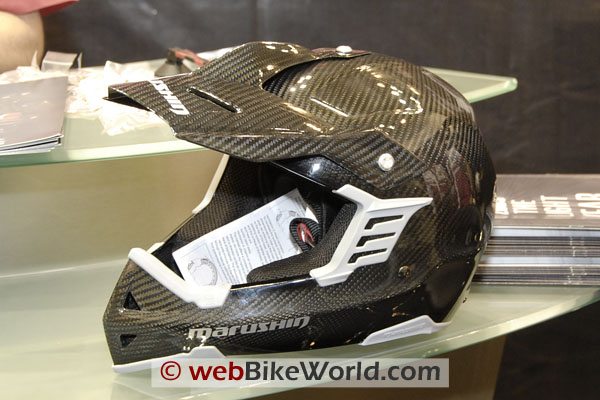 This Marushin carbon fiber motocross helmet is said to weigh 850 grams and feels like it!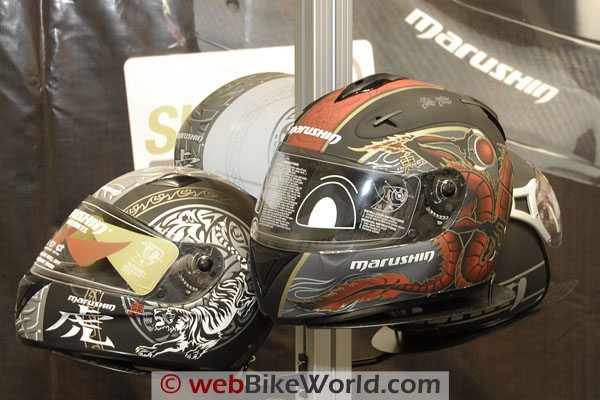 Some Marushin full-face helmets with Japanese-inspired graphics.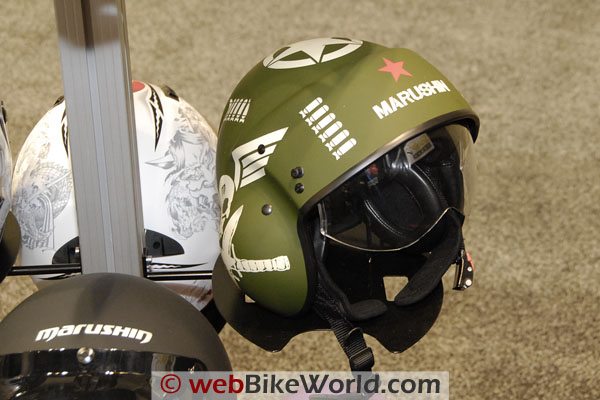 A Marushin version of the Draxtar P-104 helmet.
The lighting at the show comes from so many angles and is so varied that taking photos with true color rendition is beyond just a challenge -- it's impossible. But I must say that each year the Tourmaster and Cortech display has, uh, the most challenging lighting of anyone.
The two photos below are a good example. The Transition 2 jacket is actually a nice tan color and the Intake Air and Sonora Air short jackets in the photo below are high-visibility lime yellow, but show up as drab yellow in the photos (although high-viz yellow is nearly impossible to capture in a photograph even under ideal lighting conditions).
This is why I don't usually cover many of the new Tourmaster/Cortech products at the show, which is a shame, because I've always had a soft spot for Tourmaster products. I'd characterize their clothing as honest with an excellent value. Sort of the working-class of the motorcycle apparel world.
We have a Tourmaster Transition 2 3/4-length jacket in the review process and the high-visibility short jackets look interesting also, so we'll have to put them on the list too.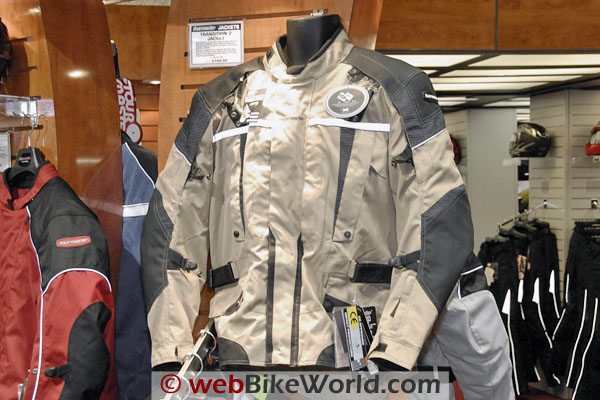 Tourmaster Transition 2 jacket in tan has a very aggressive list price of $189.99.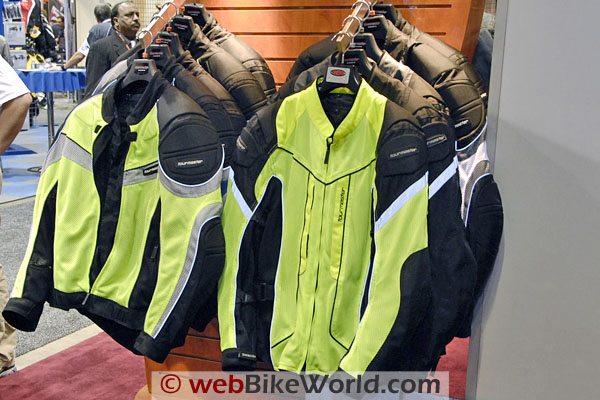 Tourmaster Intake Air jacket (L) lists for $179.99 and Sonora Air mesh jacket (R) for $199.99.
2009 Expo Report Home | Next: Page 5

Note: For informational use only. All material and photographs are Copyright © webWorld International, LLC - 2000-2011. All rights reserved. See the webBikeWorld® Site Info page. NOTE: Product specifications, features and details may change or differ from our descriptions. Always check before purchasing. Read the Terms and Conditions!