2009 Powersports Dealer Expo Report
World Exclusive! The webBikeWorld Live Report From the 2009 Powersports Dealer Expo
Indianapolis, Indiana - February 13-16, 2009
by Rick K., Editor, webBikeWorld.com
This is Page 2 of our live report.
Index

Indy Live!
Port-A-Chopper Folding Trailer
Ceramic Bearings
Speedway Shelters
Heidenau Tires
EZ-Cruz Cruise Control
Road Warrior Paint Protection
Forcefield Sub-Pro 4

Page 2 (This Page): Saturday, February 14, 2009

Wacky Wheels
Teiz One-Piece Suit
Xena Security
HJC Helmets
Knox Armor
Expo Comments
Caberg Helmets
Marushin Helmets
Tourmaster and Cortech
Lazer Helmets
Sym & Homage
Streetfighter MID
Akuma News
Wheels 4 Tots
Marketing 101
Thermafur Vest
Special Report: Fulmer Helmets!
Special Report: Suzuki TU250!

Monday, February 17, 2009 - Final Reports

Shark Helmets
Rev'it 2009 - In Process
The word "Powersports" in the Dealer Expo title means there's a lot more than motorcycles. Powersports dealers also make money (hopefully) on scooters, ATVs, snowmobiles, lawn and garden tractors and equipment, bicycles and, uh, alternative forms of transportation (AFTs?).
So there's always an interesting variety of what to us in North America seem like strange-looking vehicles. The 3-wheeler is always popular because it can be registered as a motorcycle in most/all U.S. states. And 3-wheelers are all over the show this year. Here's a sampling of some AFTs: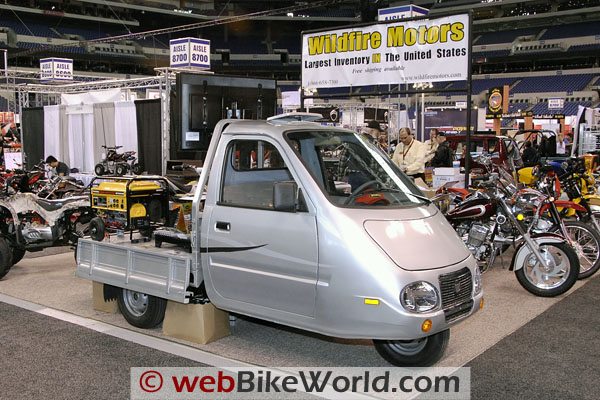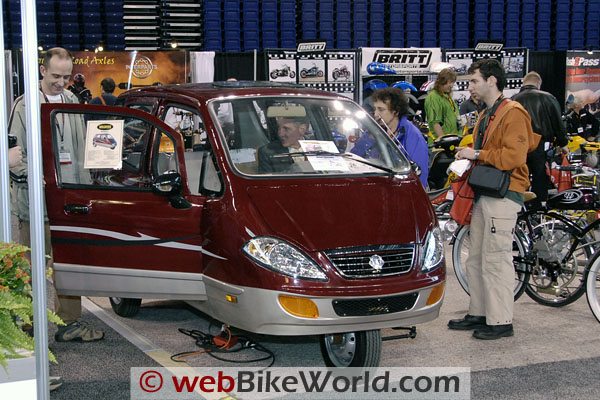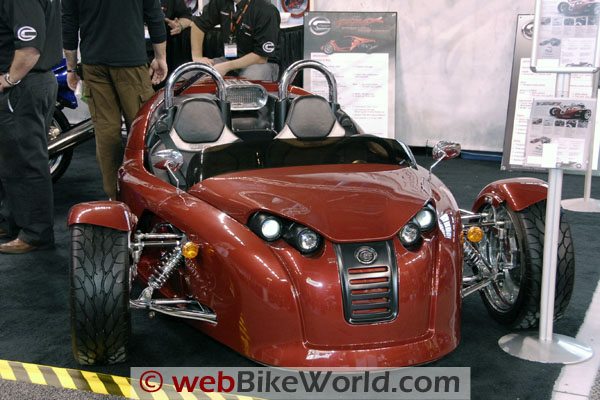 This one features a 1 liter slant 4 engine and a claimed 78 MPH top speed.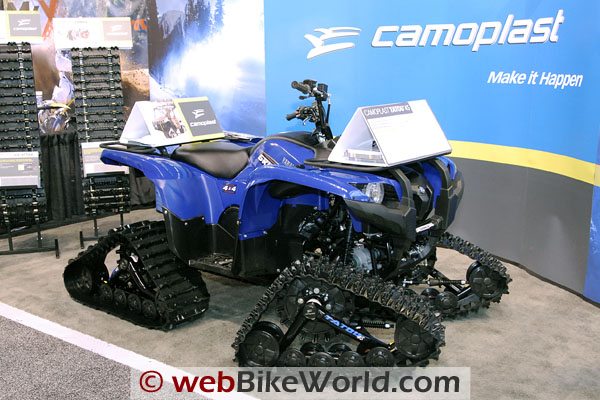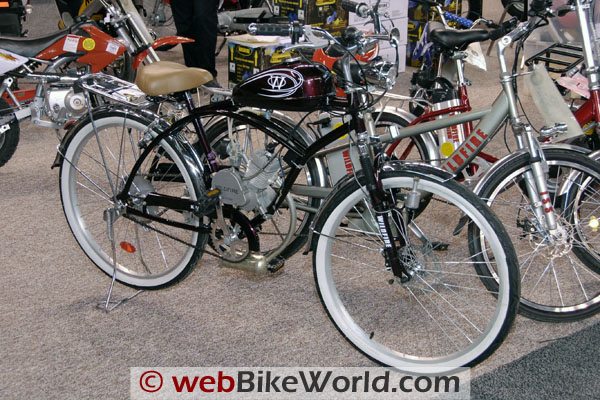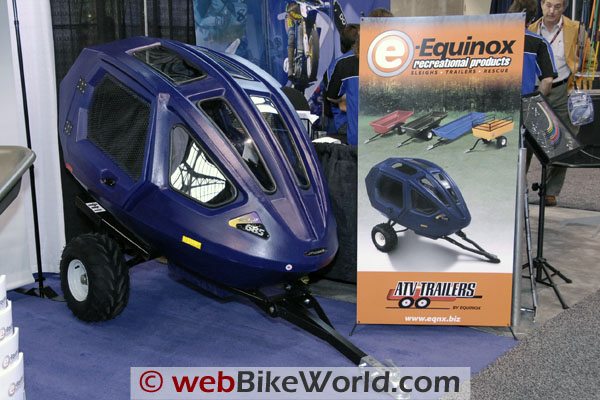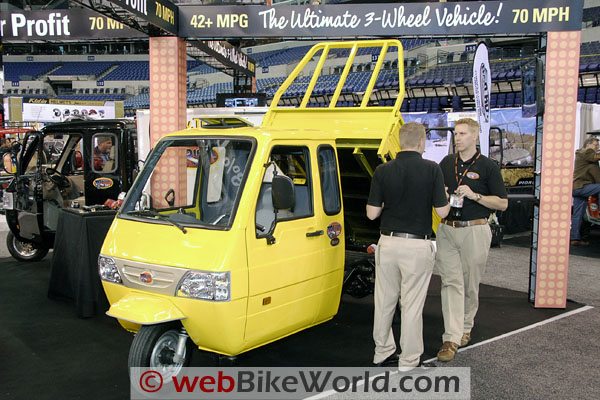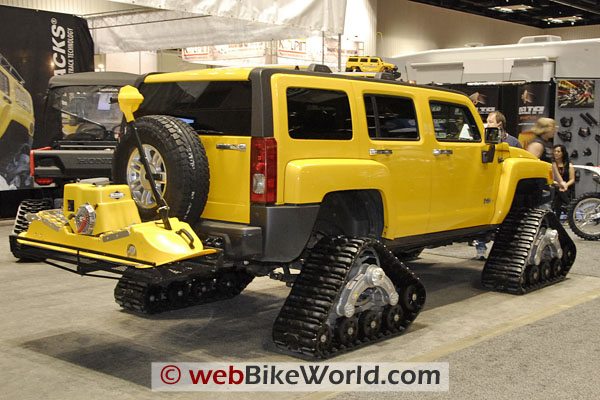 How about a Hummer snow vehicle, with...what the heck is that on the back?
More to come...
►Teiz Motorsports One-Piece Suit
Here's an interesting one-piece suit from Teiz Motorsports with many unique features, such as map pockets, ID card pockets, a built-in backpack and hydration system holder and more. It has full CE armor and (non-CE) shin armor included. The suit also comes in a wide variety of colors, including several high-visibility hues.
Also, it's available in a full mesh version, which would be the first all-mesh one piece suit I've seen. We'll be reviewing this soon.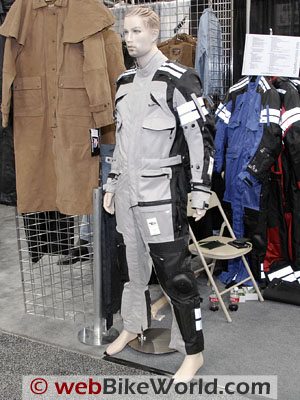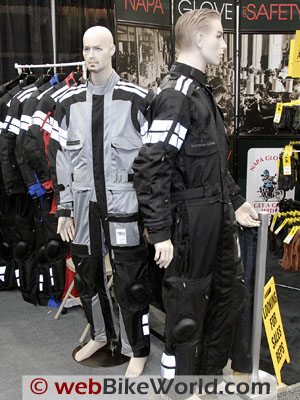 Teiz Motorsports suit, Cordura version on the left, and the full mesh version in gray on the right.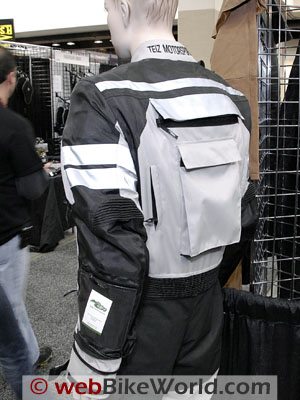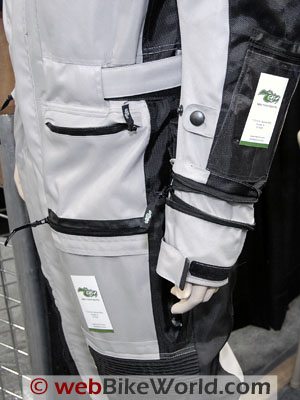 Xena had an interesting assortment of motorcycle security products, with a "system" starting with a new type of concentric floor anchor that just received 4 stars in the ART (Holland) tests. The photo below shows the floor anchor working with a chain and a chain lock that doubles as a disk lock when you're on the road.
Their disk locks now have a new "snake head" shape, said to better resist hammering because it has more curved surfaces. Also, the alarms are modular throughout the lock lineup and the batteries will be CR2, the more powerful and easier to obtain camera battery that looks like it's about half of a AAA. The CR2 also allows the alarm to work in a wider range of temperatures.
They also showed me a new portable perimeter alarm system that can be hung anywhere on the bike and has a remote control and warning chirps.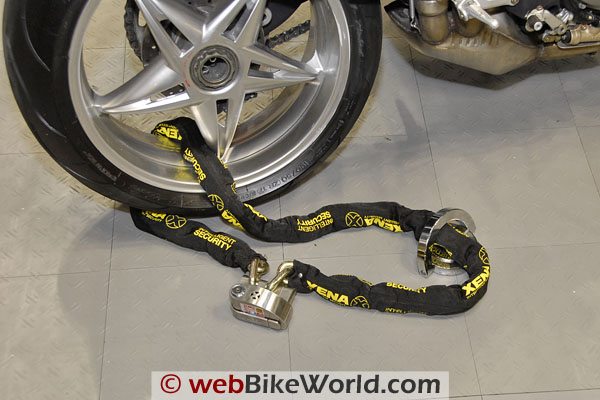 Xena floor anchor (R) and chain lock/disk lock alarm combo.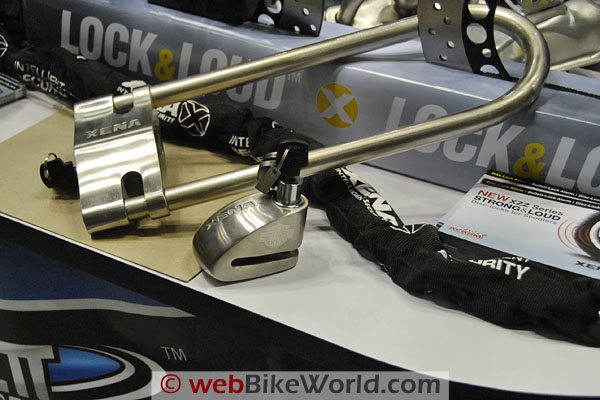 The smaller lock is the new shape of the Xena disk lock, said to better resist a hammer or chisel.
2009 Expo Report Home | Next: Page 3

Note: For informational use only. All material and photographs are Copyright © webWorld International, LLC - 2000-2011. All rights reserved. See the webBikeWorld® Site Info page. NOTE: Product specifications, features and details may change or differ from our descriptions. Always check before purchasing. Read the Terms and Conditions!