BMW Scooter Oil and Filter Change
Changing the Oil and Filter on the BMW C 650 GT
by Rick K. for webBikeWorld.com
More: BMW C 650 GT Blog
---
Background
I finally got around to changing the oil and filter on the C 650 GT and here's my report.
It's a relatively easy job, with no surprises.
It would be nice if BMW had a shop manual though; I don't know the torque values for the drain plugs.
That's right -- there are two drain plugs, which I'll describe (also see the photos below).
BMW is very specific about the oil type to be used in their scooters, and I described this in detail in my BMW Scooter Maintenance Schedule report.
So I ordered up a jug o' Repsol Moto Rider 4T 15W50, figuring I'll now also have part ownership in Marc Marquez and Dani Pedrosa's battle for the 2013 MotoGP championship in my own little way!
The Repsol stuff is both SJ and JASO MA rated, which is specified by BMW. I figure this is important, just in case something happens and I don't want BMW saying I didn't use the correct oil.
Besides, it's fairly cheap, all things considered, at 29 bucks and change for the 4-liter jug and -- guess what? That included free shipping! That in itself saves me a sawbuck in gas, wear 'n' tear and time, making the real price downright cheap.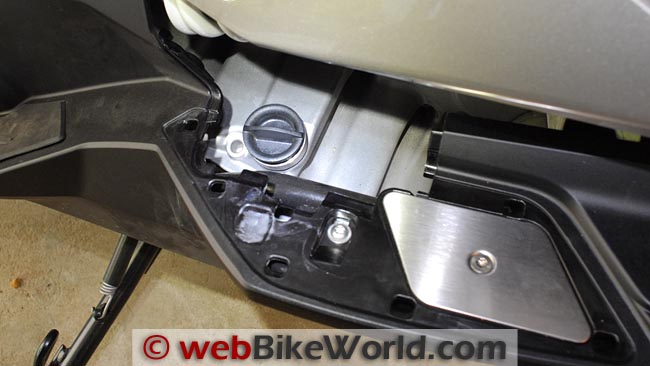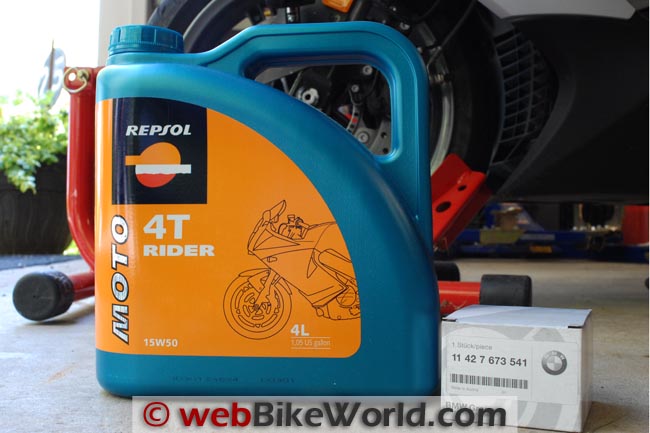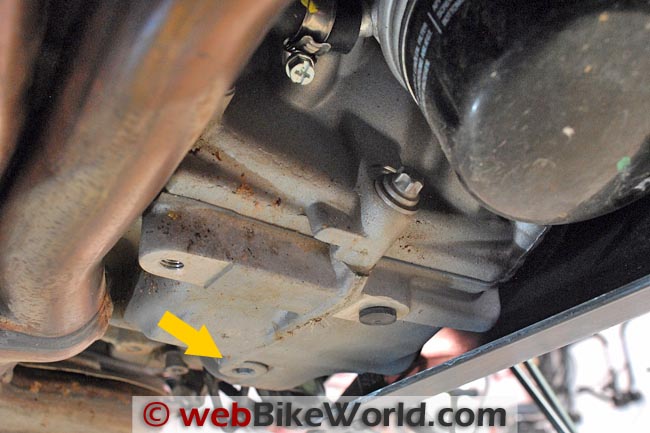 Front engine oil drain plug on the BMW scooter. Note location of oil filter, upper right (towards front wheel).
Draining the Oil
BMW (or anyone else) has yet to release a shop manual, so I'm flying blind here with the oil change. But there are apparently two drain plugs; one for the engine, just to the rear of the filter (photo above) and another drain plug under the oil reservoir on the left-hand side of the scooter.
The engine drain plug (standard 8 mm hex) uses a metal crush washer, available from the BMW dealer. I should have measured it, because there are probably substitutes, but didn't. Maybe next time...
I put the scooter on the Baxley Sport Chock (review) because it keeps the scooter closer to level than the center stand, but the center stand should work just fine. The drain plug is the standard 8 mm Allen head type, it's easy enough to remove and drain the oil into a low, flat pan.
Note that the front engine oil drain plug only drains about 1.5 liters of oil. The rest of the oil is in the reservoir on the left, under the reservoir, shown in the photo below. I'm not sure how the oil gets from one low point to another; let's just hope the oil pump doesn't fail!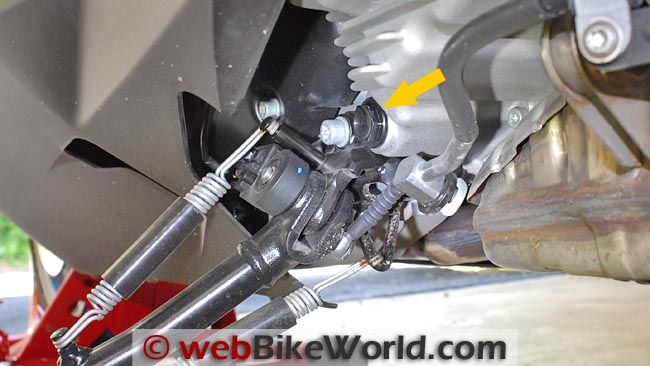 Second drain plug under the oil reservoir on the left-hand side, above side stand.
The 17 mm drain plug cap under the reservoir feels like aluminum, so be extra careful with this one. It does not have a gasket or crush washer. I folded the side stand down and placed a piece of aluminum foil under the drain plug to keep the oil off of the parts and direct it into the drain pan. Here's a photo: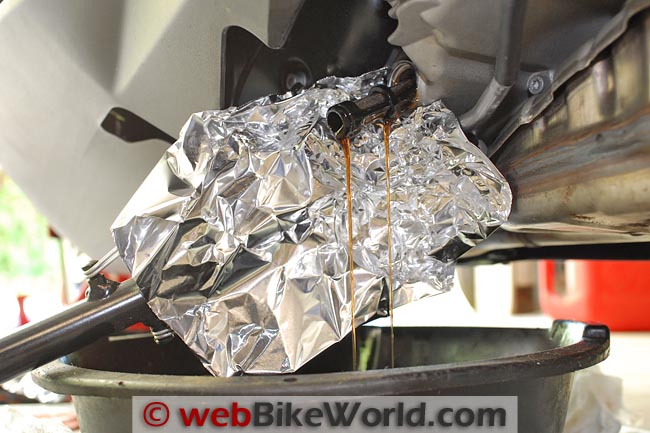 I used a piece of aluminum foil to direct the oil into the drain pan. Note screen filter.
CAUTION: See Comments section below!
Buy Posi-Lock Connectors!
So popular, they're now on their own
Posi-Lock Sale Page
Many new and different designs available!
The remainder of the oil is drained from this reservoir. Also, this one has a tube screen filter. With your rubber gloves still on, remove the filter and clean it. By the way, the engine oil drain plug has a magnet and it had some metal particles on it. The tube filter also had some dirt in it. I blew some carb cleaner on it and sprayed it with some canned air to clean it up.
The tube has O-rings on either side; make sure you position the filter correctly when you replace it.
With no shop manual, I have no torque values, so I simply tightened both drain plugs using feel -- not too tight; not too loose. I think most people tend to over-tighten drain plugs anyway. Hopefully someone will have the torque values and I'll post them here?
The oil filter is easy to remove. I used a strap wrench to loosen it. I slowly filled the replacement with clean oil until it wouldn't accept any more; this helps maintain oil pressure on the first startup after the oil change. I put the standard light coat of clean oil on the rubber gasket and hand-tightened the filter on the engine after checking to make sure the seating was clean.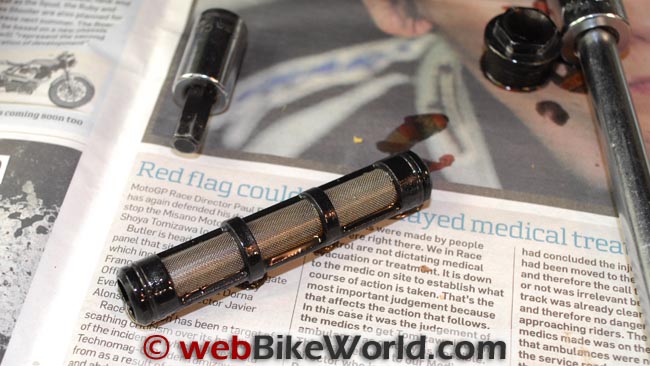 The screen tube filter has O-rings on either end. Remove it and clean it before re-filling the oil.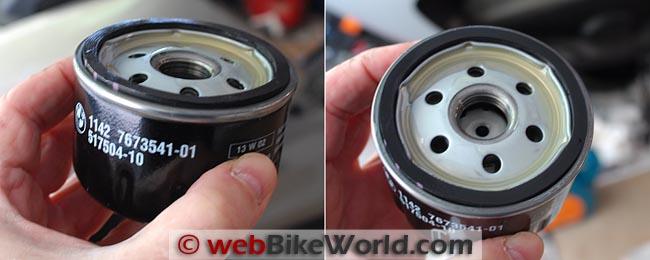 Here's a close-up of the oil filter. I slowly fill it with clean oil before installation to ensure pressure on startup.
Oil Fill and Capacity
With everything buttoned up, it was time to fill 'er up. The Repsol 4-liter jug has a pull-out spout, but you'll still need a narrow funnel. I slowly poured in the oil and checked after about 2.5 liters, then slowly topped it up. When the oil level was about half-way between "Min" and "Max" on the dipstick, I replaced the dipstick and started the scooter.
There were no oil warning lights; always a good sign (and probably helped by pre-filling the filter). After about 30 seconds, I shut it off and let it sit for a while, then checked the oil level again and topped it off.
Surprisingly, it took exactly the 3.1 liters as stated in the owner's manual that is necessary after an oil and filter change. So I have 0.9 liters left in the Repsol jug for topping up later on, but so far this scooter doesn't use any oil between changes.
UPDATE: Torque Specifications
Here are the torque specs as identified by BMW:
Read more about the BMW scooter oil specifications.
Oil filter to engine: 11 Nm.
Oil drain plug in crankcase: 28 Nm.
Threaded plug to crankcase/gearbox cover 15 Nm.
Oil Capacity (with filter change): approx. 3.1 liters.
Also, here is a copy of the .pdf with the oil and filter change instructions from the BMW service manual. You can buy your Repsol Moto Rider 4T 15W50 oil here, which meets the BMW specifications for the BMW scooters and motorcycles.
Conclusion
That's all there is to it; not much to report actually, it's a basic oil and filter change and -- besides the two drain plugs -- it's fairly straightforward. Anyone can do it. I just wish I knew the correct torque values for the drain plugs though...
More: BMW Scooter Maintenance Tips | BMW C 650 GT Blog
Publication Date: May 2013
Note: For informational use only. All material and photographs are Copyright © webWorld International, LLC since 2000. All rights reserved. See the webBikeWorld© Site Info page. Product specifications, features and details may change or differ from our descriptions. Always check before purchasing. Read the Terms and Conditions!
Please send comments to
Comments are ordered from most recent to oldest.
Not all comments will be published (
details
). Comments may be edited for clarity prior to publication.
---
From "E.D." (December 2014): "I was changing the oil on my scooter after reading your article and reviewing the PDF tech guide attached to the article, which seemed pretty straight forward.
However, when replacing the 'screen tube filter', I placed it back inside the hole and I notice it didn't appear to be positioned properly so I attempted to adjust and it shifted to the left and literally disappeared into the whole. I mean it's gone inside the hole! And I freaked out and called the dealer.
My question is should I be able to see that filter or is it designed to just fall in the whole like that because the reservoir is empty? And when the oil is replaced that pushes or positions that screen tube filter into place? Because I noticed you said in the article that the nut is magnetic?
I mean I literally freaked out when I replaced it and it totally disappeared inside the hole. The dealer said just to leave it and they will be out to get it. The tech guy said that it should look 'exactly the same' and that there is no place for the filter to go, which means I should see the the filter and I don't. So with that being said, I was wondering if you could shed any light. As this is really got me concerned."
Rick's Reply: That sounds really strange, but it's been a couple of years and I don't remember how it worked other than looking at the photos. I sold the scooter over a year ago.
But I don't know how the screen with its plastic cage could drop inside the hole unless they changed something during production.
I would be concerned, if you can't see it and can't pull it out again easily like it shows in my photos then it's probably down in the sump. Are you sure it dropped in there? I don't see how it could.
If it really did drop into the engine, I don't know how you'd get it out, maybe fish it out with something but then the concern is if little pieces broke off in there. I don't think there's an oil sump, I don't know how they'd get it out sorry to say without taking the engine apart.
I'd definitely talk to the dealer and hope they don't give you the brush off saying "don't worry about it". Maybe ask on the forum also, there are some pretty sharp owners there."
---
From "P.M." (May 2013): "BMW Scooter oil change was an excellent article. I also learnt about pre filling oil filter that I did not know plus the front wheel chock hyperlink took me to another area where I have no expertise. Thanks again."