Metzeler Lasertec Tires
Metzeler Lasertec Motorcycle Tires Review
by Rick K. for webBikeWorld.com
More: wBW Review Index | Motorcycle Tires Page | Owner Comments (Below)
---
"That is what learning is: You suddenly understand something you've understood all your life, but in a new way."
Doris Lessing
Introduction
Back about, oh, 6 years ago, I replaced the tires on the 1986 BMW R65. Of course, being smarter than the BMW engineers, I knew better which size tires to choose. I wrote a long, boring and pompous article about it and ended up ignoring the advice of the owner's manual, despite my admonitions to everyone else to do so.
And here we are, ready for a new set, and a new lesson learned. The owner's manual calls for 90/90-18 in the front and a 120/90-18 rear -- pipsqueaks by today's standards. I've seen mountain bikes with bigger tires than that.
I won't repeat my blather about tire sizes for the R65, but I will say that much of the information is still valid. It's just my conclusions that were faulty. But I ended up, after a false start, with a pair of Bridgestone BT45 Battleax tires. I chose a 110/80-18 front, mostly because that was the widest front that would still rotate between the forks. After all, wider is better, right? I had to stick with the 120/90-18 rear, only because nothing larger would work back there.
I thought the bike handled better than it did with the old 110/90-18 Metzeler ME33 front that was itself a replacement fitted by the previous owner, matched with a cheap-as-chips and worn to the core Yokohama rear, but heck -- any new tires probably would do the same.
That's the trouble -- most/many riders will replace old, worn and squared-off rubber and proclaim that the brand-spankin' new tires are the best they've ever tried. Well, of course they are! You could pick a pair of tires blindfolded off a rack and the bike would probably feel just as fantastic.
And I'm no different. The new Bridgestones felt great, and the bike handled like a dream -- or so I thought. But over the years, as the tires wore in, there was something about the handling that was slightly peculiar, although I didn't want to admit it.
Once I got over the flush of new-feeling tires, I realized the bike had a tendency to fall into turns. It was subtle, and got worse over time. Overall, the bike still handled better than a 20+ year old bike with bias ply tires should. But I started to wonder...
Back to the Future With Metzeler Lasertec Motorcycle Tires
Which brings us to 2008. I should have replaced the skins about 2-3 years ago, but I really don't put much mileage on the old Beemer; it's sort of a Sunday-go-for-a-ride bike. Maybe a thousand miles a year on the average. So it didn't really hit me that new tires were called for until this year.
That's when I suddenly realized that the rubber started looking strange, and it felt very hard. So I decided that it was definitely time for a switch. The deal was sealed after I de-winterized the bike and took it for a spin around the block (a block being about a 3 mile ride in the country around here).ound here).
After spending most of the past couple of years riding the sweet-handling Ducatis, and having recently experienced up-to-date motorcycle tire technology with the Michelin Pilot Road 2's (review), jumping on the old Beemer with too-old tires was a scary feeling, to say the least, and I scooted right back to the garage.
Between the hard-as-nails rubber, the very squared-off rear BT45 (photo below) and the "Gummimilchkuh" effect of the old Airhead, I felt lucky to make it home!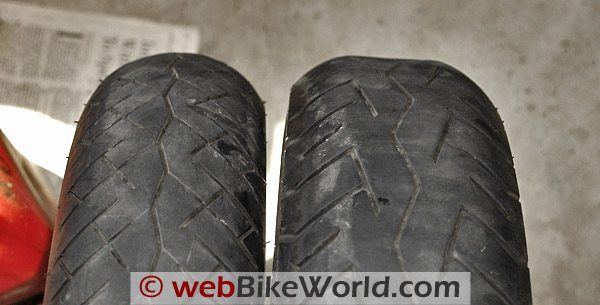 Bridgestone BT45 Battleax front (left) and rear, after only about 5,000 miles.
I needed no more convincing -- it was definitely tire time. So I went back in and read my old article and started thinking about tire brands and sizes. Again.
But this time, another factor was in play. I've come to the realization that the bike is now 22 years old, and I'm feeling that owning this near-vintage bike is making me a caretaker of history.
What Size?
That is especially true with this particular 1986 BMW R65 "monoshock", which is a relatively rare beast. My Second Edition copy of Stefan Knittel's BMW Motorcycle Buyer's Guide (review) claims that only 364 of these bikes were made in 1986 (serial numbers 6128366 to 6128516), the final year of production for the R65. So I now consider it my duty to keep the bike as close to original as possible, as a historical artifact for the future.
The owner's manual recommends no-longer-available tire models from Continental, Michelin or Metzeler, three companies that are, fortunately, still in business. Although their websites differ on recommend size, the owner's manual is clear -- a 90/90-18 front and a 120/90-18 rear. So I yet again fought off all impulses to try and second-guess the designers, swallowed hard and ordered those sizes.
Think about that for a second: a 120 millimeter-wide rear is the typical width of a Sportbike tire of today. And 90 mm? That's 3.5". Surely you jest! But it's all for the sake of historical accuracy, so at least I'd be able to report what an '80's era rider felt, tooling along on those skinny hoops. And I could always swap out the front for something wider if it didn't work out...
A Bit of Metzeler History
Six years ago, when I last purchased a set of bias ply tires, the Metzeler ME33 "Laser" front and ME55 "Metronic" rear duo were the way to go. The only experience I had with them though was on the old ill-handling K75, and I foolishly replaced those with a set of hard-as-iron Dunlops, the model name of which escapes me. The Dunlops made the handling much worse, to a point where I finally gave up and sold off the bike.
I'm pretty fuzzy on y fuzzy on Metzeler history, but it was my understanding at the time that Metzeler decided to concentrate on radial tires, so they switched the manufacture of the ME33/ME55 pair to Brazil, and riders started complaining about quality and balance problems, forcing them to look elsewhere for their bias ply tires.
Fast forward to now, when Metzeler, who is now part of the Pirelli Group (check out the similarities between the Metzeler Roadtec Z6 and the Pirelli Scorpions), has revived the ME33/ME55 pair as the Lasertec twins with, in their words, "The newest materials and compound technology applied to a classic tread pattern design for enhanced performance...".
They claim that the Lasertec front and rear contain a "new compound with high Silica developed for outstanding grip both in dry and in wet enhancing riding performance" and a "'Sport Touring' carcass design with lighter, more resistant Polyester fibre giving higher comfort and improving handling".
Well, as we all know, the features described in sales brochures don't always relate to real-world experience. But the "new compound" wording piqued my interest, and I bit.
By the way, Metzeler lists the Lasertecs in the "Sport Touring" category, along with the Z6 (which look suspiciously identical to the Pirelli Scorpions, by the way) and the ME Z2. It's interesting to note that the Lasertec is not listed in the "Classic" section with the ME 77 "Perfect", although the Lasertec tread pattern has been around for a long time and probably could be considered a classic.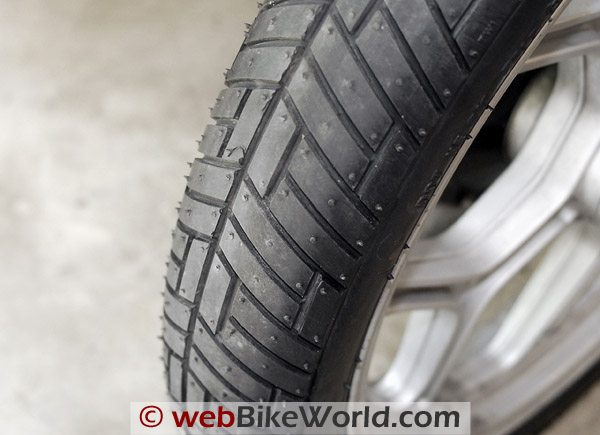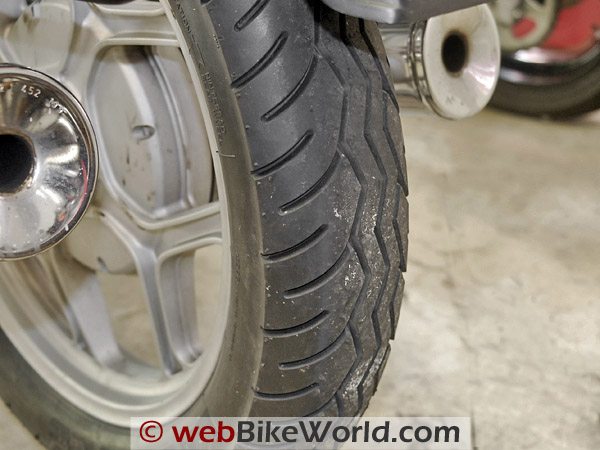 I ordered the tires and the price was right, I could immediately tell that the tires were indeed in stock and I got rapid and accurate shipping notices. The tires arrived exactly when they said they would. Can't ask for more than that.
When they arrived, the tires looked just as skinny and old-fashioned as I feared. Chris happily (?) volunteered to mount 'em up on the No-Mar tire changer and Tachyon wheel balancer, a fairly painless process. We lined up the red dot with the valve stem and the Metzelers balanced well on the cast tubeless rims of the old BMW.
Ride Report - First Impressions
OK, so let's get down to business. The Lasertecs had the traditional sprue nubs all over; those on the rear came off with a pinch of my fingertips, but the nubs on the front are thick and short, as you can see in the photos. They're on until they wear off. The first few miles felt very, very squishy -- did I make the right choice here?
But the tires actually broke in faster than the Michelin Pilot Road 2 pair. After about the first 75 miles or so, I could feel the Metzelers starting to grip and the riding on Silly Putty feeling was gone. By about 100 miles, I was actually starting to attack the corners.
The nubs are still very visible at 200 miles, so I'm still taking it easy, but the most amazing thing is the difference in handling. I hereby state that I will never second guess the tire engineers again. The bike now feels very neutral with the tiny 90 mm wide Lasertec front; the tendency to fall in to turns is completely gone.
The reason for this, I think, is that the 110/80 was forced in to an unnaturally sharp profile when it was forced on to the narrow front rim. The tread on the 90 mm Lasertec is so narrow that the sidewalls of the tire actually stick out farther!
But somehow it works. Although I haven't plumbed the extreme limits of the tires, and will sneak up to that very carefully (and report back), the old R65 really does handle better -- and just like the designers intended.
UPDATE: Ride Report - 200+ Miles
I'm usually the ultimate skeptic -- hard to impress. But I have to say that these new new Lasertecs are pretty amazing. The front especially -- it's astounding that only 90 mm worth of tread can provide such precise handling.
When pushed hard in a corner, I can make minute changes in trajectory and the tire reacts instantly and precisely -- more so than the ultra-modern Michelin Pilot Road 2's or, I'd have to say, any other modern tire I've tried recently. And this with the pillow-soft '80's style BMW suspension and geometry!
It took them a while to break in, just like all motorcycle tires, which, in my experience, seem to take anywhere from 200-500 miles to come up to snuff. The Lasertecs actually seem to be getting there quicker than other tires.
The rear isn't quite as impressive; it isn't breaking in as quickly. And I'm not sold on the 3 circumferential grooves, which live right at the contact patch. They seem to cause the tire to want to track straight, so when the bike is first leaned into a corner, the rear feels a bit like it's stepping out until the bike takes a set. This is exacerbated by the typical "rubber cow", hinged-in-the-middle Airhead suspension feel.
It's better now than it was when the rear tire was new, so I'm hoping that eventually it will work itself out, or I'll get used to it. I wonder though how the classic Metzeler Lasertec front would work with maybe the even more classic Metzeler "Perfect" ME77. Maybe next time...
Conclusion
The moral of the story, you already know. Don't second guess the designers. Read the owner's manual and stay with the stock tire sizes (and recommended oil type and weight). In the meantime, I remain very impressed by the "new and improved" Metzeler Lasertec tires.
Publication Date: July 2008
More wBW: Motorcycle Tire Reviews | Choosing Tires | Motorcycle Tire Speed Ratings, Sizes
Note:
For informational use only. All material and photographs are Copyright © webWorld International, LLC since 2000. All rights reserved. See the webBikeWorld®
Site Info page
. Product specifications, features and details may change or differ from our descriptions. Always check before purchasing. Read the
Terms and Conditions
!
Please send comments to
Comments are ordered from most recent to oldest.
Not all comments will be published (
details
). Comments may be edited for clarity prior to publication.
---
From "M.P.": "I read Rick's review of these tires with great interest. My '07 Bonnie has the same Lasertec up front in 19", OEM from Triumph. It's paired with a 17" Metzeler MEZ2 out back. Both tires require tubes because of the spoked wheels.
I can relate to Rick's observations for the front tire. The Triumph RAT pack website isn't very charitable towards these tires, but after putting ~5K miles on them, I really like them.
Metzeler advertises "consistent feedback" as a strength of their tires & now I know what they mean. I've never had an unpleasant surprise with these tires in a corner. They inspire confidence, they're fairly quiet & are wearing darn well.
All in all, I'm pretty impressed & glad Triumph chose these as their OEM offering. They make the fun loving Bonnie even sweeter."