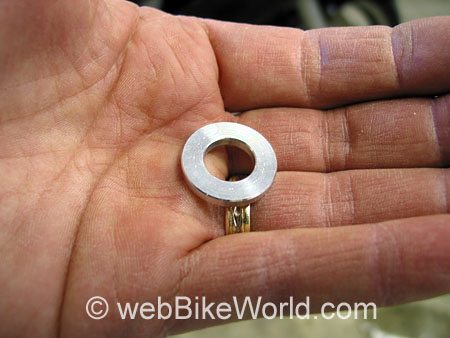 Triumph is kind enough to pre-drill a couple of holes near the bottom of the fender, under the license plate bracket. I'm not sure what they're for, possibly some other country's license plate style, but the hole on the left worked great as a pass-through for the LED's wiring harness.

This photo was taken at a low angle, but when you're standing up next to the bike, you really don't notice the wiring harness, as it kind of disappears under the angle of the plate.

I then fed the wiring harness up along the existing Triumph harness that powers the license plate light and the brake lights. You can feed the LED's harness up onto the wiring harness holder clips that Triumph has placed under the fender.

This is a photo looking towards the back of the bike, at the back of the license plate.

The pink arrow is pointing to a fender washer -- I bought a couple of these at the local hardware store to back up the through-bolt from the LED that also holds the plate to the mounting bracket.

The washers that came with the LED were kind of small, and I wanted a good backing to make sure the nuts didn't pull through.

I also found some rubber washers and put a couple of those on for good measure. It makes for a pretty solid installation, even though the bolts shown here are only about 1/8", rather than the typical 1/4"-20's used for mounting license plates. I could have used the larger bolts, but that would have meant drilling out the Triumph's mounting bracket, and I didn't want to do that.